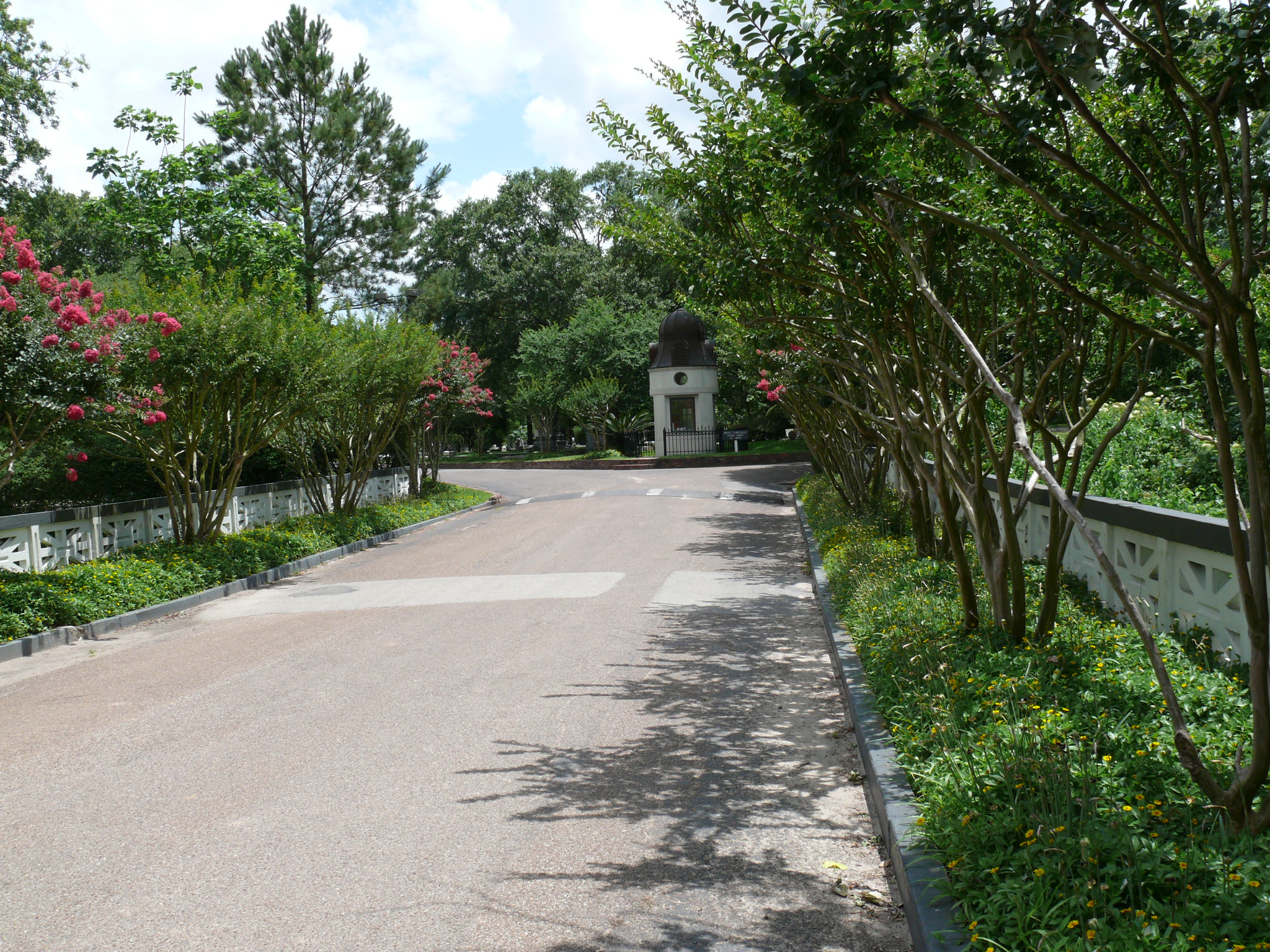 Glenwood Cemetery
2525 Washington 77007
Established 1871
85 acres
Burials: 16,000+
Texas Historical Markers:  Numerous
glenwoodcemetery.org
 "Their bodies are buried in peace; but their names liveth for evermore."
– Apocrypha 44:14
Glenwood was the first burial ground in Houston to be professionally designed.  An English horticulturalist named Alfred Whitaker was contracted to create the plan.  He did a magnificent job of taking advantage of the terrain to enhance the beauty of the site.  Whitaker used Greenwood Cemetery (Brooklyn, NY) and Mt. Auburn Cemetery (Cambridge, MA) as models for Glenwood.
It is filled with live oak trees including "Cemetery Oak," one of the largest in Harris County with a circumference of 216″, a height of 52′ and a crown spread of 123′.  It is estimated to be well over 100 years old.  The Harris County Tree Registry recognizes two specimens here as County Champions – an Eastern Red Cedar (156″, 65′ & 41′) and a Mockernut Hickory (74″, 64′ & 52′). Covering an area of approximately 85 acres Glenwood is large enough to support an amazing variety of wildlife including a skulk of foxes, roaming coyotes, raccoons, possums, armadillos, raptors and an occasional alligator that ventures up from Buffalo Bayou. On November 2, 1886 an unusual event occurred here: on that day more than 4,000 persons met here for a picnic.
Abercrombie, James Smither (1891-1975) – Oilman– As a young man this entrepreneurial Huntsville, Texas native worked as a soda jerk, dairy farmer, roustabout and oil well driller.  In 1920 he, along with Harry Cameron purchased the Cameron-Davant Company, an oilfield service firm later known as Cameron Iron Works.  The following year these two gentlemen invented the blowout preventer, a well control device that would become the basis of their fortunes.  Other inventions followed including a casing cutter, joints and clamps.  In addition Abercrombie was a cattle rancher.  His philanthropic efforts are legendary.  In 1950 he was a founder of Texas Children's Hospital.  Proceeds from his Pin Oak Horse Show went to fund that operation.  In 1968 the James S. Abercrombie Foundation was established as a trust to hold gifts and grants for Texas Children's as well as the Texas Heart Institute at St. Luke's Episcopal Hospital.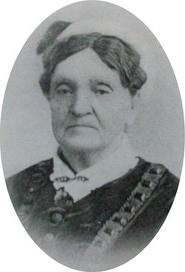 Allen, Charlotte Baldwin (1805-1895) – Mother of Houston – A New Yorker by birth, she married Augustus C. Allen, a co-founder of Houston in 1831.  The Allen brothers came to Texas in 1832.  Charlotte followed in 1834.  In 1836 the brothers used $5,000 of her money to purchase half a league of land where downtown is today.  The newlyweds lived at Caroline & Prairie with Sam Houston residing next door.  Legend says at a dinner party Charlotte said "General Houston, I shall claim the honor of naming the place and I shall call the new town after the gentleman who sits at the head of the table" indicating Houston.  She was active in real estate, selling the capitol site (now the Rice Lofts) and donating Market Square for a city hall and marketplace.  She purchased a home at Main and Rusk where the Gulf Building stands today.
Allen, Samuel L. (1808-1895) – Merchant – Samuel, the youngest of the Allen brothers, came to Texas with Charlotte Allen in 1834. He opened a mercantile business on the banks of Buffalo Bayou.  In 1846 he joined forces with Thomas M. Bagby to increase their market area.  Allen established a branch store in New Braunfels, Texas to serve the rapidly growing German population in that part of the state. His home was a two story mansion on N. San Jacinto Street at the bayou. Business continued booming, allowing Allen to erect a huge warehouse where the University of Houston-Downtown campus is located today. (See Bagby.)
Anderson, Dillon (1906-1974) – Statesman – This McKinney, Texas native was admitted to the Texas bar and joined the Houston based firm of Baker, Botts, Andrews & Shepherd in 1929.  Anderson was a colonel in the U. S. Army during World War II and was awarded the Army Commendation Ribbon and the Legion of Merit.  President Eisenhower named him his special assistant for national security in 1955 where he presided over the National Security Council.  Anderson was also a talented writer publishing stories in Atlantic, Saturday Evening Post and Collier's.  He authored books including I and Claudie, Claudie's Kinfolks and The Billingsley Papers. Your author had the pleasure of knowing this wonderful gentleman and was a classmate of one of his three daughters, Betsy. (See Andrews, Baker and Botts.)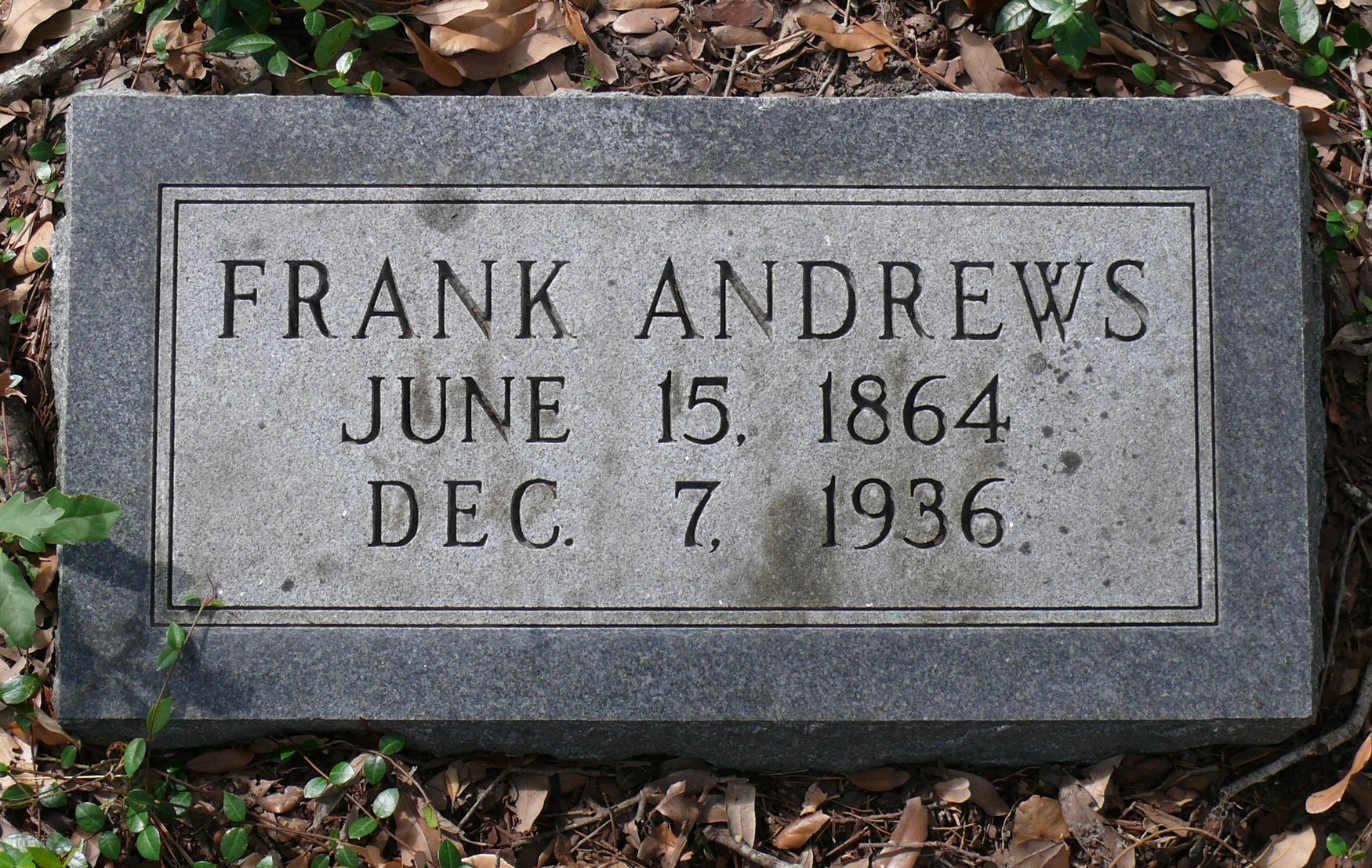 Andrews, Frank (1864-1936) – Attorney – In 1895 he came to Houston and organized the law firm of Andrews, Kelley, Kurth & Campbell.  The firm specialized in railroad law and served as counsel to the Houston & Texas Central, Trinity & Brazos Valley and New Orleans, Texas & Mexican Railways. He was a founder of the Union Bank & Trust and was vital in the development of the Montrose addition. Andrews was influential in the creation of the Houston Ship Channel.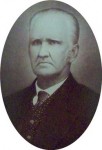 Andrews, John Day (1795-1882) – Houston Mayor –  He was born in Virginia and moved to Houston in 1837, just one year after the city was founded.  Andrews was an entrepreneur who built the first apartment house here, owned a general merchandise store and raised fresh produce.  He and his wife were among the founders of Christ Church Cathedral (1838), Houston's first Episcopal Church.  Knowing the economic value of commerce, Andrews was elected president of the Buffalo Bayou Company, a business responsible for clearing obstacles from that estuary from Houston to Harrisburg allowing ships to navigate.  He was elected mayor (1840-1) and established the Port of Houston and built the first City Hall (1842.)  In addition, Andrews was the first president of the Houston School Board and active in the Chamber of Commerce.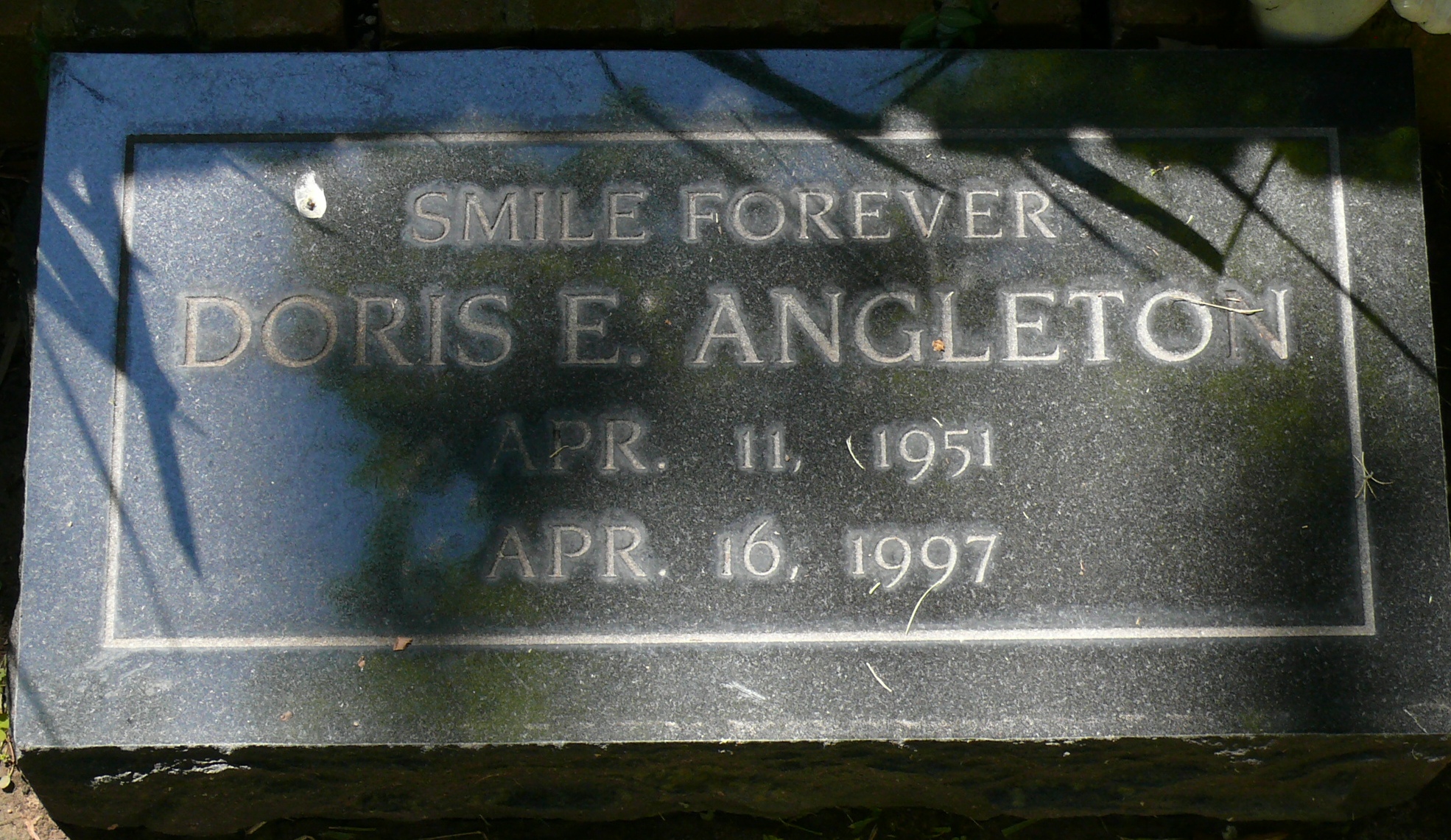 Angleton, Doris (1951-1997) – Murder Victim – Doris McGown was born and raised in Lake Jackson, Texas.  She graduated from the University of Texas with a degree in speech pathology and embarked upon a teaching career.  In 1982 she met Robert Angleton, a bookmaker, in a Houston bar.  She divorced her
husband and married Angleton that same year.  By 1997 the marriage was on the rocks and she had filed for divorce.  On the night of April 16, 1997 she was gunned down in her River Oaks home while Angleton and their two daughters were at a baseball game.  He was the chief suspect in a murder-for-hire scheme involving his brother, Roger, who confessed to the crime and then committed suicide. Angleton was acquitted of the charge but was subsequently found guilty of tax evasion and passport fraud and sentenced to 12 years in prison.  For more information pick up a copy of Death in Texas: A True Story of Marriage, Money & Murder by Carlton Smith.


Bagby, Thomas M. (1814-1888) – Businessman – Born in Virginia, Bagby arrived in Houston in 1837, one year after the city's founding.  He was a commission merchant and successful cotton factor.  Bagby chartered the Houston Lyceum (the predecessor of the City Library) on March 20, 1848. The Julia Ideson Building stands on the site of his residence. He was a founder of the First National Bank in 1866, the city's first bank with a national charter. Unfortunately it failed the following year and was taken over by Benjamin A. Shepherd.  He was active in the community, a member of the Presbyterian Church and a Freemason.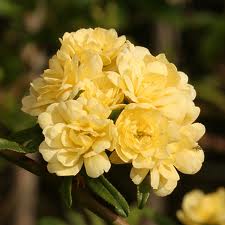 Bagby was interested in horticulture, especially roses.  One of the most famous rosebushes in the city, a Lady Banksia, was trained across the entire length of his front porch and was known for its profuse output of blossoms. Bagby Street remembers him.  (See Allen, S.L., Shepherd and Hollywood Cemetery-Ideson.)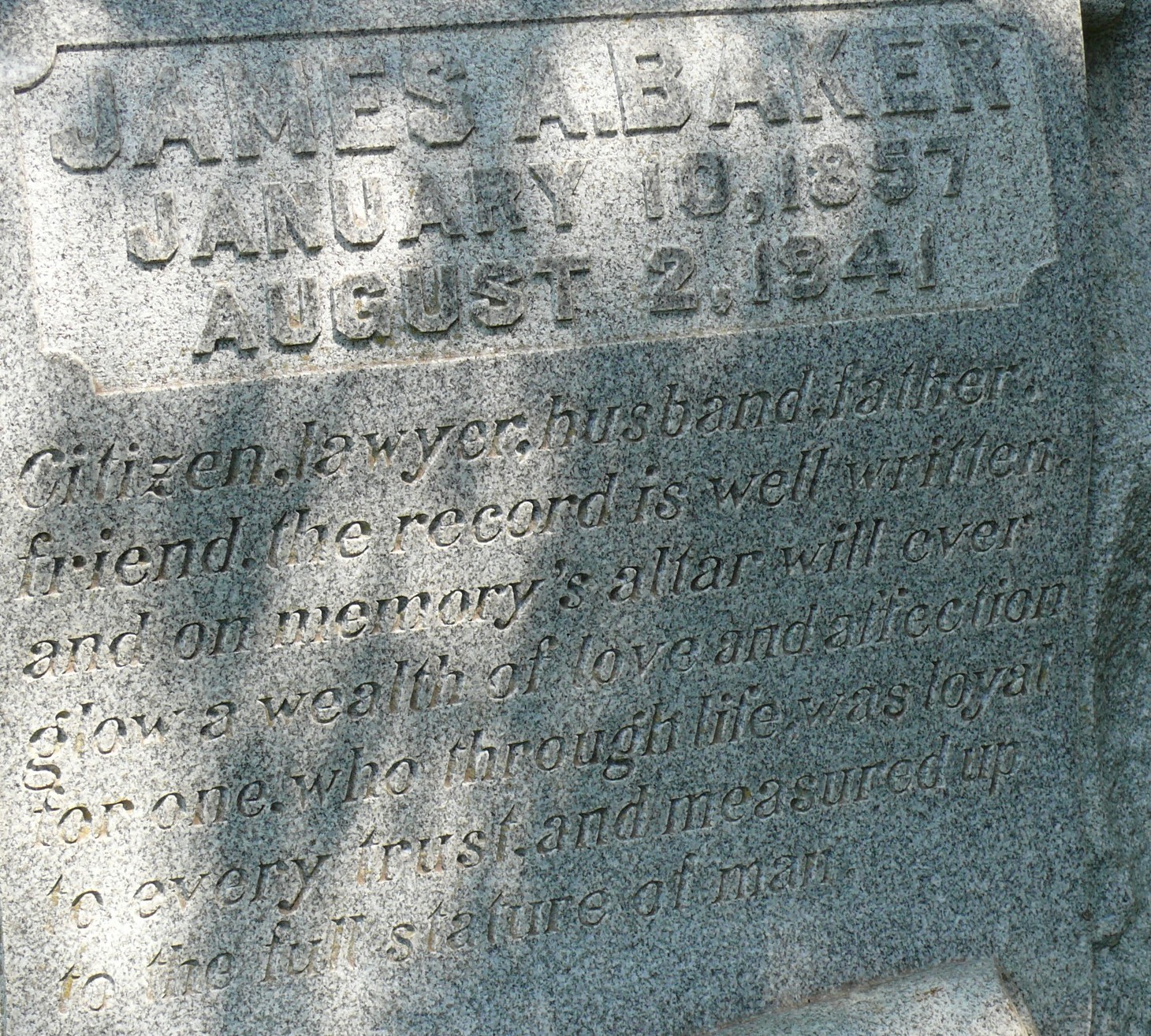 Baker, James A. (1857-1941) – Lawyer – Following his graduation from Texas Military Institute, Baker enrolled in law school and was admitted to the bar in 1880.  He moved to Houston to practice.  He eventually was elected senior partner of Baker, Botts, Andrews and Wharton.  He became William Marsh Rice's personal attorney.  In his will Rice left $200,000 to endow Rice Institute (now University) as "an institute for the advancement of literature, science and art."  Baker was executor of that will. Rice died in New York City under mysterious circumstances on September 24, 1900.  Baker proved that Charles Jones, Rice's butler, and Albert Patrick, his crooked lawyer, conspired to murder Rice and, with a forged will, assume all his assets.  The villains were convicted and sentenced to life in prison. Baker served as chairman of the board of Rice from its founding until his death.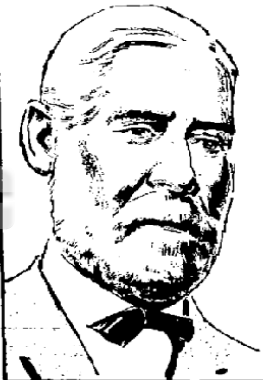 Barziza, Decimus et Ultimus (1838-1882) – Soldier – He was the tenth and last (or decimius et ultimus in Latin) child of Phillip Ignatius and Cecelia Amanda Barziza. He was a captain in Hood's Texas Brigade during the War Between the States and saw action at Gettysburg.  Barziza was wounded in the attack on Little Round Top on July 2, 1863 and was taken prisoner.  After a year in a Union prison camp he escaped to Canada.  Following the War he settled in Houston and opened a law practice.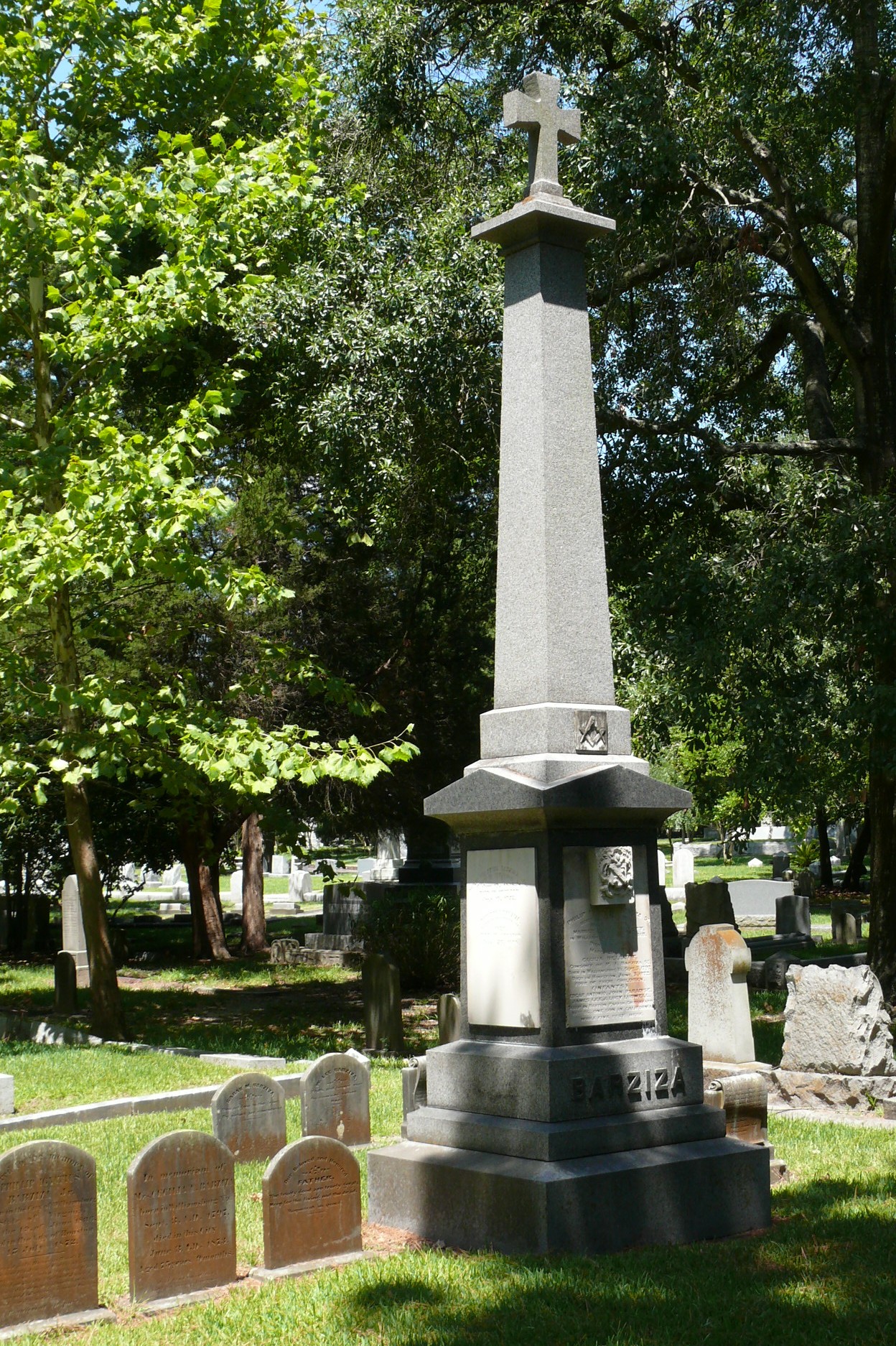 Barziza was an author (The Adventures of a Prisoner of War and Life and Scenes in Federal Prisons), politician (representative to the Texas Legislature) and businessman (founded Texas first trust company, Houston Land & Title.)  Barziza Street was name in his honor. Take a minute to read his epitaph on the short, red tombstone.  It is a classic example of the lost art of epitaph writing.  His father,an Italian Count from Venice, was the first adult buried in Glenwood (1872).
Bering, August (1827-1920) & Conrad (1830-1915) – Cabinetmakers – These two brothers emigrated from Kassel, Germany in 1842.  They were on their way from Galveston to Fredericksburg when their oxen died near Houston.  Cabinetmakers by trade, they established a shop here.  As time passed they added lumber and hardware to the business.  That company still operates today under the ownership of the Bering family.  The brothers began investing in real estate west of downtown and eventually amassed about 2,000 acres of what today is Tanglewood and Briargrove.  Bering Street is named for these entrepreneurs.
Bering, August Charles III (1914-2004) – Merchant – In 1846 the Bering family arrived in Texas from Germany.   They opened a lumberyard in Houston.  August III turned that business into first a hardware store and over the years added gifts, housewares, coffee and gourmet products.  The lumberyard was closed years ago.  Bering ran the operation for five decades.   The business remains in the family with his son, August IV, in charge.
Blaffer, Robert Lee (1876-1942) – Co-founder of Humble Oil & Refining Co. (now Exxon) – Born in Louisiana he came to Beaumont in 1901 to drill for oil at Spindletop.  There Blaffer partnered with William Farish, Walter Fondren, Harry Weiss and Ross Sterling (See Farish).  These wildcatters formed Humble Oil & Refining.  It became the largest oil producer in America.
Binz, Jacob (1828-1913) – Real Estate Developer – This Chicago native built Houston's first skyscraper in 1895.  A Renaissance-Romanesque style structure at 513-19 Main Street, it cost $60,000.  Known as the Binz Building, it was the first in the city to be built of stone, concrete and steel. Although the structure was only six stories high plus a basement, architects said the foundation could have supported a 20-story tower.  When it opened, people came from all around to ride its elevators to the top floor to admire the great view of the surrounding countryside.  The building was demolished in 1950.
Botts, Walter B. (1836-1894) – Attorney – He served honorably as a lieutenant colonel in the Confederate Army.  Following the conflict he moved to Houston.  Botts and Peter W. Gray founded the law firm of Gray & Botts in 1866.  It was destined to become one of the most influential in our city.  The name Baker was added to the moniker when James A. Baker joined and was made a partner in 1872.  In the early years the firm's specialty was railroad law.  They represented the Missouri Pacific, Houston & Texas Central and Houston, East & West Texas railroads.  It remains one of the largest law practices in Houston, operating as Baker Botts L.L.P.  (See Andrews, Baker and Rice Institute – Rice.)  101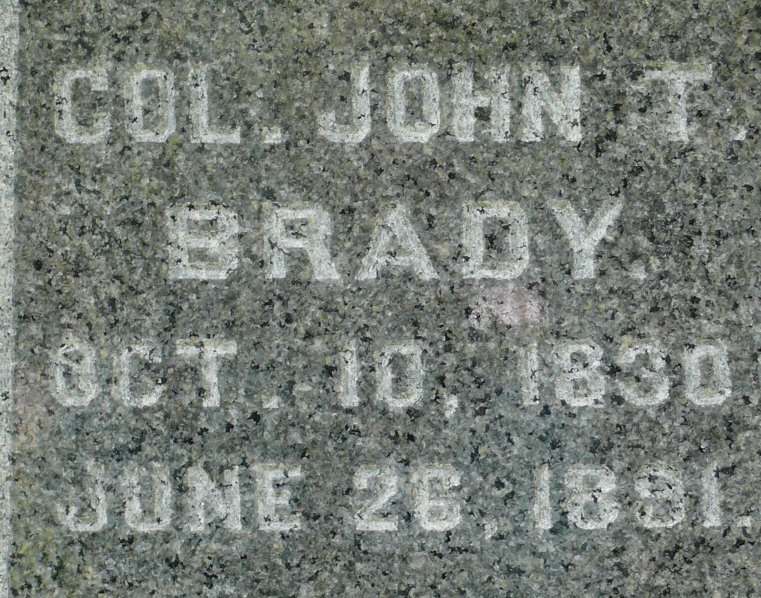 Brady, John Thomas (1830-1890) – Entrepreneur – This Texas pioneer was a substantial landowner with acreage between Houston and Harrisburg.  He was also an attorney, founded a large brick manufacturing company, helped organize the Houston Belt & Magnolia Park Railway, developed Magnolia Park subdivision, raised cattle, served in the Texas Legislature and was a strong advocate of making the Port of Houston accessible to ocean going traffic.  During the War Between the States he served on General John Magruder's staff and was commended for bravery at the Battle of Galveston.  Both Brady Street and Brady Island at the Port's Turning Basin are named in his honor.
Braun, Caspar (1822-1880) – Clergyman – The first Germans began arriving in Texas in the 1830s.  Many of them were Lutherans. The Lutheran Synod of South Carolina sent missionaries to Texas in 1850 including Braun.  That year he organized the first German Evangelical Lutheran Church in Houston.  He served that congregation until his death 30 years later.  You can read more about him on the Texas State Historical marker on his grave.
Bray, John W. (1857?-1929?) –Sailor – He was born in Virginia but ran away from home at 17 to join the Navy.  Initially he was assigned to the U.S. S. Franklin but soon transferred to the U.S.S. Constitution ("Old Ironsides".)  He served on her for three years before being honorably discharged.  Records indicate he was the last surviving member of the Constitution's crew.  Bray only saw the ship once again when it made port in Houston to pick up supplies.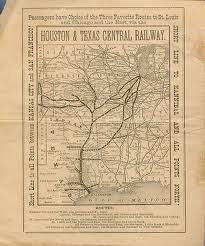 Bremond, Paul (1810-1885) – Railroad Man – This New Yorker came to Houston in 1842 and started a successful general merchandise business.  He wanted to build a railroad connecting Houston to North Texas.  Being a Spiritualist, Bremond claimed he got the idea from a ghost.  In 1856 he took over the Galveston & Red River Railroad and changed the name to the Houston & Central Texas Railway.  He also invested in the Brazos Plank Road, a plan to build an all-weather road to Ft. Bend County.  (The project never came to fruition.)  In 1875 he became interested in narrow gage railroads and chartered the Houston, East & West Texas Railway to build such a line from Laredo to Houston and on to Texarkana.  He failed to live to see the line completed.  Bremond Street is named for him.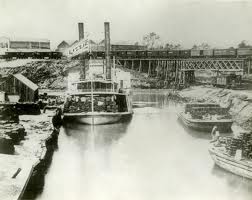 Bringhurst, George Hunter (1810-1899) – Wharf Master – Bringhurst came to Texas in 1836 to fight for Texas independence. He was captured at the Battle of Goliad and held prisoner by the Mexicans until after the Battle of San Jacinto.  Following the Revolution he became a surveyor for Harris County and was eventually elected wharf master when the Port of Houston was still at the foot of Main Street. City officials named Bringhurst Street in his honor.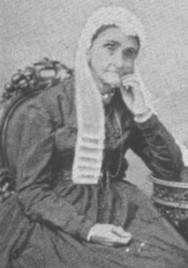 Briscoe, Mary Jane Harris (1819-1903) – Historian & Civic Leader – She was the daughter of Harrisburg, Texas founder John R. Harris. Raised in New York she came to Harrisburg in 1837 and married Andrew J. Briscoe who signed the Texas Declaration of Independence and fought at the Battle of San Jacinto (a battleground she later saved as a historical site.)  Called the "Belle of the Bayou" for her looks and charm she was a good friend of Sam Houston.  Among her achievements was founding of the Daughters of the Republic of Texas and Sheltering Arms, a home for women in Houston.  Briscoe was a charter member of the Texas State Historical Association.
Brown, Aaron B. (1830-1884) – Bridge Builder – At 16 he ran away from his Ohio home.  Over the next few years Brown worked as a canal boat operator, carriage maker and worked construction for the Hannibal & St. Joseph Railroad.  He moved to Texas in 1857 and became superintendent of bridge construction for the Texas & New Orleans Railway.  Later he joined the Houston & Texas Central Railroad building bridges across Houston's White Oak and Buffalo Bayous.
Brown, Doug (1934-2013) –Television Weatherman – Brown was one of Houston's most beloved television personalities.  Born in central Texas his show business career began as a radio announcer for Armed Service Radio during the Korean War (1950-53).  After attaining a degree in theology from Baylor University and a crash course in meteorology at the University of Texas he worked as a weatherman for TV stations in Weslaco and Waco before joining KTRK Channel 13 in Houston in 1972.  For the next 36 years Brown was at his desk on the set of Channel 13 week nights at 6 and 10 PM.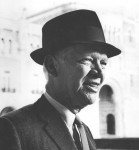 Brown, George R. (1898-1983) – Civil Engineer – This Belton, Texas native served in the Marine Corps during World War I and then graduated from Colorado School of Mines. He joined a construction firm founded by his brother Herman.  Later they were joined by Dan Root and the company was renamed Brown & Root.  By the 1950s the firm was one of the largest engineering and construction companies in the world.  It was acquired by Halliburton Company in 1962. Brown served on various commissions under presidents Truman, Eisenhower, Kennedy and Johnson.  He served on the board of trustees of Rice University for 25 years, 15 of which he was chairman.  In 1951 the brothers established the Brown Foundation, donating hundreds of millions of dollars to the arts and educational institutions. The George R. Brown
Convention Center was named in his honor. (See Herman Brown and Untitled (White Oak Leaf) — not yet posted.)
Brown, Herman (1892-1962) – Businessman – Brown entered the construction business in 1914 after being given 18 mules in lieu of back wages.  By 1922 the firm was known as Brown & Root.  Some of their major projects included Mansfield Dam on the Colorado River, Corpus Christi Naval Air Station and the Manned Spacecraft Center in Houston.  During World War II Brown Shipbuilding built 359 warships for the U. S. Navy.  The brothers purchased the Big and Little Inch pipelines and formed Texas Eastern Transmission Company.  He was the co-founder of the Brown Foundation, a major funder for educational and art institutions.  (See George R. Brown and Untitled (White Oak Leaf) — not yet posted.)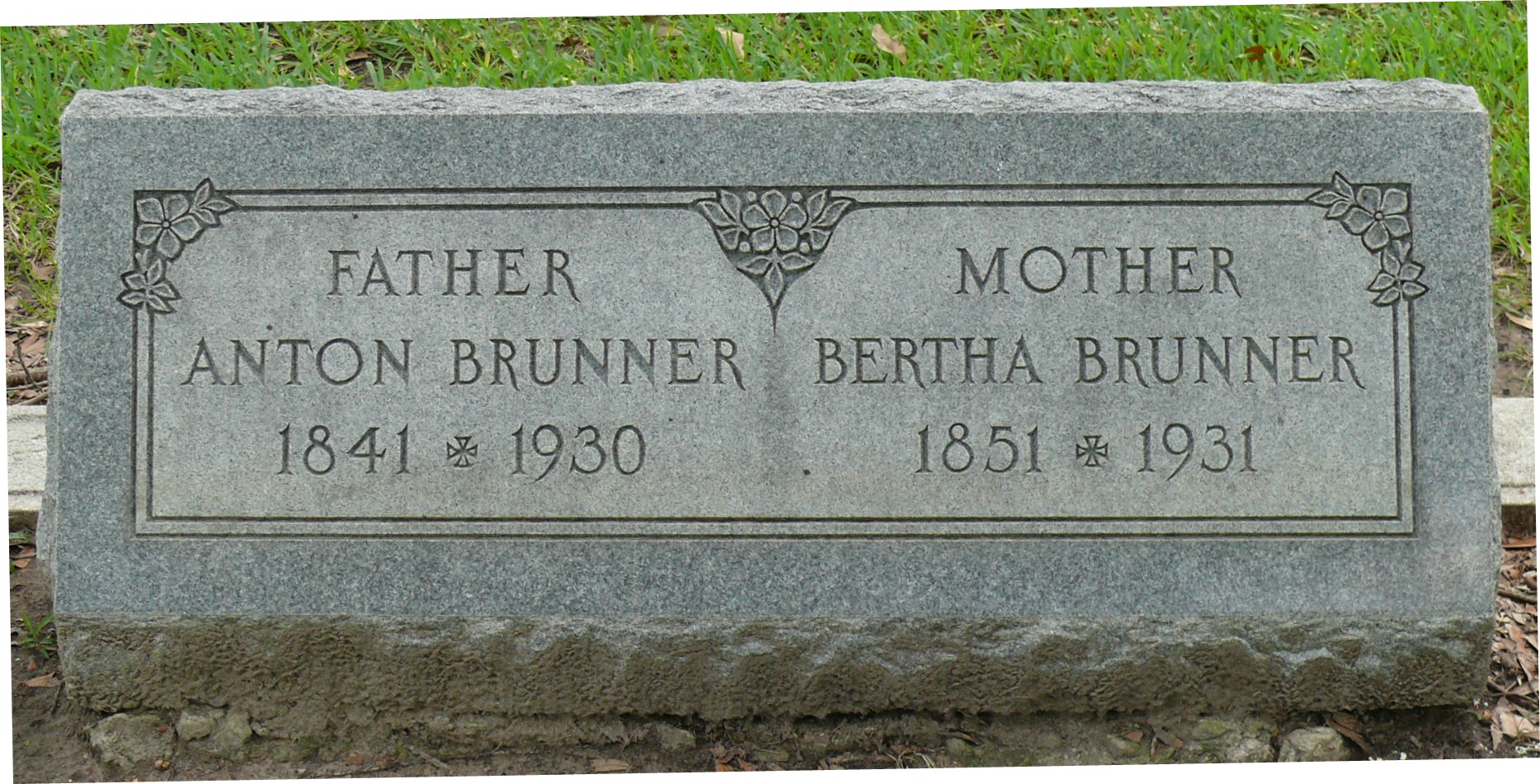 Brunner, Anton (1841-1930) – Cobbler – Orphaned shortly after emigrating from Germany, Brunner overcame this obstacle and used his skills as a cobbler to make a fortune from shoe manufacturing.  He reinvested his profits in real estate.  He developed Brunner Addition just east of Memorial Park.  Shepherd Drive was originally known as Brunner.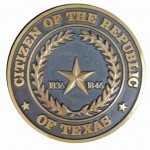 Burke, Andrew Jackson (1813-1903) – Mayor of Houston – Born in Tennessee, he settled in the Republic of Texas in 1837.  (Burke's tombstone bears a Citizen of the Republic of Texas medallion that is awarded to persons who lived here prior to U. S. Annexation in 1845.)  He moved from San Augustine to Houston in the early 1840s.  Burke operated a successful mercantile business selling dry goods, stationary, footwear, etc. He was a member of Holland Lodge No. 1, the oldest Masonic lodge in the state.  In 1870 Burke entered the insurance business becoming president of Planters Mutual.   He was elected Mayor of Houston in 1878.  Burke served during Houston's bankruptcy, a difficult term indeed.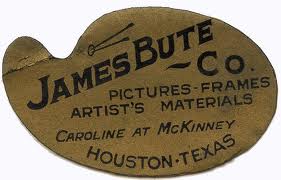 Bute, James (1838-1915) – Merchant – Born in Scotland, he immigrated to Texas with his family.  As an adult he joined the family business, Bute Paint Company, a firm that still exists today.  He was a landowner in the Westmoreland Addition.  Bute Street in that area is named for him.  He was interested in gardening and became the first treasurer of the Houston Horticultural Society.
Calhoun, Katharine Seymour (1904-2005) – Opera Singer – She was born in London, England and was the great-great niece of Margaret Houston, Sam Houston's wife.  After college Calhoun made her operatic debut in San Francisco in La Boheme.  In Houston she was a theatrical producer and an important member of the Houston Grand Opera and the Symphony.  In addition Calhoun was a very talented painter.
Carroll, Benajah Harvey, Jr. (1874-1922) – Jack of All Trades – This native Texan earned a law degree from the University of Texas in 1894 and a theology degree from Southern Baptist Seminary.  Carroll ministered at a Waco church from 1894 until 1906.  He was head of the History Department at Baylor.  Carroll was a captain in the Army during the Spanish-American War.  For eight years he was on the editorial staff at the Houston Chronicle.  In 1914 Carroll was named consul to Venice, served in Italy in the Red Cross during World War I and was later consul to Naples and Cadiz, Spain.  In addition to being an author he spoke fluent Greek, Latin, Hebrew, French and Spanish.
Carter, Samuel Fain (1857-1928) – Entrepreneur – Born in Alabama he came to Texas in 1870 and began working on the Sherman Courier as a printer's devil (mixing tubs of ink and delivering type), compositor and typesetter.  (As an aside: other famous printer's devils include Benjamin Franklin, Thomas Jefferson, Walt Whitman and Lyndon Johnson.)  In 1881 Carter joined the Galveston News where he worked for five years.  In 1881 he entered the lumber business.  Carter moved to Houston and organized his own lumber company, Emporia Lumber, in 1892.  He sold this operation in 1907 and chartered the Lumberman's National Bank.  Carter was chairman and president of this bank until 1927.
Carter, William Thomas (1856-1921) – Lumberman – Carter was a major force in the lumber business in east Texas.  He owned logging camps to cut trees for his mills and railroads to transport them.  He incorporated the W. T. Carter & Brothers Lumber Company in 1898 and the Carter-Kelly Lumber Co. a few years later.  He also chartered railroads including:  Moscow, Camden & San Augustine, Bowers & Piney Creek and Shreveport, Houston & Gulf (called the Shove Hard & Grunt by locals).  He also had an interest in aviation and built an airfield that eventually became Hobby Airport. Carter lived in a mansion designed by architect Birdsall P. Briscoe in the prestigious Courtlandt addition.

Cedar, Eastern Red – Harris Count Champion – See the introduction to Glenwood Cemetery for the facts about this Harris County champion tree.
Clarke, Hiram O. (1884-1950) – Electrical Engineer – He arrived in Houston in 1911 and joined Southwest General Electric Co. as a sales engineer.  In 1916 Clarke was hired by Houston Lighting & Power Company, working for them as a commercial manager and later executive vice president until his death.  During World War I he served as a captain in the Quartermaster Corps.  Clarke was very civic minded.  Among other duties were:  chairman of the committee to erect the San Jacinto Monument  and Downtown YMCA, vice president of the Chamber of Commerce for 20 years, president of the Community Chest as well as the Kiwanis Club and regent at the University of Houston.  Hiram Clarke Road is named in his honor.  Appropriately enough, it leads to a large HL&P (now CenterPoint Energy) power plant.
Clayton, William Lockhart (1880-1966) – Renaissance Man – There is no way to do justice to this great man in a paragraph, not when volumes have been published about his accomplishments.  Born in Mississippi Clayton had little in the way of education (seven grades of lower school.)  At 15 he went to work for the American Cotton Company.  In 1904 Clayton and two partners, Frank E. and Monroe D. Anderson, formed a cotton brokerage firm, Anderson, Clayton & Company.  They moved their headquarters to Houston in 1916.  In addition to exporting cotton the firm offered warehousing of cotton, insurance, credit, international operations, cotton gins, vegetable oil mills, factories, seed farms and much more. Clayton retired in 1940 and began a new life in public service.  He held high level positions in the Export-Import Bank, Department of Commerce, was Undersecretary of State for Economic Affairs and was the principal architect of the Marshall Plan after WWII.  Through the Clayton Fund he contributed millions of dollars to religious, educational and charitable institutions.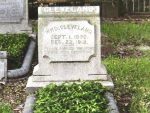 Cleveland, William D. (1839-1912) – Entrepreneur – An Alabama native he moved to Texas as a child and arrived in Houston in 1859.  Cleveland began his business career in dry goods.  The War Between the States interrupted his life for a few years while he fought with Terry's Texas Rangers (See Terry.)  Following the conflict Cleveland was a banker before starting his own cotton factoring firm and wholesale grocery operation.  He was a City Alderman (1880-4), president of the YMCA as well as the Cotton Exchange & Board of Trade.

Conroe, Isaac (1835-1897) – Lumberman – This former Captain in the Union cavalry moved to Houston after the War and founded a lumber company.  He constructed a sawmill on Stewart's Creek, two miles east of the International-Great Northern rail line in Montgomery county.  A short tram line connected the mill to the railhead.  Soon Conroe built a new sawmill at the rail junction which became a railroad station.  In 1884 the town was called Conroe's Switch but soon was shortened to Conroe.  He served as the first postmaster of the town.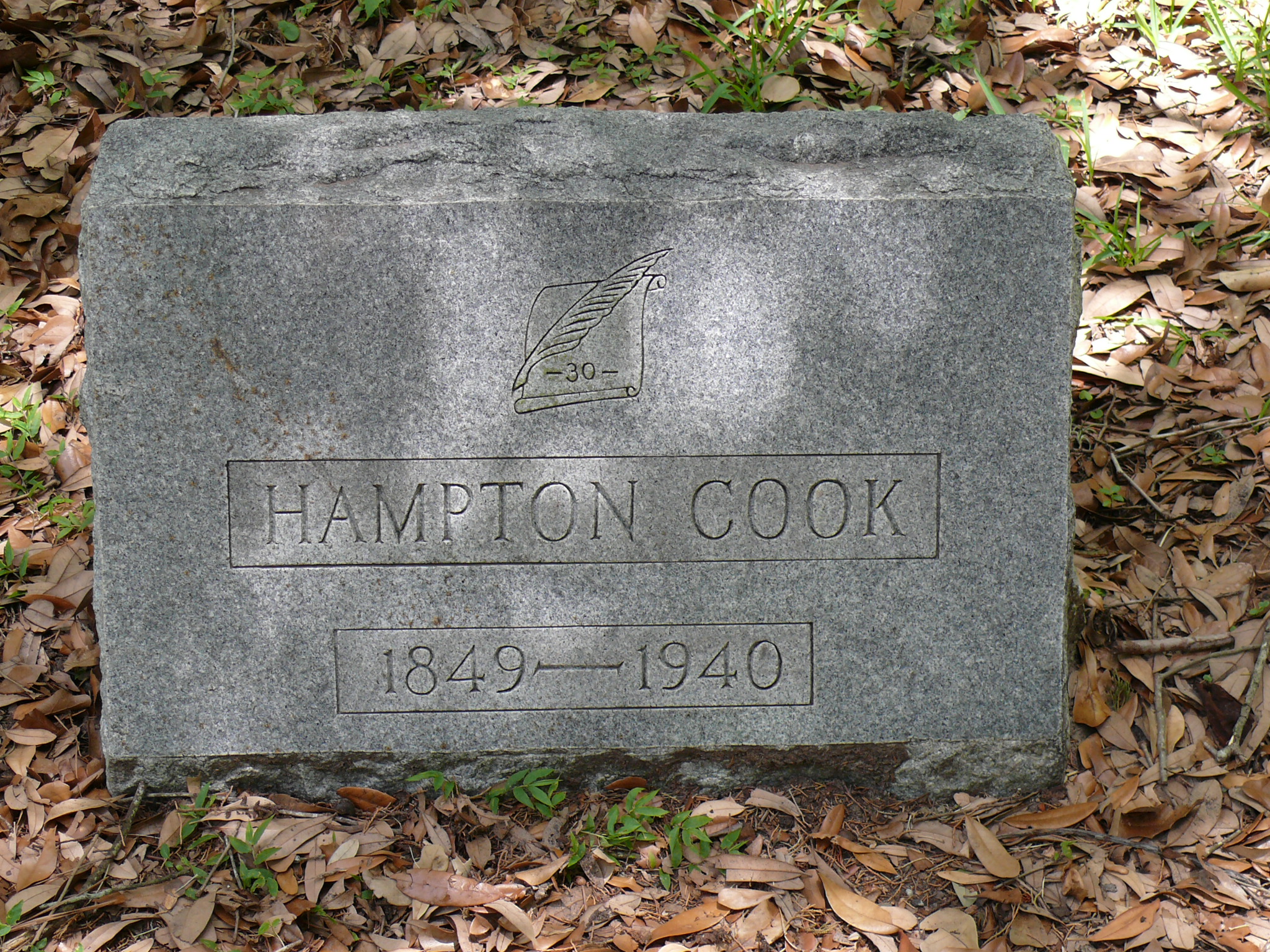 Cook, Colonel Wade Hampton (1849-1940) – Newspaperman – "Hamp" Cook was the dean of Texas newsmen for 50 years.  He worked for the Houston Evening Age, Houston Telegram, Evening Journal and Houston Post.  His "office" was in the saloon next door to the Capitol Hotel (where the Rice Lofts are today) since everyone who was newsworthy visited the place at least once a day.  Whenever one of his friends entered the bar, the barkeeper would knock loudly three times on the bar to alert Hamp.  Cook would look up and shout, "What time is it?"  Of course the new arrival, on hearing the Colonel's voice, would invite him for a drink.  This resulted in Cook claiming "I never refused a drink nor never bought one."  He never married stating that "A wife would just interfere with my drinking and working."  On his tombstone, take note of the quill and scroll, symbols of a writer, and "-30-", a newsman's way of saying the story is over.  Count on one of the city's more colorful characters to leave us with a smile more than a half century after his death.
Cooley, Daniel Denton (1850-1933) – Real Estate Developer – His business career began in Ashland, Nebraska as a merchant and later a banker.  In 1887 he partnered with Oscar Martin Carter to form the Omaha & South Texas Land Company.  In 1891 that firm acquired 1,765 acres of land west of downtown Houston.  Named Houston Heights as it was 20 feet higher than the city; it was one of the largest developments in America at the time.  The project was hugely successful and Cooley became known as the "Father of Houston Heights."  A very active man, he was involved with the Shriners, South Texas National Bank, Houston Electric Company, Electric Street Railway Company and Houston Railway Company to mention a few. His son, Denton A. Cooley, is the world famous heart surgeon (see below).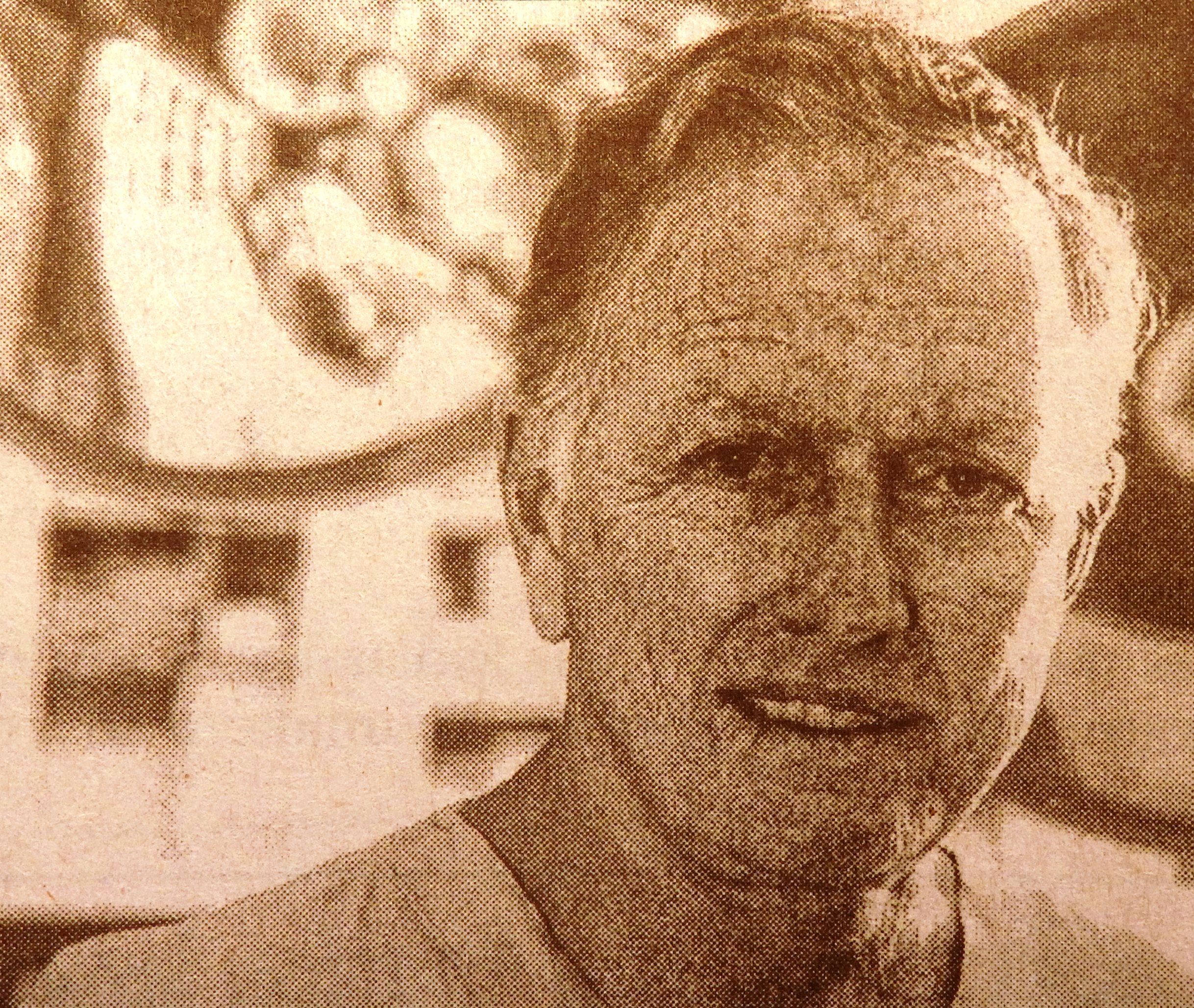 NEW Cooley, Denton Arthur (1920-2016) – Heart Surgeon – He was a native Houstonian, the son of Daniel Denton Cooley (see above) who is remembered as a founder of the Houston Heights in 1891.  Cooley attended public school in the city and the University of Texas where he had earned a basketball scholarship.  That UT team won the Southwest Conference in 1939.  He attended the University of Texas Medical Branch in Galveston and John Hopkins University School of Medicine where he graduated with highest honors.  Cooley served in the Army in 1946-8.  Returning to Houston he joined the Baylor College of Medicine and founded the Texas Heart Institute at St. Luke's Episcopal Hospital.  Cooley was surgeon-in-chief for more than 40 years, performed heart operations until he was 87 years old and still made rounds to visit patients until age 96.  He did more than 120,000 heart surgeries in his career.  Cooley performed the first successful human heart transplant in America (1968) and the first implantation of an artificial heart a year later. He published more than 1,400 scientific papers and 12 books.  During his life time Cooley earned hundreds of honors and awards.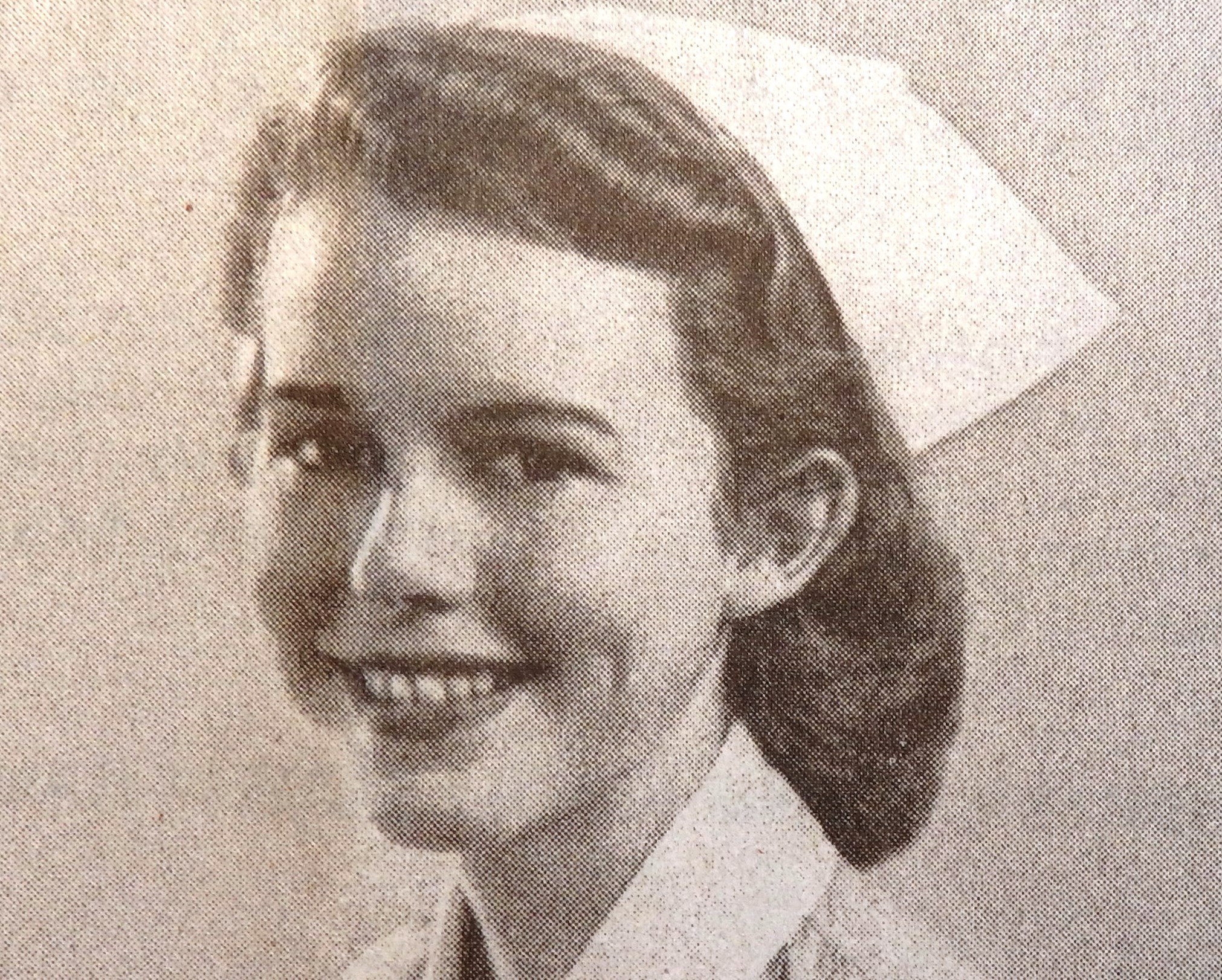 NEW Cooley, Louise Goldsborough Thomas (1924- 2016) – Wife, Mother & Friend – She grew up in the historic town of Frederick, MD.  Cooley earned a bachelor's degree in psychology from the College of William and Mary.  She completed her nursing training at Johns Hopkins School of Nursing in 1949. She met her future husband, Denton Cooley, while working as head nurse in the Hopkins surgical ward.  The couple was married that same year.  In 1951 they moved to Houston where Denton launched his amazing medical career. The Cooley's raised five daughters there.  Louise traveled all over the world with her husband on behalf of the Texas Heart Institute.  She has a chair in English in her name at William and Mary as well as a scholarship at her alma mater, Johns Hopkins School of Nursing.
Cooley Heart – Sculpture – The Denton A. Cooley Foundation, a non-profit organization created by famed Houston heart surgeon of the same name, commissioned Theodore H. McKinney to create this heart-shaped sculpture for placement in his future burial plot.  It is a smaller copy of the 1977 piece, A Symbol of Excellence, that graces the Texas Heart Institute in the Texas Medical Center.  McKinney was an excellent choice for the job not only for his artistic talents but both the artist and his daughter underwent heart surgery at the capable hands of Dr. Cooley.
Cottingham, Wesley P. (1872-1951) – Entrepreneur – He was born in south Texas but moved to Houston as a boy.  Cottingham earned a civil engineering degree in 1922 from Texas A & M.  Following school he joined the Southern Pacific Railroad but soon went out on his own.  Cottingham recognized the need for blue prints so he established Texas Blue Print Supply Company (1905), the first of its kind in Texas.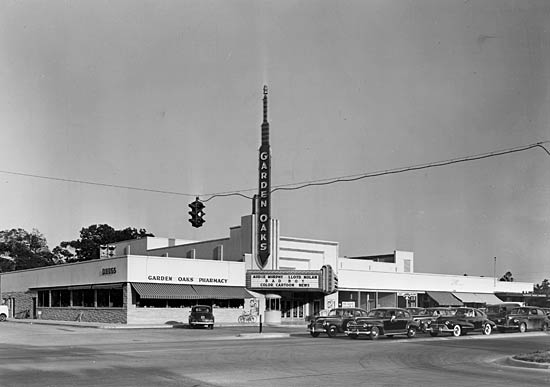 Crain, Edward Lillo Sr. (1885-1950) – Real Estate Developer – Crain developed a number of well-known neighborhoods during the early 1900s.  They include Garden Oaks, Southside Place, Riverside Terrace, Cherryhurst and Pineview.  He named Edloe Street for his son Edward, Jr.  It is a contraction of the first two letters of Edward plus the first and last letters of Lillo with an "e" added on the end.  If the street had been extended north into River Oaks it would have run into Crain's front door in the 3600 block of Chevy Chase.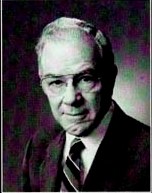 Crooker, John H., Jr. (1914-2007) – Attorney – It would seem that the fickle finger of fate chose a law career for him as his grandmother, Hortense Ward, was the first woman licensed to practice law in Texas (See Hollywood – Ward.)  Following graduation from Rice Institute (now University) Crooker's career began at Fulbright & Jaworski.  During World War II he fought in the Pacific Campaign earning a Bronze Star for "meritorious service during operations against enemy Japanese forces in the Leyte and Lingayen Gulf."  Returning to civilian life one of his more famous clients was Lyndon Johnson following Johnson's questionable U. S. Senate seat victory in 1948. Crooker also had business interests and was one of the founders of Lakeway, a resort outside of Austin.  He had a great interest in institutions of higher learning supporting Rice, University of Houston and University of Texas Law School.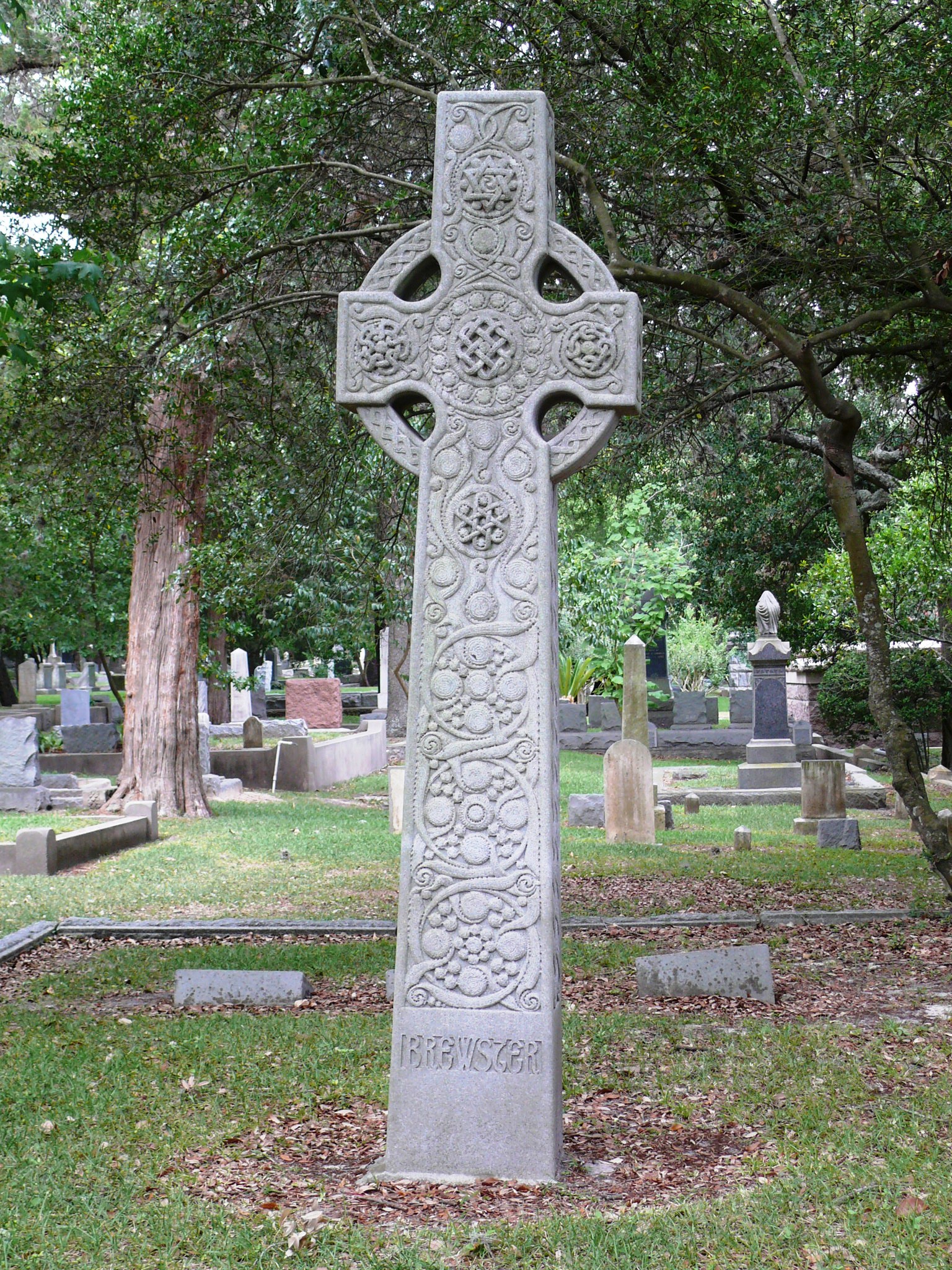 Cross, Celtic – Excellent Marker – This is a fine example of a Celtic cross (called high cross in the British Isles.)   These religious symbols were first erected by Irish monks (possibly as early as the 5th century by St. Patrick). Legend has it the Saint combined the Christian cross with a symbol of the sun (worshiped by the pagans as a source of life) to stress the importance of the cross to those individuals they were trying to convert.  It has been used as a grave marker in the United States since the 1850s.  I know nothing about the Brewsters whose grave this cross marks except that they have excellent taste in funereal art.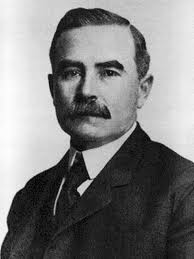 Cullinan, Joseph Stephen (1860-1937) – Oilman – Cullinan took to the oil business like a duck to water.  At 14 years of age he went to work in the oilfields of Pennsylvania, learning the industry from the bottom up.  In 1894 he came to Corsicana, Texas as a consultant and started J. S. Cullinan Company (later changed to Magnolia Petroleum).  Following the Spindletop discovery in 1901, Cullinan moved to Beaumont and founded the Texas Company (now Texaco).  He moved the headquarters to Houston in 1905 thus establishing the city as the petroleum capitol of the world.  He was president of the Chamber of Commerce for six years and strongly backed creation of the Houston Ship Channel.  A supporter of the arts he was involved with the Museum of Fine Arts and the Symphony.  He funded the Houston Negro Hospital, the city's first medical facility for Black citizens.
Cullinan, Nina J. (1899-1983) – Patron of the Arts – Born in Pennsylvania, the Cullinans moved to Beaumont where her father began making his fortune in oil at Spindletop.  Cullinan grew up in Houston.  After graduating from college she began her career in civic life.  Among Cullinan's many achievements were:  founding member of the Contemporary Arts Museum, Society for Performing Arts, Houston Ballet, supported the Museum of Fine Arts Houston, Municipal Arts Commission and Houston Symphony.  The Cullinan Hall at the MFAH, designed by Mies van der Rohe, is a lasting memorial to this great woman.  Upon her death she willed more than $4 million to the Houston Parks Board.
Cushing, Edward Hopkins (1829-1879) – Newspaperman & Horticulturist – A Vermont native he graduated from Dartmouth earning an education degree and rode to Texas hoping to become a schoolteacher.  Cushing taught in Galveston, Brazoria and Columbia.  It was in the latter community that he took a part time job with the local newspaper.  Cushing fell in love with journalism and purchased the Houston Telegram & Register, the city's first paper, from founder Gail Borden in 1856, operating it for the next 10 years.  During the War Between the States he faced two very serious problems for a newspaper publisher.  First was how to obtain accurate news without mail service that had been suspended during the conflict or telegraph wires cut by Union soldiers.  Cushing solved this dilemma by establishing his own pony express.  The second was a severe shortage of newsprint.  He used any paper he could find, so the Telegram was often a different color every day.  Cushing was known to print on the reverse side of wallpaper.  His chronicling of the War was so accurate that Confederate President Jefferson Davis used Cushing's files to publish his autobiography.  His hobby was horticulture and the flowers at "Bohemia," his home (see photo) were considered the best in America.
Daniels, Rufus H. (Ruff) (?-1917) – Policeman – In 1917 the War Department ordered construction of a military training facility in Houston. It was named Camp Logan after General John A. Logan, a veteran of the Civil and Mexican Wars.  Black soldiers from the 24th U. S. infantry were sent to guard the base.  Racial tensions grew and on August 23, a riot erupted.  Over 100 armed Black soldiers marched on downtown.  These mutinous soldiers killed 15 whites, including five policemen, and wounded 12 other Caucasians. Local authorities quelled the riot by morning. Among the law officers who died was Daniels.  Others were Horace Moody, Ross Patton, Ira Raney and E. G. Meinke. The mutineers were arrested, tried and convicted.  Some were hung while many received life sentences for their crimes.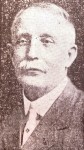 Dawson, Joseph (1851-1935) – Ice Cream Man – An Ohio native he came to Houston in 1879.  Dawson was in the confectionaries business.  He attended the Chicago World's Fair in 1893 where he discovered ice cream.  Returning to Houston Dawson built an ice cream parlor modeled after the Japanese pagoda he saw at the Fair.  The shop was at the corner of Fannin and Capitol.  Needless to say it was a big hit with Houstonians.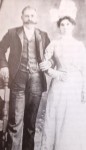 De George, Bernardo (1858-1931) – Entrepreneur – He was born in Italy and immigrated to America in 1880.  De George managed a plantation in Louisiana before moving to Houston in 1881.  He was a very successful grocer and real estate investor.  De George was very active in civic affairs and politics (although he never held a public office.)  Dearly loved and well-respected, pallbearers at his funeral included Attorney John H. Crooker, Captain James A. Baker, Judge J. C. Hutchinson, Governor Ross S. Sterling, Philanthropist Monroe D. Anderson and Mayor Oscar F. Holcombe to mention a few.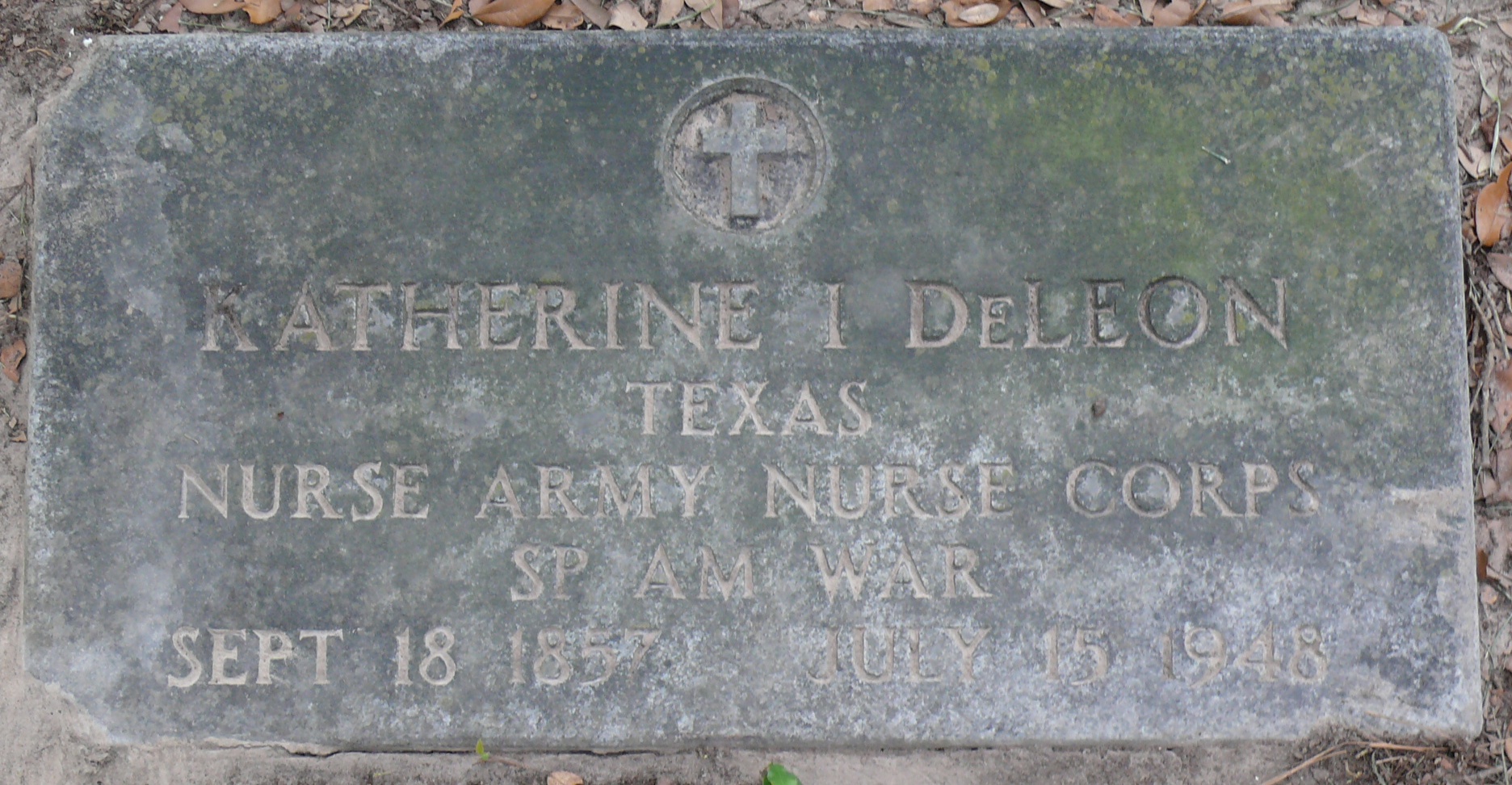 DeLeon, Katherine I. (1857-1948) – Army Nurse – The old sections of Glenwood contain the final resting place of many veterans of the wars of the 19th and 20th centuries – War Between the States, Spanish American, World War I and II. DeLeon served in the U. S. Army Nurse Corps during the Spanish American War (April-August, 1898.)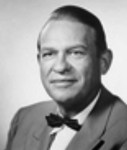 Dies, Martin, Jr. (1900-1972) – Controversial Politician – A native Texan, he earned a degree from the National University School of Law, was named a district judge and served eight terms as a U. S. Congressman.  It was in this latter role that he earned his controversial reputation.  While in Congress he was chairman of the extremely radical House Committee Investigating Un-American Affairs (HUAC) in the 1930s until the 50s.  This confederacy of dunces saw a communist or sympathizer behind every tree – if not a Commie then a Nazi or member of the Ku Klux Klan.  In 1938 the Committee went so far as to criticize 10-year old Shirley Temple of Communist leanings!  They went on to name as Communists or sympathizers Charley Chaplin, Orson Wells, Humphrey Bogart, Kathrine Hepburn and James Cagney (you have to be kidding.)  Many lives and reputations were ruined by this Washington D. C., madness.  Thankfully he lost in his next two quests to become a U. S. Senator.
Dillingham, Charles (1837-1917) – Railroad Man – He was born in Vermont and served with a group of Union volunteers during the War Between the States.  Dillingham moved to New Orleans after the conflict to work in the port there.  In 1883 he moved to Houston and joined the Houston & Texas Central Railway.  In 1889-90 in order to connect Dallas to Houston he laid the Lancaster Tap Railroad.  Dillingham took up banking after his transportation career.  In the last years of his life he served as chairman of the South Texas Commercial National Bank of Houston.
Dunovant, William (1845-1902) – Railroad Man – This South Carolinian arrived in Houston in 1866 after serving in the Confederate Army.  He was involved in agriculture, road construction and canal building.  Dunovant was an investor and president of the Cane Belt Railroad, a line that ran from Sealy, Texas to Matagorda, Texas. William T. Eldridge, his partner, was vice president of the company.  These two had a bitter falling out and Eldridge shot and killed Dunovant on a train ride in 1902.  Outraged, Dunovant's two sisters commissioned a sword- bearing angel with a vengeful countenance to stand guard over their brother's final resting place.  That statue has since been known as the "Avenging Angel."  His siblings also penned a poignant epitaph – "In death of Captain Dunovant, Texas sustains a loss which is a state calamity leaving a void no man can fill."  Unfortunately, the monument was vandalized and the angel's sword was broken in half.
Elgin, Robert Morriss (1825-1913) – Printer –He arrived in Texas in 1842 and soon moved to Houston.  He was a partner in a stationary and printing company named Dealy, Cochran & Elgin. In 1870 he built a mansion at the corner of Texas and Milam that was razed in about 1928 (in the name of progress, of course.)  Elgin was active in fraternal organizations and was Grand Master of the Masons in Texas in 1865-6. The town of Elgin as well as Elgin Street (an eastern extension of Westheimer) are named for him.
Elgin, Robert Wilson (1869-1953) – Houston Pioneer – This native Houstonian was a partner in the printing firm of Dealy-Cochran-Elgin, one of the first in the city.  Elgin was a member of Holland Lodge No. 1, the oldest masonic lodge in Texas, and the Houston Light Guard, a prominent military marching organization.
Ennis, Cornelius (1813-1899) –Railroad Man – Ennis was another of the larger than life people who populated early Houston.  He owned a general store, shipped the first cotton out of Galveston to New England and was mayor in 1856-7.  He founded the Great Northern Railroad as well as the Houston & Texas Central Railroad. He chaired the committee that erected the Galveston Daily News building.  During the War Between the States, Ennis was a successful blockade runner. Ennis Street is named for him.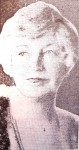 Fall, Florence King (?-1935) – Texas Club Woman – She was born on the family's plantation in Texas.  Educated at Baylor, Fall lived in Beaumont before settling in Houston in 1905.  Her passion was women and their development as citizens.  Fall organized the State Federation of Women's Clubs, a group dedicated to compulsory education and the creation of a school for delinquent girls in Gainesville, Texas. She was president of the Art League, treasurer of the YWCA, president of the Current Literature Club, vice president of the Texas Fine Arts Association, president of the Houston Artists Gallery, Red Cross volunteer and wrote a book, The Key to the City of Houston."  However, Fall will be most remembered as the person responsible for the establishment of the Museum of Fine Arts.  That institution closed in her memory on the day of her funeral.
Farish, William Stamps, II (1881-1942) – Oilman – This Mississippi lawyer moved to Beaumont when oil was discovered at Spindletop to work as a well supervisor for Texas Oil Fields Ltd.  For a short time he did contract drilling and oil trading.  In 1904 Farish formed a partnership with Robert Lee Blaffer and moved to Houston the next year to be closer to the newly discovered Humble oilfield.  In 1917 Farish, Blaffer, Ross S. Sterling and Walter W. Fondren founded Humble Oil & Refining Company (now Exxon Mobile) and the rest is history.  Farish was named chairman of Standard Oil Company of New Jersey in 1933.  He was a founder of the American Petroleum Institute and a member of the National Petroleum Industry War Council during WWII.
Fay, Albert Bel (1913-1992) – Ambassador & Businessman – He was born in Louisiana and moved to Houston with his family at age 15.  In 1938 Fay and his brother Ernest founded Seabrook Shipyard that built ships for the U. S. Navy during World War II.   During that conflict he was a submarine chaser commander.  Fay developed a lifelong passion for boats and the sea.  An avid yachtsman, Fay won numerous world championships in sailing races and served on the U. S. Olympic Yachting Committee.  He had wide ranging business interests including petroleum and real estate.  Active in politics, Fay was elected Republican National Committeeman in 1960.  President Ford named him ambassador to Trinidad and Tobago.    He died doing what he enjoyed doing most – racing his yacht in Galveston bay.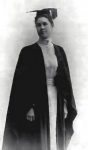 Finnigan, Annette (1873-1940) – Suffragette – Born in West Columbia, TX, her family moved to Houston when she was three years old.  Finnigan attended Wellesley College (fine arts) and Columbia University (philosophy).  In 1903 she and her two sisters established suffrage leagues in Houston and Galveston.  By 1906 the sisters had founded the State Woman (sic) Suffrage Association where she served a president from 1904 until 1906.  Unfortunately in 1916 Finnigan's right arm became paralyzed resulting in her retiring from most of her activities.  She was a very generous woman contributing funds to the Houston Public Library, Museum of Fine Arts and donating 18 acres of land north of downtown for a park for the city's black community.  It is named Finnigan Park in her honor.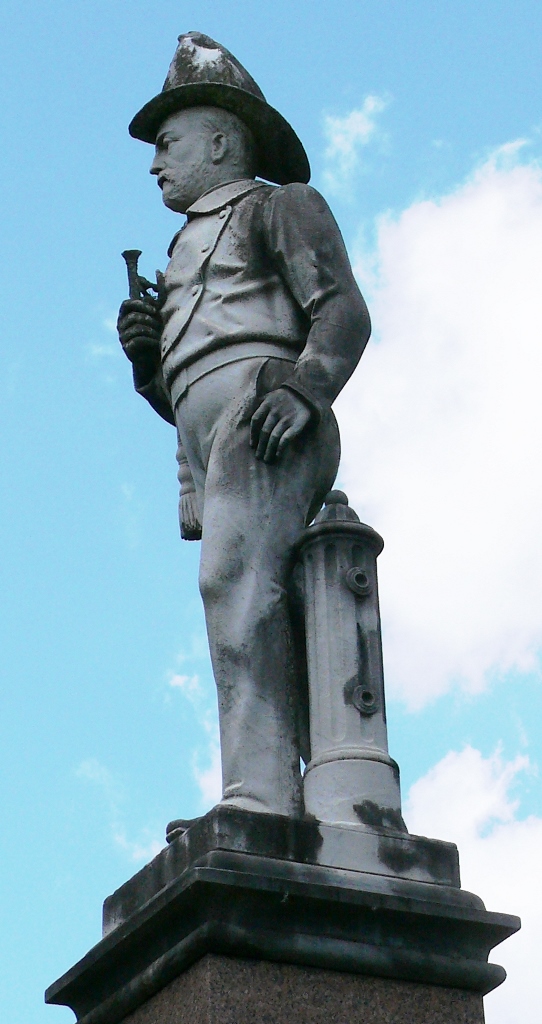 Firemen's Memorial – Died in Line of Duty – This monument honors Houston fire fighters who died in the line of duty. Eight of them were interred between 1888 and 1905.  The plaque lists the names of the 23 Texas City firemen who died in the S. S. Grandcamp explosion on April 16, 1947.  Robert Brewster, Houston's oldest living fire fighter in 1888, was the model for this Carrara marble sculpture.  In 1976 the statue was moved to the main fire station on Bagby where it remained for a few years. However, fire captain Raymond Boyer returned it to its original location in Glenwood Cemetery.
Fondren, Walter William III (1936-2010) – Sportsman & Conservationist – He was born in Houston, a scion of the Humble Oil & Refining Company ( now Exxon Mobile.)  Fondren attended Lamar High School where he excelled in sports.  In 1953 he led Lamar to the High School State Championship and was named Outstanding High School Football Player of the Year in 1954. At the University of Texas, he was a First Team All-Southwest Conference player and All Southwest Conference Halfback in 1955 and since he played both offence and defense, he still holds the record for most minutes played in a season.  Upon graduation Fondren was drafted by the Los Angeles Rams. Back in Houston, he became a respected businessman, investor and board member of the Fondren Foundation.  His greatest civic contribution was as leader of the Coastal Conservation Association.  Fondren was inducted into the International Game Fish Association Hall of Fame (2004) and named one of 50 legends of fishing by Field & Stream Magazine (2005.)  Marks had the good fortune to know Walter well and call him a friend.
Fox, Henry S. (1833-1912) – Banker – He was a very important person in early Houston's development.  Among his many achievements were: dredging the original Houston Ship Channel (1868), expanding the Port of Houston at the foot of Main Street (1870s), director of the Houston Cotton Exchange & Board of Trade (1874) and founder of Houston National Bank (1885), the city's second oldest charted financial institution.  A strong supporter of the Confederacy, Fox volunteered ships that he owned to run cotton through the Union naval blockade of Texas during the War Between the States.
Franzheim, Kenneth (1890-1959) – Architect – Franzheim owned his own architecture firm in New York City when he was contacted by Jessie H. Jones in 1925 to work with Houston architect Alfred C. Finn on the 37-story Gulf Building on Main at Rusk.  By 1937 he had moved his practice to Houston.  Franzheim designed major projects here including: Humble Tower (1936), Hermann Professional Building (1949), Prudential Building (1952), Texas National Bank (1955), Bank of the Southwest (1956) and his most famous commission, Foley's Department Store (1947) on Main Street. He often incorporated major art works in his buildings including massive murals by Rufino Tamayo (Bank of the Southwest) and Peter Herd (removed before the Prudential building was imploded).
Freeman, John Henry (1886-1980) – Attorney – This San Antonio native grew up in Houston's 5th Ward.  Freeman attended public school here and earned a law degree from the University of Chicago in 1913.  He first worked for Campbell, Meyers & Freeman but soon joined Fulbright, Crooker & Freeman as a full partner in 1924.  Freeman's expertise was in banking, real estate and corporate law.  He served as Houston City Attorney in 1928-9.  Freeman was President of the Houston Bar Association and Chief Counsel for the cotton broker, Anderson, Clayton & Company.  In 1936 he, Monroe D. Anderson and William B. Bates formed the M. D. Anderson Foundation and he was elected a trustee.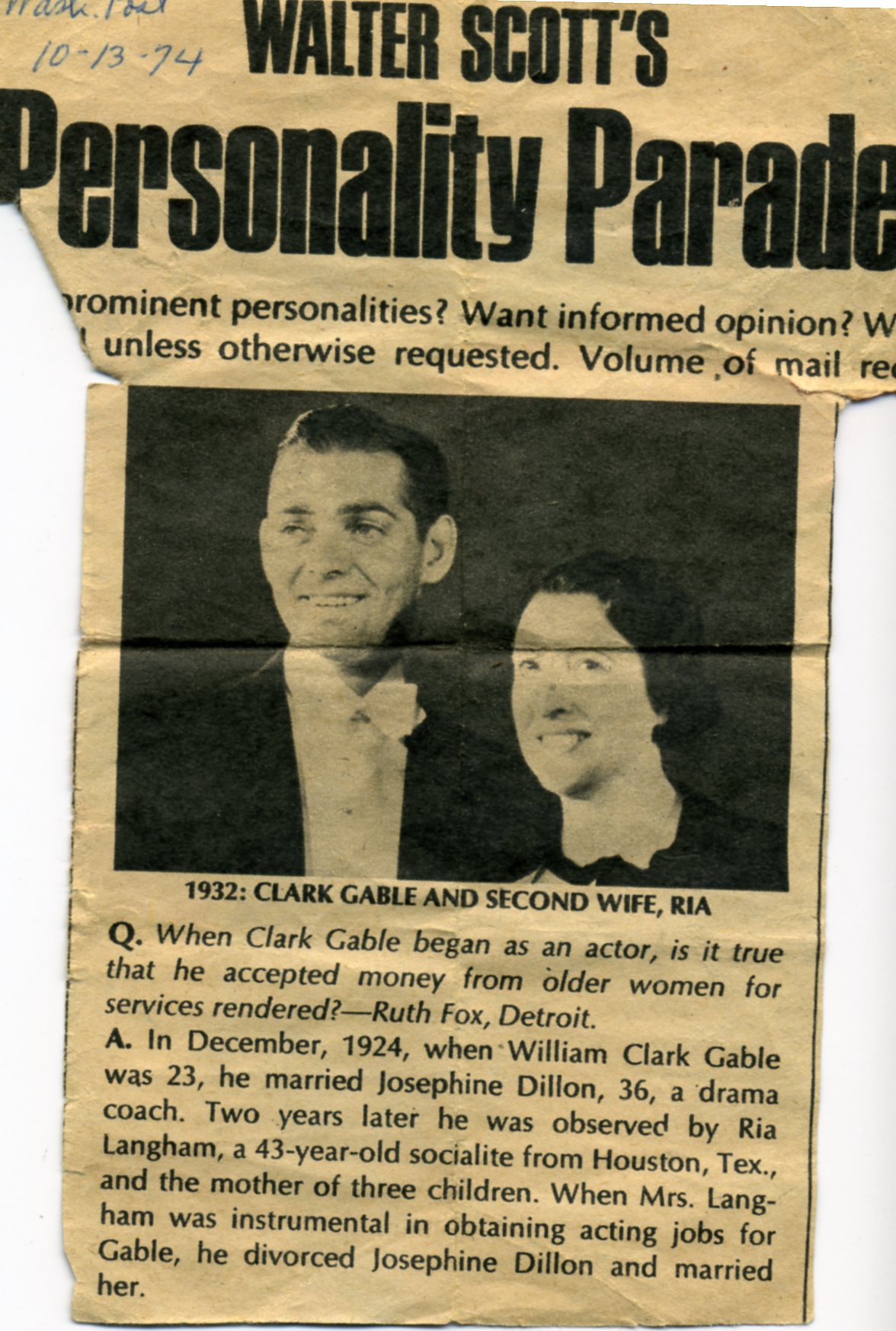 Gable, Maria Franklin Prentiss Lucas Langham (1884-1966) – Socialite – Known as Rea, she was a widow when she and her daughter George Anna met Clark Gable in New York City where he was acting in a play.  Rea and Clark fell in love and married in 1930.  The newlyweds and George Anna moved to Hollywood where George Anna worked as Gable's secretary answering fan mail.  Neither woman cared for life in Tinsel town so the Gables' amicably divorced.  Rea and her daughter moved back to Houston.  Gable returned to Houston to give George Anna away in her wedding to Dr. Thomas Burke.  It is well known that Gable did not want to play Rhett Butler in the film classic Gone with the Wind.  But it was Rea who talked him into taking the role that is his most famous.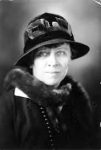 Gearing, Mary Edna (1872-1946) – Home Economics Teacher – Born in Pennsylvania, her family moved to Houston where she attended high school.  Gearing received a degree from Columbia University.  In 1906 she was hired by the Houston School Board to establish a home economics program, one of the first in Texas.   In 1912 Gearing joined the faculty at the University of Texas where she established another home economics venue.  She became the first woman to be named professor and department chairman at UT.  Gearing's next civic project focused on child welfare.  In 1976 the Home Economics Building at the University was renamed in her honor.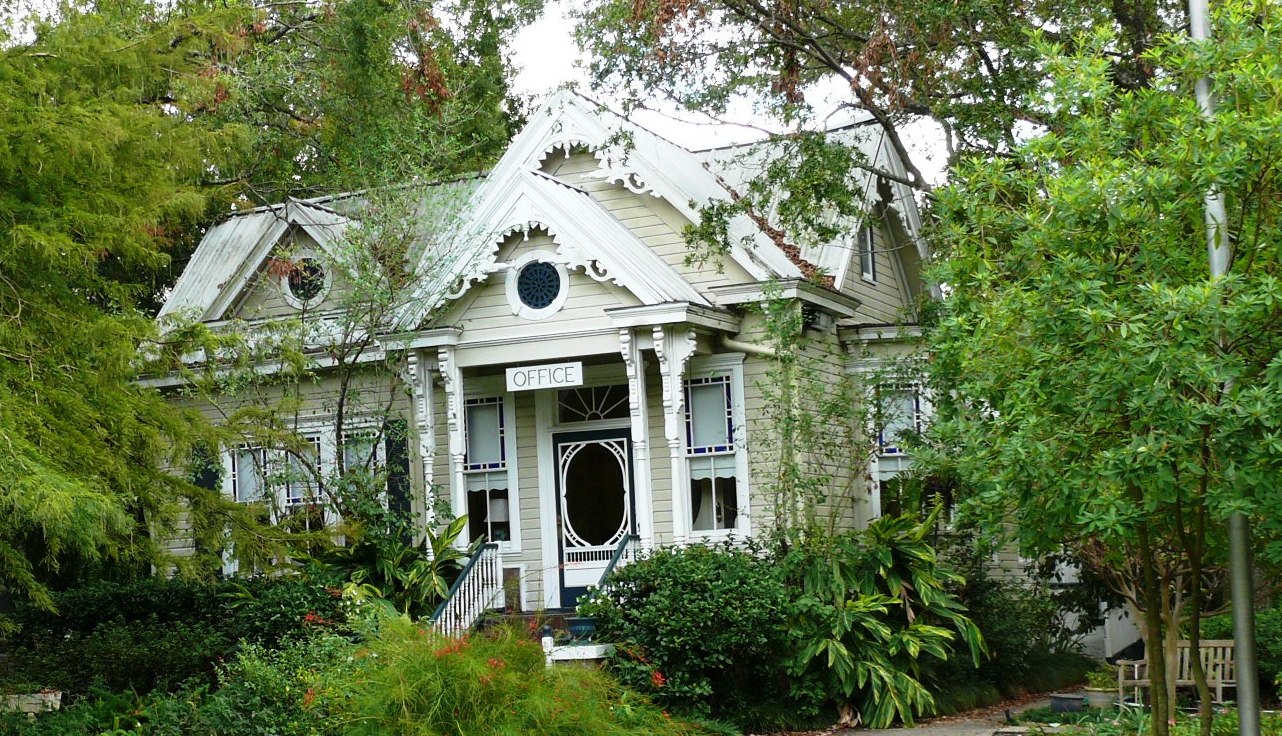 Glenwood Cemetery Office – Caretaker's Cottage (1888) – Originally this charming Victorian cottage was the home of the cemetery's caretaker.  It was moved here from downtown in the 1890s. The stained glass windows are originals. Notice how the birdhouses that surround it look like small models of the cottage.
Gray, Edwin Fairfax (1829-1884) – Soldier – This Virginian moved to Texas in 1838 and by 1841 obtained an appointment as a midshipman in the Texas Navy.  Following annexation, Gray was transferred to the U. S. Navy.  In 1853 he accompanied Commodore Matthew Perry to Japan.  Resigning his commission he became secretary and treasurer of the Houston Tap & Brazoria Railway.  He served as a lieutenant colonel in the 4th Texas Brigade under General Robert E. Lee.  The 4th Texas saw action in some of the bloodiest battles of the War Between the States including Second Manassas, Antietam, Chickamauga and Gettysburg.  The 4th Texas won a reputation as one of the most reliable and hardest fighting units in the Confederate Army.
Gray, Peter W. (1819-1874) – Lawyer – Gray was a controversial lawyer in early Houston.  He was a Harrisburg judge whom Chief Justice Oran Roberts called "the very best district judge upon the Texas Bench."  Another judge fined him $20 for sitting on a courtroom table and $20 for smoking in court.  In 1839 he was an organizer of the law firm Gray, Botts & Baker, predecessor of today's Baker & Botts. Gray founded and captained the Texas Grays during the War Between the States, was General John B. Magruder's aide during the 1863 Battle of Galveston and was elected to the House of Confederate Delegates.  He developed tuberculosis in 1873.  The following year he was appointed to the Texas Supreme Court but served only two months on the bench due to his failing health.  Upon his death Chief Justice Roberts said he was "a man who ought to be remembered."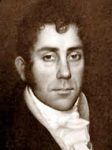 Gray, William Fairfax (1787-1841) – Soldier & Lawyer – He was born in Virginia.  In 1811 Gray was commissioned a captain in the Virginia Militia and fought in the War of 1812.  In 1821 he was promoted to lieutenant colonel (although everyone called him "Colonel").  Gray came to Texas in 1836 and attended the Convention at Washington-on-the Brazos. He moved his family to Houston in 1837 and opened a law practice.  During his life Gray held a number of important offices including:  clerk of the Texas House of Representatives (1837), secretary of the Senate (1838) and district attorney (1840.)  Upon his death he was interred in the Old City Cemetery but was reburied in Glenwood when it opened in 1872.
Gregg, Darius (1804-1870) – Surveyor – Born in Kentucky, he came to Texas in 1827 and was granted a league of land from Stephen F. Austin.  He fought in the Texas Revolution seeing action at the Siege of Bexar and the Grass Fight.  He was a land developer as well as a surveyor in the Fifth Ward. His name is on the 1900 map of Houston as a major property owner.  Surveyors often named streets for themselves and thus the provenance of Gregg Street.  The Reverend Toby Gregg, a former slave freed by Darius Gregg following the War Between the States, founded Mount Vernon United Methodist Church, the oldest religious organization in the Fifth Ward.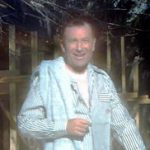 Gunn, Ralph Ellis (1908-1976) – Landscape Architect – Following World War II, modernism arrived on the scene in Houston's landscaping business.  Among other features were the addition of tropical plants in our city's landscaping.  Gunn was prominent in this movement.  He is remembered for beatifying St. John's the Divine Church, First Christian Church, Rienzi Mansion and oil baron Glenn McCarthy's phenomenal Shamrock Hotel (razed in 1987.)  The modernist movement also had a great impact on the design of Glenwood Cemetery beginning in the mid-1940s.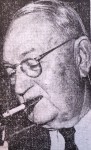 Hammond, M. Frank (1872-1951) – Lawman – This Texas native arrived in Houston in 1887 and joined the Houston Police Department.  It was said "…he was not afraid of anybody or anything."  The fearless Hammond was constantly breaking up drunken brawls in the infamous old 66 and Klondike saloons.  He counted among his friend's judges, bankers, gangsters and lawyers.  Hammond sent many a man to the penitentiary but was the first one to buy them a suit upon being paroled.  In 1934 he was named a United States Marshall, a position he held until his retirement in 1949.
 Harris, DeWitt Clinton (1814-1861) – Politician & Railroad Man – Born in New York, he was the son of John Richardson and Jane Birdsall Harris, founders of Harrisburg, Texas.  Harris and his mother moved to Texas in 1833.  He was the first county clerk of Harrisburg County (1837-41), alderman of the town (1842), director of Harrisburg Town Company (1839-47).   Harris was involved with the Buffalo Bayou, Brazos & Colorado Railroad (1850-61) holding such positions as director, secretary and conductor.  Originally buried in Glendale Cemetery (see Glendale) his remains were moved to Glenwood in 1913.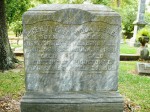 Heiner, Eugene T. (1852-1901) – Architect – He was Houston's most famous architect of the late 19th century.  Heiners' specialty was designing courthouses (Galveston, Hallettsville), jails (Galveston, Harris and Tarrant Counties) and prisons (Texas State Penitentiary at Huntsville).  He is most remembered for his magnificent high Victorian style Cotton Exchange & Board of Trade (1884) on Houston's Market Square.  Other commercial successes included Sweeney & Coombs building (1880), Henry Brashear building (1882) and the Houston Ice & Brewing Company plant (1893).  All that remains of the latter complex is the Magnolia Ballroom on Franklin Street.  Heiner was a founder and first secretary of the Houston Business League, a commercial organization of businessmen, in 1891.  He is remembered by Heiner Street.
Henke, Henry (1862-1928) – Grocer – Born in Germany, Henke arrived in Houston at age 10.  He founded the grocery firm of Henke & Pillot in a wood frame building when our streets were still muddy quagmires following a rain storm.  Henke operated the business for 56 years building it into one of the largest grocery chains in the South.  He was known as "…a man who applied business principles of integrity to all the transactions of his daily life."    Loved by his employees over 500 of them attended Henke's simple funeral service.  He was a member of the Navigation Commission for 10 years and is remembered as a great philanthropist.  Henke's mausoleum is one of the most impressive in Glenwood.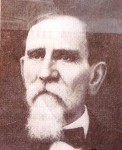 Hermann, George H. (1843-1914) – Philanthropist – He was born in a log cabin situated where City Hall stands today.  Hermann came from humble roots.  His parents arrived in Houston in 1838 with $5 and three children. His mother pawned her jewelry so they had capital to open a bakery.  He began working early as a stock keeper on a local ranch.  Hermann served honorably in the War Between the States.  Following the conflict he took up cattle raising.  Hermann went on to make a fortune in livestock, oil and land.  He was a founding member of the Board of Park Commissioners.  In 1885 he donated the land where he was born to the city for a park.  His only demand was that anyone who was drunk could sleep it off in the park without being arrested.  The reason:  Hermann did not want to be constantly bailing out his employees.  In 1914 he donated 278 acres of wooded land for another park.  He did not live to see the 1915 opening of Hermann Park.  As he never married, his estate, valued at $2.5 million, was willed to a foundation to open a hospital. Hermann Hospital was completed in 1925 at a cost of $1.0 million. Hermann Drive as well as the park and hospital are named for this great Houstonian.
Hilton, Leonard Lane (1947-2000) – Olympian – He was one of Houston's best track stars.  At the University of Houston in 1970 he ran in an indoor distance medley relay (four members each running a different distance:  1200 meters, 400 meters, 800 meters and 1600 meters) that set a world record.  Two years later he made the U. S. Olympic Team in the 5000 meters.  In1973 and 1975 Hilton was the U. S. champion in the mile.  Marks had the pleasure of knowing Leonard and competing in a number of track meets where he ran.  Every year on the anniversary of his death (September 28) his family posts Hilton's Hi-lites from Heaven on the web.  It is a fun and entertaining read.  Check it out.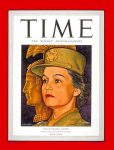 Hobby, Oveta Culp (1905-1995) – Soldier, Newspaper Publisher & Politician – A native Texan, she began her political career as the parliamentarian of the Texas House of Representatives (1926).  Hobby became a journalist with the old Houston Post in 1930, marrying the publisher, William P. Hobby, in 1931.  During World War II she was the director of the Woman's Army Corps.  Hobby was the first woman to receive a Distinguished Service Medal for her military service.  President Eisenhower appointed her the first female secretary of the Department of Health, Education and Welfare (1953).  In 1955 Hobby returned to Houston to replace her ailing husband as the president and editor of the Post.  Eisenhower tried to get her to run for president on the Republican ticket in 1960 against John F. Kennedy.  Hobby declined.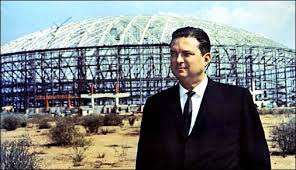 NEW Hofheinz, Roy Mark "The Judge" (1912-1982) – Entrepreneur par Excellence – He was born into a poor family in Beaumont, TX.  Hofheinz father died when he was 15 and he worked to support his mother.  He attended Rice University and the University of Houston, graduating from its law school at 19.  Hofheinz was elected to the Texas House of Representatives (1934-6) and was its youngest member at 21.  From 1936 until 1944 he was a Harris County Judge, thus the nickname.  Elected Mayor of Houston in 1952, he served two terms.  Hofheinz and his business partner, R. E. "Bob" Smith, founded the Houston Sports Association, opened the world's first domed stadium (1965) at a cost of $31.6 million known as "the Eighth Wonder of the World" and convinced major league to give the city a team (Houston Colt 45s) now the Astros.  He built Astroworld, a huge amusement park, near the Astrodome and bought Ringling Brothers Barnum and Bailey Circus.  Hofheinz fell on hard times partially due to a serious stroke in 1970 that confined him to a wheelchair.  Within five years the Empire was no longer.
Holland, Margaret Ellen (1847-1921) – Physician – Born in Illinois, she was orphaned at a young age and adopted by a wealthy neighbor who paid her tuition at Woman's Medical College in Chicago.  Holland moved to Houston and established a practice in 1871.  She was a strong supporter of education and was active in the PTA and Public School Art League.
Holman, James S. (1804-1867) – First Mayor of Houston – He was born in Kentucky and moved to Texas in 1834.  Holman fought at the Siege of Bexar.  Following the Texas Revolution he represented the Allen Brothers as a real estate agent in the development of Houston.  In 1836 he was elected district court clerk of Harrisburg County (now Harris).  Holman ran in the first mayoral race in the city.  He won in a tight race with 12 votes against 11 for Francis Lubbock and 10 for Thomas W. Ward.  Holman worked hard in getting the U. S. to annex Texas.  He died in a yellow fever epidemic.

House, Colonel Edward Mandell (1858-1938) – Politician – He became interested in Texas politics during the 1892 re-election bid of Governor James S. Hogg.  For masterminding a stunning upset win, the governor declared House an honorary colonel in the Texas State Militia. On the national level he was a pivotal figure in the election and administration of President Woodrow Wilson.  House was famous for his behind the scenes diplomatic skills and negotiating peace terms at the end of World War I.  Often described as a power broker and as the founder of the modern Democratic Party in Texas, Colonel House avoided holding or accepting a public office.  He believed doing so would have interfered with his effectiveness and freedom to maneuver.  (See T. W. House.)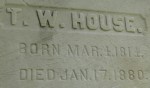 House, Thomas W. (1814-1880) – Businessman – Born in England he arrived in Texas in 1838, opening a successful dry goods store.   Later he became a banker and invested in railroads.  House was involved in one of the goofiest schemes in early Houston history.  He joined a group of prominent citizens in planning to construct a wooden road from downtown to the Brazos River, as most roads at that time were impassible following our monsoon rains.  Unfortunately, at a cost of $1,000 per mile (in 1850 dollars) the project proved ridiculously expensive so the Houston Plank Road Company ceased to exist.  (See E. M. House.)
Huffington, Roy Michael (1917-2008) – Oilman – This long time Houston resident was born in nearby Tomball.  Like many young men during the Great Depression Huffington wanted to get into the oil business.  He earned a geology degree from SMU.  Then World War II started and Huffington served aboard the USS Hornet, an aircraft carrier, in the Pacific Campaign.  He won a Bronze Star and a Presidential Unit Citation.  Huffington began his oil career with Humble Oil & Refining Company in 1945. But by 1956 he had gone out on his own as a wildcatter. Huffington was very successful in discovering oil domestically as well as overseas.  In Indonesia he hit a gigantic gas field.  On visits to Indonesia he was often mistaken for film star John Wayne.  In 1990 President George H. W. Bush appointed Huffington Ambassador to Austria.   He was very civic minded devoting time and donating to many worthwhile causes including the Asia Society, Houston Ballet, Symphony, Chamber of Commerce and the Rothko Chapel.
Hughes, Howard Robard Sr. (1869-1924) – Inventor – Born in Missouri in 1869, he intended to become a lawyer.  However, when the Spindletop field was discovered near Beaumont he recognized the opportunity to establish himself in the oil drilling business.  He and his partner, Walter B. Sharp attempted to drill some wells near Pierce Junction and Goose Creek, Texas but found the rock extremely hard and impenetrable.  Hughes took some time off and developed the rock bit, a specially designed cone-shaped bit with tough steel teeth that could penetrate these hard formations.  In addition it drilled 10 times faster than any previous technology.  In 1909 the men organized the Sharp-Hughes Tool Company to manufacture the bit.  It was the basis of the Hughes family fortune.  He had one son, Howard R. Hughes Jr., the flamboyant aviator, playboy, movie director and investor.  (See Sharp.)   )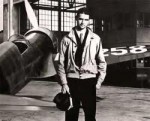 Hughes, Howard Robard Jr. (1905-1976) – Entrepreneur – He was born on Christmas Eve in Houston.  His parents died while he was a boy, passing a huge estate to their only offspring.  At 19 years of age the court declared him an adult and he took control of Hughes Tool Company, an oilfield service company that had invented the rock bit (see Hughes Sr.).  Hughes moved to Los Angeles and began making motion pictures including Hell's Angels (1930), at $3.8 million the most expensive movie ever released, Scarface (1932) and The Outlaw (1941), with the very voluptuous star, Jane Russell.  He turned his attention to aviation and formed Hughes Aircraft.  In 1935 he set a speed record of 352 MPH in an H-1, a transcontinental record in 1937 (7 hours and 28 minutes) and zoomed around the world in 1938 in 3 days, 19 hours and 17 minutes.  Houston officials were so pleased with the fame of this local boy they named the airport for him (shortly it was renamed for William P. Hobby).  He designed and flew the gigantic HK-1, better known as the "Spruce Goose," a military transport made of wood.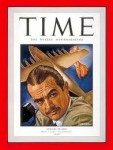 He purchased RKO Studios, gained control of TWA, founded the Hughes Medical Institute and bought most of the casinos in Las Vegas.  Along the way he found time to date many gorgeous motion picture starlets, marrying Jean Peters in 1957.  Hughes became extremely reclusive in his later years and conducted his operations via memorandums.  At that time he moved his retinue of aides to London, Panama, Canada and finally Acapulco. He became deathly ill in Mexico and died on a flight back to Houston's Medical Center. While only 10 mourners attended Hughes funeral there were more than sixty representatives from the media.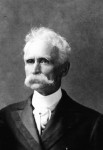 Hutcheson, Joseph Chappell (1842-1924) – Legislator – Born in Virginia he graduated from Randolph-Macon College just prior to the War Between the States.  Hutchenson enlisted in Thomas J. "Stonewall" Jackson's Company C, 21st Virginia Infantry.  Surviving the War, he earned a law degree and moved to Houston in 1874.  Hutcheson was elected to the 17th Texas Legislature in 1880, drafting a bill creating the University of Texas.  He ran again and won in the 53rd and 54th Congress.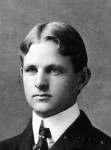 Hutcheson, Joseph Chappell, Jr. (1879-1973) – Judge – This Houston native graduated in 1900 from the University of Texas, the first graduating class, with a law degree.  He joined his father's firm, Hutcheson, Campbell & Hutcheson.  In 1917 he was elected Mayor of Houston.  The following year President Woodrow Wilson named him U. S. District Judge.  In 1931 President Hebert Hoover promoted Hutcheson to Judge of the 5th U.S. Circuit Court.  He must have been an excellent judge as he never had a ruling overturned on appeal.
Illig, Lillian Horlock (1909-2011) – Gardener Extraordinaire – Born in Navasota, she moved to Houston in 1914.  At 18 she was elected by the Houston Girl Scouts as a representative to the first International Girl Scout Camp in Geneva, Switzerland.  Illig earned a degree at Rice and was chosen a Rice Beauty as well.  She was one of four women selected to unveil the statue of William Marsh Rice in the quadrangle at the school.  His ashes are interred under the statue (See Rice Institute.)  Illig was a charter member of St. Martin's Episcopal Church, a founder of the Tanglewood Garden Club (1951) and published many articles about gardening and flowers in House Beautiful, Fine Gardening and Texas Gardener. Illig was known for her artistry with flower arrangements as well.  She lived to the ripe of age of 102.  Marks was privileged to publish an interview with her in Tanglewood Tales in 2002.
Johnson, Rienzi Melville (1849-1926) – Newspaperman – A Georgia native, Johnson served in the Confederate Army as a soldier and drummer.  Following the War Johnson started his career as a newspaperman.  He worked for papers in Crocket, Corsicana and Austin prior to joining the Houston Post where he rose through the ranks to become Editor-in-Chief.  Johnson was active in the Democratic Party.  Texas senator Joseph W. Bailey resigned his seat in 1913 and Governor Oscar B. Colquitt asked Johnson to fill out his term.  His duty in Washington D.C. was short – only 25 days. After which he returned to Houston and the Post. He eventually served as state senator from Houston and as chairman of the state prison commission.
Jones, Anson (1798-1858) – President Republic of Texas – Jones is a rather tragic figure in Houston history.  He studied medicine and gained a degree but gave it up to become a merchant in 1832, a career that left him despondent and broke.  Arriving in Texas in 1833 he was eventually caught up in the independence movement.  In 1835 Jones was a co-founder of the first Masonic Lodge in Texas.  During the Revolution he saw action in the San Jacinto campaign.  Jones developed an interest in politics and was appointed Minister to the United States in 1838 by Sam Houston.  He did succeed in aiding Texas to join the union and was called the "Architect of Annexation." He was elected president of the Republic in 1844, the last person to hold that office.  Depression once again set in when he failed to be named to the U. S. Senate in 1845.  Although he became wealthy  as a planter he spiraled downward both physically and mentally over the next 12 years and finally committed suicide in the Capitol Hotel (now the location of the Rice Lofts) in 1858.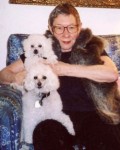 Kays, Jamie Colleen Kelley Kiesling (1928-2007) – Real Life Auntie Mame – This Dallas native was a graduate of the Universities of Texas, Columbia and Paris. Kays enjoyed flying private planes around the world, called Ernest Hemingway and Orson Wells friends and once wore the Hope Diamond around New York City.  In addition she was a poet, mother, artist, raconteur and Houston school teacher for 27 years.  Her tombstone epitaph is a quote from Edgar Allen Poe's The Black Cat – "May God shield and deliver me from the fangs of the Arch-Fiend" – a great horror short story.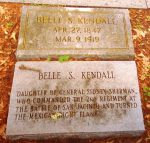 Kendall, Belle Sherman (1847-1919) – Civic Leader – She was the daughter of the heroic Texas Revolution General Sidney Sherman and wife of William E. Kendell.  Born in Harrisburg, Kendall moved to Houston in 1878.  She was instrumental in establishing our first lending library by obtaining a donation from philanthropist Andrew Carnegie.  The new Houston Lyceum Library and Carnegie Library Association were chartered in 1900.  Active in civic affairs Kendall was an important member of the Ladies Reading Club, Woman's Club and Shakespeare Club as well as a founder of the Daughters of the Republic of Texas.
Kidd, John C. (1815-1935) – Jack of All Trades – Born and educated in Maryland, he was hired by a grain merchant in New Orleans during the time that city was occupied by the Union Army in the War Between the States, enlisted on a full-rigged sailing ship and sailed to France, worked for the Houston & Texas Railroad, operated a grocery, was employed by the printing company Dealy-Adey-Elgin (See Glenwood – Elgin, Robert Morriss.), was a reporter for the Houston Telegraph, sold real estate and was a director and shareholder of the Houston Post.  Upon retirement, Kidd devoted his life to working for the Grand Commandery, Knights Templar of Texas and the Holland Lodge, Number 1 of Houston (the oldest in the state.)  He wrote the history of that Lodge.  Kidd was also a member of the Scottish Rite.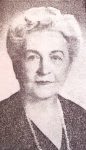 Kinkaid, Margaret Hunter (?-1951) – Educator – A native Houstonian, she founded the Kinkaid School, the city's first college preparatory institution.  Kinkaid opened the school in 1904, teaching seven pupils in the living room of her home at the corner of San Jacinto and Elgin Streets in downtown.  In 1924 she had enough students to move the school to a six-acre campus at 1319 Richmond.  Mrs. Kinkaid died from injuries received in a car wreck while driving to visit her son who lived in Conroe.  The school moved to its present location in the Memorial area in 1957.  Her father Dr. Johnson Hunter was the first licensed physician in Texas, arriving with one of the first group of colonists.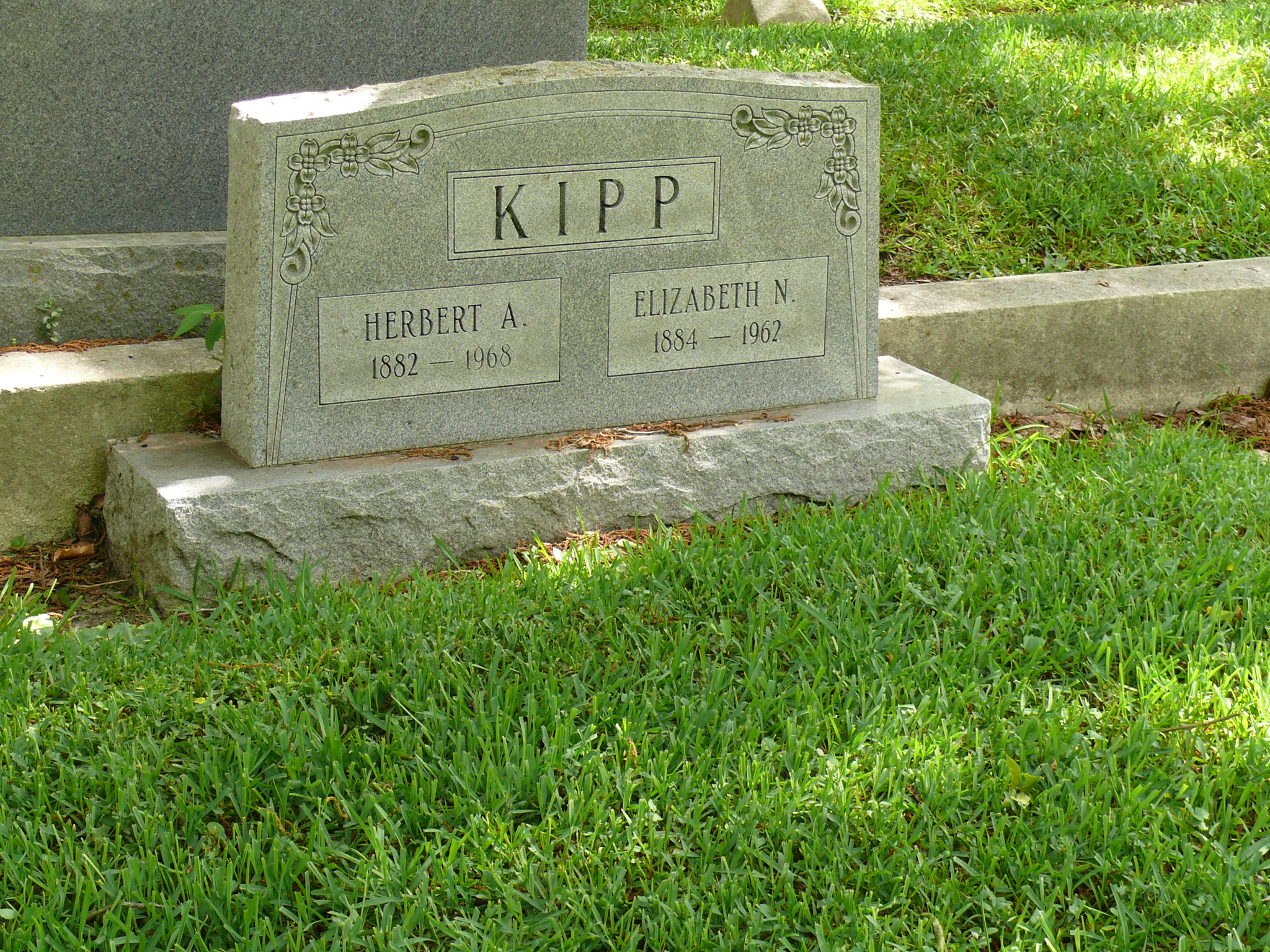 Kipp, Herbert A. (1873-1968) – Houston City Engineer – He played an important role in the development of Glenwood Cemetery.  In 1919 Houston suffered a massive flood that caused severe damage to the burial ground due to its location alongside Buffalo Bayou.  Directors hired Kipp to create a flood abatement system to minimize the damage flooding might cause. Flood walls and a drainage pond were added to protect the cemetery.  In the 1920s oilman Joseph S. Cullinan hired Kipp to design a lovely new estate-style neighborhood named Sunnyside near Rice University.  It was rapidly developed by some of Houston's most famous architects including William Ward Watkin, John Staub and Birdsall Briscoe among others. He also platted Broadacres (1922) and River Oaks (1924.)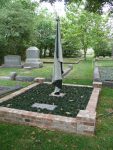 Koehler, Anne Cox (1954-2006) – Art Lover – Koehler loved art and was a longtime patron of the Museum of Fine Arts Houston.  After her death her husband, Ed Koehler, commissioned Houston artist Joseph Havel to create a sculpture for her grave site.  The piece was done in 2008 and is titled Knotted Sheet (for Anne).  Havel is director of the Glassell School at the MFAH.  This internationally known artist has works in the MFAH, Phoenix Museum of American Art, Musee Art France and Contemporary Museum Honolulu to mention a few.
Landry, Norma Chen (1941-2012) – Beauty Queen – Landry was born in New York City.  She moved to Houston with her parents in the 1950s.  Against her father's will, 16-year old Norma Chen entered the 1958 Miss Chinese New Year Houston Pageant and won.  She was a model for the John Robert Powers School of Modeling, a Director of the Miss Universe Pageant, Continental (now United) Airlines hostess, paralegal and served on the board of the Harris County Appraisal District.
Law, Caroline Wiess (1918-2003) – Philanthropist — She was one of Houston's most generous donors, especially to the arts.  Following her death, Law's estate willed over $400 million worth paintings and other precious objects to the Museum of Fine Arts Houston.  In 1998 the main building was renamed in her honor.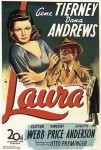 Lee, Gene Tierney (1920-1991) – Movie Star – Tierney was born in New York. Following her schooling she exhibited an interest in acting.  In the early 1940s she moved to Hollywood and soon became a rising star for 20th Century Fox.  It was her portrayal of the title character in the murder mystery Laura that established Tierney as a major screen star.  She enjoyed continued success throughout the 1940s and 1950s in such films as The Razor's Edge (1946) and The Egyptian (1954).  In 1960 she married W. Howard Lee, a Houston oilman and the former husband of Hedy Lamar.  She moved to Houston where she lived for the next 31 years.  Note the small old motion picture camera cut into here gravestone. (photo to come)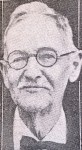 Lillie, William Elliot (1846-1941) – Oldest Native Houstonian – When "Uncle Will" as he was known died in 1941 he was the oldest Houston native.  Born in 1846, ten years after the Allen Brothers founded our fair city and less than a year after Texas was admitted to the Union, Lillie saw the first railroad train to come here (1851), the first two great fires (1859 and 1860), the first streetcars (1868), saw Indians camping where Sam Houston Park is today (catty-cornered from City Hall) and swam in Buffalo Bayou in the wake of steamboats.  He told a Houston Chronicle reporter "I'll tell you, there never was a town as thrilling as Houston for a boy to grow up in.  Why there was always something exciting going on."   At 17 Lillie joined the Confederate Army and was stationed in Texas.  When asked about the War Between the States he said "I believed in the South and in her cause with all my heart.  But we lost. It must have been for the best, though we couldn't see it then."
Looscan, Adele Briscoe (1848-1935) – Historian – She was the daughter of old line Texas pioneers, Mary Jane Harris and Andrew J. Briscoe. She was a member of the Ladies Reading Club and a founder of the Houston Lyceum (now the Houston Public Library).  A historian and author, Looscan was a charter member and president of the Texas State Historical Society and a founder of the Daughters of the Republic of Texas. The Looscan branch of the Library was named in her honor. (See Briscoe.)
Lubbock, Francis Richard (1815-1905) – Politician — A native of South Carolina, following the death of his father he quit school at 14 to work in a hardware store.  Lubbock continued his business career in New Orleans prior to moving to Texas in 1836.  A year later he opened a general store in Houston. In the 1840s Lubbock turned to ranching.  However, politics was calling Lubbock and he was named comptroller of the Republic of Texas.  He served as the clerk of Harris County district court from 1841 until 1857.  In 1861 he was elected Governor in a very close race, winning by only 124 votes. When Lubbock ended his term he joined the military as a lieutenant colonel in the Confederate army.  In 1864 he was appointed aide-de-camp to CSA President Jefferson Davis.  Lubbock was captured at the end of the War Between the States and Imprisoned in Delaware.  Upon his release he returned to ranching.  In 1878 he was named treasurer of Texas, an office he held until 1891.
Lubbock, Thomas Saltus (1817-1862) – Soldier – A South Carolina native, he moved to New Orleans in 1835 working as a cotton factor.  When the Texas Revolution broke out that year Lubbock joined the Texas Army and fought at the Siege of Bexar.  Following independence he volunteered for the Santa Fe Expedition as a lieutenant.  Lubbock was captured in New Mexico and imprisoned in Mexico. However, he managed to escape and returned to Texas.  A supporter of the Confederacy, Lubbock enlisted in Robert E. Lee's Army of Northern Virginia and fought in the War Between the States.  Later he helped organize B. F. Terry's Texas Rangers where he was named commander when Colonel Terry was killed in battle in 1861.  Lubbock contracted typhoid fever and died in 1862.  He was the younger brother of Texas Governor Francis R. Lubbock (see above.)  Lubbock County is named in his honor.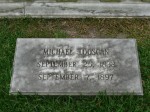 Looscan, Michael (1838-1897) – Lawyer –Born in Wales he arrived in Houston and used his legal skill to be named city attorney.  Looscan was a close friend of James S. Hogg and was campaign manager of Hogg's first successful run for governor in 1890.  To remember his assistance in the election, the governor's son, Mike Hogg (who along with Will Hogg and Hugh Potter developed River Oaks in 1924) named Looscan Street for him.  His wife was Adele Briscoe Looscan.  (See A. B. Looscan.)
MacGregor, Henry F. (1855-1923) – Newsman – He was a major influence at the Houston Post for years.  MacGregor along with John H. Kirby put up the land for St. Agnes Academy.  He was also a founder of the Houston Symphony Association. He gave the city land for a park at Main and Richmond Streets with a fountain, reflecting pool and a sculpture of his wife, Elizabeth (affectionately known as Peggy.)  The sculptor who created the statue was Gutzon Borglum whose next commission was the monumental presidential busts at Mt. Rushmore.  Little remains of Peggy Point Park today but the statue of Peggy was restored and relocated to MacGregor Park.  That Park as well as MacGregor Drive is named for him.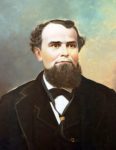 McAshan, Samuel Maurice (1829-1904) – Businessman – He was born in Virginia, moving to Texas with his family in in 1844.  McAshan's business career started as a clerk at a bank in Columbia, TX.  He enlisted in the Confederate Army but was forced to resign his commission due to poor health.  Unable to bear arms, McAshan was hired by T. W. House to export cotton and import fire arms for the Confederates.  Following the War, House hired him as a cashier at his bank, where he worked for more than 30 years. McAshan was a very generous man donating money to numerous causes as well as supporting Shearn Methodist Church.  One of Marks best friends at St. John's School was his grandson who is named for him.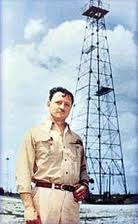 McCarthy, Glenn Herbert (1907-1988) – Wildcatter – He was born in Beaumont, Texas on Christmas Day.  McCarthy began working in the oilfields near town at the age of eight years earning $0.50 a day.  He enrolled at Rice Institute but soon dropped out to start his own oil company.  He hit major fields 38 times between 1932 and 1942.  His wealth, estimated at $200 million in 1949, came from 400 producing oil and gas wells.  He purchased a tract of land south of downtown and in 1949 McCarthy spent $21 million building the Shamrock Hotel.  He spent over $1 million on its lavish opening, dubbed "Houston's biggest party."  In spite of his assets the "King of the Wildcatters" found himself more than $50 million in debt in 1952.  However, a federal loan bailed him out for the time being.  By 1955 he lost control of the Shamrock, selling it to the Hilton chain.  Two years later he opened the exclusive Cork Club in downtown.  (Your author was invited to the grand opening.)  McCarthy was a notorious drinker who introduced his own label, Wildcatter, bourbon.  He was the inspiration for the character Jet Rink in Edna Ferber's novel, Giant.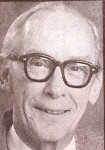 Miller, Ray (1919-2008) – Television News Man & Historian – This Ft. Worth native began his career in radio in his home town.  Miller moved to Houston and joined KPRC Radio in 1951 and KPRC-TV, Houston's first television station.  He is most remembered for his television program, The Eyes of Texas that ran from 1969 until 1999, making it the longest running show in the city's history.  Miller also wrote 10 Eyes of Texas travel guides.  He was awarded a Peabody Award, the broadcast equivalent of a Pulitzer Prize.
 Mohl, Aurelia Hadley (1833-1896) – Journalist – Born in Mississippi, she moved to Houston with her parents in1840.  In 1851 she married Frederick Mohl.  Mohl's journalism career began when she went to work for E. H. Cushing's Houston Telegraph.  From the mid-1870s until 1891 the Mohls lived in Washington D. C. where she served as a correspondent for a number of Texas newspapers including the San Antonio Herald, Waco Examiner and Dallas Herald to mention a few.  While in D. C. she was the corresponding secretary for the Women's National Press Association and later vice president of its Texas division.  Mohl returned to Houston and was society editor for the Houston Post.  In 1893 she was a founder of the Texas Woman's Press Association.  In addition Mohl was a member of the Ladies' Reading Club and the Texas Woman's Congress.  Her tombstone was the first in Texas honoring a professional woman.
Morris, Ned Bradford (1860-1929) – Judge – We don't know very much about this gentleman but were impressed with the epitaph on his tombstone – "Ready for Trial."
Neuhaus, Hugo V., Jr. (1915-1987) – Architect – This Houston native earned his architecture degree at the Graduate School of Design Harvard University in 1941.  Neuhaus began his career working for Houston architect Kenneth Franzheim (See Franzheim.)  Soon he joined C. Herbert Cowell and became a partner in Cowell & Neuhaus.  When classmate Philip Johnson was hired by Dominique and John de Menil to build them a home in River Oaks, Johnson named Neuhaus to be his local associate architect.  Among his other memorable commissions were: Stude-Stevenson House, Cullinan House, Shell Development Company Auditorium and Research Building, Mosbacher House and the Winston Memorial Building at St. John's School.  Neuhaus was Chairman of the Alley Theater and the Texas Art Commission and a trustee of the MFA Houston, Contemporary Arts Museum and Armand Bayou Nature Center.
Noble, Fred (1914-2003) – Bandleader – He was born Frederico Antonio Andrea Nobile, the youngest child of Italian immigrants in New Jersey.  The family Anglicized their name when he was a child.  Noble was a pianist, drummer and bandleader in the "big band era."  During World War II he toured Europe entertaining the troops.  Noble moved to Houston in 1955 when he was hired to join the Shep Fields Orchestra at the Shamrock Hotel.  While in that prestigious venue he backed up such famous singers as Vic Damone and Judy Garland.  When the Fields Orchestra ceased to exist, he founded the Freddie Noble Band that played into the 1970s.
Northrop, Joseph Walter, Jr (1886-1968) – Architect – Born in Connecticut he earned a degree in architecture from Massachusetts in 1910.  Northrup was hired by the well-known Boston architectural firm of Cram, Goodhue & Ferguson.  In 1911 management sent him to Houston to serve as a clerk for the construction works for the first building at Rice Institute (now University.)   Northrop started his own firm in 1914.  Over the next 40 years he designed a large number of projects including: Trinity Church, Hogg House and West 11th Place.
O'Conner, Maconda Brown (1930-2012) – Philanthropist & Social Worker – This Houston native was the daughter of business tycoon George R. Brown.  Despite being born with the preverbial silver spoon in her mouth, O'Connor devoted her life to helping disadvantaged children.  She was active in the Harris County Protective Services, Child Abuse Prevention Network and Harris County Juvenile Probation Department.   O'Conner was an executive of the Brown Foundation that supports education, arts and community service.  She was a board member of the Texas Childrens Hospital, Baylor College of Medicine, Houston Area Women's Center, Discovery Green Conservancy and many others.  Maconda Lane in River Oaks is named for her.
Palmerton, Carrie Bliss (1869-1952) – Early Houston Story Teller – A decedent of Presidents Martin Van Buren and James K. Polk, she loved Houston and its history.  As a child her blond hair and blue eyes attracted the attention of Indians who came to town to trade for goods.  They often wanted to touch her face.  Her greatest wish was to live to see the Gulf Freeway finished.  As any of us know who drive on that expressway, it seems it will never be completed.  If Palmerton were to have her wish granted she would be 145 years old and still waiting.
Patterson, R. Layne – (1964-1990) – Artist – Certainly the most colorful headstone in Glenwood is Patterson's.  A young artist, the stone was his creation which he signed and copyrighted.  It is difficult to find interesting epitaphs on modern day tombstones.  It seems the art of composing these pithy and informative last words has been lost.  However, this stone displays a good example – "I am part of all I've met."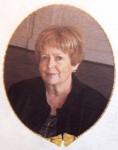 Peterson, Martha Anne Welsh (1945-2009) – Houston Historian – A Beaumont native, she moved to Houston following graduation from Lamar College.  Peterson's business career included working for Humble Oil & Refining Company (now Exxon) and the law firm of Andrews Kurth.  However her true love was Houston history.  For many years Peterson was the driving force behind the Greater Houston Preservation Alliance walking tour program of interesting sites in our fair city.  She was also the Project Manager for the Glenwood Cemetery Preservation Foundation where she raised funds for monument preservation and researching the cemetery's history for Houston's Silent Garden: Glenwood Cemetery, 1871-2009.  We were very lucky to have called Martha a dear friend for many years.

Potter, Hugh Morris (1888-1968) – Developed River Oaks – In 1923 Potter and Michael and William Hogg obtained an option to purchase 200 acres abutting the River Oaks Country Club.   A year later they opened Country Club Estates to develop an upscale residential neighborhood.  Every house was required to sell for at least $7000.  They hired the Kansas City landscape architects Hare & Hare to draw up a master plan.  This plan called for home sites, 15 acres for River Oaks Elementary School, two shopping centers and esplanades, among other amenities.  Will and Sue Clayton purchased the first house to use as a country home as River Oaks was so far out of town.  (The Clayton's residence was on Caroline Street just north of Hermann Park.)  Another notable house was Ima Hogg's Bayou Bend.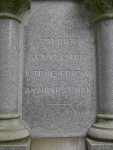 Quinlin, George Austin (1838-1901) – Businessman – This is one of the more impressive monuments in Glenwood.  Quinlin was vice president and general manager of the Houston & Texas Central Railway, a line running from Houston to Red River City, Texas.  He worked for the railroad for 27 years.  Quinlin must have been a great man to work for, as his monument was erected and paid for by the company employees.  His epitaph reads "Soldier, Gentleman, A True Friend, and An Honest Man."
Reck, Mary Nell (1944-2003) – Cooking Instructor – She opened her cooking school, La Cuisine, in 1973.   It rapidly became famous and was listed as one of the best in America by Time and Town and Country magazines.  From 1976 until 1990 Reck wrote a column, Cooking Lesson, for the Houston Post.  In 1979 she and restaurateur Manfred Jamich opened Café Moustache.   Three years later Reck opened Mary Nell's on Market Square downtown.  She was a member of numerous food and wine groups.  Reck won the Chaine des Rotisseurs Maitre d'Honneur award from the world's oldest gourmet society.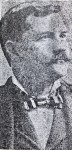 Rice, H. Baldwin (1861-1929) – Houston Mayor – This Houston native was one of the great mayors of our city.  Rice's first public office was Public Weigher of Cotton.  He then was elected Harris County Commissioner (1892-6).  During his tenure the first road in the county was paved.  Rice was elected mayor in 1896 and re-elected in 1905, 1907, 1909 and 1911.  During his administrations the city water works was purchased, Main Street Viaduct was constructed, City Auditorium was built and hundreds of streets were paved.  Rice was one of the original backers and builders of the Houston Ship Channel.  He was a delegate to the Democratic National Convention in 1900 and 1916.  Rice was an Elk and Woodman of the World (See sidebar The Story of the Tree Stump Tombstones.) He was the nephew of William Marsh Rice (See Rice Institute – Rice.)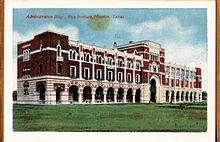 NEW Rice, Frederick A. (1830-1901) – Entrepreneur – He came to Texas in 1850 to join his older brother, William Marsh Rice (see Rice Institute), and became a partner in the latter's enterprises that include cotton, real estate, finance and railroading.  Rice married Charlotte Baldwin Randon, the daughter of Houston Mayor Horace Baldwin, and fathered 10 children.  Following the murder of his brother in 1900, he partnered with Captain James A. Baker (see Baker) to save the Rice fortune from embezzlement and founded Rice Institute (now University.)  Interestingly, Rice was a founder of Glenwood Cemetery and acted as treasurer from1871 until 1892.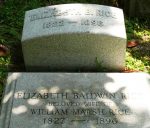 Rice, Julia Elizabeth Baldwin (1822 or 1827-1896) – Second Wife of William Marsh Rice (See Rice Institute)  This is a rather nasty tale.  William Marsh Rice was a very wealthy Houstonian who among other things established Rice Institute (now University.)  Following the death of his first wife, Rice remarried Elizabeth (aka Libbie) in 1867.  At that time the city was in the midst of a yellow fever epidemic so the newlyweds moved to their second home in New York City.  It didn't take long for things to go bad.  Elizabeth contacted a lawyer about a divorce.  By 1896 her health began to decline.  So they moved back to Houston.  Unbeknownst to William she hired another lawyer to draw up a new will in an attempt to gain more of his estate for herself and not Rice Institute as Texas is a community property state.  Shortly thereafter Elizabeth died in an insane asylum in Wisconsin.  William returned to Houston to learn that Elizabeth's lawyer had instituted probate.  Fortunately, he had better lawyers and following a lengthy court battle the will was declared null and void.  As a result all the funds did go to the Institute.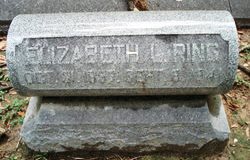 Ring, Elizabeth L. Fitzsimmons (1857-1941) – Social Reformer – This native Houstonian spent more than 50 years of her life working with numerous reform movements.  Among Ring's many accomplishments were: expanding the Houston library, president of the Ladies Reading Club, led a drive for state supported libraries, formed the Houston Federation of Women's Clubs, supervised Houston community welfare programs, supported women's suffrage, helped found Texas Woman's University, supported legislation for the protection of women and children in industry, worked for a minimum wage for working women and supported prison reform.
Ripley, Daniel (1852-1921) – Entrepreneur – He was born in Alabama and arrived in Texas in the 1880s.  Ripley initially worked for the Houston and Texas Central Railway.  In 1893 he chartered the Daniel Ripley Steamship Company.  He was also a banker and cotton broker.  Ripley was named chief of hospitals for the Central Relief Committee of Galveston to assist in the recovery effort following the Great Storm of 1900.  When he died he willed about $1 million "…for the betterment of the community."  His widow used the funds to build the Ripley Settlement House in 1940 (now Ripley House Neighborhood Center).  It was the largest community center in the city at that time.  One of the architects was Maurice J. Sullivan (See Holy Cross – Sullivan.)
Runnels, Hiram George (1796-1857) – Politician – He was a native of Georgia but moved to Mississippi as a youngster with his family.  Runnels served in the U. S. Army during some of the Indian Wars that raged during the 1820s.  Politics caught his attention and he was named state auditor of Mississippi (1822-30) and state legislator (1829.)  Runnels lost a race for governor of the state in 1831 but was elected in 1833, serving one term.  For unknown reasons he had a serious disagreement with Volney E. Howard, editor of the Mississippian newspaper and was involved in a duel (both survived.) In 1845 Runnels moved to Texas where he established a plantation on the Brazos River.  He died in 1857.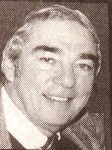 Sacaris Nick (1927-2011) – Investment Broker – Born in Houston he graduated from Lee High School in Baytown in 1944.  Sacaris joined the US Navy during WWII.  Returning from the conflict he enrolled at the University of Texas where he was on the varsity tennis team, graduating in 1951.  When the Korean War broke out Sacaris enlisted in the US Air Force as a top-secret courier.  After the war he joined the local brokerage firm of Underwood Neuhaus where he had a very successful career for 37 years.  Following his retirement Sacaris became an arbitrator for the Securities & Exchange Commission.  Marks had the pleasure of working with Nick for 10 years.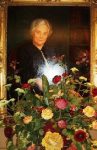 Saunders, Edna Woolford (1880-1963) – Impresario – Her father was mayor of Houston at the turn of the last century.  Early in her life she was exposed to the arts.  Saunders was a member of the Women's Choral Society.  She became interested in promoting arts in our fair city while a member and began to book performing artists.  Following the completion of the Old City Auditorium (now where Jones Hall is located) Saunders was hired as their booking agent. Over the next few decades she brought some of world's finest talents to Houston including Caruso, Rachmaninoff, Marian Anderson, Will Rogers, John Philip Sousa, Jeanette McDonald and Nelson Eddy and many more.  In addition Saunders arranged for the Metropolitan Opera and the Monte Carlo Ballet to visit our city annually.
Scanlan, Thomas Howe (1832-1906) – Politician – This Irishman arrived in Houston in 1853 and opened a mercantile operation.  During the War Between the States he made a fortune smuggling cotton through Mexico.  He used the proceeds of this illicit operation to purchase property in Houston and Galveston.  After the Union occupation of the city Scanlan switched political parties declaring to be a Republican.  This allowed him to serve as mayor during Reconstruction.  He was responsible for a number of civic improvements including paving streets, pouring sidewalks, erecting a new market house, dredging canals and installing a sewer system.  When the Democrats regained power Scanlan was ousted from office.  President Ulysses S. Grant named him the city's postmaster in 1875.  Six years later he exited the political scene and was named president of the Houston Water Company that was later sold to the city.
Schneider, Louis B. N. (1867-1949) – Tax Assessor – Born in Houston he was one of the city's longest serving employees.  Schneider worked in the Tax Assessor's Office for 63 years.  He served as Tax Assessor twice (1902 and 1904.) When Schneider began his tenure he traveled around the city in a horse and buggy assessing real estate.  He was a member of Houston Turnverein, a German social club, and the Houston Light Guard, a famous marching organization.
Sharp, Estelle Boughton (1873-1965) – Social Worker – Born in Michigan she attended Oberlin College until she met her husband-to-be Walter Sharp on a trip to Dallas.  The couple married in 1897. Estelle became involved in charity.  Following the discovery of oil in southeast Texas the Sharps moved to Houston in 1904. After his untimely death in 1912 she devoted the rest of her life to social welfare and world peace.  Sharp was a founder of United Charities of Houston (now United Fund.)  She worked hard to convince America to join the League of Nations following WWI (USA did not.)  Sharp was a member of the Texas Centennial Commission, Federated Women's Clubs of Texas and endowed a lectureship at Rice Institute (now University.)
Sharp, Walter Benona (1870-1912) – Businessman – Sharp was an oilman man and partner of Howard Hughes Sr. Their drilling rigs found it impossible to drill through hard rock.  Sharp knew Hughes had an inventive mind and put him to work to improve the technology of oil drilling.  Hughes developed the rock bit with its movable, tri-cone shaped cutters with steel teeth.  In 1909 they founded the Sharp-Hughes Tool Company. Sharp died at 42 years of age and did not benefit from financial success of the rock bit.  Hughes, however, made a fortune.  Note that the stone carver made an error about the date of Sharp's birth, first mistakenly carving 1860. Sharp Place in River Oaks is named in his honor.  (See Hughes Sr.)
Shearn, Charles P. (1794-1871) – Merchant – He was born in England and immigrated to Texas in 1834.  In 1835 Shearn signed the Goliad Declaration of Independence and fought in the Texas Revolution.  He was captured by the Mexicans but released because he was a British citizen.  Shearn moved to Houston in 1837.  Here he was in the mercantile business, was Harris County Chief Justice for six years and served on the City Council.  Shearn became known as the "father of Methodism in the city" for hiring a minister and building a church in 1841.  It was named in his honor.  The property was sold in 1910 and the First Methodist Church was built with the proceeds.
Shepherd, Benjamin A. (1814-1891) – Banker – He was a Virginian who came to Houston in 1844.  In 1847 Shepherd's Commercial & Agricultural Bank became the first chartered bank in Texas.  Although he was not invited in 1866 to be a founder of the city's first national bank, he was elected to the board of directors a year later.  In 1867 he was named president of the First National Bank when it encountered financial difficulties following the War Between the States.  Shepherd managed the bank with an iron hand for the next 25 years.  He was an incorporator of the Buffalo Bayou, Brazos and Colorado Railroad as well as a founder of the Cotton Exchange & Board of Trade in 1874.  The town of Shephard in San Jacinto County was named for him following his laying out of the route of the Houston, East & West Texas RR in 1875.  In addition Shepherd Drive and the Shepherd School of Music at Rice University honor this great Houstonian.
Smallwood, Lula Dealy (1867-1949) – Early University of Texas Graduate – A native Houstonian, as a small girl she lived on San Felipe Road when it was little more than a muddy little country lane.  At 16 Smallwood enrolled in the University of Texas.  Four years later she graduated with that university's first graduating class.
Staiti, H. T. (1876- 1933) – Pioneer Oil Man – He was born in Marshall, TX and went to school there.  The family moved to Texarkana where Staiti became the youngest officer in the Texas Volunteer Guard.  In 1896 he wrote a report on the possibility of an oil discovery near Beaumont.  Five years later Staiti became famous when the Lucas gusher at Spindletop came in. He was credited as one of the discoverers of that massive oilfield.  Moving to Houston he began wildcatting in other famous Houston area fields including West Columbia, Damon Mound, Pierce Junction and Humble.  Staiti was also president of American Sulphur Royalty Company where he discovered sulphur mines around Freeport.  He was also active in numerous clubs and societies.
Staub, John Fanz (1892-1981) – Architect – He was a native of Tennessee where he graduated from that state's university (1913) and MIT (Master's degree architecture 1917.)  Staub worked in New York City from 1916 until 1921.  He served as a U.S. Navy aviator in WWI (and also WWII.)  In 1921 Staub was sent to Texas to supervise construction of three residences in Houston's ritzy Shadyside neighborhood.  He liked Houston so much he opened his own firm here (1921-1962.)  Single family homes were Staub's specialty.  He was known for his Georgian Revival style.  Staub was closely identified with River Oaks where he designed its Country Club (1924), Bayou Bend mansion (1928) and 31 other mansions.  He was also active in Broadacres, Palmer Memorial Church (1930), Junior League (1930) and Bayou Club (1940) as well as structures at Rice, Texas and Houston Universities and the Texas Medical Center.
Sterling, Florence (1870-1940) – Club Woman – She was born in Anahuac.  Texas governor Ross Sterling (1875-1949) was her brother.  In 1915 Sterling joined up with Ross and her other brother, Frank, to found Humble Oil & Refining Company (Exxon Mobil today.)  She served as the firm's secretary and treasurer until 1925. Sterling then devoted her life to women's rights.  She held important positions in civic, charitable, cultural, political and social groups.  Sterling was a national leader in women's suffrage.  She organized the League of Women Voters in Houston and the Houston Suffrage Association.
Sterling, Ross Shaw (1875-1949) – Texas Governor – A native Texan he was born in Anahuac five years after his sister (see above.)  Sterling began his career as a farmer and schooner captain.  In 1903 he became an oil man when he hit a gusher near Sour Lake, TX.  In 1910 Sterling was one of the founders of Humble Oil & Refining Company (now Exxon Mobile.)  During his lifetime he made a huge fortune, lost it and made it back at age 58.  In 1925 Sterling bought and combined the Houston Dispatch and the Houston Post newspapers.  He established our city's first commercial radio station, KPRC.  Sterling was also involved in railroads and real estate development.  He was also named chairman of the newly established Houston Ship Channel Commission.  In 1931 Sterling was elected governor of Texas but only lasted one term due to the devastating effects of the Great Depression.  Upon leaving office he started Sterling Oil and Refining in 1946.  Sterling was also a trustee of the Hermann Hospital Estate.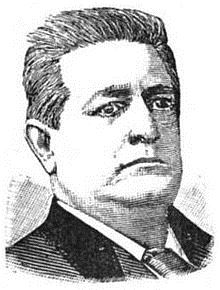 NEW Stewart, Charles (1836-1895) – Politician – He was born in Tennessee and moved with his family to Galveston in 1845.  Stewart studied law and was admitted to the Texas bar in 1854, before he turned 18 years old.  He served in the Confederate Army during the Civil War.  Stewart moved to Houston in 1866 and practiced law with Decimus et Ultimus Barziza.  (See Barziza.) He entered politics as a Houston city attorney (1874-6), Texas state senator (1879) and five terms in the U. S. Congress (1883-93.)  Stewart was the grand master of Masons in Texas in 1883.
Stone, Ron (1936-2008) – Legendary TV Anchorman – Born in a tiny town in Oklahoma, he earned degrees at East Central State University and Houston Baptist.  Moving to Tulsa, Stone began his broadcasting career at KVOO-TV.  Soon he was discovered and hired by Dan Rather of KPRC-TV in Houston.  When Rather went national, Stone moved to the anchor chair where he remained for the next 20 years.  Among his friends were just about everyone who worked in broadcasting in the city and beyond, Mayor Bob Lanier and George W. Bush to mention a few.  Stone's manner was plain spoken and folksy and Houstonians loved him.  Community minded, he raised millions for muscular dystrophy, attended 1000s of events and was called "the most popular and revered news anchor the city has ever known."  Stone was there when the Berlin Wall came down, calling the event the highlight of his career.  On retiring he started Stonefilms of Texas, producing award winning documentaries on Texas history and hosted the popular Eyes of Texas on KPRC TV.  Stone also wrote three excellent books on Texas history.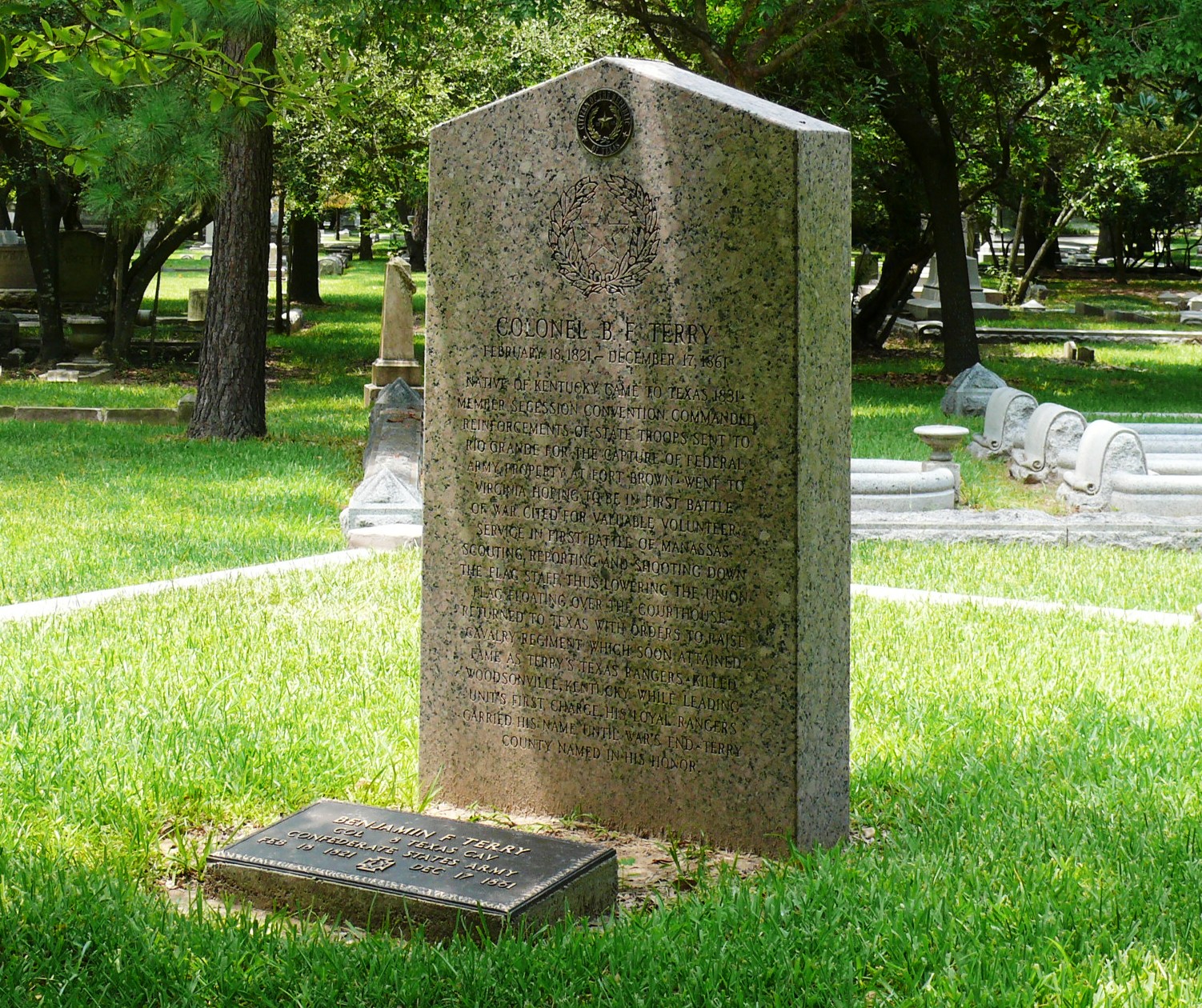 Terry, Benjamin Franklin (1821-1861) – Cavalry Soldier – Born in Kentucky his family moved to Mississippi when he was a child.  In 1833 or 1834 his divorced mother moved to Texas and settled on a plantation in Brazoria County.  In 1841 Terry assumed control of the plantation.  Ten years later he partnered with William Kyle to construct Texas' first railroad, the Buffalo Bayou, Brazos & Colorado RR.  In 1852 Terry bought a sugar plantation that made him very wealthy.  When the War Between the States broke out in 1861 he saw action at the First Battle of Manassas.  Later that year Terry organized the 8th Texas Calvary better known as Terry's Texas Rangers.  In their first battle near Woodsonville, KY he was killed.  The Rangers went on to score a victory there.  His body was laid in state in Nashville, New Orleans and Houston.  This was possible as Terry was one of the first Americans to be embalmed, a new science.  Terry County is named in his honor.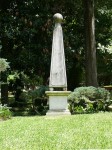 Tharp, Leonard (1940-1990) – Florist – Tharp arrived on the floral scene is a big way in the 1970s.  It wasn't long before he was known as "the" River Oaks florist.  Society hostesses found him as charming as the boys at the gay Montrose discos did.  A friend said he was "incredibly handsome and utterly poised but never came off as a snobby, arrogant queen."  Tharp decorated his home and shop with fabulous bird cages that housed his collection of parakeets.  One can learn more from reading Leonard Tharp: An American Style of Flower Arrangement.  His plot was originally the burying place of Niels Esperson who was later reburied in Forest Park Lawndale Cemetery next to his wife Millie.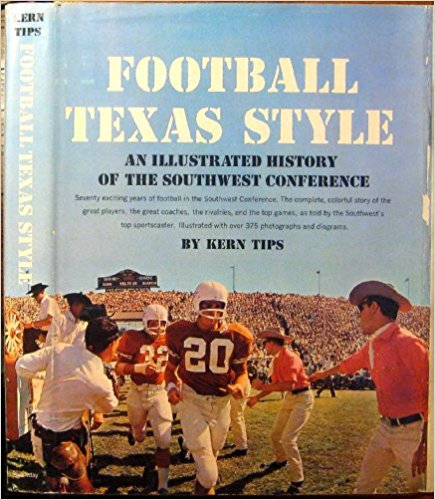 Tips, Kern (1904-1967) – Sportscaster – A Houston native, he earned degrees from Texas A & M and Rice Institute (now University.)  Tips' career began as a sports reporter and editor for the Houston Chronicle (1924-34.) He got involved in radio in 1926 and became general manager of KPRC Radio (1935-46.)  Tips became famous as the "Voice of the Southwest Conference" where he announced football games for 32 years.  In 1959 Tips received the first annual award of the Association of Broadcasting Executives in Texas. He was the only man to be honored by the Southwest Football Officials Association for his contribution to the game.  In a national poll Tips was named Texas Sportscaster of the Year, an award he won five more times.  He authored Football Texas Style in 1964.  Marks has fond memories of listening to Tips announce games on the radio in the 1940s and 50s.
NEW Truxillo, Barthel "Bart" Julian Anthony (1942-2017) – Preservationist – He was born in Louisiana and moved with his parents to Houston in 1950.  Truxillo graduated from Mount Carmel High School and earned a degree in architecture at the University of Houston.  Truxillo's passion was historical preservation and he used his architectural skills to preserve many important properties in Houston.  In 1968 he purchased the abandoned Magnolia Brewery downtown and turned it into the Art Nouveau Bismarck Restaurant and Magnolia Ballroom.  Truxillo purchased a ram-shackled Victorian house in the Houston Heights, remodeled it into his home and later received a listing on the National Register of Historic Places.  Among his many contributions to our city was his service on the City Architectural & Historical Commission, Heights Association, Art Colony Association, Greater Houston Preservation Alliance and Bayou City Art Festival among others.  Marks and Barbara were fortunate to be good friends for many years with Bart and will truly miss him.
NEW Tryon, William Milton (1809-1847) – President of Baylor University – A New Yorker, he moved to Georgia in 1832 with his mother following the death of his father.  There Tryon was licensed to preach and was ordained at Mercer Institute in 1836 and became pastor of five churches in Alabama.  In 1841 he moved to Texas to serve as a circuit rider (traveling preacher.)  In 1845 he joined with Robert E. B. Baylor to found Baylor University, a Texas Baptist college.  Tryon served as chaplain of the Texas Senate (1843-5.)  He was named the first president of the Baylor University Board of Trustees in 1845.  That same year he became pastor of the First Baptist Church of Houston.  Tryon died in the yellow fever epidemic in 1847.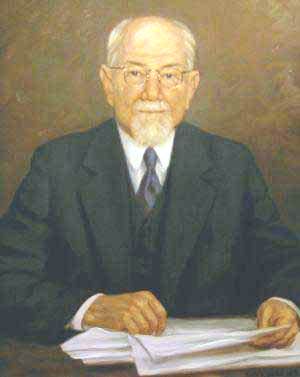 NEW Welch, Robert Alonzo (1872-1952) – Philanthropist – Born in South Carolina, he borrowed $50 and boarded a train to Texas in 1886.  Welch worked a number of odd jobs until being hired as a bookkeeper and salesman for Bute Paint Company.  When the Spindletop oilfield was discovered he bought an acre in the middle of the field that he soon sold for $15,000.  It wasn't long before Welch regretted that sale, as a few weeks later the acre sold for $1 million.   None the less, he had enough capital to invest in the Goose Creek field near Baytown to enhance his growing fortune.   In 1905 Welch purchased drilling rights in the Gaillard field south of Houston where he again did well.  He soon formed the Ashbel Smith Land Company from which he made a huge fortune in real estate, banking, sulphur and oil.  Upon his death this bachelor's fortune totaled $42 million.  The funds were put in the Robert A. Welch Foundation that donated to a number of universities including Rice, Texas, Texas A & M, Houston and Baylor College of Medicine.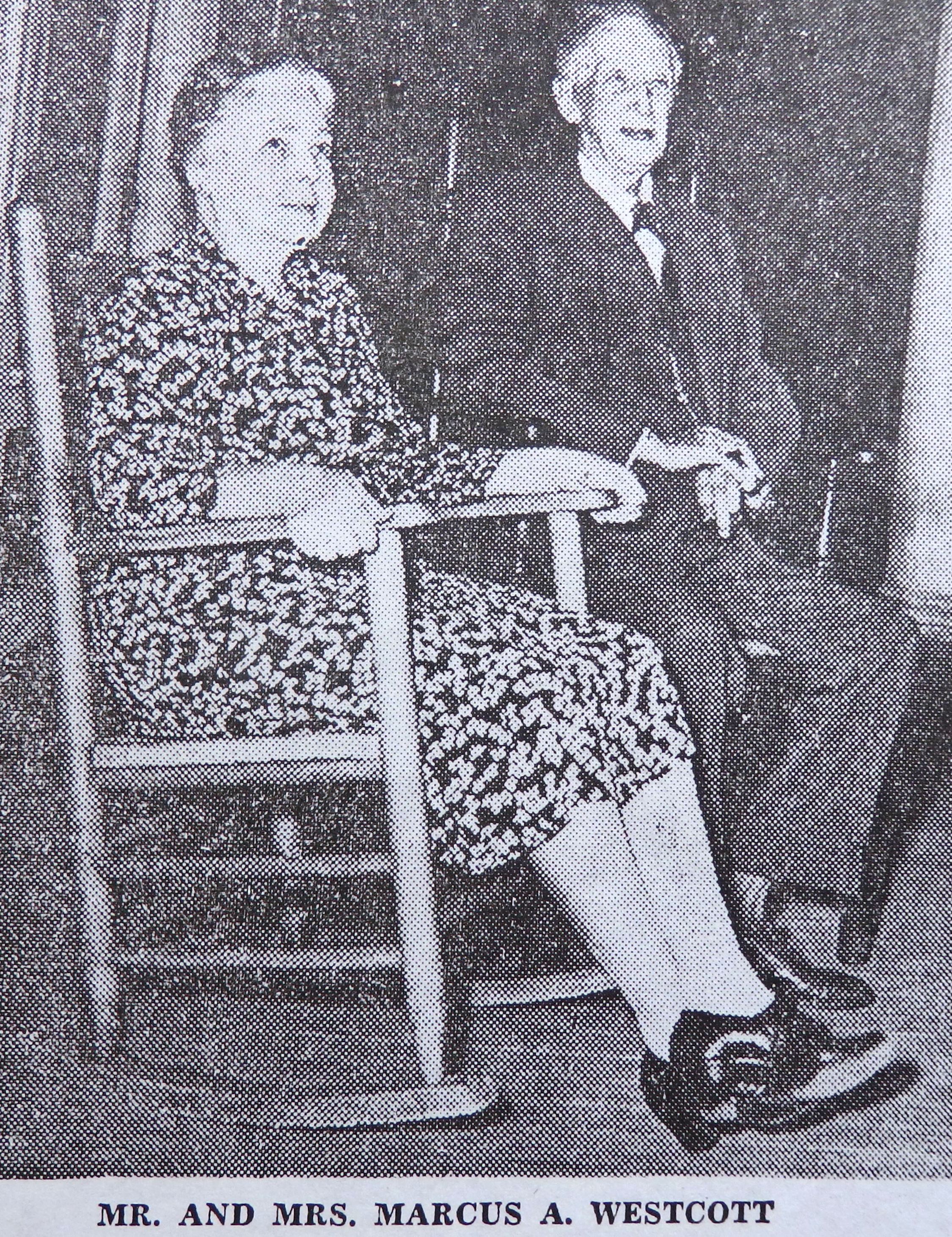 NEW Westcott, Marcus A. (1855-1945) – Railroad Man and Friend of Judge Roy Bean – As a young man he was hired by the Texas Central Railway Company (later renamed the Southern Pacific.)  In his 44 years there he held numerous positions including tax agent, land commissioner and right-of-way agent.  It was in the latter position that, while resurveying land near Langtry, Texas, he met Judge Roy Bean, also known as the "Law West of the Pecos" River who was seldom seen without his two six-guns.  When he was near Langtry he would stop to see the Judge and often sat on Bean's saloon and courtroom porch to watch this legend-of-the-West administer justice in that lawless area between El Paso and the Pecos River.  In addition another of his close friend was William Sidney Porter (aka O. Henry), the legendary author who worked for the now defunct Houston Post as a reporter in 1895.  Among O. Henry's most memorable short stories are The Ransom of Red Chief and Gift of the Magi.
Wettermark, Araminta (1838-1885) – Haunted Grave – According to area Ghostbusters this is the most haunted grave in Glenwood Cemetery.  They seem to believe the otherworldly readings they receive near the tombstone has to do with the death of this mother's two daughters.  For unknown reasons Anna and Walfred Wettermark both died on September 4, 1868 in Sweden and were most likely buried there, thousands of miles away from their mother.  Is Araminta's tortured spirit still searching for her lost loved ones more than a century after her demise?
 More interments are to come.