Rice Institute
6100 Main Street
Established 1912
300 acres
Burials: 1
Texas Historical Marker
http://www.rice.edu/
"But silent let me sink to earth,
With no officious mourners bear,
I would not mar one hour of mirth,
Nor startle friendship with a tear."
Euthanasia – Lord Byron
Rice University is a private, non-affiliated, coeducational institution of higher learning located in Houston, Texas.  In 1891 with an endowment of $200,000 payable after his death, William Marsh Rice created Rice Institute "for the advancement of literature, science and art." Unfortunately, as we will see shortly, the birth of Rice Institute was fraught with problems including fraud, murder and an extended probate.  His $4.6 million estate was finally settled in 1904.  (This endowment allowed all students to attend tuition free until 1965.)
Trustees hired the Boston-based architectural firm of Cram, Goodhue & Ferguson to lay out the campus plan. Edgar Odell Lovett was named President in 1907. Construction began in 1911 with the laying of the cornerstone of Lovett Hall. Classes began in 1912 with 77 students, a faculty of 10 and two major academic buildings.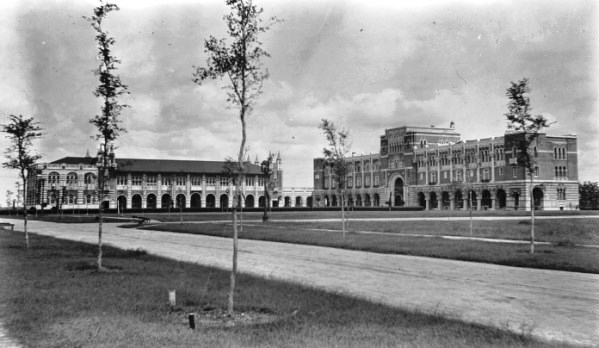 In the early years the school's strongest majors were science and engineering.  The curriculum and the student body expanded greatly following World War II. By the 1990s more than 30 advanced degrees were offered and 40 plus buildings, grouped in quadrangles, were on the campus. The University remains one of the finest institutions of higher learning in America. Its small undergraduate class remains among the most intellectual with SAT scores averaging in excess of 1,300 and one of the highest percentages of National Merit Scholars.
Rice, William Marsh (1816-1900) – Entrepreneur – Rice was born in Springfield, Mass.  Rice left school at the age of 15. He came to Houston in 1837 to make his fortune. He started an import/export business, was a founder of the Houston & Galveston Navigation Company and amassed thousands of acres of raw land. In 1885 he bought the Capitol Hotel that later became the Rice Hotel. He moved to New York City in 1896. His lawyer, Albert Patrick, and his butler, Charles Jones, conspired to do Rice in and steal his fortune.  They tried poisoning him with arsenic but the process was too slow and Rice always recovered after a few days.  So Patrick had Jones smother Rice with a chloroformed pillow on September 23, 1900.  Rice's banker became suspicious when Patrick came into the bank with a $25,000 check.  The banker called the Rice home and Jones, not the brightest light in the factory, told him that Mr. Rice could not come to the phone to verify the transaction since he was dead.  Both were convicted of murder. However, in 1912 they were pardoned.  A long battle raged over his estate for the next four years.
Rice is buried in the largest private cemetery in the city encompassing over 300 acres of prime land on Main Street.  Today we call that burial ground Rice University. His ashes are interred under the John Angel statue of him in the quadrangle (see top photo)at the university he founded.