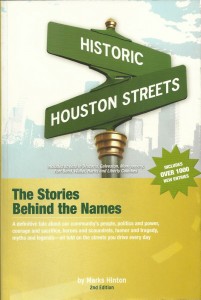 "Historic Houston Streets: The Stories Behind the Names"
Purchase Here!
I — P recently updated (scroll down to McKee Street and Preston Road)
Selection of streets: I
none

Selections of streets: J
Jesse Jones:  Very few Houstonians did so much for our great city than Jesse Holman Jones.  Yet until the completion of the Jesse Jones Memorial Bridge on Beltway 8 over the Houston Ship Channel there was no road, street or alley named for this modest giant. It is impossible to list his accomplishments in a paragraph (read Jesse H. Jones: The Man and the Statesman by Bascom N. Timmons).  He was an entrepreneur, visionary, real estate developer, banker, businessman and politician.  He helped us get the Ship Channel, built the Texas Company building, was chairman of the National Bank of Commerce, owned the Houston Chronicle and was an early stockholder in Humble Oil & Refining (now Exxon).  He and his wife, Mary, started Houston Endowment.  During the Great Depression he was chairman of the Reconstruction Finance Corporation and Federal Loan Agency.  He served as Secretary of Commerce during President Roosevelt's third term. Jones died in 1956 and is buried in Forest Park Lawndale Cemetery.
Selections of streets: K
Katex:  Located west of Houston this street is the combination of two words:  Katy and Texas.
Katy Mills:  About 25 miles west of downtown Houston this street leads to a 1.3 million square foot retail and entertainment complex named Katy Mills. It is basically an outlet mall on steroids with huge stores like Bass Pro Shops Outdoor World where you can buy anything for the outdoorsman.   
Kelly Courts:  This near eastside street leads to a public housing project named Kelly Courts. In 1942 it was named for A. K. Kelley although the powers that be at that time misspelled his name.
Kennesaw Mountain:  Around 900 A.D the inhabitants of this mountainous area northwest of Atlanta were known as the Mound Builders.  Their descendents became the Creek Indians.  On June 27, 1864, 100,000 Union troops under the command of Major General William T. Sherman faced off against 65,000 Confederates under General Joseph E. Johnson in what historians call the Battle of Kennesaw Mountain.  Although Sherman failed to defeat Johnson, this skirmish did little to slow the Union army's march to Atlanta.
Kickerillo: Vincent D. – In 1957 this gentleman founded the Kickerillo Companies, a builder of custom homes around the Houston area. His homes may be found in more than 28 neighborhoods including Nottingham, Thornwood and Ponderosa Forest. It is not unusual for real estate developers to name streets after themselves.  (See Mott.)
King Ranch:  This is probably the most famous ranch in the world. Just its size, 825,000 acres, makes this south Texas spread memorable.  However, there is much more to the story.  In 1852 Richard King, a steamboat captain on the Rio Grand River, purchased a 75,000-acre Spanish land grant on Santa Gertrudis Creek.  The ranch would eventually total more than 1.25 million acres.  Its famous running W brand was introduced in 1860. Santa Gertrudis cattle, a crossbred of Shorthorns and Brahman, were developed here. Humble Oil & Refining Company discovered oil on the ranch in 1939. In 1946, Assault, a thoroughbred from the ranch won the Kentucky Derby by eight lengths and went on to capture the Triple Crown.  That trophy is proudly displayed on the breakfast room table in the main ranch house. (SeeKentucky Derby, Triple Crown and Kleberg.)
Kingwood Medical:  This north Harris County street leads to the Kingwood Medical Center.  This 155-bed acute care hospital has been offering Kingwood residents inpatient, outpatient, surgical and specialty services since 1991.
Kleberg Place:  Robert Justus Kleberg was a Corpus Christi lawyer who represented King Ranch owner Richard King. Upon King's death in 1885 his widow hired Kleberg to manage the ranch.  He later married the King's youngest daughter Alice.  Under his stewardship the ranch was expanded considerably.  Among his major contributions to Texas were his battle to eradicate the cattle tick and the ceding of acreage for the creation of the township of Kingsville, Texas.  (See King Ranch.)
Kluge:  This family of German immigrants settled northwest of downtown near Cypress Creek, an area popular with people from Europe.  Some of the family members are buried in Borgestedt Cemetery off Huffmeister Road including Hedwig, Herman, Edward and Clara. (See Borgestedt Cemetery.)
Knigge Cemetery:  This small burying ground contains the remains of several members of the Knigge family including Gottlieb (1862-1936), Minna (1857-1901), Saul (1825-1894) and Johanna (unreadable dates). The cemetery remains in use today with graves as recent as 2003.
Kobayashi: Mitsutaro – This Japanese rice farmer arrived in Webster, Texas in 1906.  He was very successful in his agricultural ventures.  In 1913 he asked his family in Japan to send him a bride.  Moto Shigeta, daughter of a prominent whale oil dealer, arrived and the couple was married.  She was renowned for her skills in flower arranging, calligraphy and poetry.  Moto also had a reputation as an excellent cook.
Koch: John or Ludwig – Many German immigrants settled in the area near what is today Addicks Dam & Reservoir.  I don't know when John arrived here but he was buried in the Koch-Schmidt Cemetery, the earliest in the area, in 1854. Other streets here named for early settlers, many of whom were related, include Brandt (Frederick and Katherine), Quade (Emil and Amelia) and Matzke.  Sophie Addicks Eggling was the sister of HenryAddicks while her sister Dorothea was married to Frederick Kob. (SeeAddicks, Eggling and Kob.)
Koinm: J. H. – It is possible that this street near George W. Bush Intercontinental Airport is named for this man, as the Koinm Family Cemetery is located nearby.
Kuhlmann: Johann F. – In the 1880s this man and his family lived in the area we now know as Riverside Terrace, east of Hermann Park.
Selections of streets: L
Lee: T. W. – In 1892 a group of investors founded the seaside resort town of La Porte. This gentleman was among them.  Others include I. R. Holmes for whom North and South Holmes are named and A. M. and J. H. York who failed to have a street in their honor. (See La Porte.)
Leggett:   (See Zuber.)
Lockett: Reese – (See Salt Grass Trail.)
Lorrie Lake:   In the Memorial neighborhood of Sandalwood there are two lakes.  In the 1950s the developer named them and the streets for female family members Lorrie and Robin (Robin Lake).  Patti Lynn is also named for a family member.
Luella:  Deer Park founder, S. H. West, named most of the early streets in this Ship Channel town. In this case the street recalls his youngest daughter. It is one of only three still on the map that he named.  The other two are P and X Streets. Center was originally named West but changed later  The Shell Oil complex covers the majority of the early Deer Park streets.
Selections of streets: M
Magellan: Ferdinand – Located in the maritime themed neighborhood of Newport, this street honors one of the greatest seaman and navigators in history.  Among his many accomplishments:  he initiated the first circumnavigation of the world, discovered the Straits of Magellan, named the southern tip of South America Tierra del Fuego (because of the many fires he saw there) and named the Pacific Ocean.  Magellan was born in Portugal in 1480.  At 15 he joined the Portuguese navy where he excelled.  In 1513 he had a falling out with King Manuel, renounced his citizenship and became a Spaniard. Charles V of Spain knew a good thing when he saw it and commissioned Magellan to sail around the world.  His fleet of five ships departed August 10, 1519.  It was a difficult expedition.  Magellan was killed by islanders in the Philippines on April 27, 1521 but one ship limped home with a crew of 18 to complete the voyage.   
Mathis:  (See Burton Cemetery.)
Matzke:  (See Koch.)
UPDATED McKee Street: Ann Price Mazoch, the great granddaughter of Jethro "Jessie" McKee Jr reports that many McKees lived in the area where this street and bridge are located from the 1850's on and it's probably named for William R. McKee. The 1850 Houston map shows McKee Street north of the bayou and Gabel Street (later changed to McKee) south of the bayou. The 1890 map shows the Crystal Ice Works and several other landmarks near McKee Street. In Louis F. Aulback's book, Buffalo Bayou, he states that the Crystal Ice Works was built on the site that had been the home of Mrs. E McKee as late as 1869. This home could be the home of Jethro McKee (Sr) and his wife, Frances Elizabeth "Bettie" Ritchie McKee and their children, William, James, Katherine and Jethro "Jessie" Jr. The 1884 and 1886 Houston City Directories show that William McKee and his wife "Nellie" Hellen White McKee owned a grocery store at the corner of McKee and Liberty streets.  In 1880, they sold some property to Henry Henke (see page 148 of Historic Houston Streets, 2nd edition) for his Fifth Ward Grocery located at 1200 Rothwell (also called Nance) which is near McKee Street. This sale was confirmed by Sears-Crawford LLP and the Archaeological & Historical Commission hearing and both state that McKee Street and McKee Street Bridge are named for W. R. McKee.
Merkel: Joseph R. & Caroline – In August 1860 this German immigrant couple paid $3000 for 101-acres of land where this street is today.  Many German families settled in this area, later called Merkel's Grove, in the 1840s and after including the Blau, Schrimpf and Freund families.  The family sponsored competitive target shooting contests on the farm.  In 1885 Merkel opened the area for public recreation, 14 years before the city constructed its first park. (See Engelke and Canal.)
Meyer Park:  This street and park are named for Elizabeth Kaiser Meyer.
Millie Bush:  To the best of my knowledge this street is the only one in the Houston area named for a dog. Millie Bush (who is also remembered by the 13-acre Millie Bush Bark Park in Barker Reservoir) was "First Dog" during the administration of President George H. W. Bush.  First Lady Barbara Bush chronicled this Springer Spaniel's life in the White House in Millie's Book in 1990.  In 2005 this dog park was named the best in America by Dog Fancymagazine that rated over 700 of this type of facility.
Mink Lake:  This Montgomery County street leads to a small lake of the same name.  Minks are semi-aquatic carnivores that were in evidence when the first settlers arrived in this area in the mid-1850s.  They were hunted for their luxurious pelts that were subsequently turned into coats and hats.
Missouri Pacific:  On Independence Day 1851 ground was broken for the construction of this railroad, the first "iron horse" west of the Mississippi River.  Its advertising motto was "We extend from St. Louis to the Pacific Ocean."
Mt. Carmel:  This southeast side high school was founded by the Order of Carmelites in 1956. Since its creation over 5,000 students have graduated from this institution. In 1986 the Diocese of Galveston-Houston assumed ownership of the school.  It has an interesting Latin motto – non licet nobis esse mediocribus or "it is not permitted to be mediocre." Your author competed against students from Mt. Carmel in football and track from 1957 to 1960.
Moore Ranch:  In September 2004 this dusty Ft. Bend County lane was renamed for the Moore family who has owned land here for several generations.  Located in the town of Orchard, it is shown on the original plat as Moore Road but for a reason no one can remember it was changed to Jap Road in about 1940
Mueller Cemetery:  Founded in 1896, this cemetery contains the remains of several early German settlers including the Muellers.  The earliest grave stone here is that of Emilie Mueller who was born in Prussia in 1838 and died in Harris County in 1896.  Her husband, Johan Friedrich Mueller (born 1832), who is also interred here, lived to the ripe old age of 88 years.
Mueschke Cemetery: Located near Westfield, this street leads to this small cemetery. Like other burial grounds in this area many of the people emigrated from Germany.  Names like Hildebrandt, Kaiser, Krimmel, Mittlestedt and Tautenhahn abound.  The final resting places of two members of the Mueschke family (Olga and Paul) are here as well as John S. D. Armstrong, a Confederate soldier. The earliest burial I could find was Maria B. Meyers (March 20, 1891).
Murphy Road Mobile Home – Located in Stafford, Texas this road leads to a mobile home park.
Selections of streets: N
Nicholson: E. S. – This gentleman was a real estate promoterin the Galveston bayside town of Seabrook in the early 1900s.  (See Sydnor.)
Selections of streets: O
Oates: James Wyatt – Oates Road is just north of Jacinto City.  This settler arrived in the area in the early 1860s. Nearby is a cemetery variously referred to as Oates Prairie, Oates-Singleton and Hart-Singleton cemetery.  Members from all three families are interred there.  In Trevia Wooster Beverly's fascinating book, At Rest: A Historical Directory of Harris County, Texas Cemeteries (1822-1992), she mentions that D. R., Patton, a Houston police officer killed during the 1917 Camp Logan riot, is also buried here. (See Logan.)
Ojeman:  In the Borgestedt Cemetery off Huffmeister Road there are a number of persons interred with the sir name of Ojemann.  It was not unusual for immigrants to alter the spelling of their names after arriving in America.  I believe this is the case here since the street and cemetery are not far apart.  Family members buried here include Fred (born 1884), Emma (b. 1884), Edna (b. 1913) and Marie (b. 1914).
Selections of streets: P
P:   (See Luella.)
Park Place:   This southeast side neighborhood was developed in the 1930s by Park Place Company who named this main thoroughfare for the corporation.
Patti Lynn:   (See Lorrie Lake.)
Paul Quinn:  William Paul Quinn was the fourth bishop of the African Methodist Episcopal Church.  Paul Quinn College, the oldest black liberal arts college in Texas, was also named in his honor.  It was founded in Austin in 1872 for the purpose of educating former slaves in industrial skills such as blacksmithing and carpentry.  In 1990 the school moved to Dallas taking over the former campus of Bishop College.    
Penn City:  Years ago this was a small town on the banks of Buffalo Bayou near where the Houston Ship Channel is today.  Eventually the town was absorbed into Cloverleaf. (See Cloverleaf.)
Perkins:   The Perkins Development Company developed Trinity Gardens where this east side street is located. Among their other projects were Bonita Gardens, Burbank Gardens, Colonial Gardens and Kashmere Gardens.
Petrich:  The Petrichs owned land where this northwest Harris County road is located.  Their family cemetery is also here.
Picnic: Located in Memorial Park, the largest urban park in Texas at 1,466-acres, this loop has been popular with Houstonians as a place for family outings since the park opened in 1925. (See Memorial and Logan.)
Pigeon:  (See Shooting Center.)
Piper:  It makes sense that a road adjacent to an airport would be named for an airplane.  William Thomas Piper developed this light aircraft in 1937.  The Piper Cub was originally designed for flight training but the USAF bought 5,677 for observation planes during World War II.  After the war it became very popular with civilian pilots.
Pitching Wedge:  This is a golf club.  This wedge is characterized by a high loft (typically 45-60 degrees) to increase trajectory and significant sole weighting to help on grass.  It is also heavier than the typical iron.
Post Oak:  The post oak (also known as the cross or iron oak) occurs in all areas of Texas except the High Plains and the Trans-Pecos.  It can reach 75 feet with a dense, rounded canopy.  The leaves have a distinctive cross shape while the bark is thick with plate like scales thus the other two names for this deciduous tree.
NEW Preston Road: This Pasadena street was named for Preston Phillips, according to his daughter. When the area map was being platted, Mr. Phillips told the surveyor that the street had no name and he just called it "rocky road" because of the condition of the roadway as he drove his school bus along it. The surveyor decided Preston Road would be a better name.
Prison:  This private road runs through the former site of the Jester State Prison Farm.  Established in 1885 this 5,005-acre facility was operated by convict labor and produced sugarcane and bricks for the Texas Prison System.  The farm's original name was Harlem Prison Farm but it was changed in the 1950s to honor Texas governor Beauford H. Jester. (SeeHarlem.)
Pugh:  Located just north of Clinton Drive and East of Loop 610 North is Pugh Street.  These early settlers were land owners in the area. Their family cemetery was nearby and contained 16 graves.  (See Zuber.)