St. Vincent de Paul Cemetery
2400 Navigation
Established 1853
1 acre
Burials:  Unknown
Texas Historical Markers
"Sleep after toil, port after stormy seas, Ease after war, death after life does greatly please."

– Edmund Spenser – The Faerie Queene, I, 8, st. 1
This burial ground was established in 1853 by the St. Vincent de Paul Catholic Church. It is the first and oldest Catholic cemetery in Houston.  Located in the city's East End, an area settled by many immigrants, headstones are carved with German, Italian, French and other nationalities' surnames.  Like other early Houston graveyards (Founders, Old City) many persons who are interred here, including Dick Dowling (the hero of the Battle of Sabine Pass during the War Between the States) died during the yellow fever epidemics that plagued our city in the early to mid-1800s.  Although it has not been an active cemetery in many years, it is maintained by the neighboring Our Lady of Guadalupe Church.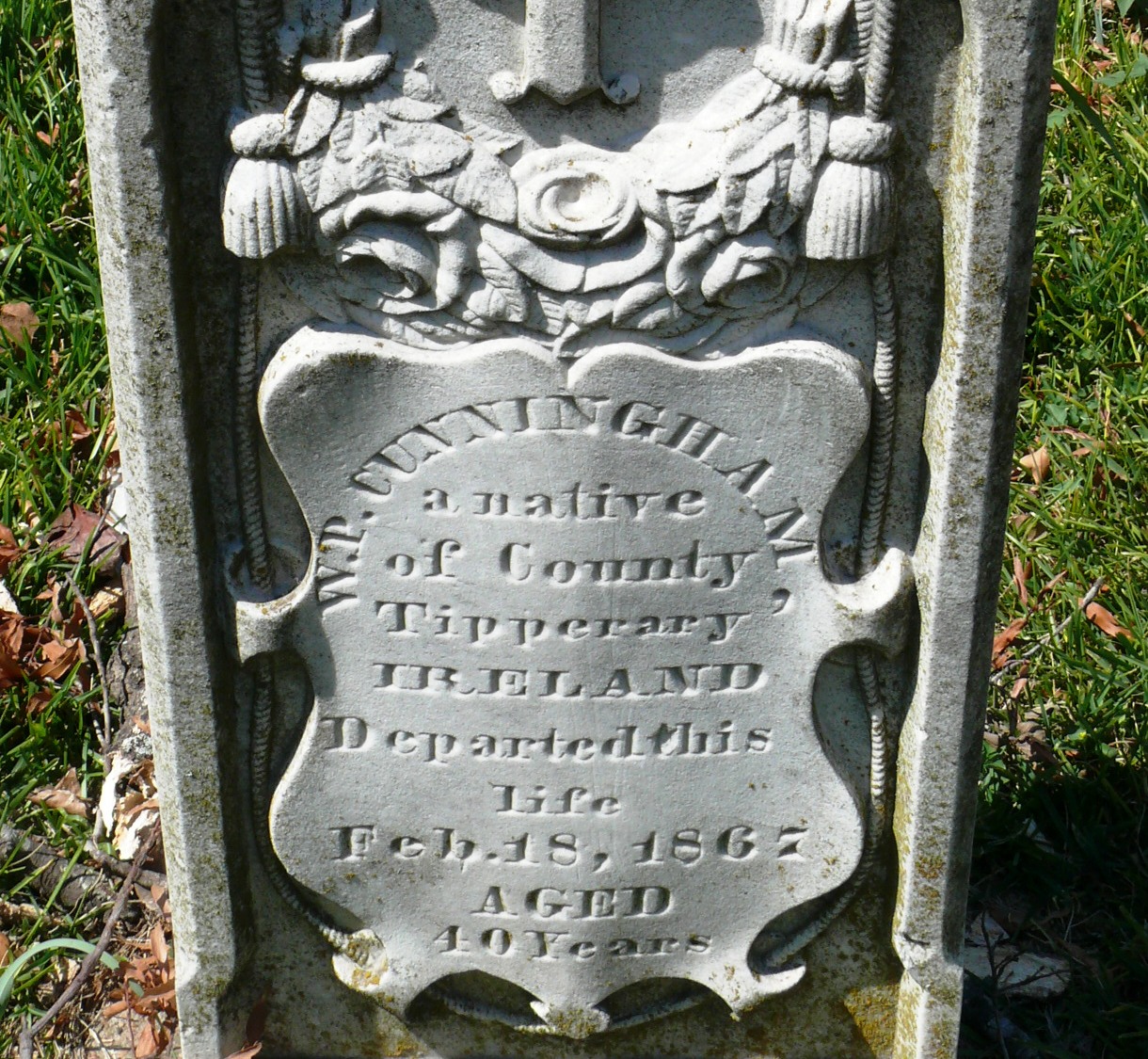 Cunningham, William (1827-1867) – Unknown occupation – This gentleman was born in Tipperary, Ireland.  The only thing we know about him is he died in the Great Yellow Fever Epidemic of 1867.  This epidemic also killed Dick Dowling.
Dowling, Richard W. "Dick" (1838-1867) – Texas Hero – Dowling was born in Tuam, Galway County, Ireland. He came to New Orleans in 1848 and later moved to Houston. Dowling opened a saloon named "The Finish" that was famous for a drink called "kiss me quick and go." He was the hero of the Battle of Sabine Pass during the War Between the States.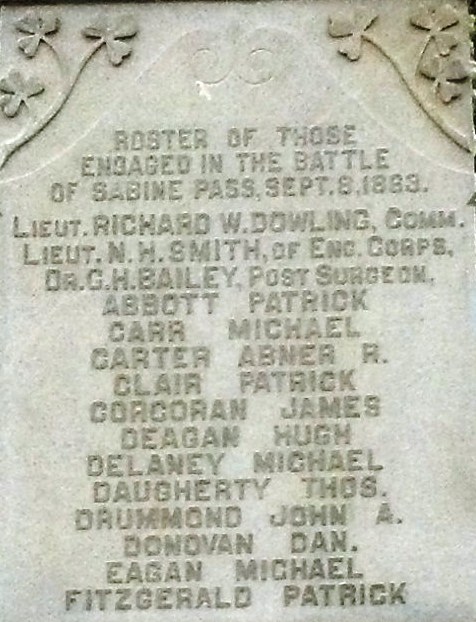 On September 8, 1863 with only 42 men and 6 cannons he captured 2 Union steamers and 315 Yankee troops, forcing Union General William B. Franklin and 18 other ships with 4,500 soldiers to retreat to New Orleans.  This ignominious defeat earned Franklin the dubious honor of being the only American general to lose a fleet in a contest with land batteries alone. After the war, Dowling returned to Houston and opened another bar called "The Bank of Bacchus."  He died in a yellow fever epidemic in 1867.  Dowling Street in the 3rd Ward is named in his honor.  And Tuam Street in Midtown is named for his place of birth. The Ancient Order of Hibernians commissioned a large marble statue of Dowling.  Initially located in Market Square it now looks out over Hermann Park.  Since 1905 his sword has been stolen 5 times.
Kennedy, John (1819-1878) – Merchant – Born in County Down, this Irishman arrived in Texas in the 1840s.  In 1848 he opened Kennedy's Trading Post (now La Carafe) on Old Market Square. Indians loved Kennedy's place and came in to marvel at and trade for merchandise.  He sold a wide variety of goods including calicoes, whiskey, gun powder, tea, spices, beans, guns and even coffins.  The Indians would lay their trading goods on the floor and the bargaining would begin.  During the War Between the States, Kennedy's became a stage coach stop and storehouse for ammunition, cannons and bombs.  Today this two story brick building is the city's oldest structure.
Paschall, Samuel (1815-1874) – Texas Hero – Paschall came to Texas from Tennessee in the 1830s. He served in the Army of Texas from February 1836 until June 1837. He was a private in Captain Amasa Turner's company at the Battle of San Jacinto.