St. Cuthbert's Burial Ground
5 Lothian Rd.,
Edinburgh, Scotland
Established 1595
4 acres
Burials 1,000+
website
"Follow me, and let the dead bury their dead."
The Gospel According to Saint Matthew 8:22
The land around St Cuthbert's Kirk (Church) Yard has been used for Christian burials for more than 1000 years.  However, the earliest remaining records date back to 1595.  The oldest tombstone is that of Reverend Robert Pont (See Pont below) who died in 1606.  Located just off Edinburgh's bustling Princess Street today, it was quite a different site in the old days as there was nothing between the burial ground and the village but dense forest.  By the 1700s grave-robbing had become a thriving business and doctors and medical schools paid well for cadavers to study.  So in 1738 the wall was raised to 8 feet in hopes of keeping the "resurrectionists" (as the robbers preferred to be called) out.  In 1742 a beadle or church officer was suspected of cooperating with the grave robbers.  He was removed from office and a raging mob burned his house.  A guard was hired in 1803 and a watchtower was constructed 24 years later.  Within 10 years the tower was abandoned as the law was changed to allow the donation of cadavers for scientific use.  Burials ceased in St. Cuthbert's in 1875.
There are a number of interesting souls interred here including: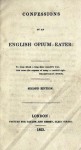 De Quincey, Thomas (1785-1859) – Opium Addict – He was an essayist and author of Confessions of an English Opium Eater.  Some scholars believe De Quincey's opium addiction was the result of a "self-medication" for a real physical and psychological illness.  His inauguration of "addiction literature" is said to have influenced other authors such as Edgar Allan Poe, Charles Baudelaire and Nikolai Gogol.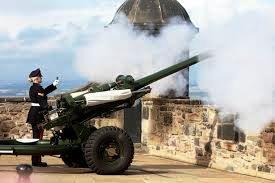 Findlay, James (1722-1862) – Soldier – He served in the Crimean War (1853-6) and was promoted to Chief Master Gunner of the Royal Artillery.  Findlay was the first gunner to fire the famous one-o'clock cannon that sounds daily from Edinburgh Castle.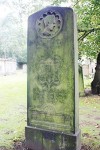 Kemp, George M. (1795-1844) – Jack of All Trades – He was a draughtsman, carpenter, master joiner and self-taught architect.  Kemp is best remembered as the designer of the Walter Scott Memorial (See Raeburn below) in the large park along Princess Street in Edinburgh.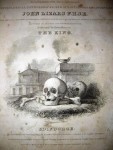 Lizars, John (1787-1860) – Surgeon – His medical career began during the Peninsular War (1807-14) fighting Napoleon.  Later Lizars returned to Edinburgh where he taught anatomy.  He served as a professor of surgery at the Royal College of Surgeons and the Royal Infirmary in Edinburgh.  Naturalist Charles Darwin was known to attend Lizars' lectures.
McKenzie, Robert T. (1867-1938) – Jack of All Trades – A Canadian, he was soldier, scout, sculptor, doctor, athlete and physical educator.  His last request was that his heart be buried in front of the Scottish-American War Memorial in Edinburgh.  This wish was turned down so McKenzie's heart was interred in St. Cuthbert's.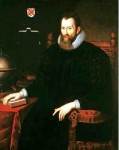 Napier, John (1550-1617) – Mathematician – He invented logarithms.  In addition Napier is credited with popularizing the use of the decimal point in arithmetic and mathematics.
Nasmyth, Alexander (1758-1840) – Artist – He was known as a portrait and landscape painter.  Nasmyth's most famous portrait is of his friend poet Robert Burns that hangs in the Scottish National Gallery in Edinburgh.  Most of his landscapes portray scenes around the city and countryside. 
Pont, Robert (1524-1606) – Reverend – This man of the cloth was a strong supporter of John Knox and attended the first General Assembly of the Church of Scotland in 1560.  Pont was very active in the Reformation Movement.  In 1574 he was named Minister of St. Cuthbert's.  Pont's interests exceed religious matters.  He was involved in justice, mediated conflicts between members of the royalty and was credited with preventing a civil war.
Raeburn, Henry (1756-1823) – Artist – He was a well-respected portrait painter.  Among Raeburn's best known clients were King George IV of Scotland and Sir Walter Scott (See Kemp above.)