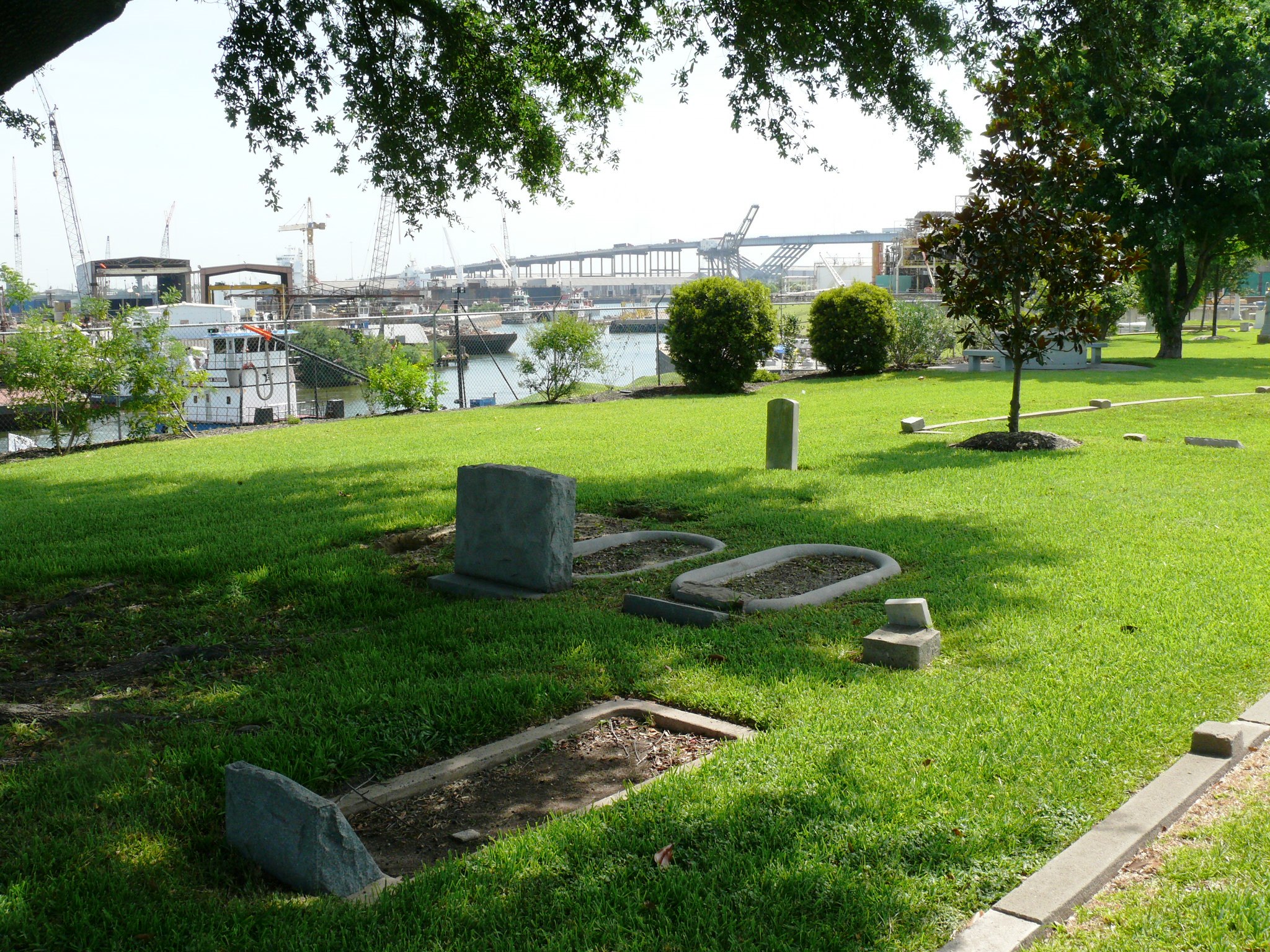 Glendale Cemetery
East end of Magnolia Street off Broadway
Established 1826
6 acres
Burials ca. 200
Texas Historical Marker
Glendale Cemetery Association 281-288-7888
"As one I wept, if I could weep
My tears might well be shed,
To think I was not near to keep,
One's vigil o'er thy bed."
-And Thou Art Dead,
As Young and Fair– Lord Bryon -1832
Glendale is the oldest cemetery in the Houston city limits.  It was established in 1826 by Harrisburg founder John Richardson Harris as the Harris Family Cemetery, a private plot for family members. This was 10 years before John and Augustus Allen hired Gail Borden to plat what we now call our home town of Houston.  Harris chose this beautiful bluff, overlooking Buffalo Bayou after moving from Harrisburg, Pennsylvania to join Stephen F. Austin, the Father of Texas, in the new frontier of Tejas.  The Mexican government granted him this scenic spot and 4,428 surrounding acres to colonize.  Today, as we look over the Houston Ship Channel, America's second largest port, it is hard to imagine this was a bucolic area 187 years ago.  But if you stop for a visit take a second to close your eyes, maybe hear a mockingbird chirping to her chicks and pretend you just sailed up Buffalo Bayou to start a new life in what would become the great State of Texas.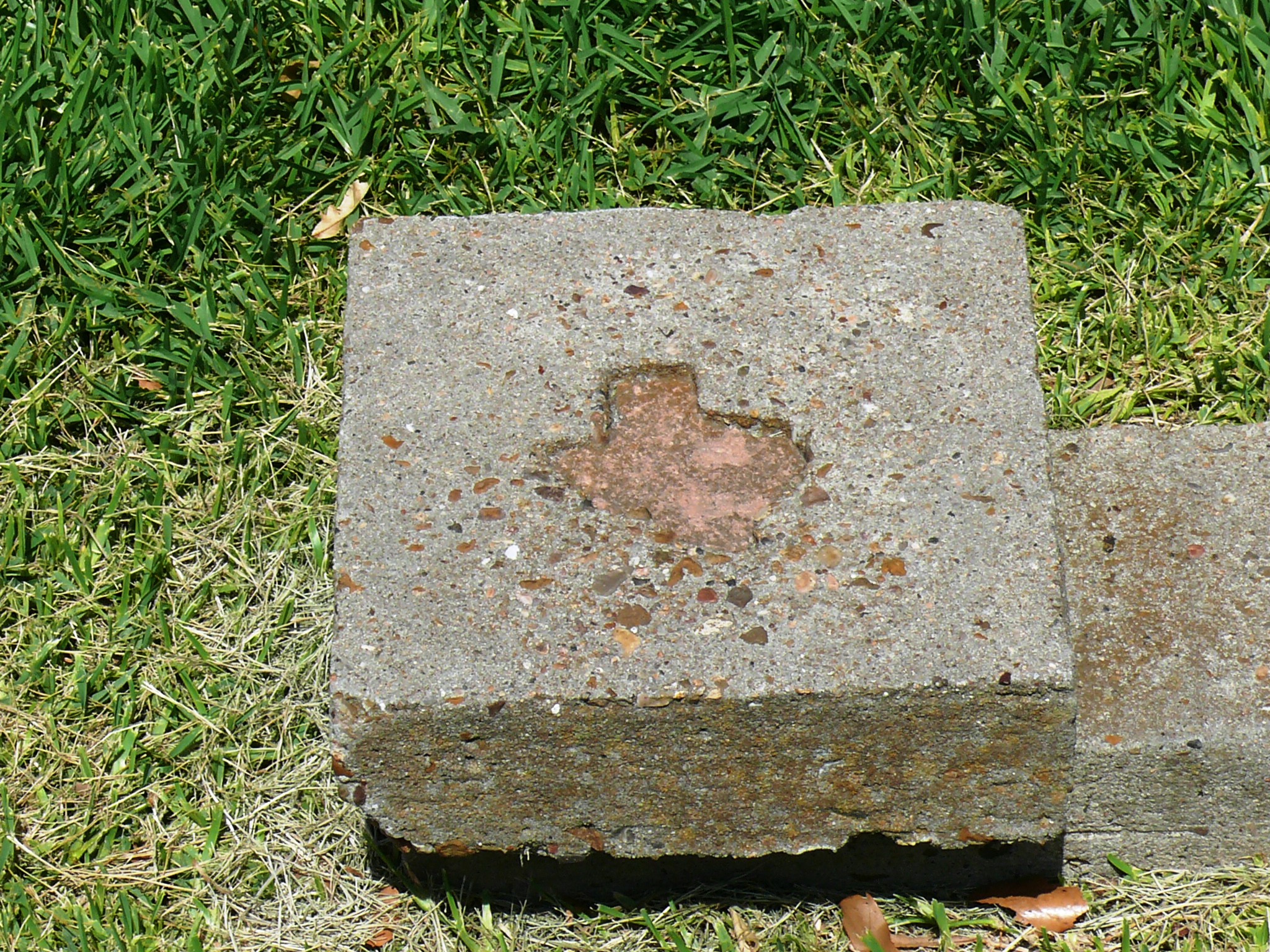 Glendale, the name was changed in 1893, is a seminal example of a pioneer burial ground.  Times were difficult and life expectancy was chancy at best.   The first 31 burials here were the result of a Yellow Fever epidemic.  Victims were quickly interred in a mass grave with no markers to remember them.  The oldest stone in the graveyard is that of John Birdsall who died in 1839.  Glendale contains the final resting places of 10 Confederate soldiers and 29 veterans of World War I and II.  Many children are buried here, some not reaching their first birthday.  Amazingly, others managed to live long lives, somehow surviving Diphtheria, numerous fever epidemics, Pneumonia and other maladies.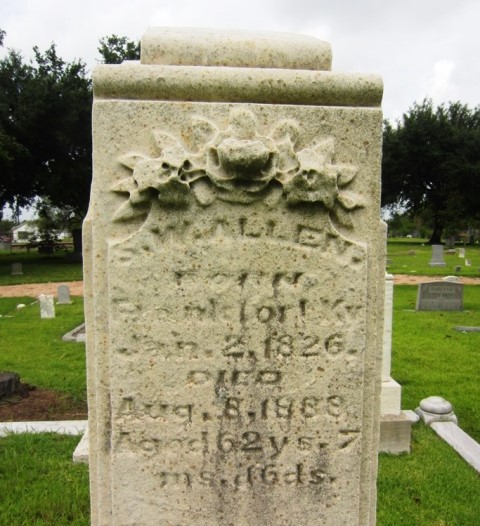 Allen, Samuel William (1826-1888) – Rancher – Born in Kentucky, he arrived in Texas in the 1820s.  Allen (no relation to John and Augustus Allen who founded Houston) began his ranching career by rounding up wild longhorn cattle that had been abandoned by the Spanish.  The ranch was located approximately where the town of South Houston is today.  By 1860 he was a partner in the largest cattle shipping operation in Texas having acquired a monopoly from Morgan Lines to transport cattle to New Orleans and Cuba.  Allen also joined up with Abel H. "Shanghai" Pierce in a cattle ranch that was estimated to own more than 100,000 head.  At its peak the Allen Ranch owned over 17,000 acres in Harris, Galveston, Fort Bend and Brazoria Counties.  Following his death the operation was taken over by his son Sam Ezekiel Allen and then his son Sam Milton Allen.  What remained of the ranch was liquidated in 1947.
Birdsall, John (1802-1839) – Politician – He was a New York politician who served in the state assembly, senate as well as a circuit judge.  Birdsall moved to Texas in 1837, becoming a law partner of Houston attorney, Thomas J. Gazley.  Sam Houston appointed him Attorney General of the Republic of Texas that same year.  In 1838 Houston appointed Birdsall pro tempore Chief Justice of the Texas Supreme Court to fill the vacancy created by the death of Justice James Collinsworth.  However, the Texas Congress failed to approve this action.  When Houston retired as President of the Republic, he and Birdsall opened a law firm. Birdsall died at the age 37 in a Yellow Fever epidemic and was the first person interred in Glendale with a tombstone.
Harris, John Birdsall (1821-1867) – Railroad Man – Born in Missouri, he was the son of John Richardson Harris and Jane Birdsall Harris.  His father came to Texas in 1824 and Jane followed in 1833.  Young Harris resided with relatives in New York until after the Texas Revolution.  At that point he also moved to Harrisburg, Texas.  Harris was an early investor in the Harrisburg Town Company.  In 1840 he was among the founders of the Harrisburg and Brazos Railroad.  His interests also included politics and Harris was elected an alderman in the first election held in Harrisburg.  Harris died of Typhoid Fever in 1867.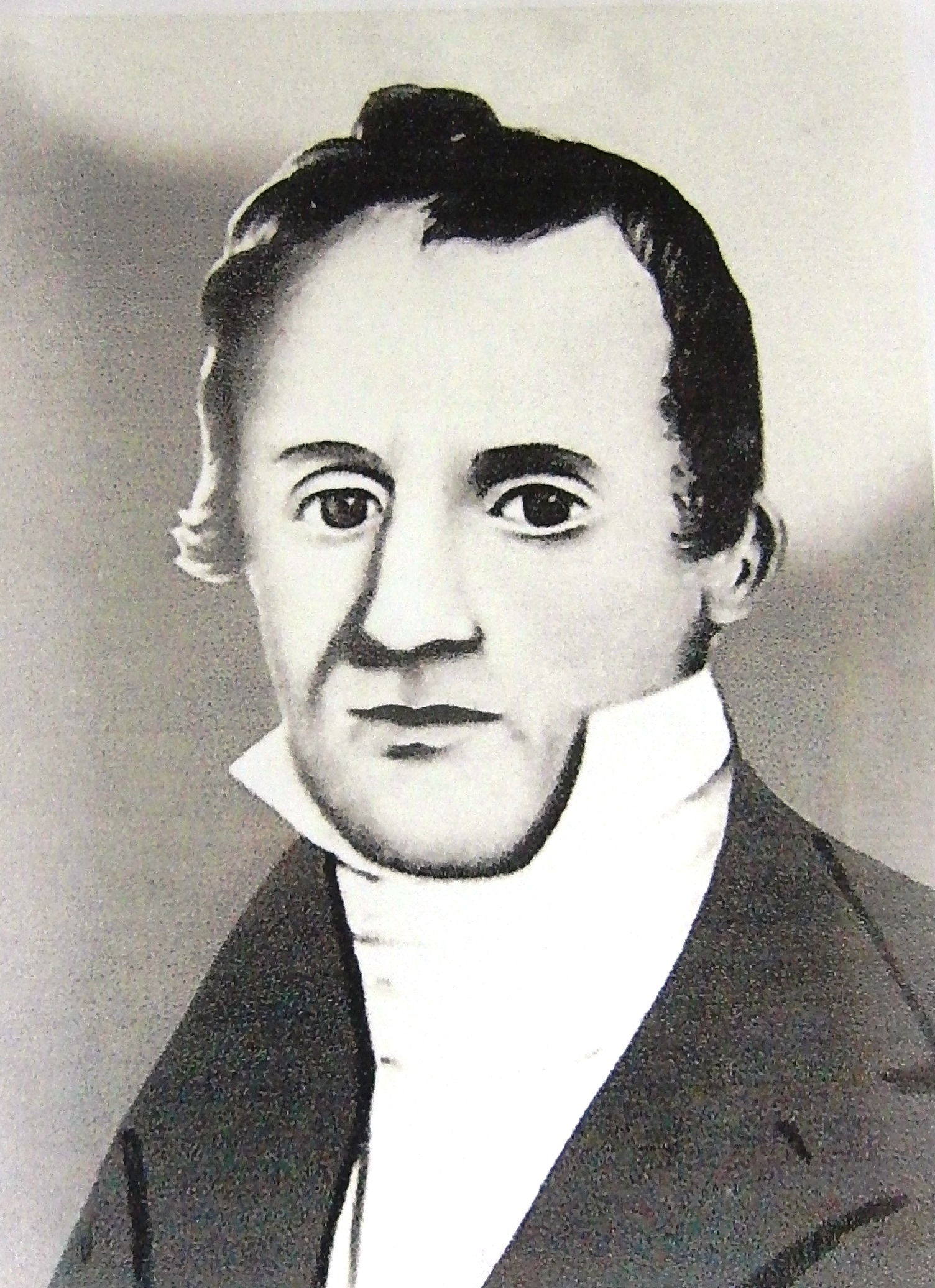 Harris, John Richardson (1790-1829) – Texas Pioneer – He was born in New York State.  In 1813 Harris and Jane Birdsall were married and settled near Waterloo, NY.  Here they met Moses Austin and decided to move to Texas to join him.  Thus Harris became a member of Austin's famous "Old 300" settlers. Sailing in his own boat, he arrived in 1824.  The Mexican Government granted Harris the right to 4,428 acres of land at the confluence of Bray's and Buffalo Bayous.  On today's map this property would extend from Buffalo Bayou on the north to Airport Boulevard on the south. He hired Francis W. Johnson to lay out a town.  By 1826 the project was completed and Harris named his new town Harrisburg, most likely after himself and Harrisburg, PA that had been christened by his great-great grandfather.  As part of this development was the J. R. Harris Family Cemetery (renamed Glendale in 1897), a steam sawmill and a general store.  Harris was a successful businessman.  He owned a fleet of ships that served the Texas coast as well as New Orleans.  In 1829 he boarded his vessel, The Rights of Man, headed for New Orleans to purchase general merchandise and parts for the sawmill and a new grist mill. Unfortunately, he contracted Yellow Fever and died.  Harris is buried in New Orleans.  A cenotaph was erected in his memory near his Harrisburg grave site by his granddaughter. The town prospered until April 16, 1836 when General Antonio Lopez de Santa Anna burned it to the ground while pursuing General Sam Houston and the Texas Army to the fateful Battle of San Jacinto.  The town was rebuilt and by 1839 had a population of 1,400.  In 1926, Harrisburg was annexed by Houston.  John R. Harris Elementary School, near the cemetery, is named in his honor.
Harris, Jane Birdsall (1791-1869) – Pioneer Woman – She was born in New York.  Birdsall met John Harris and they married in 1813.  This union produced one daughter and three sons.  Her husband moved to Texas in 1824 where he died in 1829.  Harris moved to Harrisburg, Texas, in 1833, the town her husband established prior to his death.  Just before the Battle of San Jacinto (1836) her home served as the Provisional Government of Texas Capitol prior to General Santa Anna burning it to the ground.  It was said the home was so crowded that, with the exception of President David G. Burnet, Vice President Lorenzo de Zavala and Secretary of State Samuel P. Carson, most officials slept on the floor.  Texas was governed from her home from March 23 until April 13, 1836. She left Harrisburg as the Mexican Army advanced toward San Jacinto.  Returning following the Texans victory she commandeered Mexican prisoners of war and rebuilt her home. Harris opened an inn that did well following the completion of the Buffalo Bayou, Brazos & Colorado Railway as passengers arrived awaiting transfer from rail to the ships that docked in Harrisburg.  Harris' home served as a hospital during the War Between the States. She died in 1869.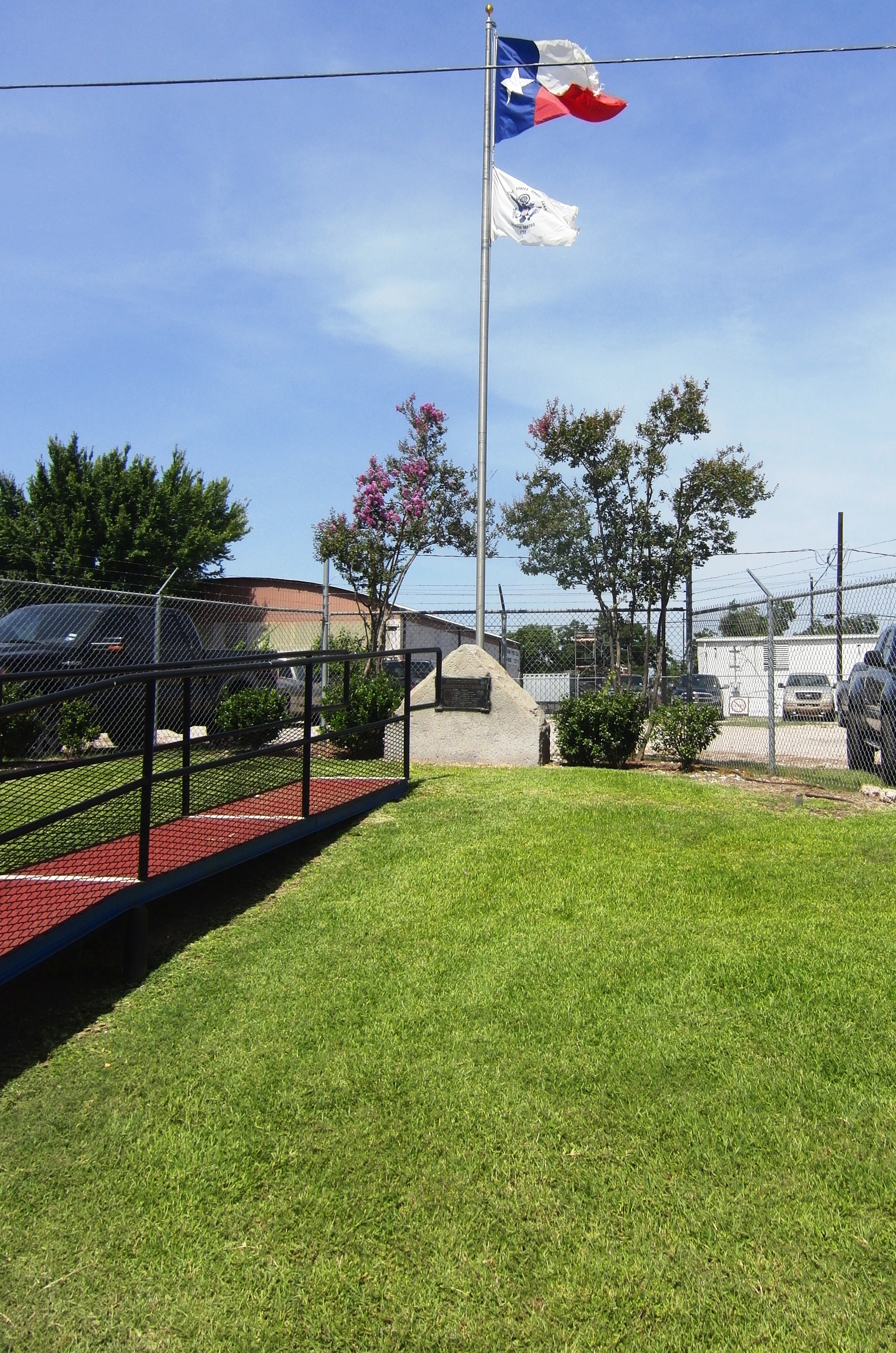 Harris, Jane Birdsall – Site of House (on Frio between E. Elm & Cypress) – Just a few blocks northwest of Glendale Cemetery is the site of the Jane Harris residence.  It is easily identifiable as it is marked by a concrete pyramid topped with a Texas Flag.  There is a historic marker on the pyramid.  It is interesting that as a widowed mother of four she decided to carry out the plan she and her husband had agreed on years earlier.  So Harris packed up, came to Texas and built a home.  It is just one example of Texas pioneer women who chose to migrate here and became landowners and successful businesswomen.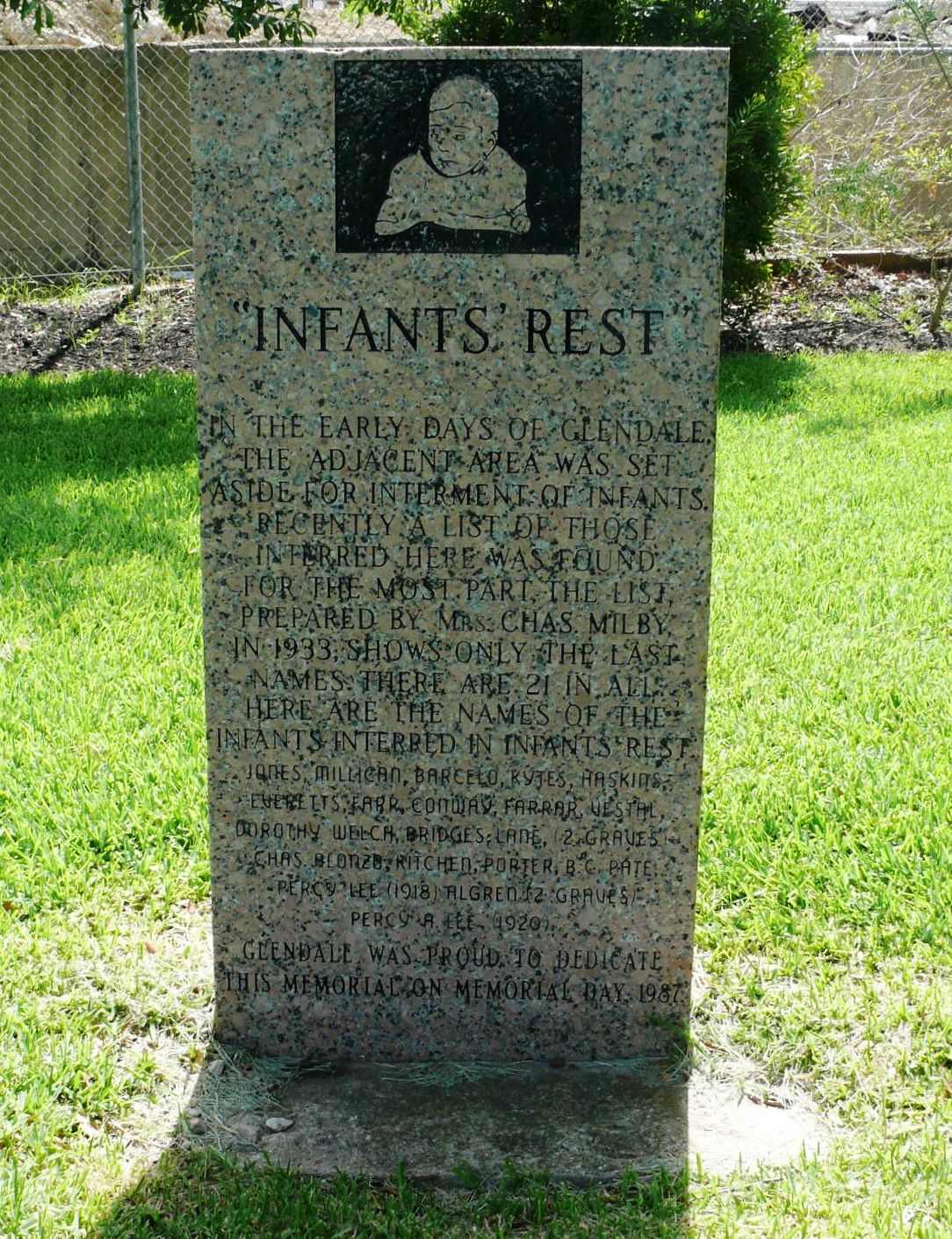 Infants Rest – When Glendale opened, a small section was reserved for infant burials. None of these souls was given a tombstone.  Some 107 years later Mrs. Charles Milby (See Other Interesting Interments – Milby, Charles) found a listing of these burials. There were 21 graves.  The infants were listed by surnames only.  In 1987 the cemetery association erected a marker for these infants.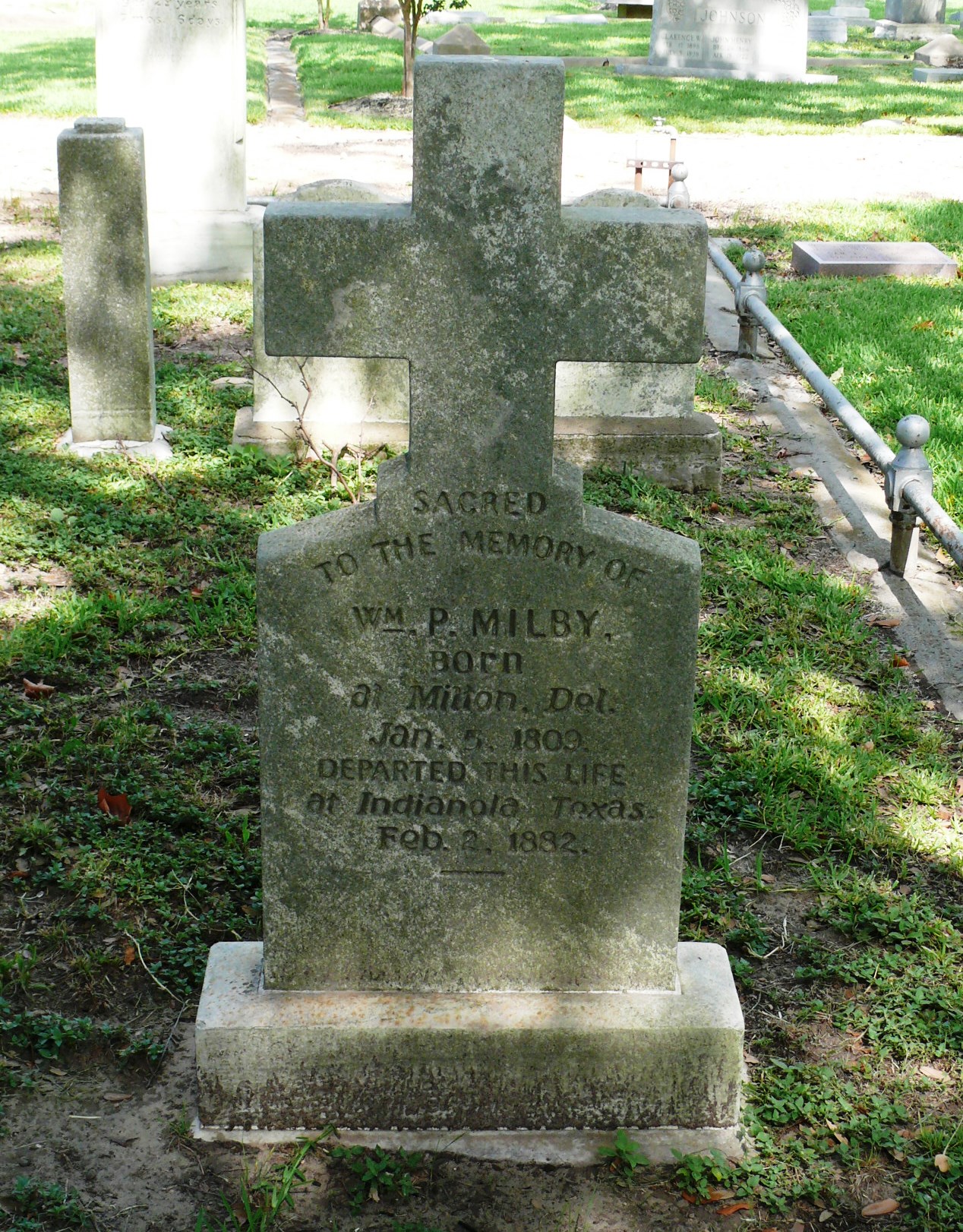 Milby, William Polk (1809-1887) – Politician – Born in Delaware, he arrived in Texas via Maryland and Louisiana.  In 1841 Milby settled in Liberty County where he was elected to the Republic of Texas Congress.   Moving to Port Lavaca he was named County Clerk (1848-58).  Milby acquired some property near Indianola where he hoped to develop a town, Cayloma.  Apparently that venture failed.  However, he became a successful businessman via real estate and retailing.  Unfortunately, the War Between the States and a disastrous fire at his mercantile business reduced his net worth from $55,000 (a huge amount of money in 1867) to $1,600.  And to add insult to injury Milby's home was destroyed in the 1875 Indianola Hurricane.  He passed away in 1887.
Other Interesting Interments – We discovered several additional interesting persons buried here but were unable to gather much information on any of them.  However, we wanted to list them with what little we could find:
Deady, James – He was the first and only mayor of Harrisburg.  Deady Middle School is named for him.
Halsey, William – He opened one of the first schools in Harrisburg.
Milby, Charles H. – He was married to Maggie Tod and lived in a large home at Broadway and Harrisburg.  Milby High School is named in his honor.
Williams, John A. (d. 1867) – He was Harrisburg's first surveyor.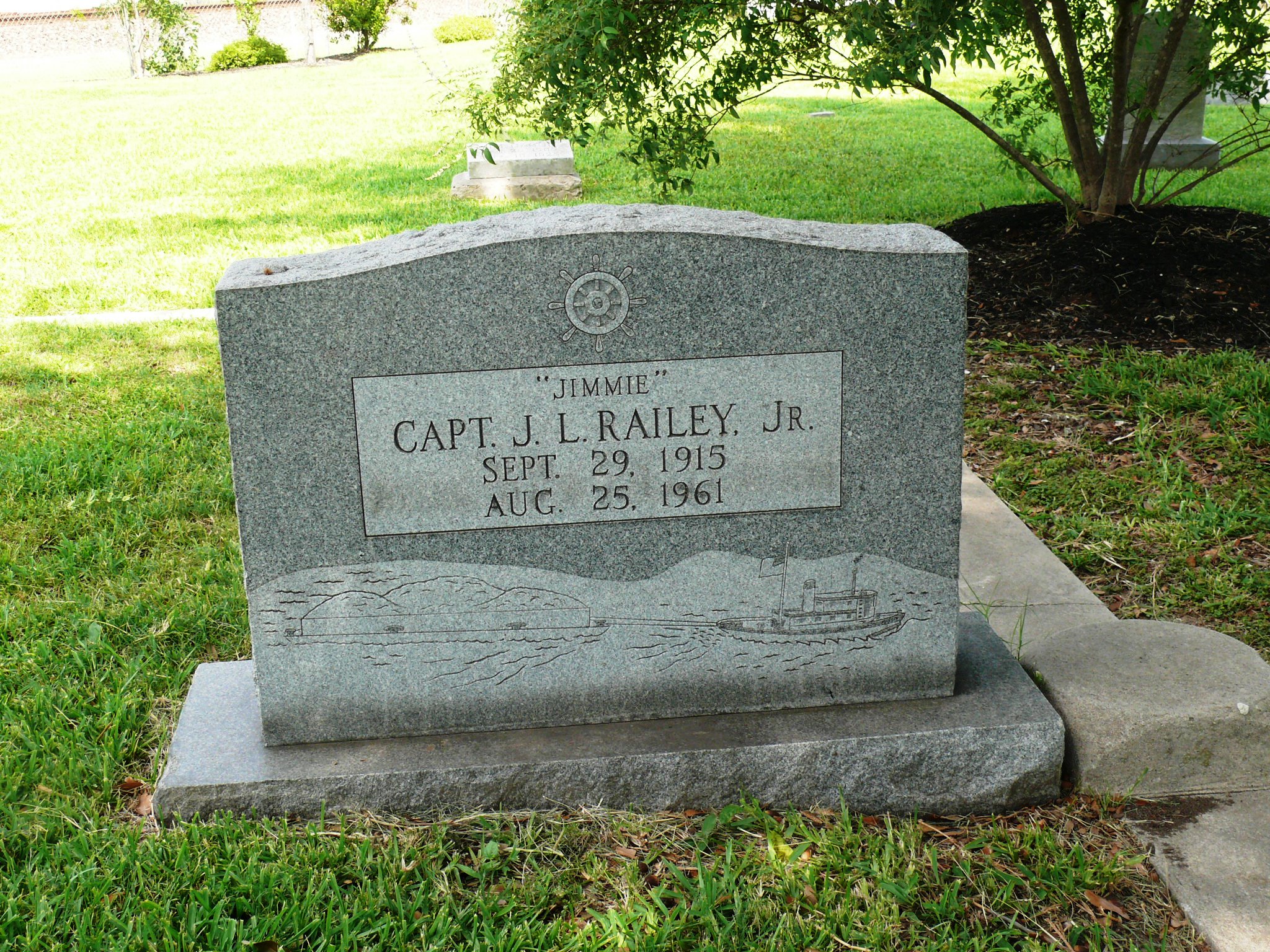 Railey, J.L. "Jimmie", Jr. (1915-1961) – Boat Captain – The only thing we know about this gentleman was that he was a tugboat captain.  Glendale overlooks the Houston Ship Channel where he worked. It seems an appropriate final resting place.  Riley also has one of the coolest tombstones.  Etched upon it is a tugboat towing a barge up the Channel.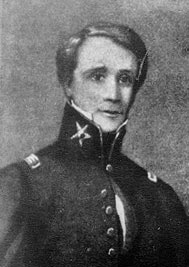 Site of Colonel Sidney Sherman Home – He was born in Massachusetts in 1805.  Sherman was orphaned at twelve yet when he reached sixteen he was a store clerk.  He moved from Boston to New York, then to Cincinnati and finally Kentucky.  There he opened a business and invented a machine that manufactured cotton bags.  Sherman became the first person west of the Allegheny Mountains to develop a machine that produced sheets of lead.  When the Texas Revolution broke out he sold his businesses and equipped 52 soldiers to go with him to fight for Independence.  They joined up with Sam Houston at the Battle of San Jacinto.  Colonel Sherman commanded the left wing of the Texas Army, led the charge and is credited with coining the phrase "Remember the Alamo." His regiment was the only one to carry a banner in the fight. After the War Sherman and his wife built a one room log cabin on a bluff below the battlefield and named in Mount Vernon. (They must have had a good sense of humor.) He was elected to the Republic of Texas Congress (1842-5).  Following annexation the Shermans moved to Harrisburg.  There he and his partners organized the Buffalo Bayou, Brazos & Colorado Railway, the first railroad in Texas.  Then Sherman had a string of bad luck.  His home burned in 1853, his son was killed in the Battle of Galveston (1862) and his wife died in 1865.  Sherman spent his last years in Galveston where he died in 1873.  Sherman County and Sherman, Texas are named in his honor.  A historic marker in the northwest corner of the cemetery marks the location of Sherman's home.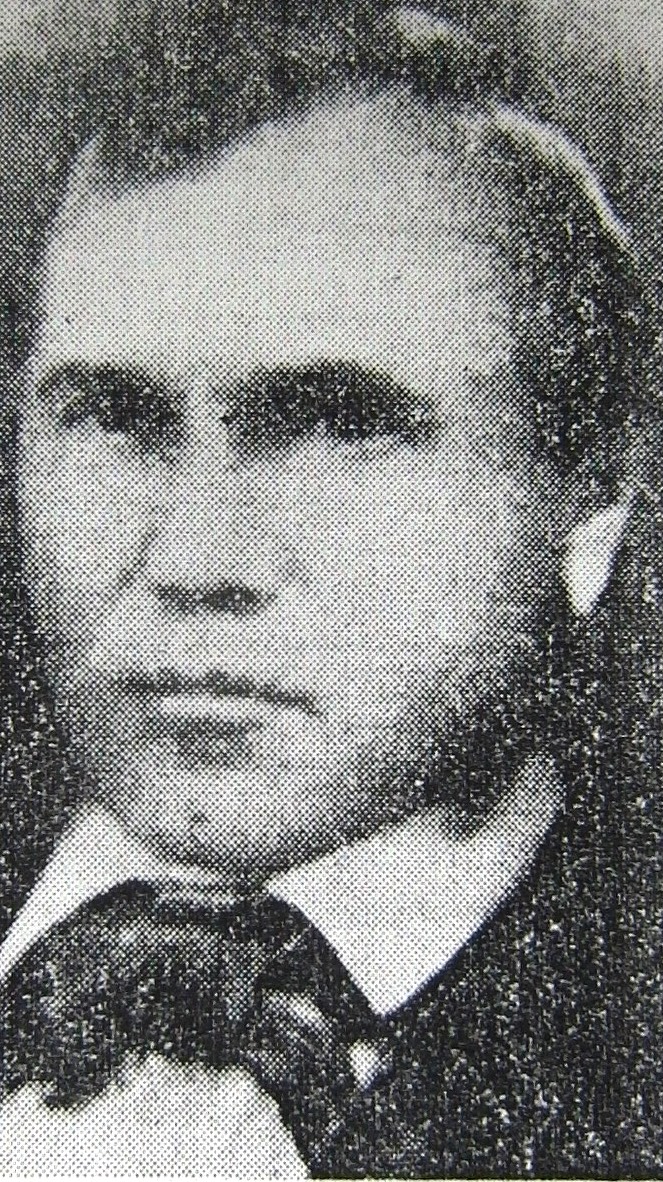 Tod, John Grant, Sr. (1808-1877) – Naval Officer – This adventurous young lad was born in Kentucky.  He left home at 17 to join the Mexican Navy.  Eventually he earned a commission in the U. S. Navy.  In 1837 Tod arrived in Texas and served as a customs inspector and naval inspector.  From 1838 until 1840 he was a purchasing agent for the Texas Navy.  The following year Tod was appointed Commander of the Texas fleet.  Resigning that position he went to Washington D. C. as a lobbyist.  In 1845 he was granted the honor of bringing the official Texas Annexation papers back to Austin.  Tod fought in the Mexican War (1846-8) and was an agent of the U. S. Quartermaster. Returning to Texas he joined Sidney Sherman (See Sherman) in founding Texas' first railroad, the Buffalo Bayou, Brazos & Colorado. Tod died in Harrisburg in 1877.
Tod, John Grant, Jr. (1864-1918) – Lawyer & Politician – He was born in Richmond, Texas but his family moved to Harrisburg when he was two years old.  In 1885 Tod earned a law degree from Yale University and set up a practice in Houston.  He was elected County Judge of Harris County (1892-6), District Judge (1896-1900), Secretary of State under Governor J. D. Sayers (1898 and 1900) and was a member of the Board of Education.  Tod was also an important force in the development of the Houston Ship Channel.  He passed away in Harrisburg in 1918.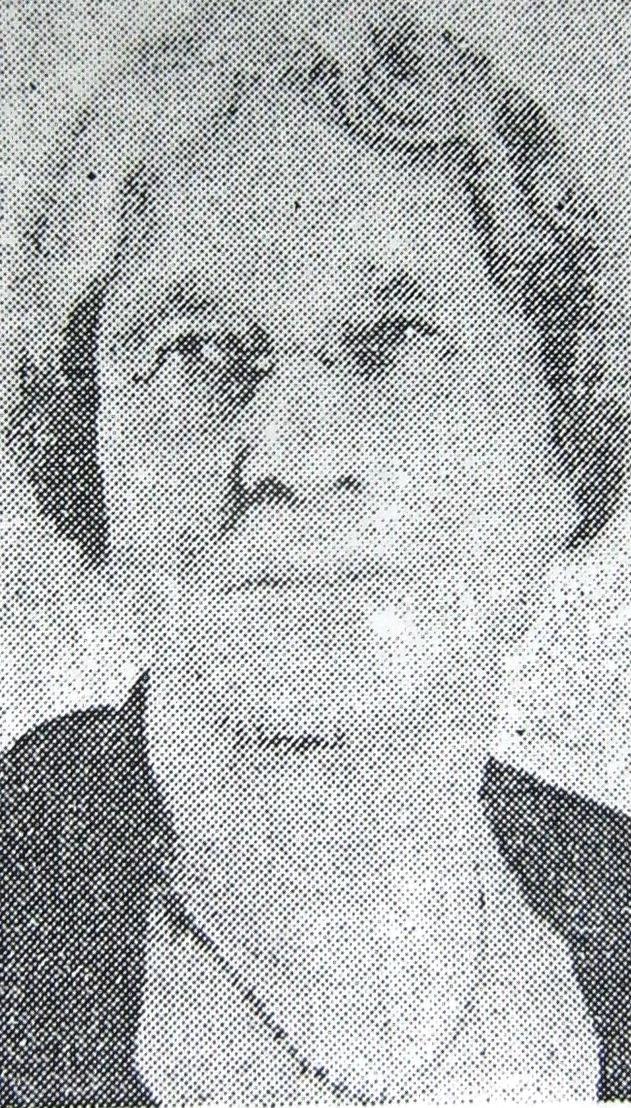 Tod, Osceola Morriss (1862-1936) – Pioneer Woman – She was born in Harrisburg.  Her ancestors included the Morriss family who settled in Galveston and Harris Counties and Ezekell Thomas, one of Stephen F. Austin's "Old 300."  Tod was educated at the Young Ladies Institute in Goliad.  She was a lifetime member of the Daughters of the Republic of Texas.  In 1890 Morriss married John Grant Tod, Jr. (See Tod, Jr.)