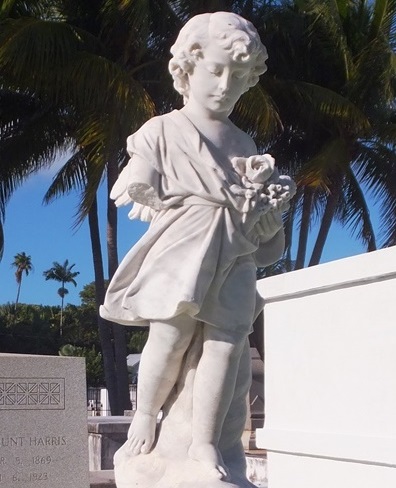 Key West City Cemetery
701 Passover Lane, Key West, FL
Established 1847
20 acres
Burials 80,000-100,000
website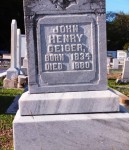 Geiger, John H. (1834-1880) – Marine Salvager – He salvaged wrecked ships along the Florida Keys and built a magnificent mansion with native woods and marine architecture. He befriended the ornithologist John James Audubon when he visited Key West.  Audubon named the Geiger tree for him. The Geiger home has been beautifully restored and houses a magnificent museum featuring period furnishings and history as well as a stunning collection of Audubon engravings and drawings. It's a gem.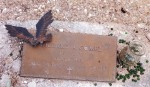 Gomez, Willard Antonio (1895-1987) – Bootlegger – Gomez was the chief source of material for Hemmingway's 1937 novel, To Have and Have Not.  In that book the main character, Harry Morgan, owns a fishing boat and during the Great Depression runs contraband between Florida and Cuba including alcohol and Cuban revolutionaries.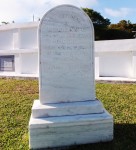 Greene, William (1813-1860) – Son of Founder of Key West – His father, Pardon C. Greene, was the only founder to live in Key West.  He was on the city council and was mayor for a while.  William died in the Dry Tortuga Islands off the Florida Keys.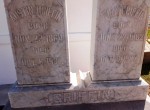 Griffin, Austin (1864-1907) – Murderer – Born in the Bahamas, he immigrated to Key West and married his wife, Tina, in 1886.  Over the next few years their relationship deteriorated.  She filed for divorce and demanded her share of their property.  Austin refused her request and would not move out of the house.  Enraged, he shot and killed her at breakfast on the morning of October 6, 1907 and then took his own life by drinking a bottle of carbolic acid. (See Griffin, Celestina.)
Griffin, Celestina "Tina" (1862-1907) – Murder Victim – A Bahamian, she moved to Key West and married Austin Griffin in 1886.  He killed her in a domestic dispute in 1907.  Oddly enough the couple is buried side by side.  (See Griffin, Austin.)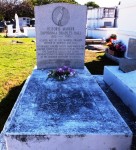 Hall, Sophronia "Fronia" Vickers Bradley (1880-1945) – Game Warden's Widow – She was married to Game Warden Guy Bradley who was shot and killed by bird plume poacher Wilber Smith near Flamingo, Florida on July 8, 1905.  Smith was exonerated for lack of evidence. However, two of her younger brothers burned Smith's house down.  She and Bradley had two children, Morrell and Ellis.  Sophronia eventually remarried.  The Florida Audubon Society erected a historic marker on her grave.  (See Bradley, Part 1.)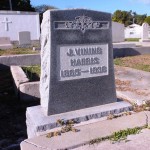 Harris, J. Vining (1865-1936) – Attorney – According to Friends of the Cemetery he married Florida, the youngest daughter of marine salvager William Curry.  The couple built and occupied a Queen Anne style mansion, the "Southernmost  House" on Key West, on the main street overlooking the Atlantic Ocean.  (See Curry, Part 1.)
Harris, James Walton (1847-1899) – Confederate Ship Captain – He was born in Columbus, MS and married a local girl, Gertrude Kate Garrard.  During the War Between the States he served as a captain in the Navy.  The couple moved to Key West following the War and he took up farming.  His tombstone reads:
"Here lies Capt. Jas. W. Harris
A Gallant Confederate Soldier
Awaiting the bugle call"
Harvey, Cornelius Bradford (1908-1988) – Politician –  He was a Mayor as well as a Commissioner of Key West.  C. B. Harvey Rest Beach on the island is named in his honor.  His wife, Wilhelmina was also a mayor of the City.  (See Harvey, Wilhelmina.)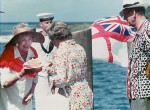 Harvey, Wilhelmina (1912-2005) – Politician – She was a Mayor of Key West, elected to the School Board and County Commission and the first woman juror in the county.  During her term Queen Elizabeth II visited Key West (May 18, 1991) and Jefferson National Park on the Dry Tortugas.  Harvey who was also known as Admiral of the Conch Republic Navy and Queen Conch, and gave Elizabeth a conch shell as a gift.  (See Harvey, C. B.)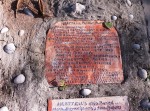 Herttell Family Plot – We know nothing about this burial plot but thought it was interesting as it was handmade by family members.  It reminded us of a small folk art environment.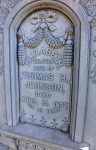 Johnson, Elizabeth Ann Roberts (1828-1897) – Wife – All we know about her is that she and her husband, Thomas Henry Johnson, were from the Bahamas and immigrated to Key West. They were married in 1851 prior to their coming to the Keys.  She has one of the few zinc (although marketed as "white bronze") tombstones in the cemetery.  They were cast by the Everlast Company during the Victorian Era (1837-1901.)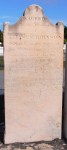 Johnson, James (1769?-1829) – Ship Captain – His is the oldest marker in the cemetery. Johnson was a mariner from Virginia. He was interred in an earlier burial ground that was destroyed by a hurricane.  Following that disaster his marker was moved to its present location.  Johnson was a member of the Dade County FL Lodge of the Free & Accepted Masons.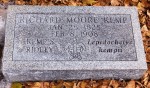 Kemp, Richard Moore (1825-1908) – Merchant – He was in the furniture business.  In addition Kemp was an amateur naturalist.  He discovered a new species of sea turtle.   It was named in his honor – Kemp's Ridley or Lepidochelys Kempii. (The etymology of the name "ridley" is unknown.) The Kemp's ridley is the rarest of the sea turtles and is critically endangered. The creature is carved on his tombstone.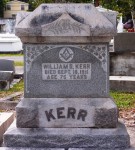 Kerr, William (1836-1911) – Architect – This Irishman moved to Key West in 1872.  Kerr was an architect, contractor and builder.  For himself, Kerr erected a Carpenter Gothic style cottage  (picturesque massing applied to wooden structures built by house carpenters.)  He is also credited with many important structures in Key West including Convent of Mary Immaculate, the Old Post Office and U. S. Customs House.  Kerr was a Freemason with the Lodge's symbol carved on his tombstone.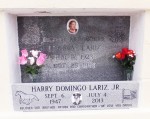 Lariz, Edwina (1923-1986) – Music Aficionado – She is remembered for having the phrase "Devoted Fan of Singer Julio Iglesias" carved on the bottom of her marker.  However, when her son, Harry Domingo Lariz, Jr. died, his plaque was cemented over the quote.
Lightbourn, Walter Sayers (1861-1906) – Cigar Maker – This native of Key West was half owner of the famous Cortez Cigar Company.  The brand's motto was "Cigars — for men of brains."  Lightbourn died while on a trip to Cuba.  His body was returned to Key West for burial.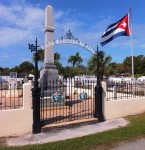 Los Martires de Cuba (Cuban Martyrs) Plot – This plot is separated from the surrounding grounds by a wrought iron fence and gates bearing the seal of the Republic of Cuba.  It flies both Cuban and American flags.  The plot honors the thousands of Cubans who fought for their country's freedom from Spain.  It was established in 1892 by Key West's Cuban community.  In the center is an obelisk that honors the four Cuban armies that fought in that 10-year campaign (1868-78.)  Other markers remember those fighters who suffered imprisonment or death in the War. The only person interred here is Antonio Diaz y Carrasco, the first Cuban consul to Cuba.  (See Diaz Y Carrasco.)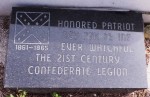 Lowe, Alfred (1840-1921) – Confederate Soldier – He was born in the Bahamas and prior to the War Between the States Lowe immigrated to Key West.  At the start of the War he slipped out from the island and enlisted in the Confederate Army in Tampa as a 2nd corporal in Company K 7th Infantry Regiment Florida on April 25, 1862. Lowe mustered out as a full 4th sergeant on February 25 1864.  He was at Appomattox, Virginia on April 9, 1865 to witness Robert E. Lee surrender to Ulysses S. Grant thus ending the War.  Lowe was the oldest Key West Confederate veteran when he passed away in 1921.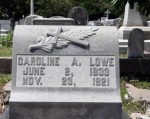 Lowe, Caroline A. (1833-1921) – Confederate Supporter – During the War Between the States Key West supported the Union so troops were stationed on the island.  Whenever those soldiers would parade down the street in front of her home Lowe would fly the Confederate Battle Flag, also known as the Stars and Bars, just to irritate them.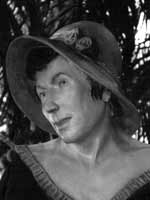 Mallory, Ellen Russell (1792-1855) – First Lady of Key West – She was born in Ireland and orphaned at age 13.  Russell was adopted by two uncles who lived on the Caribbean island of Trinidad.  It was there that she met Charles Mallory whom she married at age 16.  The union produced two sons, John and Stephen.  Her husband's health began to fail so the family moved to Havana in about 1820 seeking a better climate.  Three years later the Mallorys immigrated to Key West.  Mallory was the first white female settler on the island.  Charles died of consumption in 1825.  To support herself she turned her home into a boarding house for seamen.  For many years it was the only lodging place in Key West and remained so until her death.  Mallory lived to see her son Stephen become a famous attorney and U. S. Senator in 1850.  Upon her death all businesses along the route from her home to the cemetery closed in her honor.  The famous Mallory Square, a plaza that hosts the Sunset Celebration every night, is named for her.  Two hours before the sun sets hundreds of tourists flock to the Square to enjoy an arts and crafts fair, food carts and performers.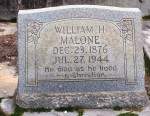 Malone, William H. (1876-1944) – Politician – He served as mayor of Key West during the Great Depression.  Malone's goal was to beautify the island and make it a tourist attraction.  He succeeded in spades.  His epitaph reads "He died as he lived – a Christian."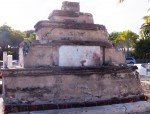 Maloney, Walter C. (1813-1844) – Politician – During the War Between the States he was a strong supporter of the Union although his son was a soldier in the Confederate army.  Maloney served as mayor of Key West.  His speech at the dedication of the City Hall was published as a history of the island.  It is titled A Sketch of Key West, Florida.  The material for Maloney's headstone was salvaged from the wreck of the Isaac Allerton, a ship that sunk in a hurricane 15 miles off the coast of the island.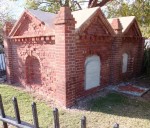 Mitchell, John Wallace (1885-1929) –Railroad Builder – According to Friends of the Cemetery this man came from Massachusetts to work on Henry M. Flagler's Overseas Railroad (now the Florida East Coast Railway.)   Flagler was an industrialist, a founder of Standard Oil Company (now Exxon) and remembered as the father of Miami and Palm Beach.  The Mitchell crypt is unique for its red brick, arches and gabled roof.  The family was originally from Cuba.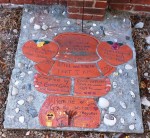 Mitchell, Glenn (1923-1986) & Wallace (1922-2002) – Unknown – Here is another interment that caught our eye.  We do not know a thing about them but were moved by the love and care their relatives, Cassidy and Robert Gard, took in hand making this memorial.   It reads:
In memory of the sons of John and Edna Mitchell, Natives of Key West
Be still and know that I am God
Memories of Grandpa Wallace, Key West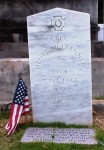 Mulrennen, Henry (1830-1874) – Merchant – This Scot arrived in New York City in 1841 and got a job with the Herald newspaper as a composer.  Mulrennen volunteered to fight in the Mexican War in 1846-8 and served as a captain and later a major.  Company K of the 7th  Florida Infantry mustered out in Key West and he went into the mercantile business.  In 1859 a fire broke out in his neighborhood and to prevent it from causing more destruction Mulrennen blew up his home to stop its advance. For this action he was highly praised. When the War Between the States broke out he was pro-Southern on an island full of Unionists.  Mulrennen was considered a "hot head" and was arrested for making "treasonable" rhetoric.  In 1861 he chose to join the Confederates and took command of a Florida Coast Guard Unit as a ship captain.  Mulrennen moved up in the ranks to Quartermaster General and Major.  For most of the conflict he was a blockade runner.  Mulrennen was captured by the Union navy and spent time in a North prison camp.  Following the war he returned to Key West and served as mayor from 1868 until 1870.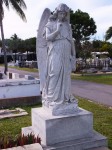 Navarro, Mary A. (1868-1907) – Mother – We fell in love with her beautifully carved marble angel.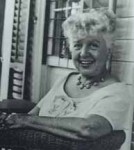 Newton, Jessie Porter (1898-1979) – Historian – This native Floridian was a 5th  Generation Key Wester and was related to many other important islanders including William Curry (See Curry.) and Joseph Porter (See Porter.)  "Miss Jessie" as she was known started the preservation movement in Key West.  In addition she was the force behind building the Key West Aquarium, starting the Flower Show and creating the Old Island Trading Post.  Newton valued the old houses on the island and her interest launched the Island Restoration Foundation.  She was a great friend of poet Robert Frost who spent many winters in a cottage behind her home.  Among "Miss Jessie's" other friends were Drew Pearson, John Dewey, Wallace Stevens, Archibald MacLeish, Thornton Wilder and more.
more postings to come shortly