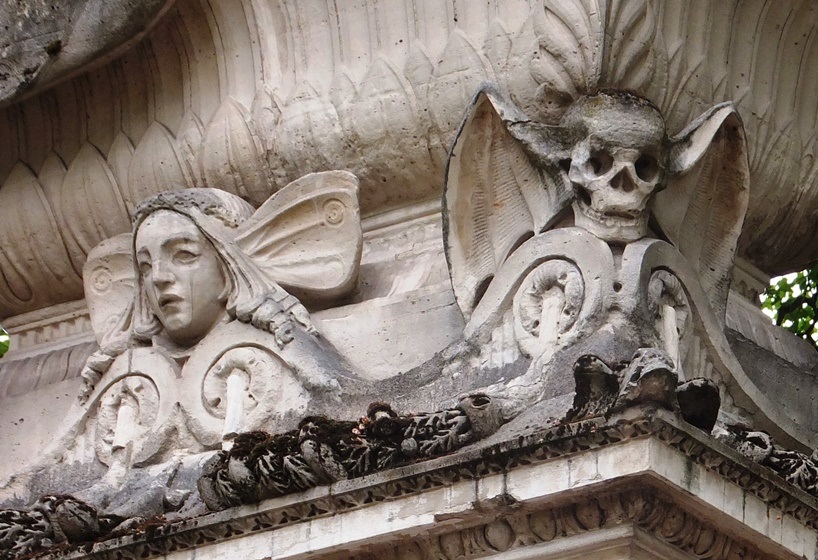 Cimetiere Père Lachaise
Bd. de Menilmontant,
Paris, France
Established 1804
110 acres
Burials 1,000,000+
website
"The best of all things for earthly men
is not be born and not to see the beams of the bright sun,
but if born, then as quickly as possible,
to pass the gates of Hades,
and to lie deep buried.
Elegies, l. 425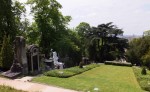 Named for the confessor to Louis XIV, Père Françoise de la Chaise, this is the largest cemetery within the city of Paris and the first garden-style cemetery in the world, laid out with avenues and beautiful landscaping. Established by Napoleon in 1804, Parisians felt it was too far from the city (nor had it been blessed by the Church) so few burials took place there until the administrators developed a marketing scheme. With great flourish, they transferred the remains of Jean de la Fontaine (one of the most widely read French poets) and Moilière (a famous playwright and actor). Being buried in the presence of famous Frenchmen lent cache. Then in 1817, again with much fanfare and at the urging of Josephine Bonapart (Napolean's Empress), they transported the alleged remains of two very famous lovers. Their strategy worked. Records indicate that the cemetery went from accommodating only a few dozen graves to more than 33,000 in 1830. Today over one million are buried there with many more in the columbarium.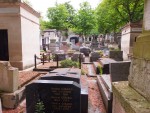 Père Lachaise is still an operating cemetery but there is a waiting list with few plots available. The administration has adopted two policies for dealing with the lack of space: graves may contain multiple family members with more recent interments alongside earlier ones and 30-year leases on gravesites mean remains can be removed if the family does not renew the agreement.
It is reported that more than three million people visit Père Lachaise annually.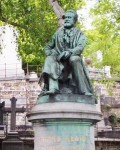 About, Edmond Francois Valentin (1828-1885) – Novelist, Publicist and Journalist – Described as "highly vitalized, exuberant, brilliant and undisciplined," About wrote witty satires and biting commentaries on the issues of his day. He may best be remembered as a writer of farces. His political attitudes were friendly but critical. From 1872 to 1877, his newspaper, XIX Siècle (19th Century) was a very powerful publication. In 1884 he was elected to the Acadèmie Française but died before taking his seat.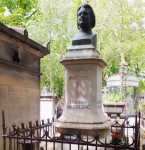 Balzac, Honorè de (1799-1850) – Novelist and Playwright – Balzac is considered one of the founders of European literary realism. His characters were multifaceted but morally ambiguous. His presentation of place – city, countryside, building interiors – was meticulously detailed and powerful.  He wrote about the darker side of humanity and the corrupting influence of middle and high societies. His masterwork (unfinished at the time of his death) was a series of short stories and novels entitled La Comèdie Humaine. It portrays French life, in Paris particularly, after the fall of Napolean (1815). Balzac's writing influenced many other novelists including Marcel Proust, Emile Zola, Charles Dickens, Edgar Allen Poe, Fyodor Dostoyevsky, Oscar Wilde, Gustave Flaubert, Henry James, William Faulkner and Jack Kerouac, to name a few. He was infamous for his work habits; he claimed once to have worked for 48 hours straight with only three hours of rest. The lack of proper sleep, financial and family strain and personal difficulties may have contributed to his untimely death.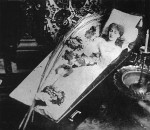 Bernhardt, Sarah (1844-1923) – Stage and Early Film Actress – Sarah made her fame on the stages of Europe and New York from the 1870's until her death, eventually earning the nickname "The Divine Sarah." After an early shaky acting debut in 1862, she made considerable money as a courtesan. It was during this time that she acquired the famous coffin in which she slept. She claimed it helped her understand her many tragic roles. She returned to the stage in 1866, creating many memorable roles, allegedly inspiring Queen Maria of Romania to dress like her at court balls. She made her silent film debut in 1900 in a two-minute film Le Duel d'Hamlet. She went on to star in eight motion pictures and two biographical films. Even after suffering a stage accident resulting in the amputation of her right leg, she continued to perform until her death. She is believed to have been 78 years old when she died (birth records were lost in a fire and she was notorious for exaggerating and distorting the facts of her early life). She has a star on the Hollywood Walk of Fame at 1751 Vine Street, Los Angeles CA.
Bizet, Georges (1838-1875) – Opera Composer – Although Bizet was considered a brilliant student, he did not achieve success in his lifetime. His compositions were largely ignored. The operas that were staged were not immediately successful. The opening of his final opera was delayed because the themes of betrayal and murder were considered offensive to contemporary audiences. When it finally did premiere in 1875, Bizet felt it was another failure. Three months later, he died of a heart attack. Had Bizet lived, some critics suggest he may have revolutionized French opera. That final opera that he felt was a flop, Carmen, has become one of the most popular and frequently preformed works in the entire opera repertoire. Carmen tells the story of a naïve solder who deserts his duty when he falls in love with the spirited gypsy Carmen, only to be betrayed when she falls in love with another man. He kills her in a jealous rage. The portrayal of the struggles of common man, the decadence and the murder of a leading character were very provocative. Following his death, Bizet's works were mistreated. Even Carmen was amended. Today there is no standard interpretation of what best represents Bizet's intentions.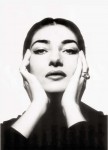 Callas, Maria (1923-1977) – Singer – Callas was born in New York City, made her opera debut at age 16 with the Royal Opera of Athens in Boccaccio, made her Italian debut at age 24 in Verona and her American debut at age 31 in Chicago. In 1956 (age 33), she performed with the Metropolitan Opera in her home city of New York. She is considered one of the most influential opera singers of the 20th century and is remembered for her roles in Tosca, Norma, Carmen (see Bizet above), Madame Butterfly, La Boheme and La Trovatore. Her bel canto technique (Italian for "beautiful singing") and dramatic interpretations endeared her to audiences but she became a bit of a "diva." At one point Callas said, "Hissing from the gallery is part of the scene. It is a hazard of the battlefield. Opera is a battlefield, and it must be accepted." Her final operatic performance was in 1965 (age 45) in London. She conducted master classes at the Julliard School in New York in the 1970's prior to moving to France where she died mysteriously at age 55.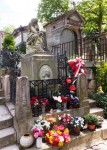 Chopin, Frédéric François (1810-1849) – Music Composer and Virtuoso Pianist – Born in Poland, Chopin was recognized as a brilliant pianist when he was as young as 6. He was giving public concerts at 7 years of age and had already composed two polonaises (Polish for dance music in ¾ time). By the end of his short life, he had composed more than 230 works, most featuring the piano. He is recognized as one of the most important musicians of his time whose "poetic genius was based on a professional technique that was without equal in his generation." His style, form and harmonies influenced the music of his era and continue to inspire today. Chopin moved to Paris in 1831 (age 21) and never returned to Poland except that his sister took his heart, preserved in alcohol, back in 1850. Chopin's music continues to be very popular today. It is performed and recorded worldwide. His life has been featured in literature and film.
Delacroix, Eugène (1798-1863) – Artist – Delacroix is deemed the leader of the French Romantic School of painting. This movement emphasized emotion as an authentic source of experience, although Delacroix was not sentimental. One of his contemporaries, Baudelaire, a French poet and art critic, said he was "passionately in love with passion, but coldly determined to express passions as clearly as possible." His most famous work, Liberty Leading the People (1830), on display in the Louvre, features Parisians in arms, marching under the tri-color banner of liberty, equality and fraternity. With dead warriors in the foreground, the triumphant symbolic female figure offers an affecting contrasting element. The young boy with the gun on the right is thought to be the inspiration for one of the characters in Victor Hugo's Les Misérables. In 1832, Delacroix traveled to Spain and North Africa and produced more than 100 paintings and drawings based on the cultures he witnessed there. Beginning in 1833, he was commissioned to decorate many public buildings in Paris, thus providing the opportunity to produce large-scale works in an architectural setting. After his death in 1863, 9,140 works are attributed to him including 853 paintings, 1525 pastels and water colors, 6,629 drawings, 109 lithographs and more than 60 sketch books. Delacroix' work inspired a generation of impressionists including Renoir, Manet and Degas. His painting at the church of St. Sulpice is considered the "finest mural painting of his time."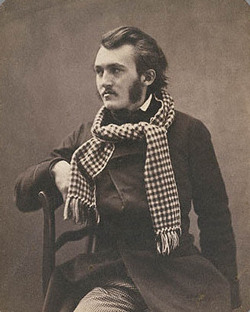 Doré, Gustave – (1832-1883) – Artist, Printmaker, Illustrator, Sculptor and Wood Engraver – Celebrated in his lifetime for his paintings, Doré is best remembered today for his illustrations and engravings.  His depictions of Don Qixote and Sancho Panza from Cervantes' Don Quixote are so famous they have influenced the "look" of those two characters. He illustrated works by Lord Byron, Edgar Allen Poe, Lord Tennyson, Milton and Dante. His illustrations for the English Bible (1866) led to a major London exhibition and a five-year contract for which he received £10,000 (about $275,000 today) for three months of work annually.  In recognition of his contribution to the arts, the French government awarded him the Chevalier de la Legion d'Honneur (a knight of the National Order of the Legion of Honor).