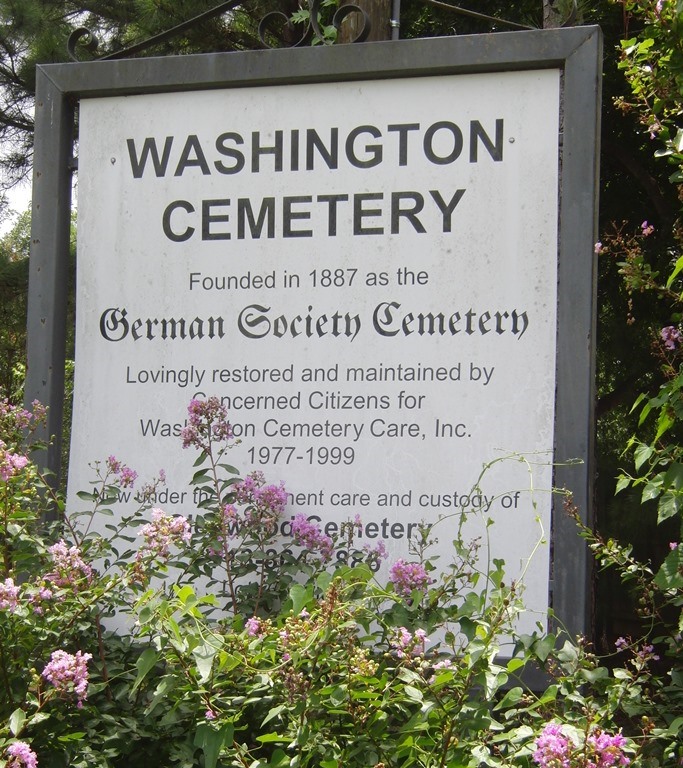 Washington Cemetery 
2911 Washington Avenue
Established 1887
25 Acres
Burials:  8,000
Texas Historic Markers
Washington Cemetery
"Death, Death: O, amiable lovely death."
William Shakespeare – King John, III, iv, 25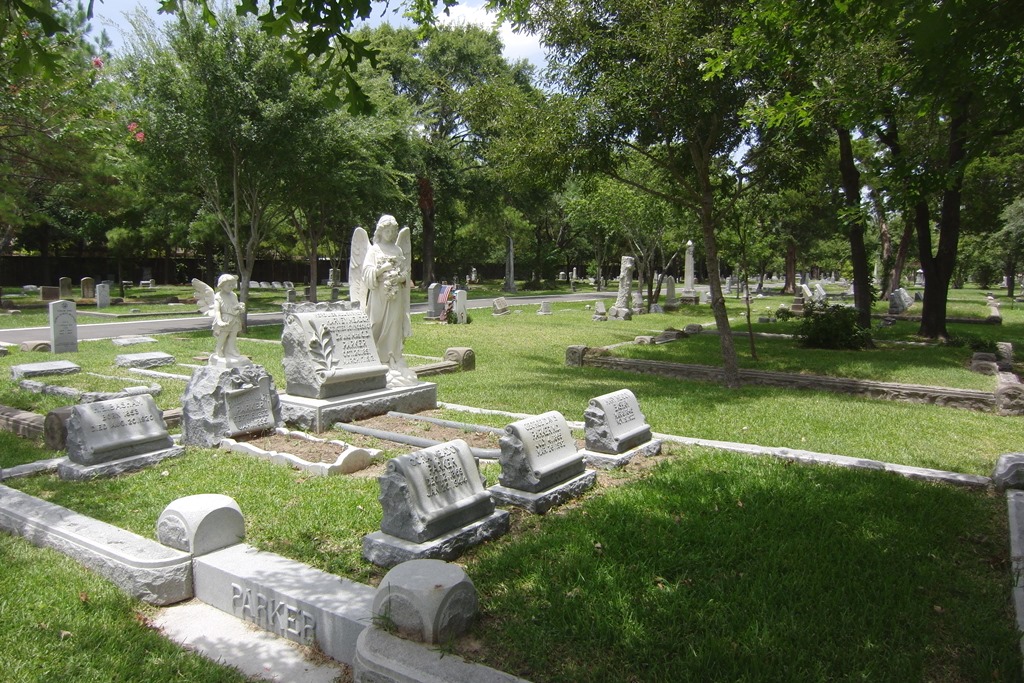 Germans began immigrating to Texas as early as the 1840s.  While many settled in the Houston area, others moved west to found towns including New Braunfels and Fredericksburg.  By the 1870s the east side of downtown was inhabited by so many Germans and people of German decent that the area was often referred to as Germantown.  Originally, Canal Street was named German Street.  The name was changed during World War I, as Germany was our adversary in that conflict.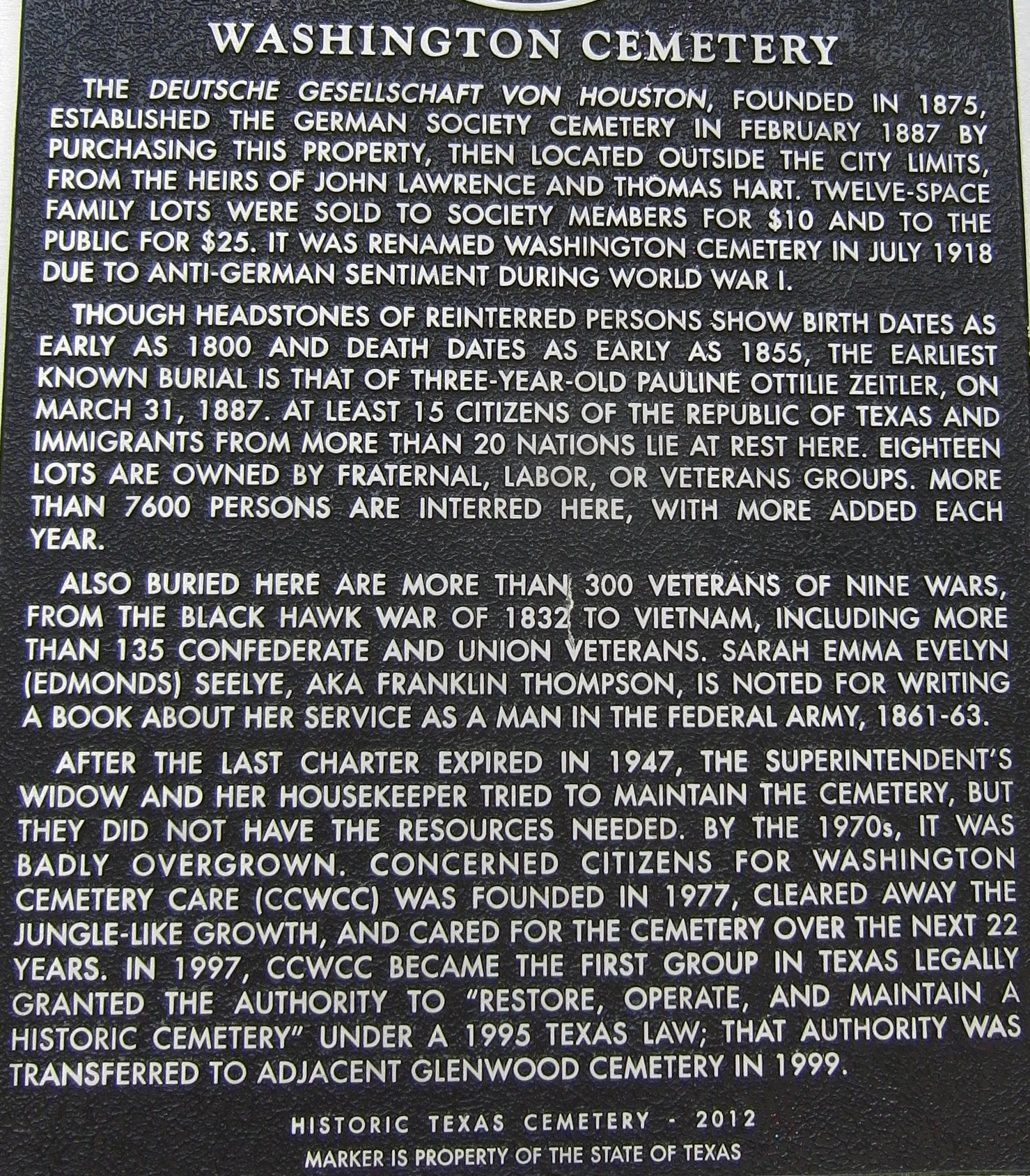 In 1875 a group of prominent business men of German decent formed the Deutsche Gesellschaft von Houston (DGvH).  It had several purposes including aiding the poor and rendering assistance to the sick.  The organization also was to assist in burying the dead.  To fulfill this last deed, in 1887 the DGvH purchased a piece of property west of downtown (for $80 per acre) and deeded it a cemetery.  Graves were sold for $10-$50 each.  Until 1918 it was called the German Society Cemetery.  However, its name, like German Street, was changed to Washington Cemetery because of anti-German sentiment.
The populous of this cemetery is incredibly diverse.  Not only are Germanic souls interred here but walking around you can find Swedes, Italians, Danes, Russians, English, Irish, Scots, Canadians, Greeks and many others.
There are 105 Confederate soldiers. Forty are in a section called the Dick Dowling Camp #197 (Section C #66, 67 and 72) and the balance are scattered around in other areas.  The G. B. McClellan Post (Section B #26) contains the remains of 11 veterans from the Union army.  There are 15 souls who were Citizens of the Republic of Texas, meaning they lived in Texas sometime between 1836 and 1845.  The Daughters of the Republic of Texas have placed memorial medallions on these graves.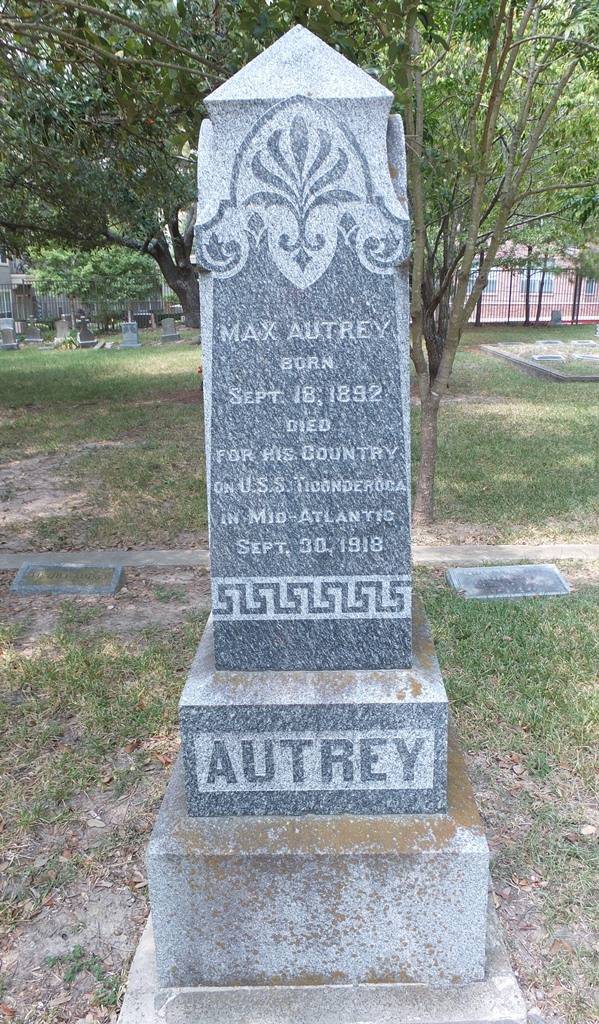 Autrey, Max (1892-1918) – U. S. Navy Sailor – All we know about this gentleman is that he was a sailor during World War I.  Autrey was a crewman on the U. S. S. Ticonderoga, the third of six Navy warships to bear this name.  This cargo ship was built in Germany in 1914 and was seized in 1917 by U. S. Customs. Between January 1918 and September of the same year the Ticonderoga made four trans-Atlantic crossings carrying automobiles, trucks, animals and war supplies for the Allies.  Unfortunately on her final tour she developed engine trouble and was dropped from the convoy.  Dead in the water, the Ticonderoga was spotted by the German submarine U-152.  Although out gunned (she only had one six-inch gun and one three-inch model), the crew fought valiantly.  After two hours the Ticonderoga slipped below the waves.  Of the 237 crew, 213 perished including Autrey.
Benson, Ellis (1813-1896) – Texas Revolution Soldier – He was a native of Vermont.  Prior to arriving in Texas he had fought in the Blackhawk War (1832). Benson served in Captain Moreland's Artillery at the Battle of San Jacinto.  He also was a veteran of the War Between the States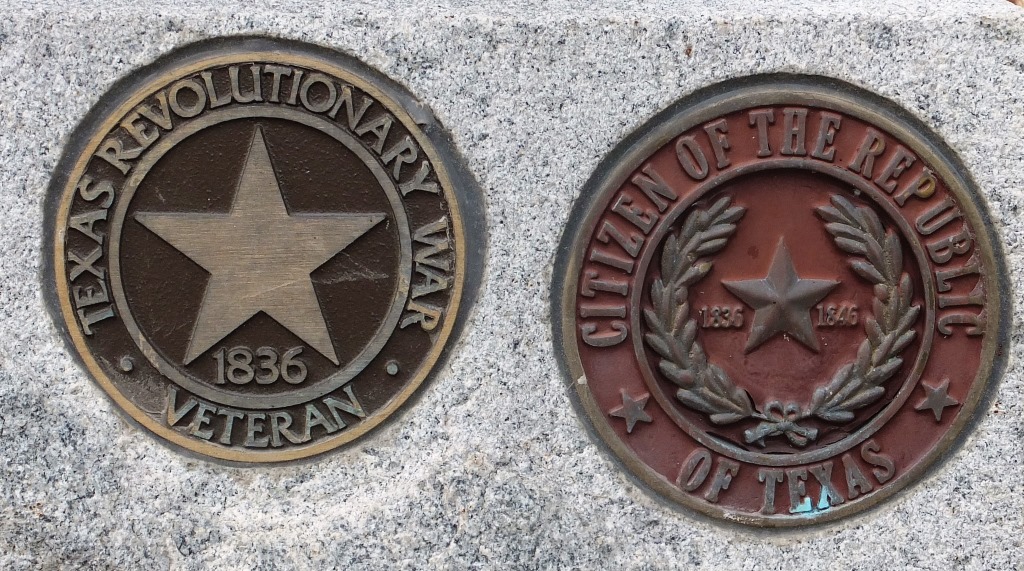 Citizens of the Republic of Texas – The following is a list of the Texas citizens interred here.  Little is known about most of them but we felt it important to include these historic people who were the early Texas pioneers.
Bergin, Julia Ann Purcell (1816-1895) – She was born in New York and arrived in Texas in 1837.
Branard, George Albert (1843-1909) – He was born in Galveston.
Gammell, William (1812-1869) – This Scot fought in the Battle of San Jacinto in Captain A. H. Wyly's command.
Gammell, Jane McDaniel (1825-1908) – She married William Gammell in 1839.
Quensell, Louisa Reinermann (1836-1916) – She was born in Germany and arrived in Texas in 1839.  Most likely Reinerman Street (the second "n" was dropped) to the west of this cemetery is named for her family.
Reeves, Edmond B. (1833-1898) – He was born in Louisiana and came to Texas in 1845.
Schneider, Emilie Usener (1837-1923) – She was born in New York and came to Texas in 1839.
Schweikart, Antoinette Officier (1845-1931) – She was born in Galveston.
Schweikart, Frederick (1839-1903) – Born in New York, he arrived in the Republic of Texas in 1839.
Tips, Mary Louisa Frederica Schiermann (1845-1915) – She was born in Houston.
Shook, Osgood Andrew (1845-1916) – He was born near Huntsville Texas.
Toole, Eveline Reeves (1827-1904) – She was born in Louisiana and arrived in Texas in 1845.
Williams, William H. (1836-1920) – He was born somewhere in Matagorda County.
The Citizens of the Republic of Texas Medallion is a project sponsored by the Daughters of the Republic of Texas.  Its purpose is to honor the sacrifices early Texas pioneers made to create our great state.  The medallions are being placed on the tombstones of persons who were: Veterans – persons who rendered service in the Texas Revolutionary conflict of 1820-36; Defenders – those who served the Republic from 1836-45 and Citizens – a resident of Texas between 1836 and 1845.  For more information about the medallions please visit the DRT.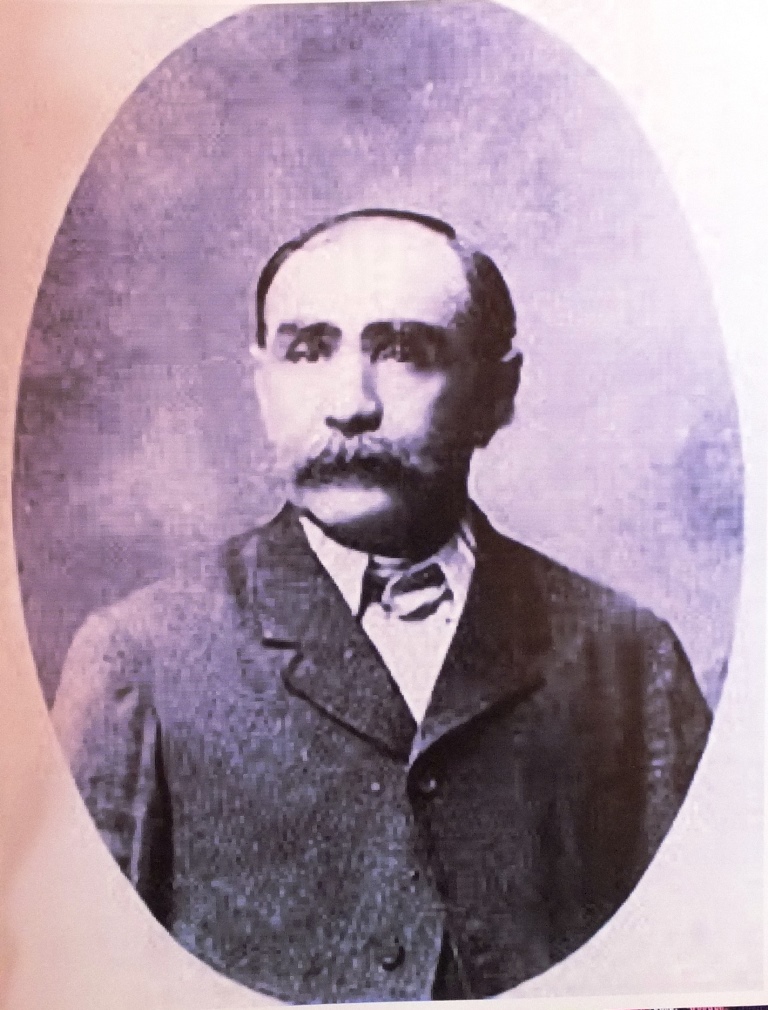 Dellschau, Charles A. A. (1830-1923) – Visionary Artist – He was born in Germany, immigrated to America and docked in Galveston in 1849.  Shortly after his arrival tales of fabulous wealth from the California gold fields reached Texas and Dellschau joined other "Forty Niners" in the Great California Gold Rush.  Being a gold miner was not his long suit.  After several years Dellschau returned to Texas.  Here he got a job as a butcher and worked for the next 30 years.  Dellschau married and had a family.  Tragically, he lost two wives and three of his four children.  He moved in with his remaining daughter in Houston.  There he joined her husband's company and sold saddles and leather goods until retirement.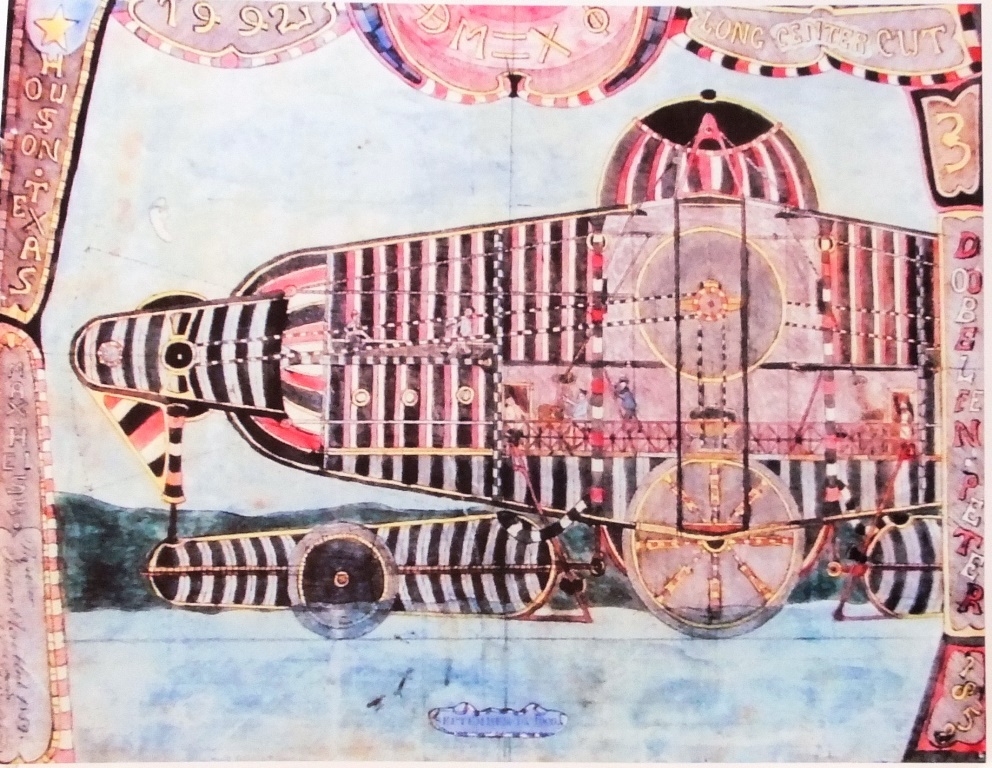 Most importantly to his art career was his supposed joining the Sonora Aero Club when he was in California. Their goal was to build an airship capable of transcontinental flights.  While the idea of men interested in such travel having a club seems feasible, the existence of the Sonora Aero Club remains in doubt.  Most likely, it is a combination of reality and fantasy.  A theory Dellschau vehemently denied.  Residing in the garage apartment with a hermit type life style (no one knew the works existed), he painted pictures of what he called the Club's aeronautic ideas.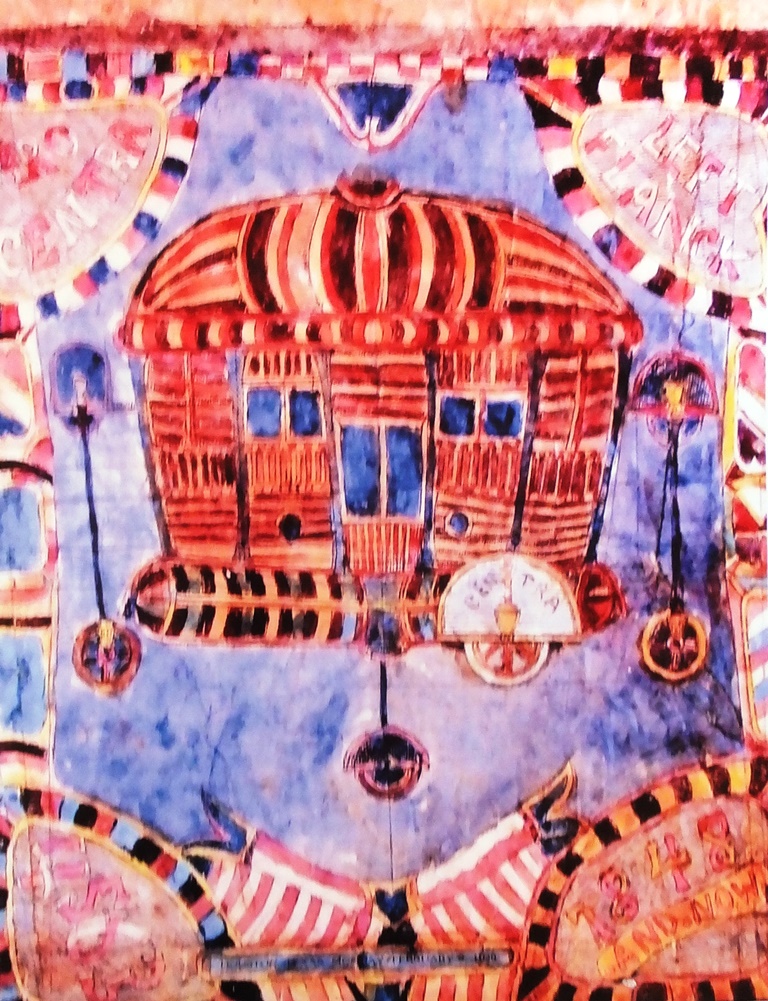 Art experts believe he produced a painting every two or three days for the next 20 years.  He bound these paintings and collages into volumes.  Between 1908 and 1921 he produced 12 thick tomes.  His drawings resemble highly detailed hot air balloons.  They were done in watercolor, pencil and ink mixed with collages.  Dellschau painted circus tent like striped boarders on each painting.  These works of art were stored in his daughter's attic for 40 years.
After his death the 12 volumes were put in the garbage.  An antique dealer named Fred Washington salvaged them. Luckily, an art history student, Mary Jane Victor, found them in Washington's store.  She took four to art patron Dominique de Menil.  Four of the other eight were sold later to the San Antonio Museum Association and the balance to art collectors. Today he is remembered as one of the first folk artists in America.  Dellschau's works are highly collectable and very expensive. For more information, please visit Intuitive Eye.
Detering, Lena (1874-1958) – Pioneer Woman – Like her husband, Herman Eberhard Detering, Lena was born in Germany and immigrated to America in the 1870s.  They opened a general store on Washington Avenue.  The Detering's had five children.  In 1926, one son, Carl, and his brother Herman founded The Detering Company, a supplier of building materials. The company is still in business today and is run by a third generation family member, Carl Jr.
Fleig, William H. (1823-1923) – Naval Officer – Born in South Carolina, he began his naval career in the Italian navy during their war for independence in 1860-2.  Returning to America he sailed to Galveston to join the Confederates under General John Bankhead Magruder.  Fleig was part of one of the most outrageous victories the Rebels achieved.  In January 1863 during the Battle of Galveston, the Confederate forces captured the U. S. S. Harriet Lane, a revenue cutter. An upset Union Admiral David Farragut wrote "The capture of the Harriet Lane and the abandonment of Galveston was not only the most unfortunate thing that ever happened to the Navy, but also the most shameful."  The ship was refitted in Galveston harbor over the next few months.  Then, on the evening of April 30, 1864, captained by Fleig, the Harriet Lane slipped out of the harbor, managing to evade her Union pursuers. Following the war he went to work for Kirby Lumber Company until his retirement at age 99.  Fleig attended the famous reunion of the "Blue and Gray" at Gettysburg in 1913 when he was 90 years old. He passed away in his Houston Heights home at the age of 100 years, 6 months and 21 days.
Lewis, Samuel Timothy (1846-1923) – Soldier – Born in Georgia, he ran away from home to join the Confederates.  Initially, Lewis was a naval machinist arming Rebel warships.  By the spring of 1865 he was a private under Colonel Tom Moore, seeing action in Alabama and Georgia.  His final duty was as a guard at the Andersonville prisoner of war camp.  He died in Houston and lies in an unmarked grave.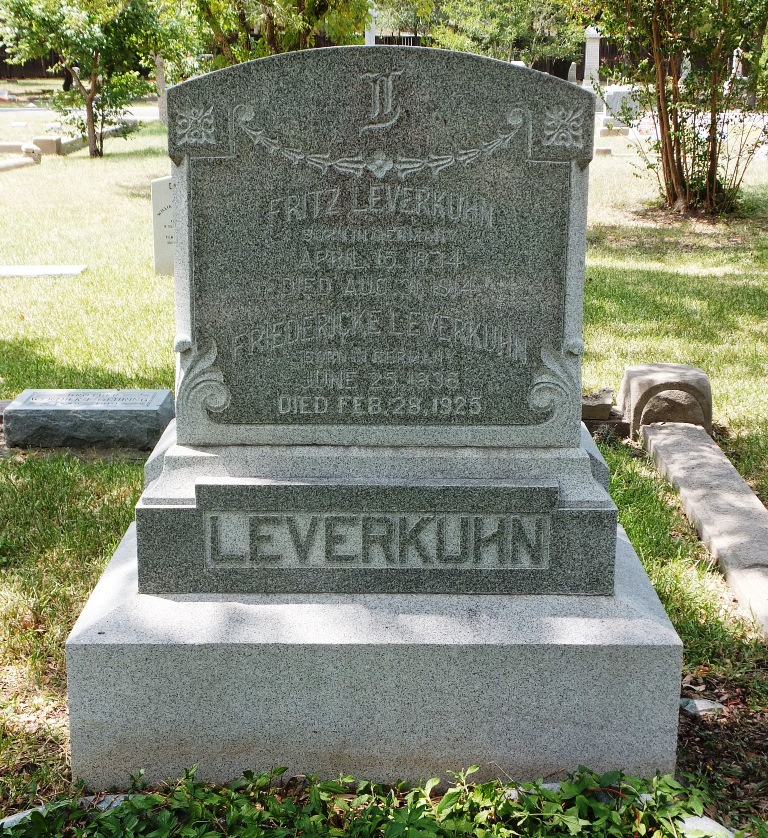 Leverkuhn, Fritz (1834-1914) and Friedericke (1836-1925) – Farmers – This old Houston family immigrated to Houston in the 1840s.  They bought a sizable tract of farmland about a mile west of where Washington Cemetery is today.  Leverkuhn Street there recalls the family.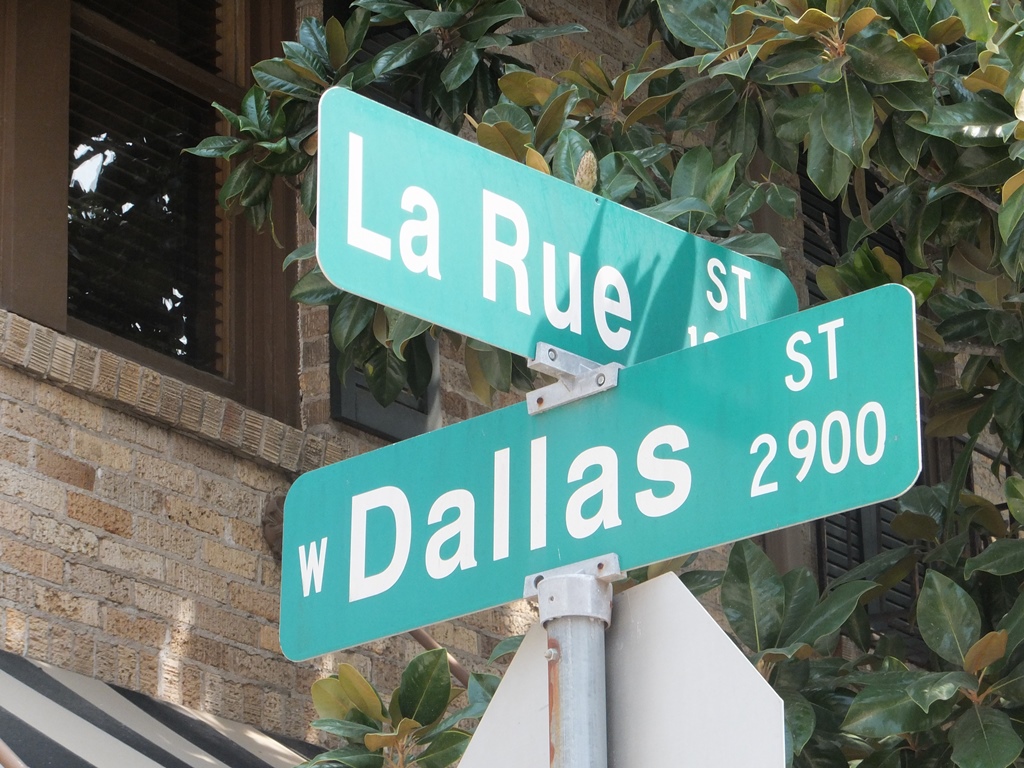 Sachs, LaRue (1895-1904) – Accident Victim – While walking home from school in Freedmen's Town along the old San Felipe Road, now W. Dallas, nine-year old LaRue was struck and killed by a motorized streetcar.  Her father was a brick maker for the nearby Butler Brick Company.  He sued the City for negligence in the accident. He was eventually paid $2,000.  Sachs purchased a tract of land on San Felipe Road that he eventually developed.  He had the property platted out into 50' x 100' lots and gave the City the right of way to cut a street.  One provision of the deal was the street was to be named LaRue (it still is) in honor of his dearly departed daughter.  Sachs lined the finished street with oak trees.  But government being government, the tale turns nasty.  The Houston Tax Assessor visited Sachs development and sent him a new appraisal.  The new amount of property taxes just happened to be $2,000.
Schneider, Capt. E. B. H. (b. ? – d. ?) – Soldier – During the War Between the States, he formed and commanded a cavalry unit called the Turner Rifles in his hometown of Weatherford, Texas.  As an incentive to enlist, Schneider paid each man who provided his own horse and saddle a $50 bonus.  The Turner Rifles were the first company to offer services to the Confederate Army.  The company was assigned to Galveston under General John Bankhead Magruder. Their responsibility was to guard the Island's old south gun battery.  The Battle of Galveston was the first on Texas soil.  During that conflict Schneider was a gunner on the C. S. A. Bayou City.  The Bayou City was one of the Confederate ships that captured the Union's revenue cutter, Harriet Lane (See Fleig.)  In the battle, a Union shell hit near him causing the loss of one eye.  After the War, Schneider became the Harris County Tax Assessor and a School Board member.  In addition he started a brick company, helped organize a hook and ladder company and was a founder of the Turnverein, a German social club.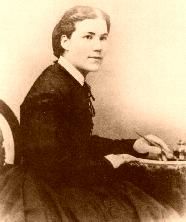 Seelye, Sarah Emma Evelyn Edmondson (1841-1898) – Nurse – She was born in New Brunswick, Canada. Emma disguised herself as a man and ran away from home in 1858 to avoid being married to an unwanted husband. Maintaining this disguise she enlisted in Company F, Second Michigan Volunteer Infantry Regiment under the alias of Franklin Thompson. During the Civil War she served as a male nurse, regimental mail orderly, brigade postmaster and a spy. Sick with malaria she deserted in 1863 fearing her ruse would be discovered.  Upon recovering she again volunteered as a nurse but this time as a woman using her real name. In 1865 she wrote Nurse and Spy in the Union Army.  In revealing her desertion the U. S. Government cancelled her pension.  But a congressional bill in 1884 recognized her contribution to the war effort and restored the payments at $12 per month. She married Linus Seelye with whom she had five children. The Seelyes moved to La Porte in the 1890s where she died. As the only woman member of the McClellan Post of the Grand Army of the Republic, Emma is buried in their plot. For more information, visit this website.
Snider, Thomas A. (b.?-1893) – He fought for the South in the War Between the States.  Snider was a First Lieutenant in Captain Derrie's Company.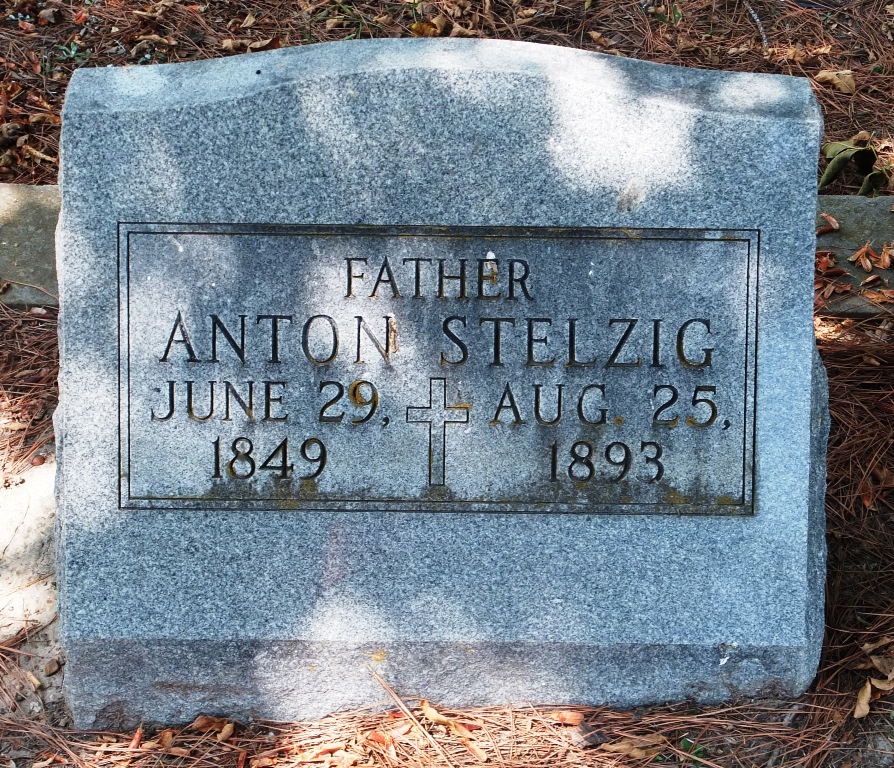 Stelzig, Anton Sr. (1849-1893) – Saddle Maker – In 1843 Stelzig and his wife, Theresa, immigrated to America from Austria.  They first settled in Galveston.  He was a talented leather smith and began producing saddles and harnesses.  Anton and Theresa traveled the area around Galveston in an ox drawn wagon selling their handiwork to local ranchers.  Their son, Anton Jr., opened a saddle shop near the U. S. Calvary fort at Richmond, Texas in 1870.  Young Stelzig moved his operation to Brenham in 1876 and finally to Houston in 1887.  In 1926 Stelzig opened a large store in downtown Houston that operated until 1989.  Family members still have retail outlets in the Houston area selling boots, apparel, jewelry and western accessories.
Strangers Rest – This is an antiquated term for single grave sites as opposed to family plots containing a number of gravesites.  Over the years about 1,900 of these plots were sold.  However, between 1908 and 1948 the graves were only marked by numbered concrete markers.  As time passed these markers deteriorated and were covered with grass and weeds.  In the early 1990s a project began to try to locate and identify the individuals who were buried in this section.  As of the last report we have, over 70% have been identified and given more permanent markers.
Tonn, Leona (1906-1977) – Murder Victim – This is a tragic tale.  Tonn lived in a small cottage on the west side of the cemetery.  For more than 30 years she maintained the property, mowing grass, pulling weeds and tending the graves.  Her sister, Ruby Tonn, had repeatedly tried to convince Leona to give up her job in the lonely cemetery.  Her response was always she had lived in Washington so long it felt like "home."  On the morning of July 8, 1977 Ruby called her sister but got no answer.  After several unsuccessful attempts Ruby and her husband, Gus, drove to the little cottage.  They entered and found Leona murdered in her bed.  The house had been ransacked and some valuables like a social security check and some U. S. Savings Bonds were missing.  To this day this killing remains in the cold case files of the Houston Police. Toon is not buried here but, at her wishes, was interred in Carmine, Texas, near her place of birth.