Greetings — several readers sent interesting information following the last posting about Pere Lachaise Cemetery in Paris. Gayle sent a quote from Jim Morrison: "Death makes angels of us all and gives us wings where we had shoulders smooth as raven's claws."
And Dennis suggested another important French singer who's buried there.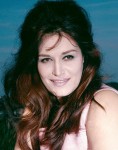 Dalida nee Iolanda Cristina Gigliotti (1933-1987) – Singer and Actress – Dalida was an Italian singer and actress who ranks as one of the six most popular singers in the world. Recording and performing in some ten languages – Italian, French, German, English, Arabic, Japanese, Hebrew, Dutch and Spanish, her albums have sold more than 170 million copies worldwide. She had 70 Gold recordings (selling more than 500,000 units) and one Diamond (selling more than 10 million units). Born in Cairo, Egypt (her father played first violin in the Cairo Opera), she launched her singing career in 1954 after winning several beauty pageants. Her success was staggering but her life was filled with sadness and tragedy. Several of her closest companions committed suicide, as she did herself in 1987, leaving a note in French that said "Life has become unbearable for me. Please forgive me." Here is a link to her greatest hits album with 26 videos available.
Thank you and enjoy.