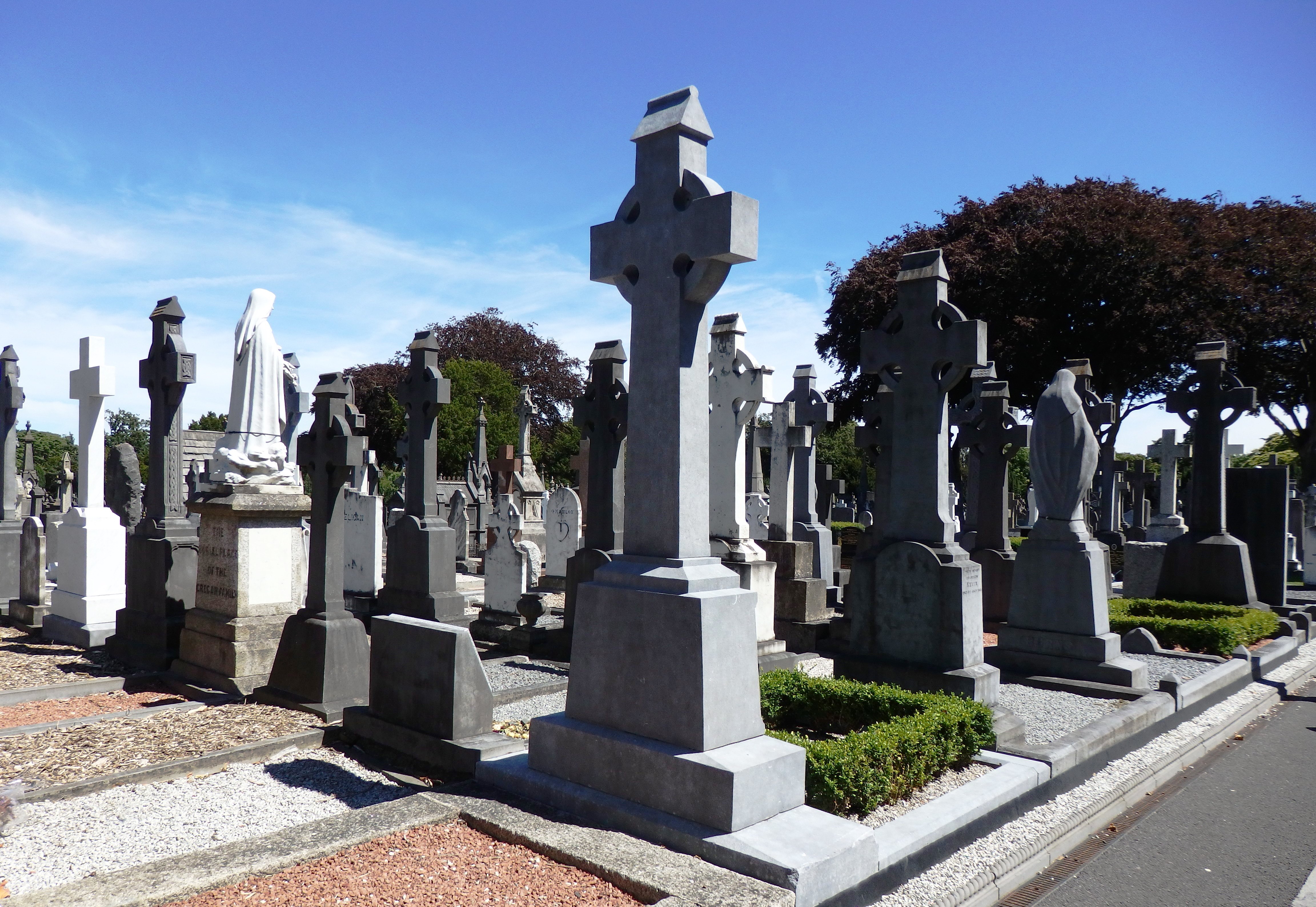 Glasnevin Cemetery
Finglas Road
Dublin, Ireland
Established 1832
124 acres
Burials: 1.5 million
Glasnevin Trust
"How many!
All these here once walked around Dublin.
Faithful departed.
As you are now, so once were we."
anonymous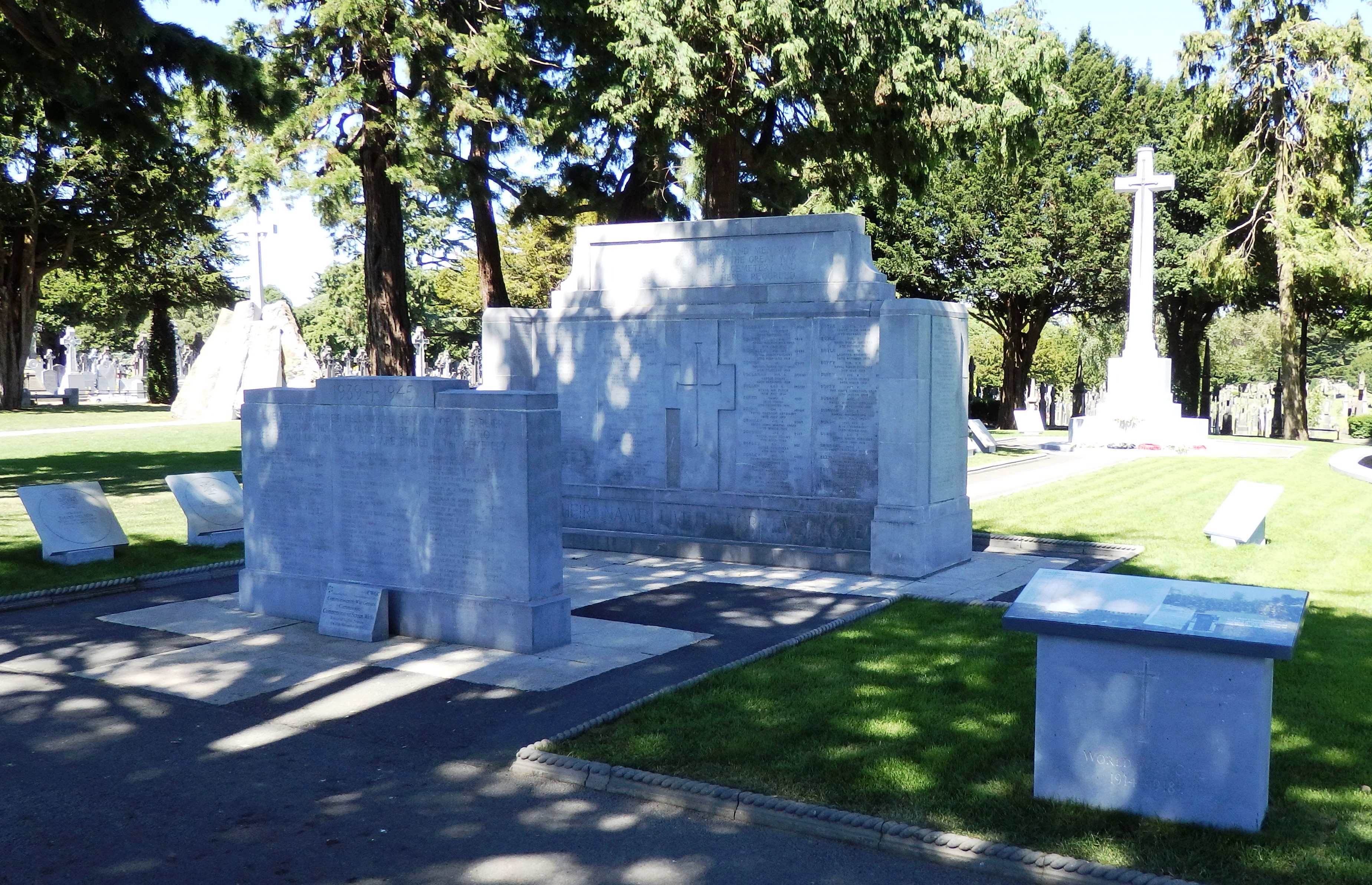 Glasnevin is the first cemetery in Ireland to allow both Catholic and Protestant burials. Prior to its establishment, repressive 18th century Penal Laws restricted the public presentation of Catholic burial rites. After an incident in 1823, Catholic champion Daniel O'Connell (see O'Connell below) campaigned for a burial ground where both Catholics and Protestants could be buried with dignity and Glasnevin (at the time called Prospect because of the town nearby) was consecrated.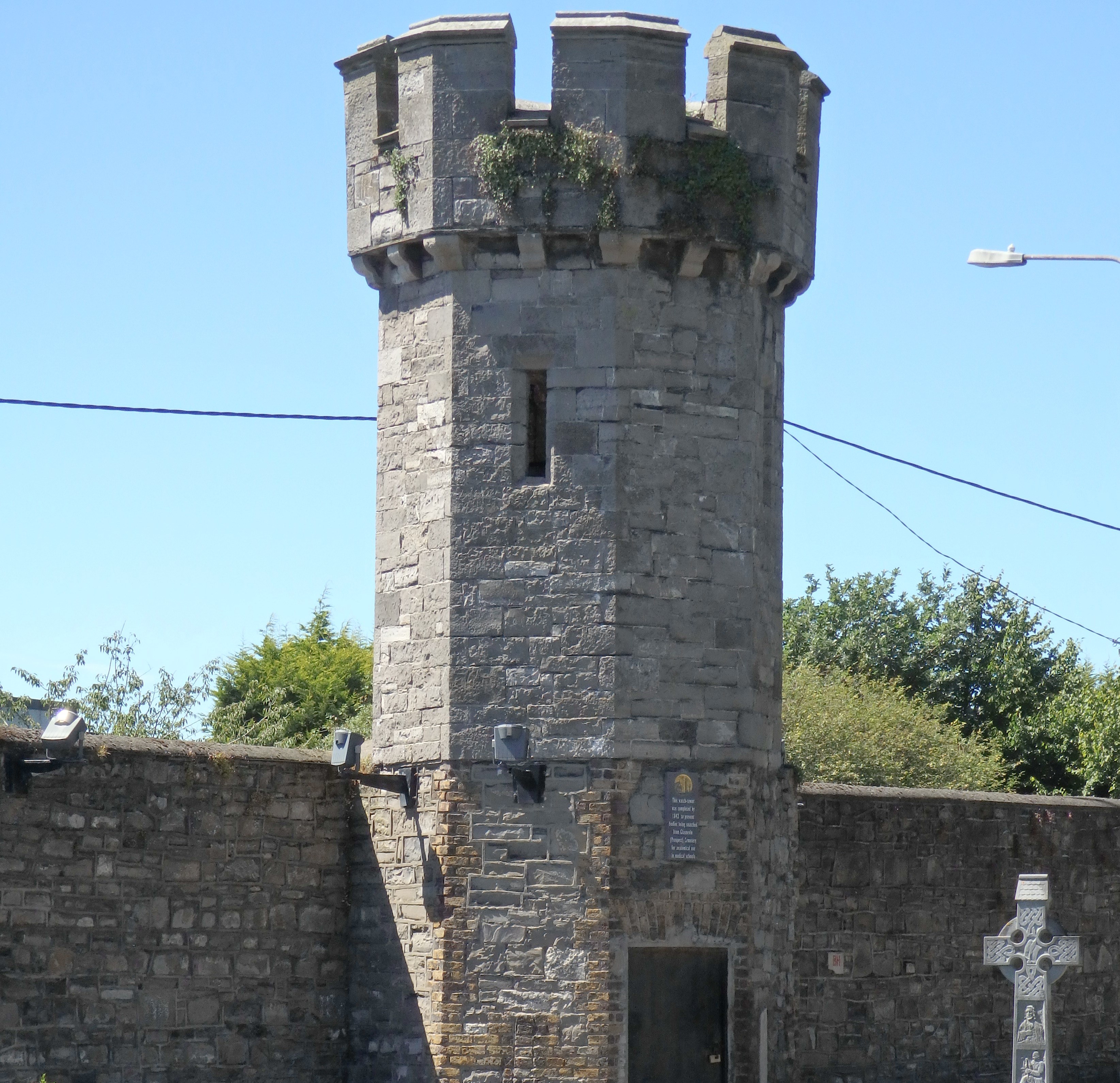 The cemetery is surrounded with a high wall and watch towers built to discourage body snatchers who were active in the 18th and early 19th centuries (see Cadavers for Sale). A crematorium was added in 1982. When a coffin arrives for cremation, a short service takes place in the Glasnevin Chapel that may include music, eulogies and photographs.
In 2001, eleven men who had been executed after the Easter Uprising of 1916 and had lain for 80 years within prison walls were re-interred in Glasnevin with full military honors (see Kevin Berry below).
With 1.5 million graves, Glasnevin's population is greater than the 1 million living in Dublin today. It's the only cemetery we've visited that has a café and pub.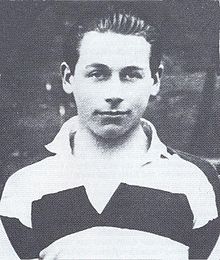 Berry, Kevin (1902-1920) –Student – Berry was executed by the British government for his role in the Easter Uprising of 1916 (the first major battle of the Irish fight for independence). His torture and subsequent execution enraged the Irish people and resulted in a dramatic escalation in the violence in the war. Berry's story has been commemorated in many different media. Here's a ballad sung by Paul Robeson.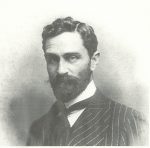 Casement, Roger (1864-1916) – Diplomat and Human Rights Activist – Born in Dublin, Casement traveled to the Congo where he joined the British Colonial Service in 1892. The atrocities that he observed committed against the indigenous population both in Africa and later in South American sparked his advocacy of human rights. He is often described as "the father of 20th century human-rights investigation." Because of his efforts, he was knighted by the Crown in 1911. He returned in Ireland after retiring in 1912 and joined the Irish Volunteers. When World War I broke out, he traveled to Germany to raise arms for the Irish fight for independence. A shipload of weapons sailed from Germany in 1916 but it was captured by the British and Casement was arrested. He was stripped of his knighthood, tried and found guilty of high treason and hanged. His body was interred in the London prison until 1965 when he was repatriated to Dublin. More than half a million Irish filed past his coffin as it lay in state. When he was buried with full military honors in Glasnevin, more than 30,000 attended the service including Eamon de Valera (see below), then in his eighties and the last surviving leader of the Easter Uprising.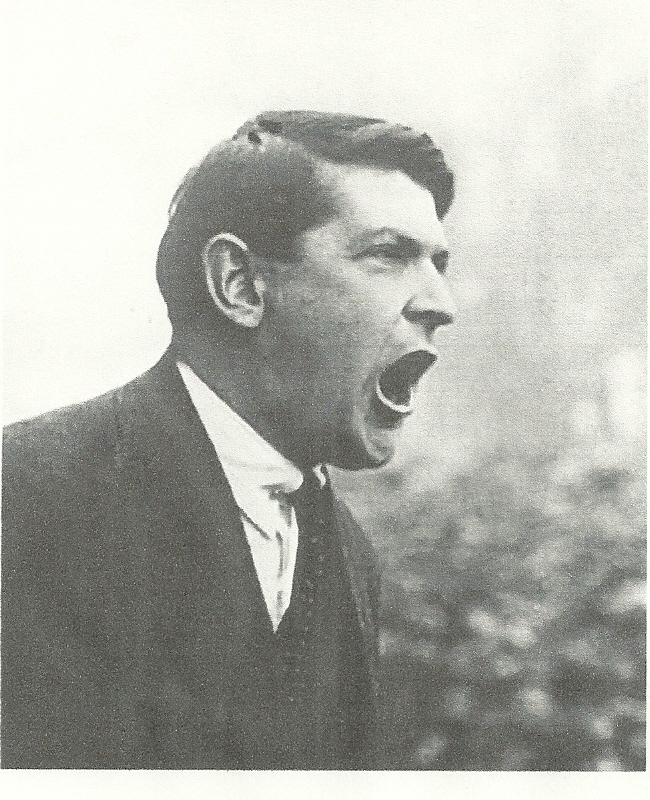 Collins, Michael (1890-1922) –Irish Civil War Soldier and Politician – The youngest of eight children, Michael was 6 years old when, on his deathbed, his father said of Michael. "One day he'll be a great man. He'll do great work for Ireland." Collins did indeed work for Ireland. His leadership positions in the fight for Irish independence that began in 1916 with the Easter Uprising were significant. He was Director of Finance, Information, Intelligence, Arms Organization & Procurement, eventually rising to President of the Irish Republican Brotherhood, Chairman of the Provisional Government and Commander-in-Chief. Collins played a major role in the guerilla tactics utilized by the nationalist Irish against the British. Eventually he was among those selected (much against his wishes) to go to London to try to negotiate a deal to end of war. Anticipating the catastrophe, he said, "Let them make a scapegoat of me. Someone has to go." The negotiations was difficult and when the compromise was finally signed, Collins felt the treaty gave Ireland the "freedom to achieve freedom." He knew the treaty would not be received well among many of the Irish fighters.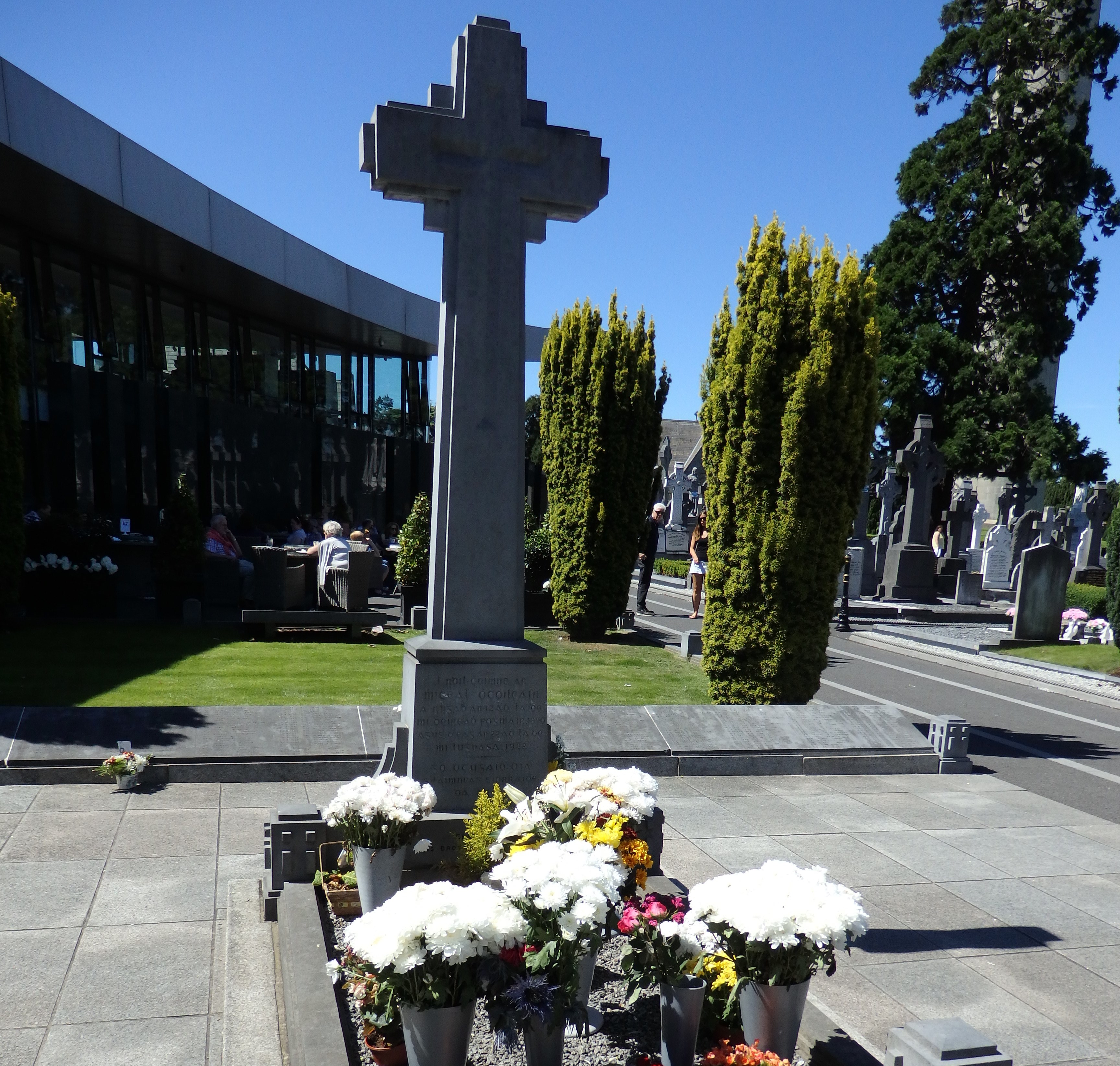 When one of the other signers said he may have signed his political death warrant, Collins suggested he had signed his actual death sentence. He was assassinated in an ambush in 1922. The details of his death remain a mystery because the only witnesses were the perpetrators. Tens of thousands passed by his body as it lay in state in Dublin, including many British soldiers who had fought against him in the civil war. More than half a million people attended his burial at Glasnevin. At the time, that was one fifth of the country's population. To this day, his grave is never without masses of flowers and remembrances. Collins has been remembered in documentaries, films (one starring Liam Neeson) and music. The Irish folk band, Black 47, recorded a song in tribute to Collins. Here's the link.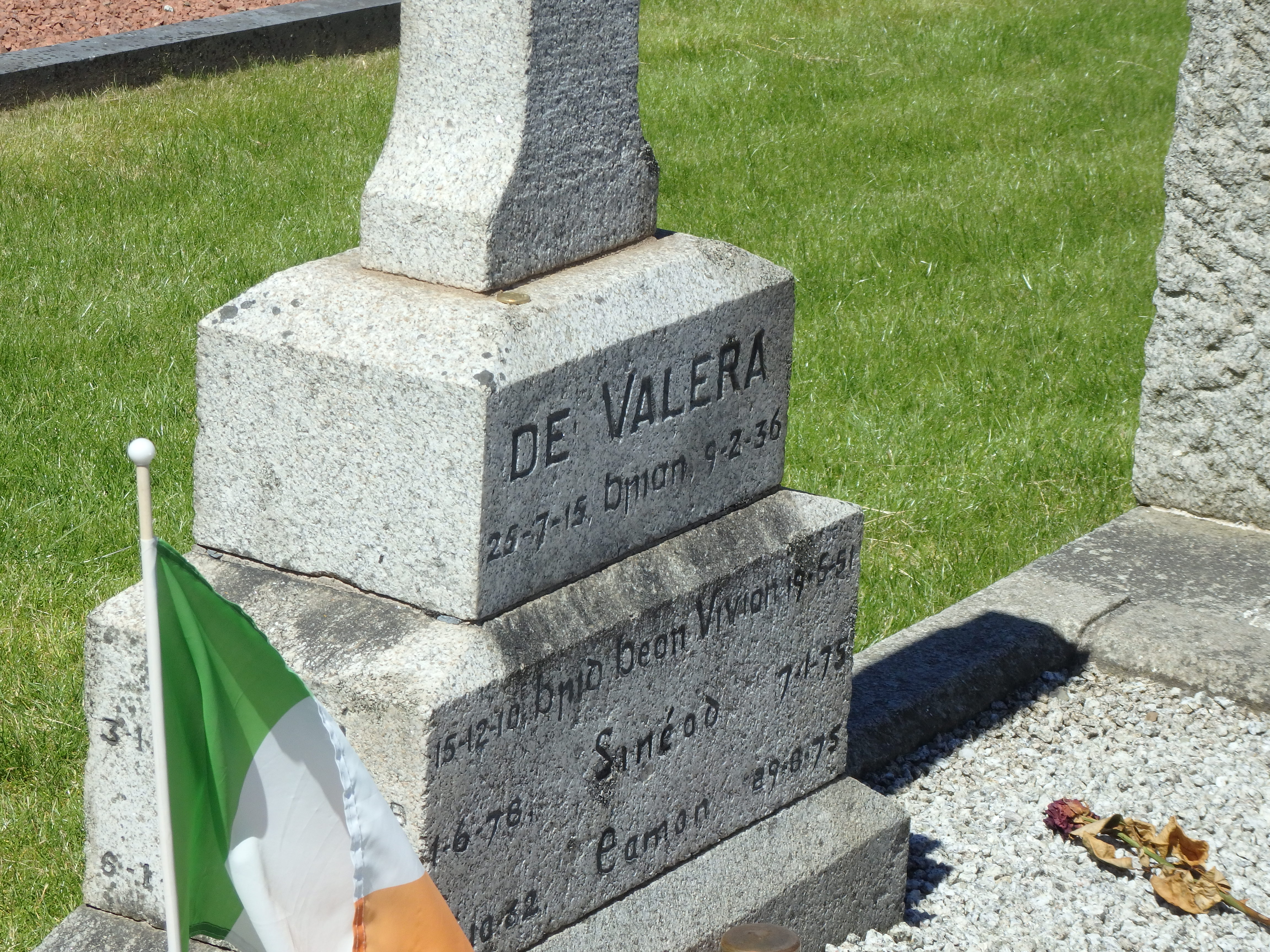 de Valera, Eamon (1882-1975) — Politician and Political Leader – De Valera's influence and leadership lasted almost 50 years, from 1917 until his death. His critics have accused him of being aloof and divisive but others say he was a great leader and a meticulous planner. He was one of the leaders of the Easter Uprising (1916) and was sentenced to be executed (most of the leaders were shot by firing squad) but was released under an amnesty of 1917. A month after his release, he was elected to the House of Commons, a position he would hold until 1959. Because of the executions of most other Easter Uprising leaders, he was elected president to Sinn Fein, the party through which republican leaders channeled their patriotism and Intentions. In 1919, de Valera made a trip to the United States to seek official recognition of the Irish Republic, to raise funds for that objective and to gain support of the American people. His success was mixed, though his fundraising efforts far exceeded expectations, his efforts split the Irish-American support into pro- and anti-de Valera factions.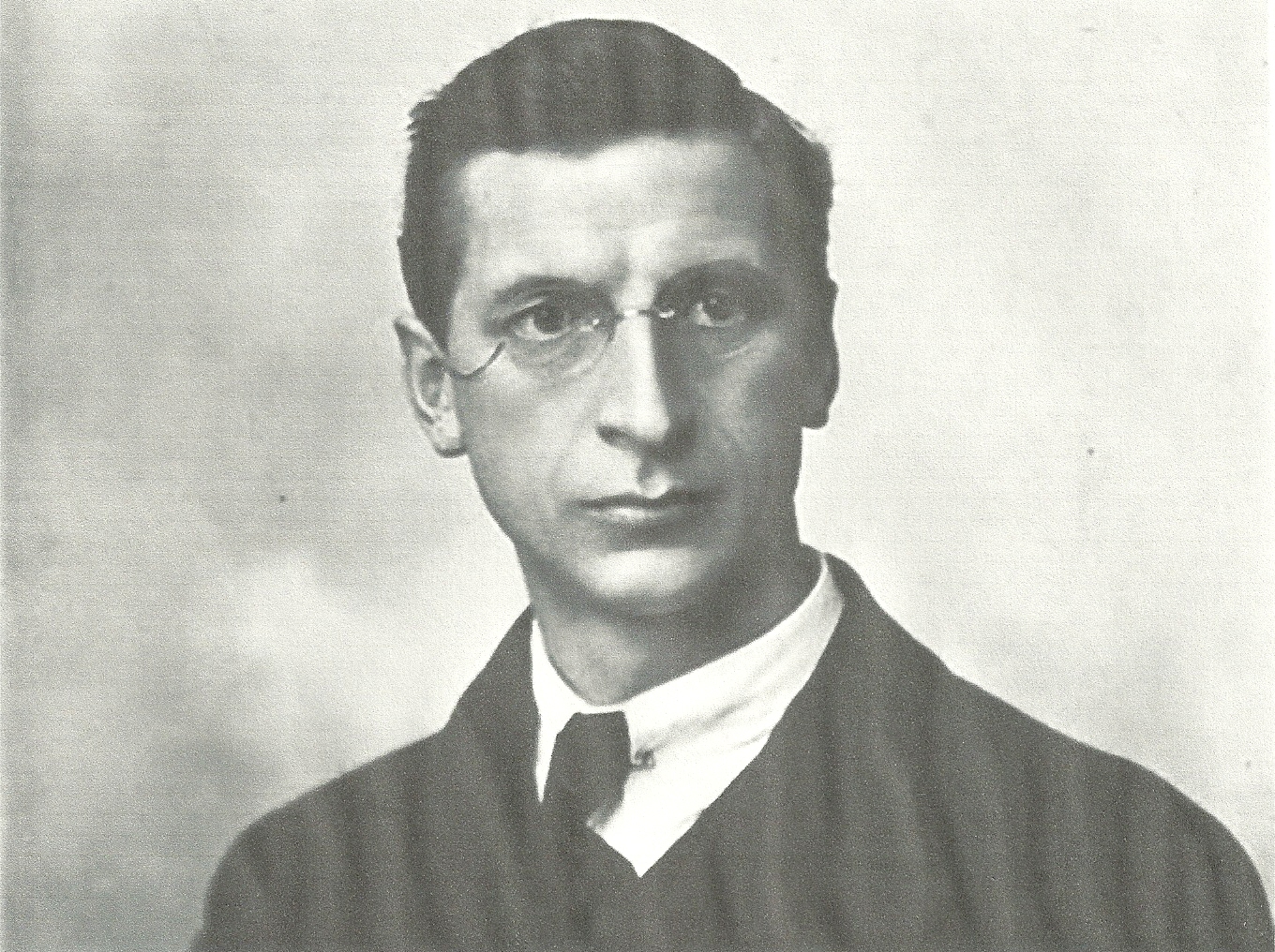 While he was in America, the conflict between British authorities and the Irish nationalists escalated. With his political associate Michael Collins in control of the day-to-day functions and attempting to negotiate a solution with England (see Collins above), de Valera and Collins would eventually support opposite positions in the Irish Civil War. After the war, de Valera's political views evolved from militant republicanism to social and civil conservatism. He held many esteemed government positions and received numerous honors including the Order of Christ awarded by Pope John XXIII. His devout Catholicism is viewed by some as a detriment but he rejected both demands by the Catholics and Christians to name their faiths as the state religion. One of his greatest achievements was setting his followers on a peaceful and democratic path to achieve their political goals.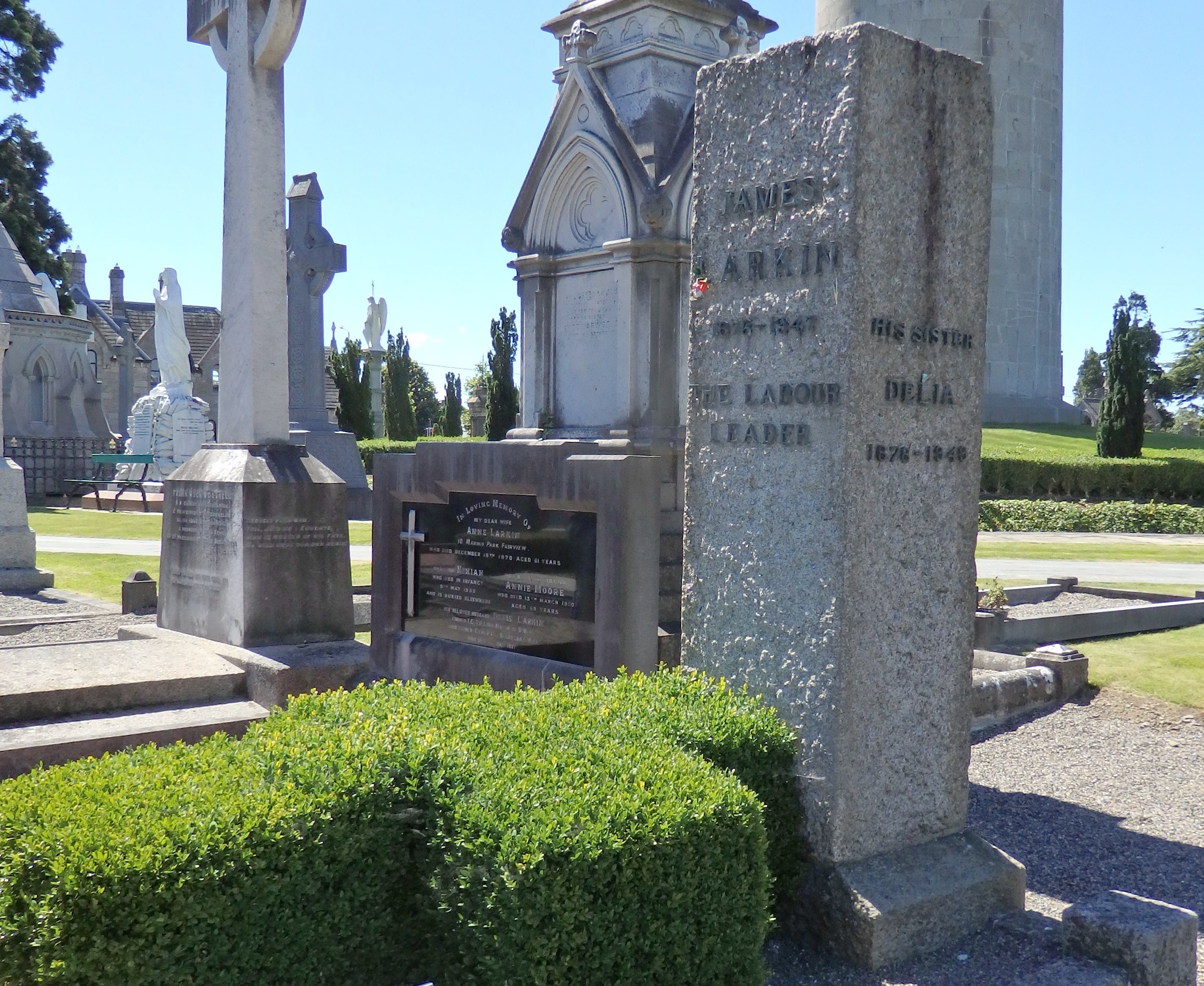 NEW Larkin, James (1876-1947) – "Friend of the Worker" – Larkin was a trade union organizer and social activist in Scotland, Ireland and England. Born into poverty, he began work when he was seven years old, going to school in the mornings, working in the afternoon. Eventually acquiring the position of dock foreman, he became active in the Independent Labour Party. When he took part in a strike at the Liverpool (England) docks in 1905, he lost his job as a foreman, but was appointed as an organizer of the workers. His compelling eloquence and forceful personality attracted thousands to his cause. His life was not without controversy – he was convicted of embezzlement in Ireland for diverting union funds to workers striking in an unofficial engagement and of anarchy in the United States for his association with members of the American Communist Party. But his commitment to the workers never wavered. A statue to "Big Jim" stands on O'Connell Street in Dublin today. The inscription reads, in part, "The great appear great because we are on our knees: Let us rise."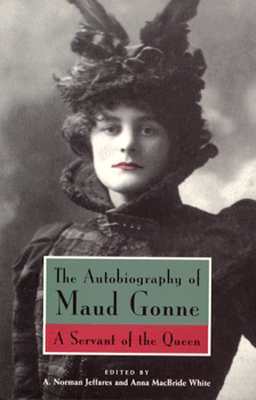 NEW MacBride, Maud Gonne (1866-1951) – Revolutionary, Suffragette and Actress – Born in France to wealthy parents, Maud's interest in politics began when she fell in love with a French politician and journalist, Lucien Millevoye. She broke off this relationship when she realized he was not concerned with Irish independence and she moved to Ireland. Her nationalist activities took her to France, America, England and Scotland where she raised funds and lectured. While in London, she met the young poet William Butler Yeats who fell madly in love with her. Many of his poems were inspired by her and he proposed marriage but she didn't accept. In 1903, she married John MacBride, an Irish soldier and Republican. With him she had one son, Sean McBride (see below). Her husband John was shot by the English in the Irish Uprising of 1916. Maud was arrested in Dublin and jailed in London for six months. She opposed the Anglo-Irish Treaty of 1921 (see Collins, above). She went on to organize the Women's Prisoners' Defence (sic) League to help prisoners and their families.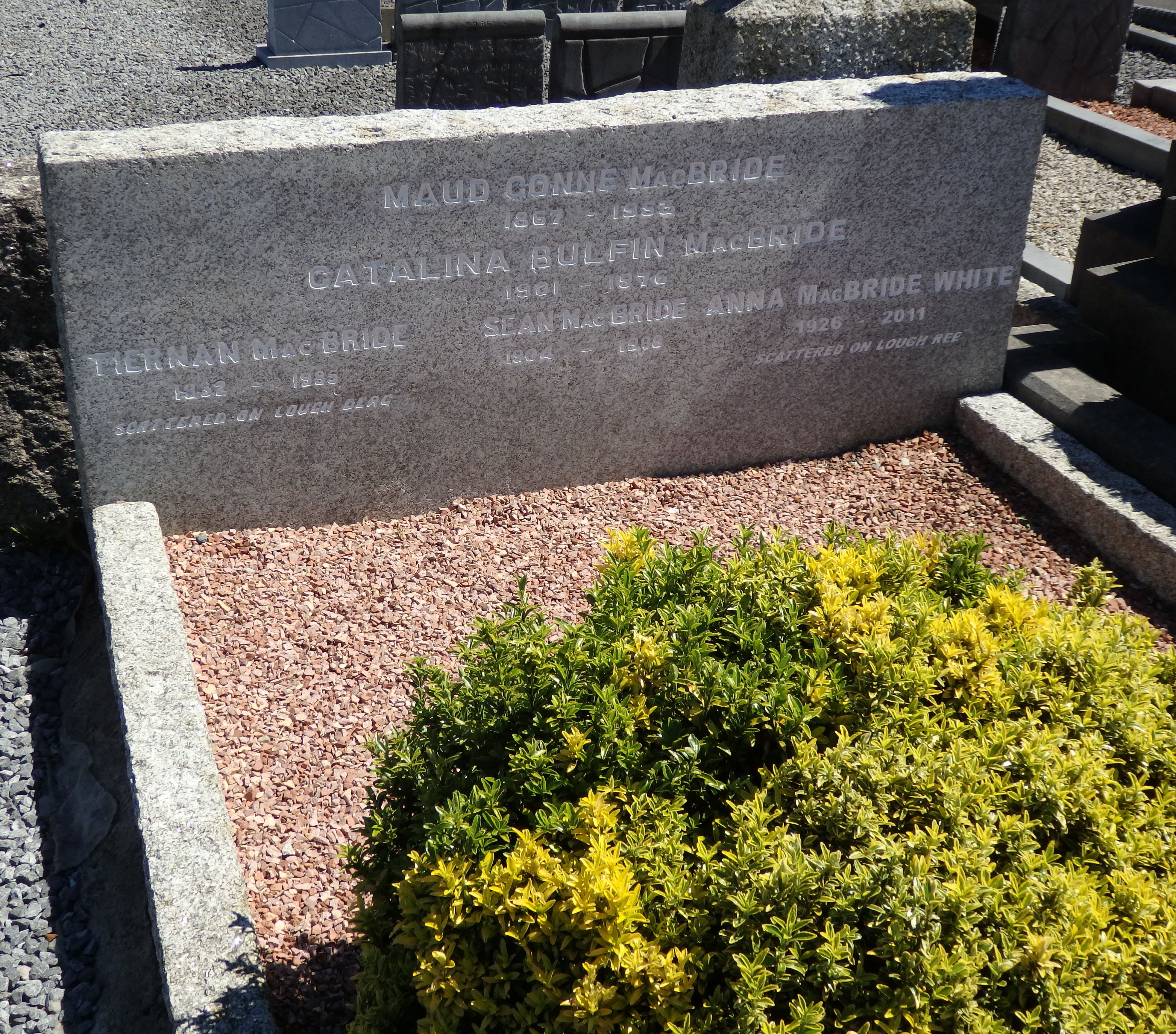 NEW MacBride, Sean (1904-1988) – Founder of Amnesty International and Nobel Prize Winner – The son of Maud and John MacBride (see above), Sean was only 12 years old when the Irish Uprising took place but he saw action in the fight for Independence and opposed the 1921 treaty (as did his mother) with England. Because of his IRA actions, he served time in prison and was on the run for several years. In 1937, he became a lawyer and resigned from the IRA because he felt the new Constitution of Ireland made it possible to achieve national objectives by political means. His campaign for peace and defense of human rights took him to the world stage and he founded Amnesty International in 1961, serving as the international chairman until 1974. That year he was awarded the Nobel Peace Prize and the Lenin Peace Prize (1977).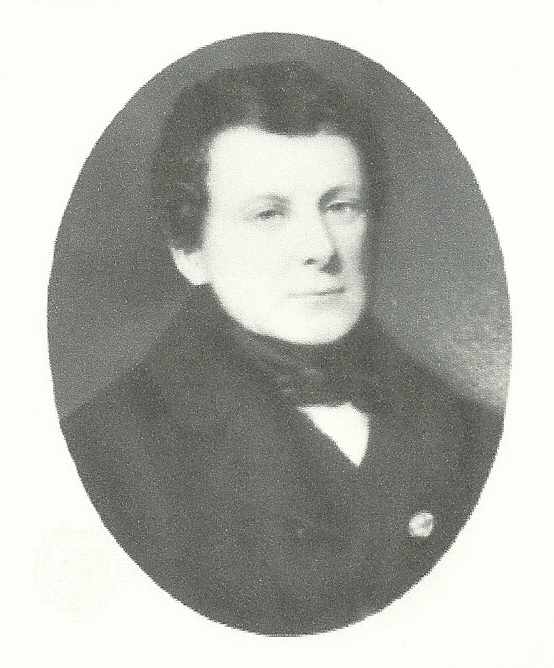 O'Connell, Daniel (1775-1847) –Political Leader and Champion of Catholic Rights – Born into a wealthy family of County Kerry, O'Connell studied in France and attained his law degree in 1794. He was a Catholic however and Irish law at the time prevented him from attaining the higher ranks of the Bar or to enter Parliament. As O'Connell studied the legal and political history of Ireland, he reached the conclusion that "vice reigns triumphant in the English court at this day" and that Government's policies were to "repress the people and maintain the ascendancy of the privileged and corrupt minority." He was acquainted with pro-democracy radicals of his time but he felt that equal rights and religious tolerance could only be achieved through political means and not through violence.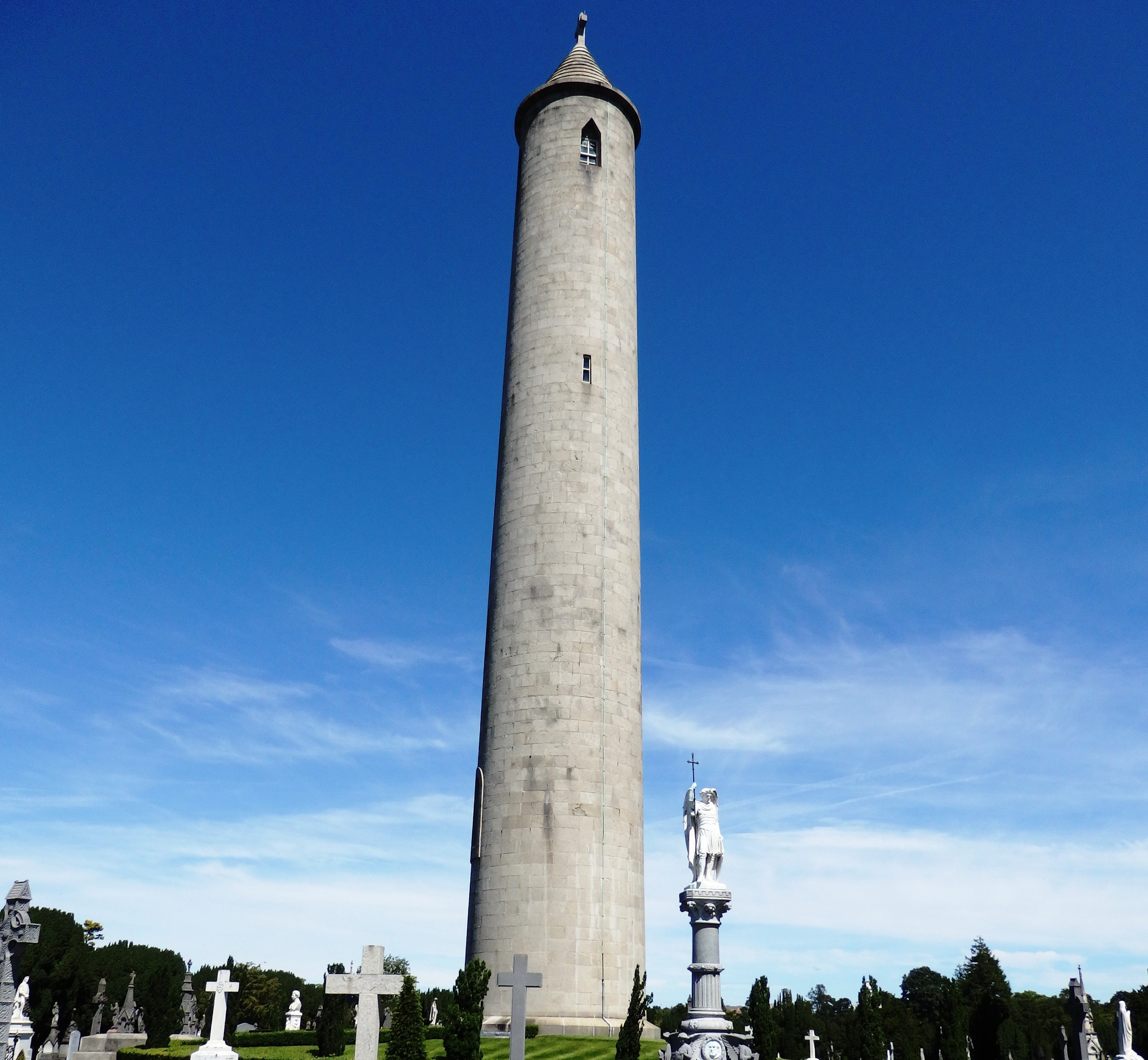 In the 1810s, he began to campaign for Catholic emancipation which would remove the many restrictions placed on Catholics by the King of England. In one speech, he called the Dublin Corporation (a stronghold for Protestant supremacy) a "beggarly corporation" and was forced to fight a duel with one of its members. He won the duel but was so horrified that he had killed the man, he paid a monthly allowance to the man's family for the next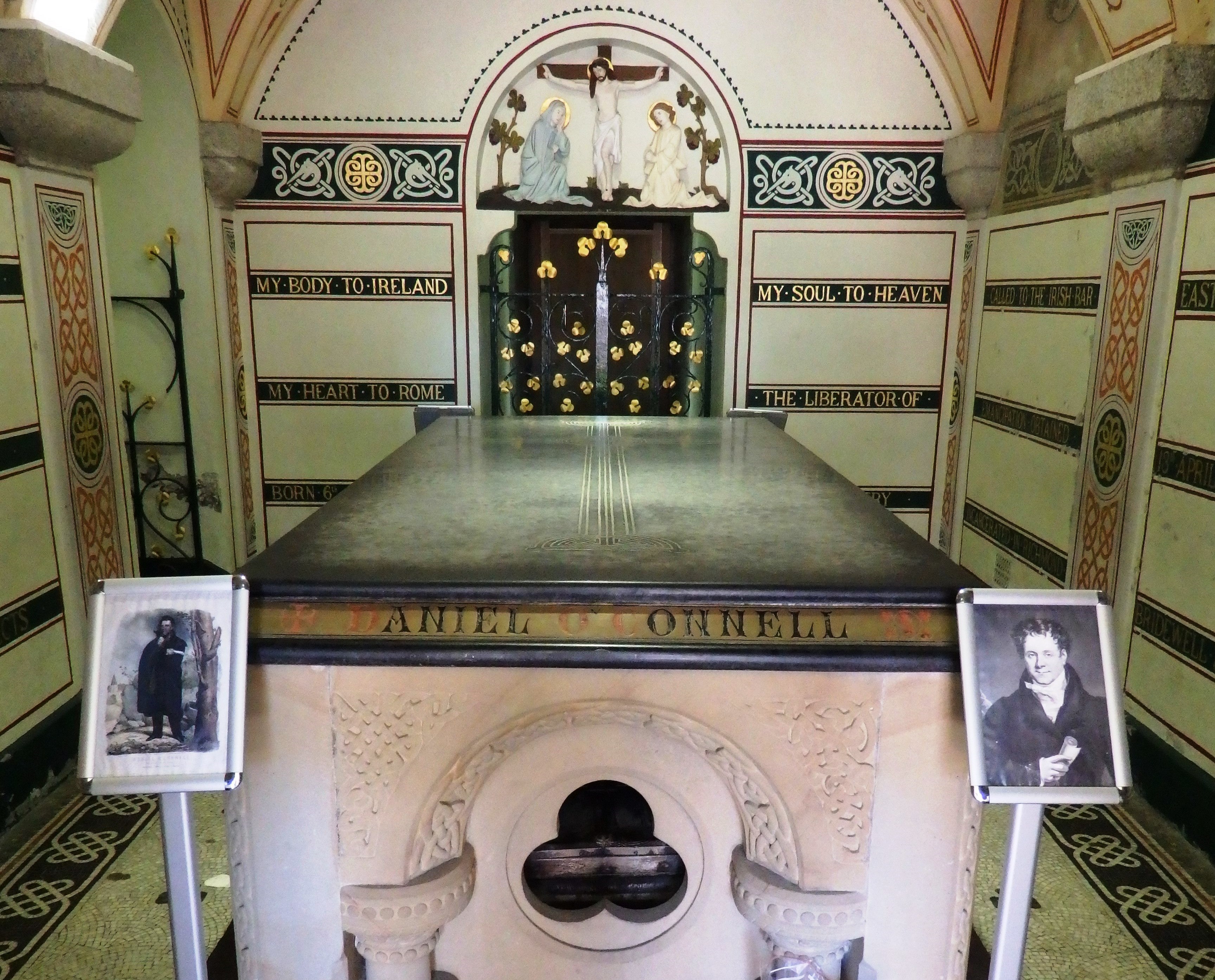 30 years. In 1823, he established the Catholic Association (membership dues of a penny a month attracted the Catholic peasants) and used the money to fund pro-emancipation members of Parliament. In 1828 he was elected to the British House of Commons but the "Oath of Supremacy" conflicted with his Catholic faith. Leaders in England convinced the King that denying O'Connell his position would be worse than recognizing all Christian religions. O'Connell continued to battle tyranny the remainder of his life. He died on a pilgrimage to Rome.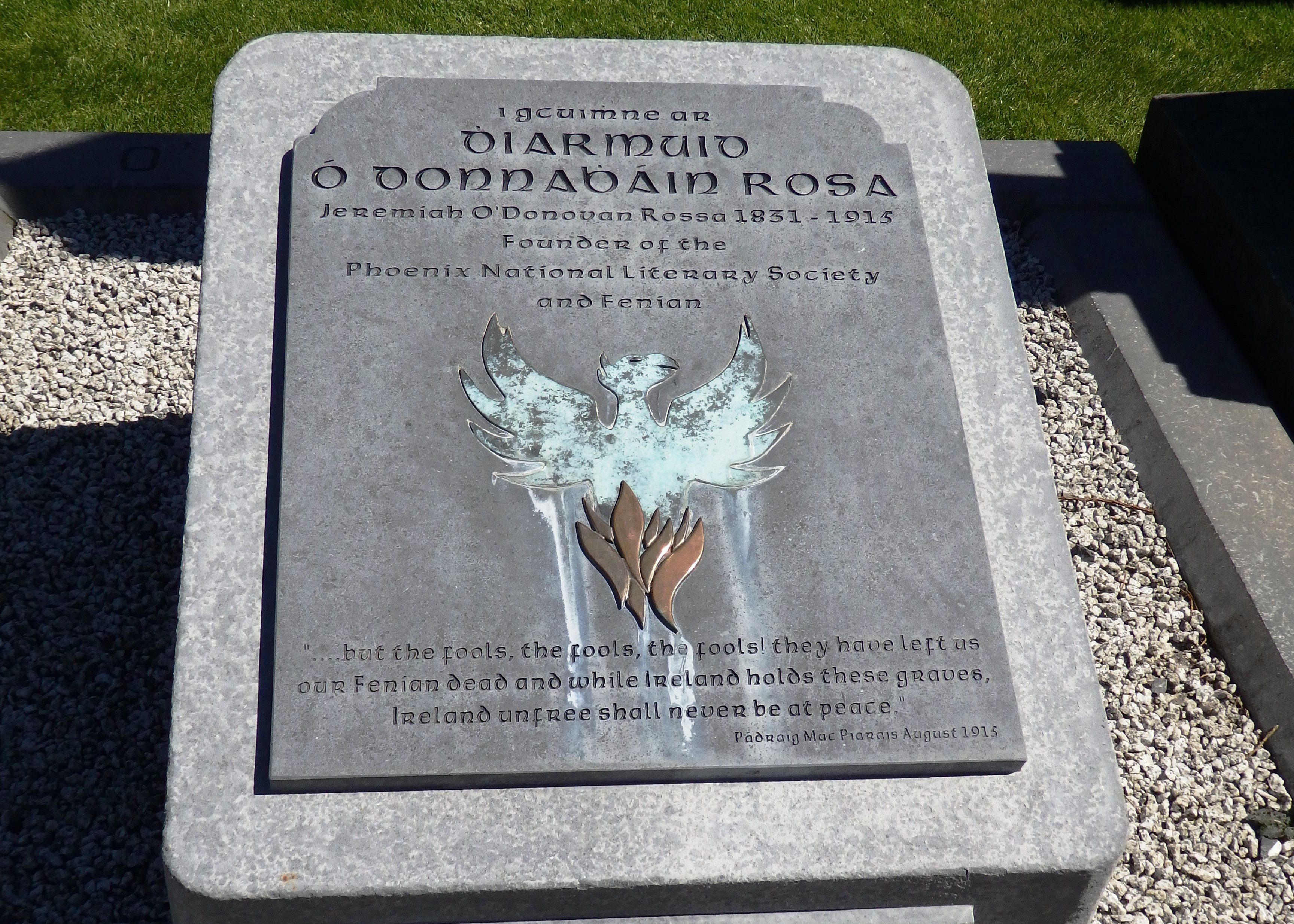 NEW O'Donovan Rossa, Jeremiah (1831-1915) – Revolutionary – Most of us think of the Irish Civil War as a 20th century battle but it really began in the mid-19th century and here is one of its leaders. O'Donovan Rossa was a shopkeeper who founded the Phoenix National and Literary Society in 1856/7 "for the liberation of Ireland by force of arms." Rossa was arrested for his activism and imprisoned for twenty years, suffering harsh treatment and torture. He was freed under the condition that he leave Ireland. He moved to America where he continued his quest for Irish independence through writing and publishing. When he died in 1915, his wife received permission to return his body to his home. His fellow Fenians put together a funeral committee to plan his service. Special trains brought Irish Volunteers and supporters from throughout the country who followed the pipe bands and armed units that made up the entourage. It's reported that some 70,000 mourners were within hearing distance of his mass and eulogy. The eulogy was especially poignant, given by a relatively obscure man dressed in the uniform of an Irish Volunteer army officer. His words have resonated with Irish countrymen for decades. Most can quote at least the final lines…"the fools, the fools, the fools – They have left us our Fenian dead, and while Ireland holds these graves, Ireland unfree shall never be at peace."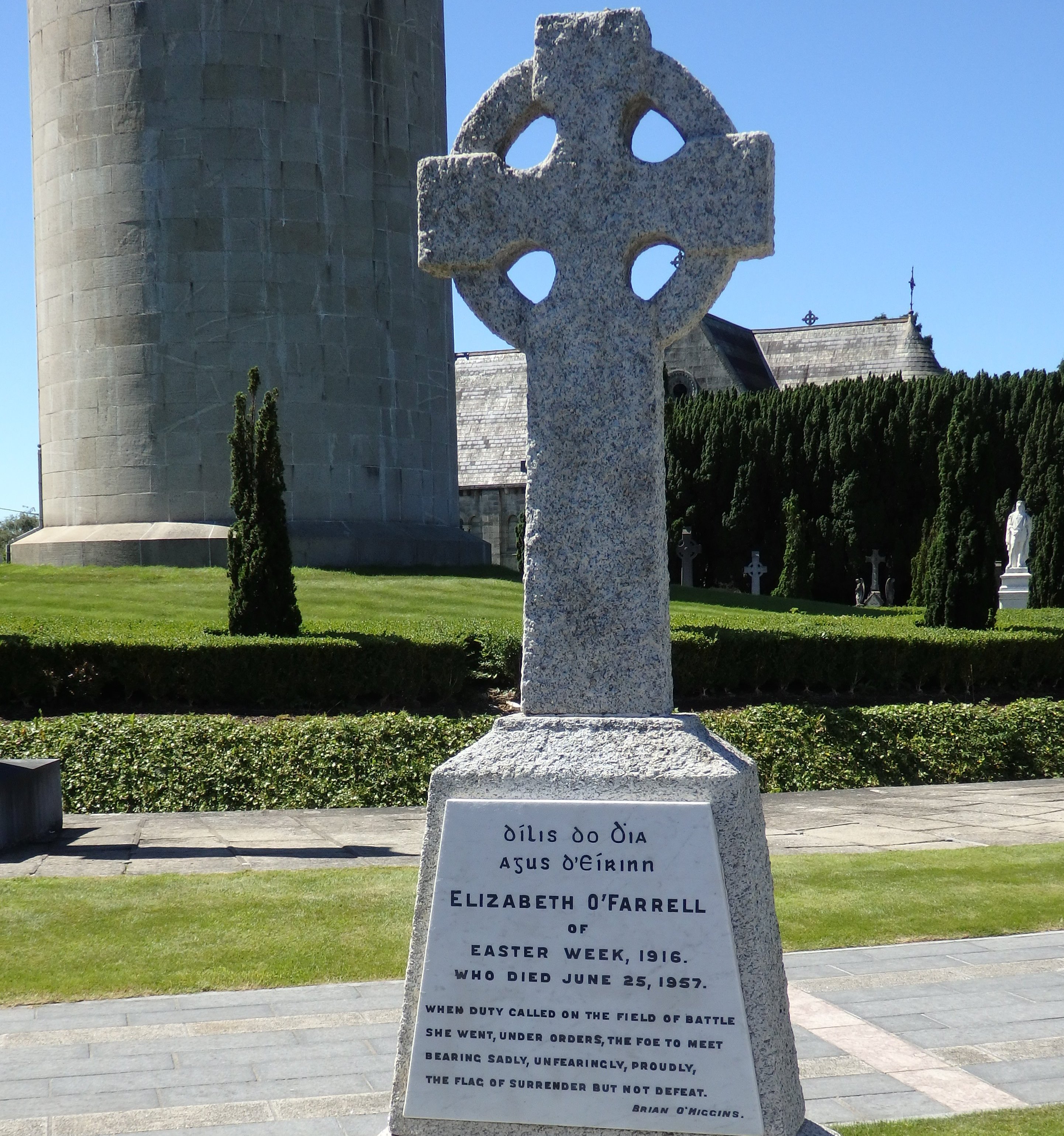 NEW O'Farrell, Elizabeth (1883-1957) – Revolutionary and Nurse – O'Farrell joined the women's branch of the Irish Volunteers in the early 20th century. When the rebellion began on Easter morning 1916, she and several other women were in the Dublin General Post Office. Casualties were brought to the Post Office so O'Farrell tended the wounded. When the Volunteers leaders decided to surrender in late April, it was Elizabeth who was selected to deliver the documents to the British authorities. She then had to tell the fighters throughout the city to lay down their arms. She was imprisoned for a short time. The remainder of her life she worked in the National Maternity Hospital and remained an ardent republican. Her grave marker reads "When duty called on the field of battle, she went, under orders, the foe to meet. Bearing sadly, unfearingly, proudly, the flag of surrender but not defeat."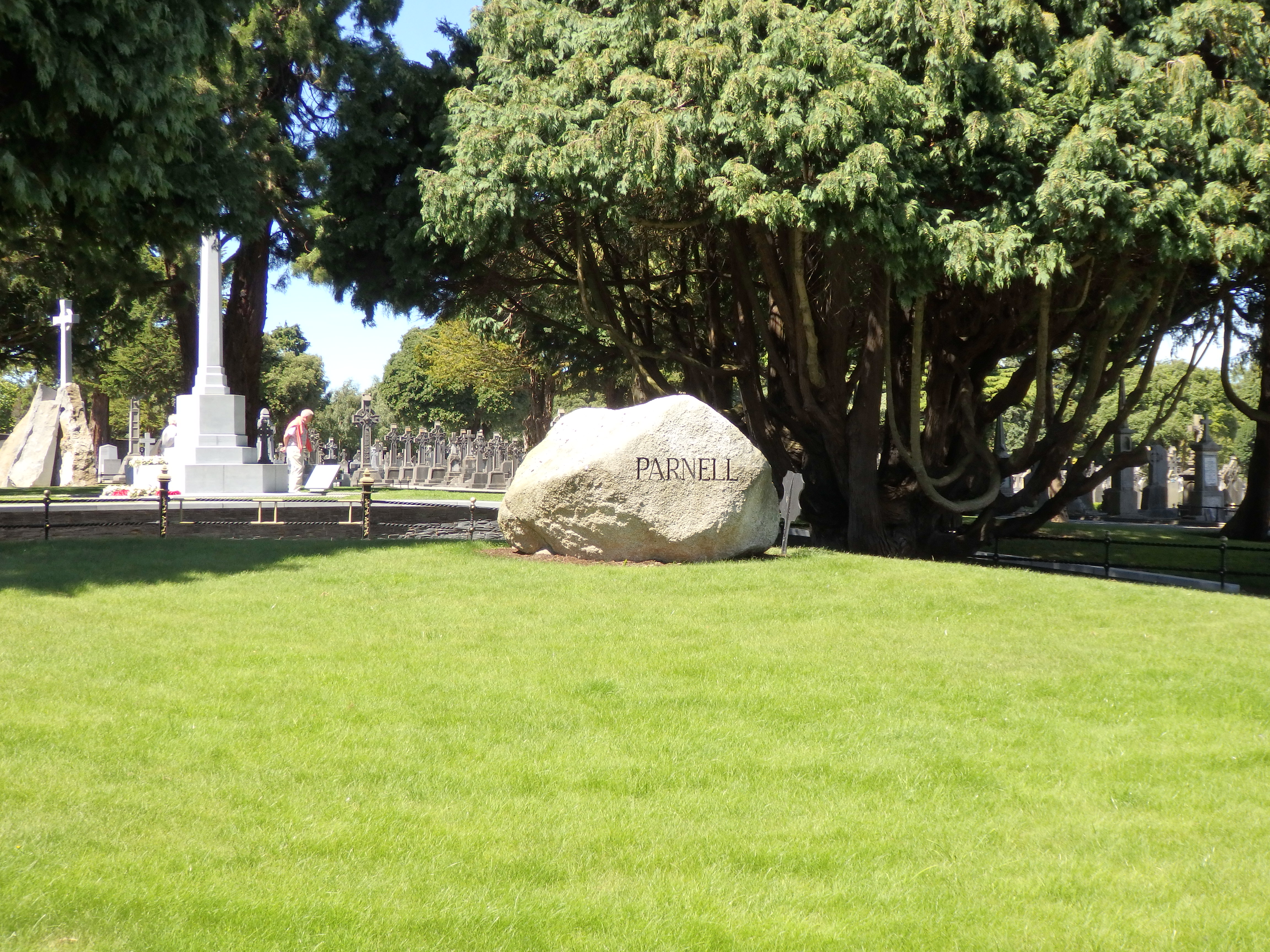 Parnell, Charles Stewart (1846-1891) – Irish Nationalist, Politician and one of the "Greatest Men in the late 19th Century" – Parnell was a Protestant and a leader in the Home Rule League which championed Irish independent rule within the United Kingdom. He was elected to the House of Commons in 1875 and used economic, constitutional, parliamentary and radical tools to win power from liberals and conservatives alike. One historian remarked that "more than any other man he gave Ireland the sense of being an independent nation." Parnell suffered a major leadership crisis when news of his long-time affair with a married woman surfaced. He fought hard to re-establish his position, compromising his own health, and died in Dublin at the age of 45. His funeral was attended by more than 200,000 people. His gravestone of unhewn stone from Wicklow (considered the "garden of Ireland") reads simply "Parnell."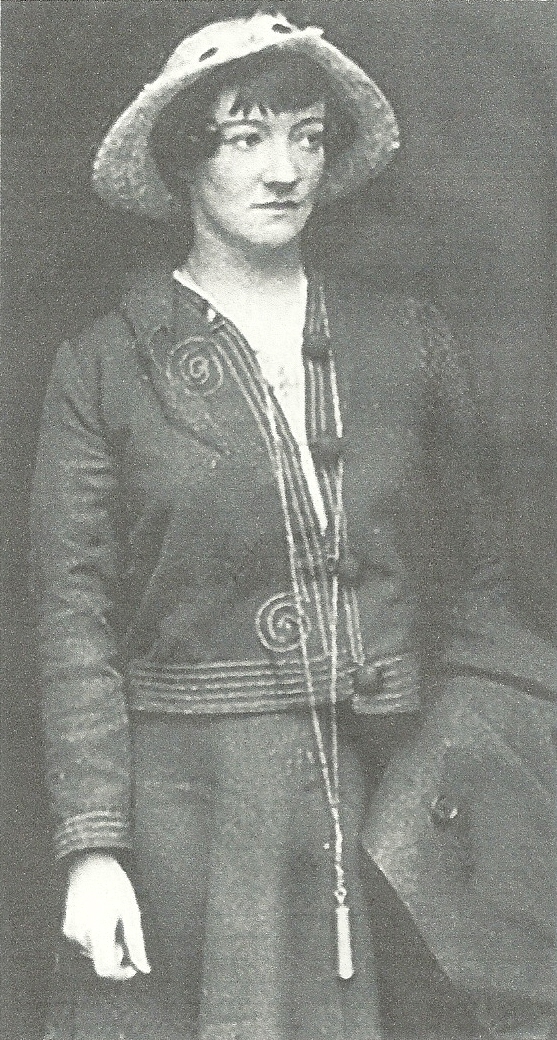 Plunkett, Grace Evelyn Gifford (1888-1955) – Artist and Caricaturist – Grace was a struggling but published cartoonist when, in 1913, she met Joseph Plunkett, one of the future leaders of the Easter Uprising (1916). Her growing interest in Catholic mysticism endeared her to Plunkett; they fell in love and planned to marry on Easter Sunday in 1916. Unfortunately, Plunkett was captured in the Uprising and when Grace learned he was scheduled for execution at dawn on May 3rd, she convinced the military authorities to allow her to marry him on the evening prior. After his death, she devoted her art to promoting the goals of Sinn Fein and was elected an executive in 1917. She continued her work as an artist until her death in 1955.
NEW Sands, Robert Gerard (1954-1981) – Fighter during the Troubles – Bobby Sands was born in Northern Ireland to Roman Catholic parents. His family moved several times during his childhood to avoid harassment and intimidation from their Protestant neighbors. Bobby, his brother and two sisters were forced to "run a gauntlet of bottle- and rock-throwing Protestant youths on the way to school every morning."  Leaving school at 16 and entering the workforce, Sands endured constant persecution from his co-workers who finally held him at gunpoint, called him "Fenian scum" and told him never to return if he valued his life. This event, plus an attack on his family's home, convinced him that militancy was the only solution. He joined the Provisional Irish Republican Army and was imprisoned numerous times for his role with the IRA. In 1981, Sands led a prison hunger strike whose general aim was to have the IRA prisoners considered political prisoners and not common criminals. Other prisoners joined the strike at staggered intervals to generate the maximum international attention. During this strike, Sands was elected a member of Parliament but never took his seat. He died in the prison hospital after 66 days on the hunger strike. Nine other hunger strikers also died.