Shortly before we departed for Scotland last month we mentioned our trip to our friend Callum Grey, the manager of Grotto Restaurant in Houston, a Scot by birth and a former resident of Edinburgh, who is familiar with our blog.  He told us we must track down the story of two very bad dudes, William Burke and William Hare.
Colin said to visit the Anatomy Department of the Edinburgh Medical School where we would find the skeleton of Burke in the Surgeons' Hall Museum.  Luckily, as we finished our research on St. Cuthbert's Burial Ground we found ourselves a few short blocks away from that destination.  Upon arrival we were kindly told to "hit the road" as one need's permission from the Queen or some other important persona to enter the University.  Undeterred we said this tale was too interesting to give up on.  So we called an audible and got the facts.
In Edinburgh in the early 1800s there was an insufficient supply of cadavers legally available for the study and teaching of anatomy.  It seems that the main source, the remains of executed criminals, declined as demand increased dramatically.  For every action there is an equal and opposite reaction. And in this case a new industry popped up – grave robbing.  These chaps who preferred the name of "resurrectionists" began digging up the recently departed and selling them to medical schools.  Naturally this was against the law but what did that matter when a few quid could be earned.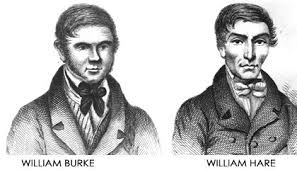 Burke and Hare were Irish immigrants who tried their hand at menial jobs: laborer, weaver, baker and cobbler.  They quickly decided selling cadavers seemed an easier road to riches.  To Burke and Hare all that effort of disinterring folks seemed more than it was worth.  So they decided to just knock off a few neighbors.  Over a 10 month killing spree they disposed of 16 persons who lived on their close (a tiny passage way leading to a low rent tenement building) by getting the victim intoxicated and then smothering him or her.   They took the corpse to the University of Edinburgh Medical School under the cover of darkness.  There the murderers sold the remains to Dr. Robert Knox, a surgeon who taught anatomy, for prices ranging from £7 to £10 (about $1,300 to $1,600 today.)
As you might expect Burke and Hare weren't rocket scientists and they eventually became prime suspects.  Their last victim, Mary Docherty, was lured into the villains lodging house by Burke.  However, she was seen by two lodgers, James and Ann Gray as they were departing.  During the night they heard a woman screaming "murder." The next morning the Grays returned to retrieve a lost item. While looking they found the body of Docherty under the bed.  The Grays went to the police.  By the time the officers arrived at the lodging house Burke and Hare had removed the body.  None the less the suspects were arrested for questioning.  Soon an anonymous tip led the police to Dr. Knox dissecting laboratory where James Gray identified the body as Docherty.  Burke and Hare were charged with murder.
Oddly enough the case was not open and shut.  So the police offered Hare immunity if he would "turn King's evidence" against Burke, an offer he quickly accepted. Burke was tried on Christmas Eve 1828, convicted and sentenced to hang.  The execution was carried out on January 28, 1829 in Old Town Edinburgh in front of a crowd estimated to be 25,000 people.  Ironically, Burke was publically dissected in the anatomy laboratory at the University the next day, a victim of his own murder spree.  A death mask was made that, along with his skeleton, are on display at the Anatomy Museum of the Edinburgh Medical School, the site of our failed mission. For unknown reasons his skin was tanned and used to make book covers, wallets and card cases that were sold in shops along the Royal Mile (High Street.)
As for Hare he was released by the police in February 1829 at the English border, told to get out of Scotland and was never seen again.
In 2011 a black comedy, Burke and Hare staring Andy Serkis and Tom Wilkinson, was released.  It is available on Amazon for $15.43 or on Netflix for your viewing pleasure.