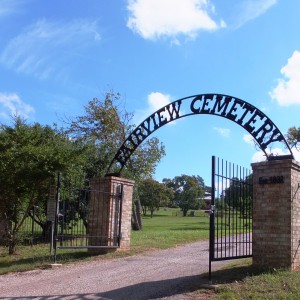 Fairview Cemetery
1409 Highway 95N, Bastrop, Texas
Established 1832
36 acres
Burials: 3,500+
Texas Historical Markers
website
"Cemeteries are essentially beautifully planned mini-cities
that just happen to be occupied by a bunch of bones.
I think the bone people would like us to come visit and
Enjoy ourselves."
-Burdette Keeland
Professor of Architecture
University of Houston
Bastrop is one of the oldest cities (some say second after Nacogdoches) in Texas. A fort was established here in 1804 to guard the Colorado River crossing on the El Camino Real (The King's Highway) as that road wound more than 1,300 miles from Mexico City to Natchitoches, Louisiana.  In 1823 Felipe Enrique Neri Bastrop who was a colonizer, legislator and self-appointed Baron received permission from the Mexican Government to establish a colony at the river crossing.  That venture never materialized.  However, in 1832 Jose Miguel de Arciniega, a Mexican land commissioner, officially plated the town.  The plan set aside land for a square, municipal building, jail, schools, slaughter house and a 12 acre cemetery.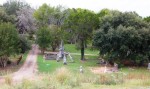 Early on it was just called City Cemetery. Citizens were given free burial plots.  In 1884 residents voted to rename it Fairview.  It is located on a wooded high hill north east of the historic district offering up a beautiful view of downtown and the Colorado River valley.
Local lore says the first burial on the hill took place when a young girl named Sarah Wells was laid to rest there in 1831 in an unmarked grave.  The grave markers are a history of Texas burial architecture of the last 180 years.  There are a wide variety of them including simple stone, iron crosses, ornate Victorian, Art Deco and modern.
Fairview is the final resting place of veterans of the War of 1812, Texas Revolution, War Between the States, Spanish-American War, World War I and II, Korean, Viet Nam and the Persian Gulf. Citizens interred here include Congressmen, a Texas Governor, Indian fighter, prohibitionist, adventurers, Texas Rangers, stagecoach drivers, authors and lawmen to mention a few.  
Allen, George "Shorty" (1818-1907) – Public Servant – He came to Texas in 1836 from New York.  Allen served a term as Mayor of Bastrop, Constable, County Tax Assessor and County Judge.  In addition he owned a men's tailor shop.
Bissell, Theodore (1800-1876) – Prohibitionist – He immigrated to Texas in 1835 and fought in the Texas Revolution the next year.  In 1839 Bissell was elected an alderman in Bastrop.  His mission in life was to "confront the evils" of alcohol.  Bissell served as treasurer of the Bastrop Temperance Society.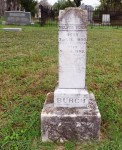 Burch, Nelson (1804-1885) – Merchant – Coming to Texas in 1839 he established three mercantile stores.  All three were destroyed in an 1862 fire that burned down much of downtown Bastrop.  Fortunately, Burch had the capital to rebuild the structures and reopen his businesses.  Burch also taught school.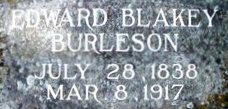 Burleson, Edward Blakey (1838-1917) – Rancher – This early arrival holds the honor of being the first white male child born in Bastrop County.  Burleson was schooled at the Bastrop Military Academy and fought in the Confederate cavalry during the War Between the States.  Returning home following the conflict he started a ranch and farm.  Burleson was among the early Texans to raise Hereford cattle. This hardy breed is found in both intemperate and temperate climates and is famous for its savory meat.  Herefords originally came from Herefordshire, England.
Chambers, Margaret Barker Wilbarger (1810-1897) – Pioneer Woman – Born in North Carolina, she arrived in Texas at age 18 accompanied by her parents and first husband, Josiah Wilbarger.  Bastrop was in the Wild West and skirmishes with Indians were almost a fact of life.  Unfortunately, Mr. Wilbarger was attacked by a band of Indians who scalped and left him for dead.  Margaret has a dream that night that he was still alive and begged local men to look for him.  She was correct and he recovered.  However, Wilbarger's head wound left him seriously scarred.  So Margaret used material from her wedding gown to sew him skull caps to protect the affected area.  Wilbarger wore them until his death In 1843.  Three years later she married Colonel Thomas M. Chambers.  Margaret bore her husbands 11 children.  She was a founder of the Bastrop Military Academy and the First Methodist Church.  Quite a lady!
Craft, Samuel (1776-1864) – Judge – Craft, his wife and 11 children first settled in Fayette County in 1828 but resettled in 1835 on Alum Creek, four miles south of Bastrop, along with six other families.  They erected a fort for protection from roving bands of Indians.  Two of his sons, Russell and James, fought at the Battle of San Jacinto in 1836.  With the founding of the Republic of Texas, Craft was elected Associate Justice of Bastrop County.
Crocheron, Henry (1806-1873) – Merchant – This New Yorker arrived in Bastrop in 1839.  Crocheron immediately began purchasing property on Main Street (in the city's Historic District today) and opened mercantile stores.  He became interested in politics and was elected County Tax Assessor (1838-9) and County Treasurer (1851-3).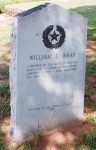 Dunbar William (1819-1855) – Soldier – He was born in Tennessee but came to Texas in 1837, settling in Bastrop.  In 1842 he volunteered to join the ill-fated Mier Expedition.  This was an unsuccessful military operation by the Texian* Militia against Mexican villages along the Texas-Mexico border.  At the Battle of Mier on December 25-26, 1842 the Mexican Army won a costly victory with the Texians killing 650 enemy soldiers and wounding another 200.  Forced to surrender, 243 Texians were captured, forced marched to Monterrey, Mexico and imprisoned.
A few Texians escaped but on March 25, 1843 on the order of their Mexican captors the prisoners were blindfolded and ordered to select a bean from a clay pot.  That pot contained 159 white beans and 17 black ones.  Texians who drew black beans were executed by firing squad.  Dunbar was lucky, choosing a white bean.  However, he was held at Perote Castle for two more years as a prisoner of war.  Pardoned, Dunbar returned to Bastrop, married and served as County Clerk (1850-5).
*Editors note: Texans were called Texians prior to Texas independence from Mexico in 1836.
Erhard, Cayton (1822-1884) – Druggist – He and his brother Adolphus (1831-1899) were orphaned in 1839 when their parents both died on the same day.  In 1841 a friend, James Nicholson (See Nicholson, James), who operated the Nicholson Hotel in Bastrop, took the orphans in.  That same year Cayton volunteered to join the Santa Fe Expedition, a political, military and commercial campaign to establish a trade route to New Mexico in order to break the Santa Fe Trail's monopoly on transportation of goods in the region.  It was an arduous trek. The volunteers suffered many hardships but finally met some Mexican traders in September.  The Texans did not expect any armed resistance.  However, they were captured by a much larger Mexican force without a shot being fired.  The prisoners were marched to Mexico City where they were imprisoned.  The Texans were released in April 1842.  The mission is generally considered a failure.  Returning to Texas, Erhard opened the state's first drug store in San Marcos and was elected the first County Clerk and Postmaster of Hays County.  In 1865 he moved his family back to Bastrop and opened another pharmacy.  Although this store is still in business on Main Street (you can buy great ice cream here) it is no longer in the Erhard family.  In 1882 Erhard wrote his reminiscences of the Expedition for the San Marcos Free Press. Adolphus served in the Confederate Army as a blacksmith during the War Between the States.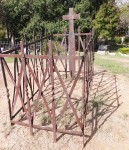 Fischer, Crescentia Augusta (1807-1841) – Yellow Fever Victim – Immigrating from Germany to Galveston in 1841 she, her husband and two children docked during a raging yellow fever epidemic.  One of the children died and the family fled to Bastrop.  Unfortunately, Crescentia had already contracted the disease and died five days after her arrival in Central Texas.  She rests in the oldest known marked grave in the cemetery.
Foster, John L. (1797-1872) – Soldier and Public Servant – Born in Missouri he immigrated to Bastrop in 1838.  Foster volunteered to fight in the Cherokee War of 1839, a conflict between the Cherokee and white settlers in East Texas.  The Indians thought they had squatter's rights on the lands between the Angelina and Sabine rivers.  In 1836 Sam Houston signed a treaty to affirm this position but it was declared null and void by the Texas Senate in 1837.  When President Mirabeau B. Lamar discovered a plot by the Mexican government to use the Cherokee against Texans he decided to expel the Indians from Texas.  A string of battles were fought but the Texas Army's superior forces drove the Indians outside of the Republic.  Returning to Bastrop Foster was elected County Constable and Postmaster of the nearby villages of Alum Creek (1862) and Ridgeway (1871).
Grady, Daniel (1822-1892) – Soldier – In 1839 he joined the Texas Rangers and served in Gonzales.  Captain Grady saw action in the Woll Campaign, a battle between Texans and Mexicans over San Antonio the same year.  He served in the Mexican War (1846-8) and fought at two of its most important battles, Monterrey and Puebla.  During the War Between the States Grady enlisted in the cavalry in Walker's Texas Brigade.
Grimes, Robert Henry (1814-1863) – Soldier – A native Texan with an excellent pedigree (his Father, Jesse, signed the Texas Declaration of Independence and his brother, Alfred, died at the Alamo) he served in the Army of the Republic of Texas (1835-6). Following Texas Independence Grimes moved to Bastrop and opened a saw mill.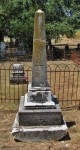 Halderman, Jesse (1801-1850) – Soldier –He came to Texas from Kentucky in 1831.  Halderman applied to Stephen F. Austin for a title to some land to colonize.  He received some, including property in Bastrop.  For a time Halderman served as a Texas Army scout.  He served in Captain Jesse Billingsley's Company of the Mina (Bastrop) Volunteers at the Battle of San Jacinto in 1836.
Hall, Constant K. (1818-1873) – Stagecoach Operator – This Connecticut native arrived in Texas in 1840.  Following his marriage in the home of future Texas Governor Francis R. Lubbock, Hall moved to Bastrop and opened a store on Main Street (in today's Historic District).  He became a trustee of Bastrop Military Academy and a partner in the Sawyer, Rischer & Hall Stagecoach Line in 1860.  This line had two important routes:  Austin to San Antonio, an 18-hour journey and Austin to Houston, a two day adventure.  In about 1854 Hall joined the Know Nothing Party, a political movement of Protestant men that sought to "purify" American politics by limiting or ending the influence of Irish and German Catholics.  The Know Nothings tried to curb immigration and naturalization but had little success.  The most prominent member was ex-President Millard Fillmore. The movement only lasted from 1854 until 1856.
Hall, Kate (1845-1863) – Organizer – This native Houstonian moved to Bastrop with her parents, Constant and Margaret, in 1845.  When the War Between the States broke out in 1861 Kate was among a group of local women in the Confederacy who formed the Ladies Soldier Aid Society.  During that conflict between 7,000 and 20,000 of these organizations were formed.  Their purpose was to provide soldiers on the battlefields with supplies such as bandages and care for the sick and wounded troopers.  When the war ended many of these groups transformed into memorial societies, especially in the South.
Hemphill, Ambrose Baber (1824-1879) – Civil Servant – His family moved to Bastrop in 1835. They lived on a farm outside of the city.  Hemphill was elected County Tax Assessor (1850-3)
Higgins, Jacob C. (1815-1895) – Entrepreneur – Born in Vermont, he was orphaned at age six and raised by a distant cousin.  Higgins came to Texas in 1840 settling in Austin.  While there he bought a large amount of what appeared to be worthless Republic of Texas bonds.  When Texas joined the Union the bonds suddenly became worth their face value plus the accrued interest.  Higgins was instantly a rich man.  He moved to Bastrop in 1841 and formed a lumber mill, cutting timber in the Lost Pines Forest nearby.  Higgins established a mercantile business and a bank in town.  He served one term (1857-8) in the Texas House of Representatives.  During the War Between the States he volunteered for the Texas State Militia and served for 22 months.  Higgins was an Episcopalian and in 1881 he put up the capital to construct the Calvary Episcopal Church in Bastrop.
Highsmith, Malcijah Benjamin (1827-1893) – Texas Ranger – A native Texan, at age six he participated in the Runaway Scrape, a name Texans applied to the flight from their homes to escape Santa Anna's oncoming army.  During the Mexican War (1846-8) Highsmith joined Colonel William C. Young's 3rd Regiment, Texas Mounted Volunteers.  In 1850 he enlisted in Captain John Salmon "Rip" Ford's Texas Rangers (See Old San Antonio Historic Cemeteries – Confederate Cemetery – Ford).  These Rangers' job was to protect Texas citizens living in the Rio Grande Valley.  Highsmith distinguished himself fighting Comanches at the Battle of San Antonio de Viejo.  After a year he returned to Bastrop.  In 1852 he was elected County Tax Assessor & Collector, serving two terms. At the outbreak of the War Between the States he was named captain of the Bastrop Cavalry Company.  Following the conflict Highsmith came home and took a job as a traveling salesman.
Jenkins, Edward W. Jr. (1830-1925) – Unknown – He was born in Bastrop.  Jenkins' father, Ed, was killed by Indians and his stepfather, Reverend James Northcross, was killed at the Battle of the Alamo.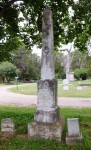 Jenkins, John Holland (1822-1890) – Youngest Soldier in the Texas Revolution – Born in Alabama he came with his family in 1828 to join Stephen F. Austin's Colony.  They settled southwest of Bastrop. Jenkins father was murdered and his mother moved to town in about 1835 and married James Northcross (See above).  At age 13 he joined Captain Jesse Billingsley's Mina Volunteers to serve in the San Jacinto Campaign.  On the way to that battle Billingsley convinced Jenkins to return home to aid his mother during the Runaway Scrape (See Highsmith above).  Although not actually at the Battle of San Jacinto he was honorably discharged and is recognized as the youngest Texas soldier in the campaign.  Jenkins joined the Texas Rangers and fought Comanches at the Battle of Plum Creek in 1840 and Mexicans in the Woll Campaign (See Grady above) in 1842.  At the start of the War Between the States he enlisted in Captain M. B. Highsmith's (See above) Texas State Troops.  By 1865 Jenkins was fighting with Colonel John Ford (See Highsmith) at the Battle of Palmito Ranch near Brownsville.  It was the last battle of the war and occurred more than a month after Robert E. Lee's surrender at Appomattox.  He decided to write down his memoirs for the Bastrop Advertiser in 1884.  Jenkins great-great grandson published them in 1958 in a book titled Recollections of Early Texas.  In 1890 he was killed in a gunfight trying to save his son who was sheriff of Bastrop from being ambushed.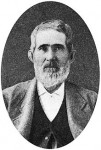 Jones, George Washington "Wash" (1828-1903) – Politician – He was born in Alabama and moved to Texas with his parents in 1846.  They settled on the Colorado River about 10 miles downstream from Bastrop.  Jones taught school and farmed before moving to Bastrop in 1850.  In 1851 he passed the bar exam.  Jones was elected Bastrop County District Attorney in 1856 serving until 1860.  He joined the Confederate Army as a private.  By 1864 Jones had risen to the rank of colonel.  He was elected Lieutenant Governor of Texas in 1866 but was removed from office the following year by Union General Philip H. Sherman for being an obstructionist to Reconstruction. Jones won election to the U. S. Congress and served from 1879 until 1883.
Kerr, Robert A. (1842-1912) – Politician – A native of Louisiana, he was the offspring of a white father and a black mother.  Kerr and his father moved to Port Lavaca in 1855 where they opened a shipping business.  He moved to Victoria in 1872 when the Texas Republicans named him an alternate delegate to their National Convention, an unusual honor for a man of mixed race at that time.  Kerr was also made an election judge.  By 1880 he moved to Bastrop where he was elected to the Texas House of Representatives becoming the area's first Black legislator.  Kerr served on the Bastrop County School Board and helped establish a high school for black students.
Kohler, John Andrew (1845-1908) – Lawman – This Texas native was elected Bastrop County Sheriff (1872) and served as a long time Bastrop County Commissioner.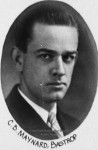 Maynard, Copenitus Bannister (1827-1889) – Civil Servant – He arrived in Bastrop in 1838 with his family.  Maynard served as District Clerk (1878-88).  He may have the most unusual first name of anyone who ever lived in Bastrop County.
Nichols, James R. (1826-1887) – Blacksmith – Born in Virginia he moved to Bastrop in 1840.  Nichols was a blacksmith by trade and a founder of the Bastrop Iron Manufacturing Company in the 1860s.  When the War Between the States commenced in 1861 a local gunsmith, N. B. Tanner, was commissioned to produce 500 M1841 "Mississippi" type rifles.  It was a muzzle loading, rifled, percussion long gun.  It earned its nickname "Mississippi" as it was the rifle of choice of future Confederate President Jefferson Davis who led the 1st Mississippi Regiment in the Mexican-American War (1846-8).  It was a major improvement on the flintlock rifle it replaced.  The Mississippi was a 54-caliber, weighed 9 pounds and had a maximum firing range of 2,000 yards.  Tanner hired Nichols as a "barrel man" to produce rifle barrels for these weapons.  While the contract called for 500 of these long guns only 264 were actually produced.
Nicholson, James "Uncle Jimmie" (1814-1885) – Civil Servant – An Englishman, he came to America in 1833 and moved to Bastrop in 1839.  Nicholson served in a number of offices including Town Clerk (1839), City Alderman (1840-2), Bastrop Mayor (1844) and County Treasurer (1846).  He also saw action in the Woll Campaign (see Grady.)  Nicholson was also a businessman and opened the Nicholson Hotel in 1839.  It earned a reputation as the "finest eating house in all of Texas."  The Nicholson was a favorite resting place of Governor Sam Houston who visited it many times.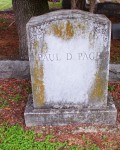 Page, Paul DeWitt (1868-1945) – Lawyer – A native of Alabama he came to Texas as a child in 1872 and moved to Bastrop in 1886.  Page earned a law degree from the University of Texas.  He served as Bastrop County Attorney (1898-1904), County Judge (1904-9) and State Senator (1914-22).  He was a founder of the Citizens State Bank of Bastrop (1909) and was instrumental in establishing Bastrop State Park to protect the Lost Pines.  Page was also involved in the construction of Camp Swift, an infantry training facility in World War II.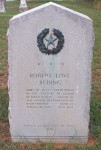 Reding, Robert Love (1810-1849) – Renaissance Man – He was born in Tennessee and came to Texas in 1835 to fight for independence.  Reding signed the "Goliad Declaration of Independence."  This document resolved that Texas should be "a free, sovereign and independent State" and the signers pledged their lives, fortunes and honor to sustain the Declaration.  Reding joined in the capture of Goliad from the Mexicans on October 9, 1835.  Following Independence he became a businessman and a founder of the Bastrop Steam Mill.  Turning to politics Reding served as Associate Justice of the Bastrop County Court (1842-4) and Chief Justice of the County (1846).
Reding, William Rehum (1807-1858) – Texas Ranger – He came to Texas from Tennessee in 1837 and moved to Bastrop in 1839.  Reding was a Colonel in the Texas Rangers.  He operated a ferry boat on the Colorado River, a business he partnered with his brother Robert (see Reding Above).  In 1849 Reding was elected Tax Assessor & Collector.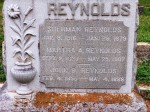 Reynolds, Sherman (1816-1879) – Steamboat Captain – He arrived in Texas in 1840 and settled in Bastrop four years later.  First Reynolds opened a mercantile business but built a steamboat in 1848-9.  Named "Watermoccasin," it plied the waters of the Colorado River between Bastrop and Matagorda Bay until sinking near Columbus in 1856. He served as County Treasurer (1858-65).
Reynolds, Martha (1828-1907) – Texas Colonist – She came with her family in 1832 to join Stephen F. Austin's Colony.  In 1847 Martha and Sherman were married.  Her father, Thomas Christian was killed in the Indian ambush when Josiah Wilbarger was scalped (See Chambers.)
Sayers, Joseph Draper (1841-1929) – Texas Governor – Born in Mississippi, at age 10 he moved with his family to Bastrop.  Sayers attended Bastrop Military Academy.  In 1861 he joined the Confederate 5th Texas Cavalry and saw action at the Battle of Valverde, New Mexico in February, 1862.  At this skirmish Sayers earned a promotion for bravery in capturing a Union artillery battery.  From here he was sent to Louisiana where he was wounded at the Battle of Camp Bisland (1863) and once again was promoted to major for bravery.  A year later Sayers was wounded at the Battle of Mansfield.  Somehow he managed to survive the War and return to Bastrop where he opened a school and studied law.  Sayers passed the bar and formed a partnership with George Washington Jones (see Jones).  He entered public service in 1873:  State Senator (1873-5), Chairman Texas Democratic Committee (1875-8), Chairman Democratic State Convention (1876 and 1878), Lieutenant Governor (1878), U. S. Congress (1884-98) and Texas Governor (1899).  Sayers' term saw increases in spending on education, prisons, social services and the creation of school districts.  During his term he was cursed with a number of disasters over which he had no control including Texas State Prison at Huntsville fire (1898), Brazos River Flood (1899), Great Galveston Storm (1900), an extended drought and a plague of boll weevils.  After leaving office he served as a Regent at the University of Texas.
Taylor, Campbell (1812-1888) – Texas Revolutionary Hero – He moved to Bastrop in1835.  The following year he fought with General Sam Houston at the Battle of San Jacinto.  After Independence he returned home and with the help of his wife Harriet (1818-1911) they opened and operated a stagecoach stop called San Jacinto House.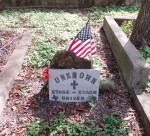 Unknown Stagecoach Driver – While walking the cemetery we discovered this interesting grave. Obviously we know nothing about him but how often do you find a stagecoach driver's final resting place?
Wallace, James P. "One-Eye" – (1819-1855) – Indian Fighter – He joined the first tranche of Texas Rangers whose initial task was to protect settlers from hostile Indians.  At the Battle of Limestone County he lost an eye in the fight thus earning him the dubious nickname of "One-Eye."  During the Runaway Scrape (see Highsmith) he volunteered to protect the Texas settlers. After hanging up his guns Wallace served as District Clerk for Bastrop County (1847-1855).
War Babies – With the outbreak of World War II the U. S. Army confiscated 55,906 acres seven miles north of Bastrop to construct a military training camp.  It was named Camp Swift after Eben Swift a World War I commander.  Over 2,750 buildings were constructed.  It is estimated that over 300,000 troops were quartered during the course of the war.  Many soldiers' wives moved to Camp Swift to be near their husbands prior to shipping out.  Unfortunately there were cases of women having infants who died and they could not afford interment.  The Hasler Brothers Funeral Home graciously provided shrouds, doll clothes, tiny coffins for the deceased and free burial.  After the war the graves were forgotten.  Today a beautiful angel holding an infant overlooks the 16 plus unmarked graves.  A small number of white crosses have also been erected.