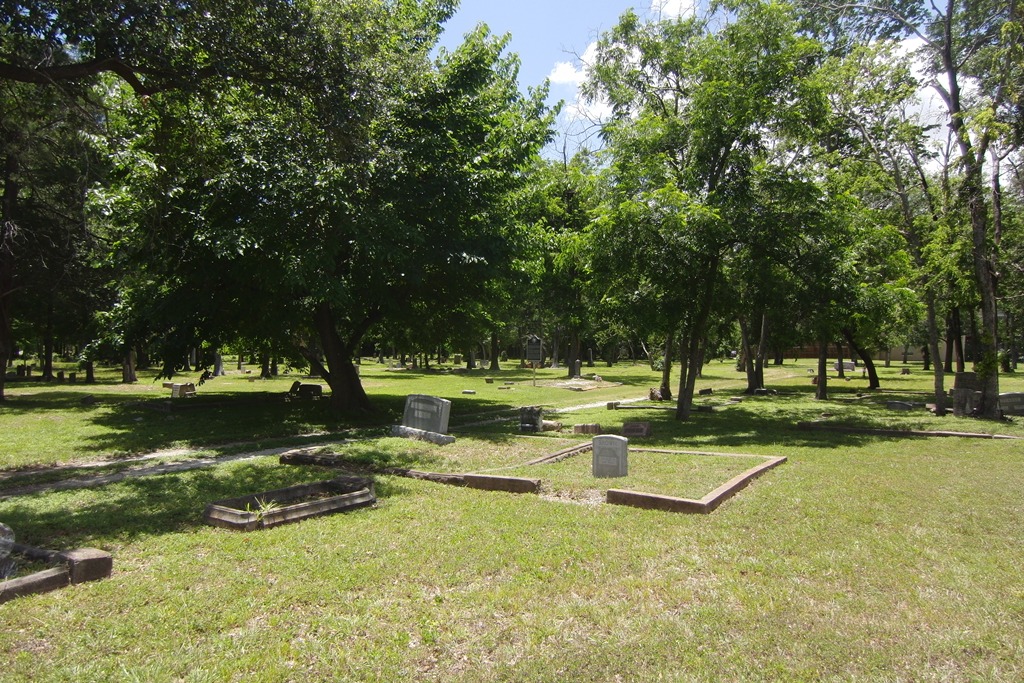 College Park Cemetery
3525 West Dallas
Established 1896
5 acres
Burials: ca 5000
Texas Historical Markers: Numerous
collegeparkcemetery
"I looked over Jordan, and what did I see?
Coming for to carry me home,
A band of angels coming after me,
Coming for to carry me home."
–Swing Low, Sweet Chariot
-Old Black spiritual
College Park is one of Houston's three oldest and most historic Black burying grounds (See Evergreen Negro and Olivewood Cemeteries). It was founded in 1896 by Adam Clay with an investment of $1000.  The name resulted from its location across the street from Houston Central College for Negros (1894 – 1921).  The first documented interment, Margaret Whitman, occurred on September 21, 1897.  Due to its close proximity to the historic Fourth Ward, it was initially burial lots for freed slaves who migrated to Houston following the War Between the States.  Over the years many of the Black community's leading citizens – religious, civic, business, educational – were interred here as are veterans of WW I and II and participants in the 1917 Camp Logan Riot.  College Park was abandoned in the 1970s, became overgrown, vandalized and a magnet for the addicted and homeless.  For the next 40 years all efforts to save the property failed.  Thankfully, through the efforts of Rev. Robert Robertson and the College Park Cemetery Association, it is on its way to returning to its former glory.  In 2002 it was designated a Texas State Historical Cemetery.
Brooks, Pinkie (1884-1925) – Unknown Occupation – Writing of epitaphs has become a lost art.  The most creative gravestones today offer up the deceased's name, birthday and date of death.  Therefore, when we encounter a great epitaph we write it down in our cemetery notebook.  We do not know a thing about this gentleman but could not resist sharing his epitaph.
Oh seek me not within a tomb

Thou shall not find me in the clay

Pierce a little wall of gloom

To mingle with the day. 
Cornish, Jennie (1858-1911) – Housewife – Born in Indian Territory, Jennie migrated to Houston and married John Cornish who was a blacksmith.  They had three children:  Charles and Loomis (brick workers) and Bertha (housewife).  
Hagan, Annie Pruett Butler (1863-1927) – Nurse & Midwife – After training under several leading doctors, this industrious young woman gained a reputation as one of the best nurses and midwives in the city.  Annie founded the first nurses training club for Black women.  Despite arriving in Houston with only $0.50 in her purse, her work ethic and thrift allowed Annie to become a wealthy woman.  She owned her homestead, three rent houses, undeveloped lots and a farm.  (Grave unmarked.)
Haller, Joseph (1869-1948) – Teacher & Barber – This son of a slave was most likely born in Brazoria County where he taught school as a young man before moving to Houston.  Upon arrival he gained employment as a manager of a barbershop on Houston's east side.  His father, N. H. Haller, served two terms (1893 and 1895) in the Texas State Legislature. (Grave unmarked.)
Hill, Halley Mae – (June 4, 1918 – August 5, 1918) – Baby – There are a number of infants buried in College Park.  Most are only identified on their gravestone as "Baby" or "Infant."  Carrie and Eddie Hill's two month old daughter passed away and has her own marker.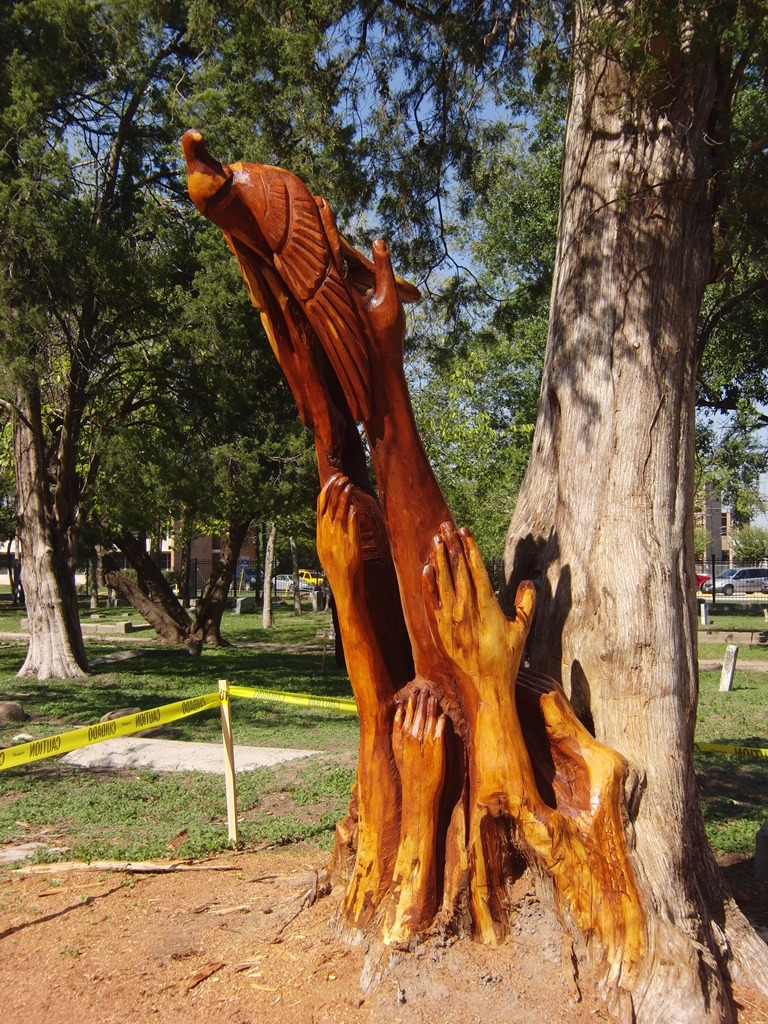 Jones, Earl – Sculptor – Fortunately this Black Galveston artist is alive and well and sculpted a tree killed by Hurricane Ike into a wonderful piece of art for College Park.  Jones is famous for creating the numerous tree sculptures in Galveston out of many of the trees drowned by standing salt water following Ike.  You can't miss it.  Just enter through the cemetery gate and walk a dozen or so paces south and look to your right.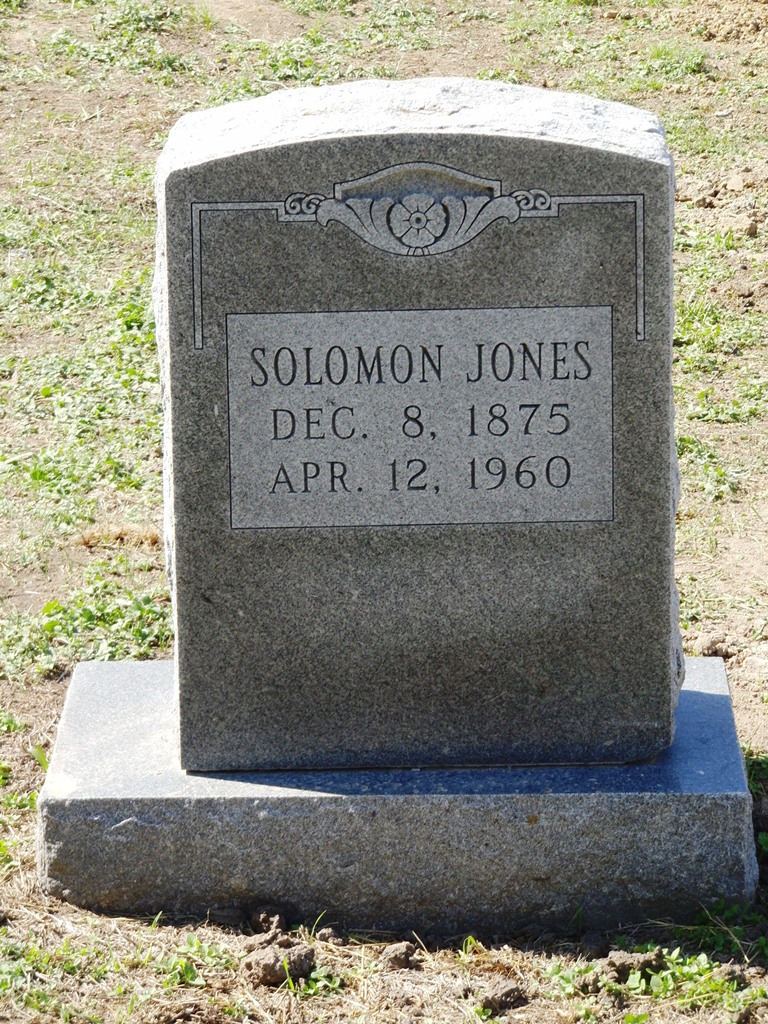 Jones, Solomon (1875-1960) – Grocer – Jones lived in Freedmen's Town where he operated a grocery store.  In addition he owned his homestead.  Over the years he made extra cash working as an elevator operator, watchman and hotel pantry man.  In 1930 he purchased a radio, one of only a few in the neighborhood. Neighbors would come from blocks around to hear this high technology form of entertainment. His wife, Winnie, was a chambermaid.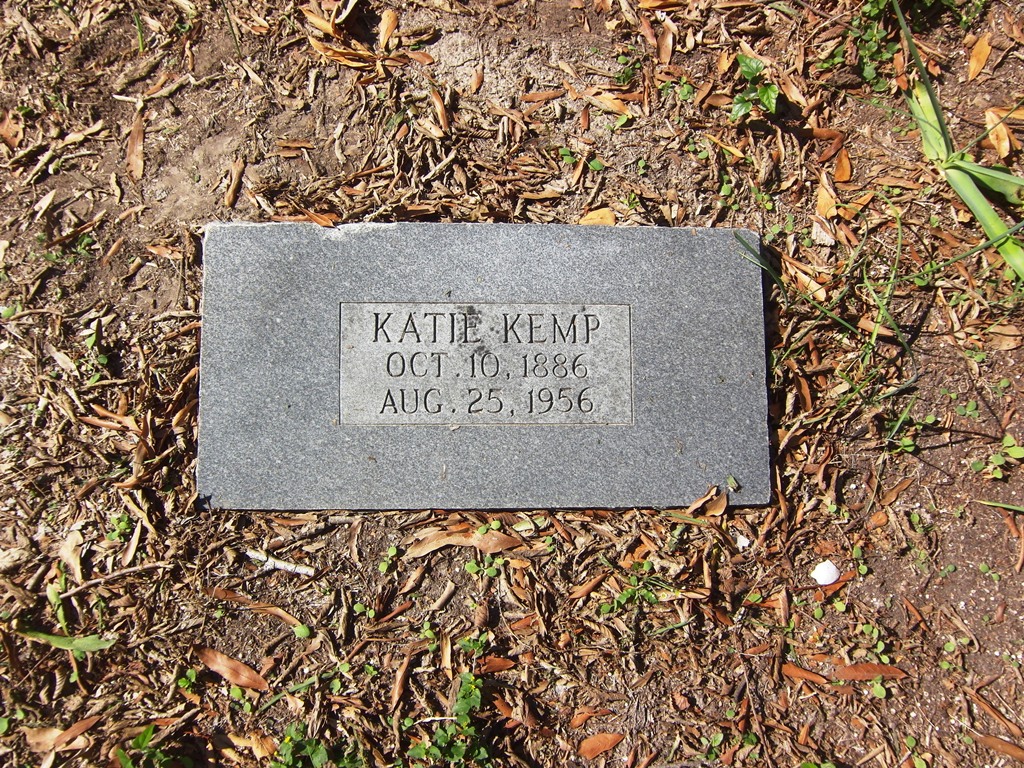 Kemp, Katie (1886-1956) – Housekeeper – Born in Tyler, Texas Kemp moved to Houston as a young girl.  She was a housekeeper in her neighborhood.  Frank Kemp (? – 1951) owned a blacksmith shop in the Fourth Ward.
Lights, Frederick Lee (1859-1921) – Reverend – He was born in Louisiana but moved to Texas in1871.  Lights was ordained as a Baptist minister in1882.  Sometime thereafter he relocated to Houston, settling in Freedman's Town.  Soon he was elected pastor of Antioch Baptist Church and president of Western Star Publishing Company. Lights was well traveled.  He attended the World's Baptist Congress in England, later visiting France, Scotland and Ireland.  Five years later he returned to Europe for the World's Foreign Mission Congress in Scotland.  While there he toured France, Belgium and Germany.
Pullum, Ned (1861-1927) – Reverend – Following the death of Jack Yates in 1897, Pullum moved to Freedman's Town to become pastor of Bethel Baptist Church.  He and his wife built a house at 1319 Andrews Street that still stands today.  The multi-talented Pullum also founded the Carnegie Colored Library, strongly supported Union Hospital, a medical facility for Blacks during the years of segregation and established a brick factory.  If you visit Freedman's town the bricks you see in a few of the streets were made at his facility.  His residence at 1319 Andrews is one of the few historic buildings that remain in  Freedman's town (Fourth Ward). It is being converted iinto a museum about Black health professionals who practices in this area. (Grave unmarked.)
Sessums, John Jr. (1849-1928) – Musician – Organized in 1873, the Texas Light Guard is one of the oldest National Guard units in Texas.  It mobilized nine times to maintain peace in Houston and once in Galveston, following the Great Storm of 1900.  During the Spanish-American War of 1898 these soldiers were sent to support the U. S. Army in Cuba.  But they were famous for their brilliant reputation in military drills.  The Guard won over $40,000 in cash and prizes and finally were no longer invited to competitions, as they seemed invincible.  Sessums was the only Black member of the Guard and was named Perpetual Drummer.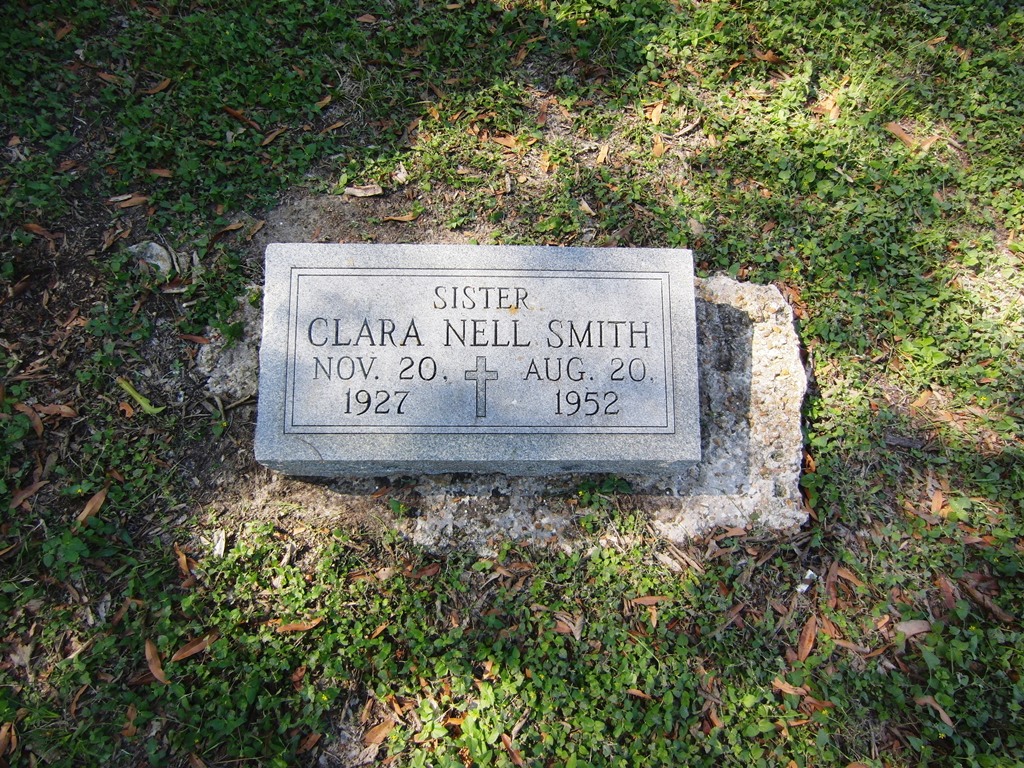 Smith, Clara Nell (1927-1952) – Clerk – This native born Texas single woman worked as a clerk in a Houston jewelry store.  Her life came to a tragic end on August 13, 1952 when she suffered an appendix attack and died on the operating table.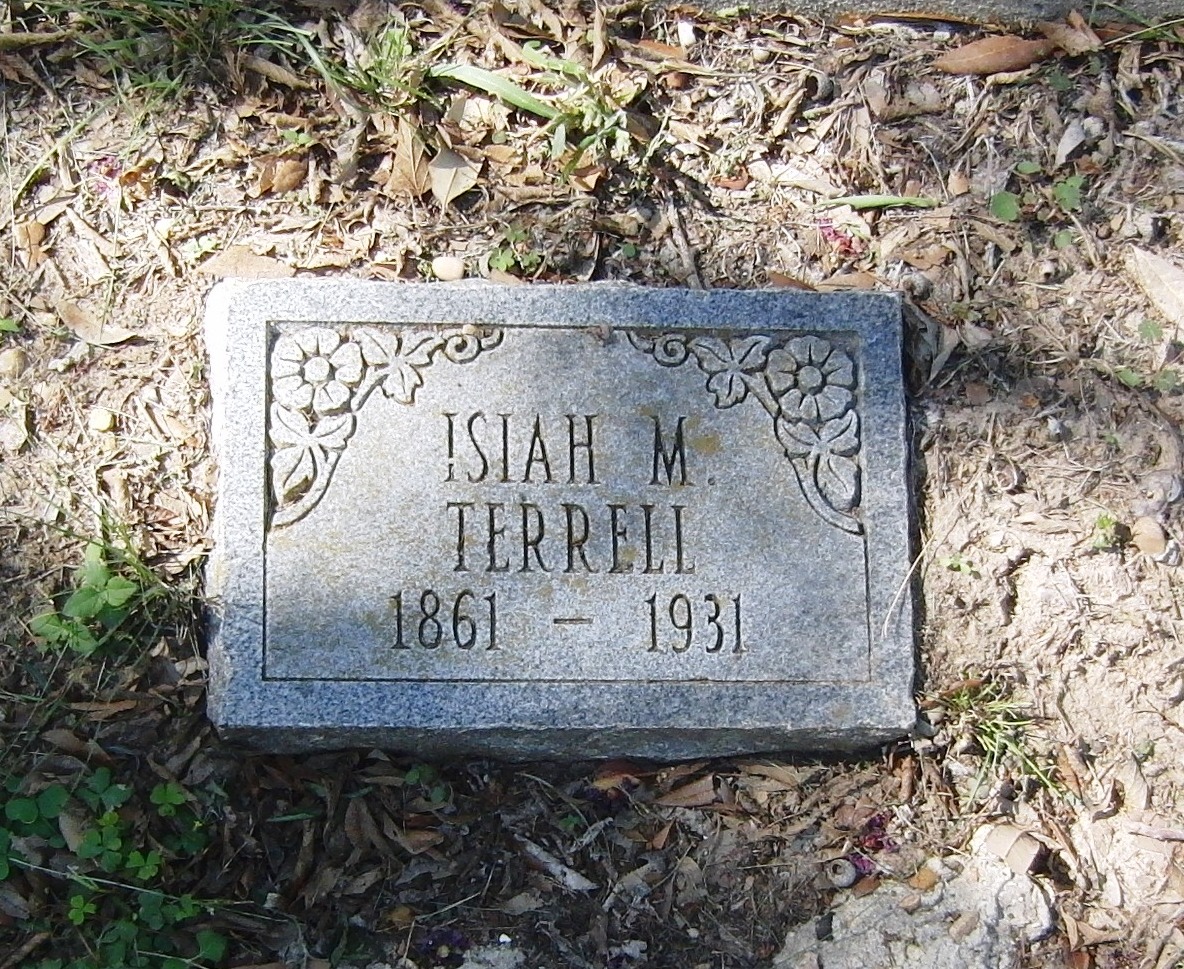 Terrell, Isaiah Milligan – (1861-1931) – Educator – Born as a slave in Texas, when he became a free man Terrell quickly realized how important education would be in allowing former slaves to get on the road to prosperity.  He established the first school for these individuals in Fort Worth.  From 1915 until 1918 Terrell served as President of Prairie View A & M University.  He moved to Houston to accept the Presidency of Houston College in 1918.  Terrell was a founder and first administrator of the Negro Hospital in Houston, a facility that operates today as Riverside General.  He and his wife, Marcelite, lived on the street that runs in front of College Park Cemetery.  (See Terrell, Marcelite.)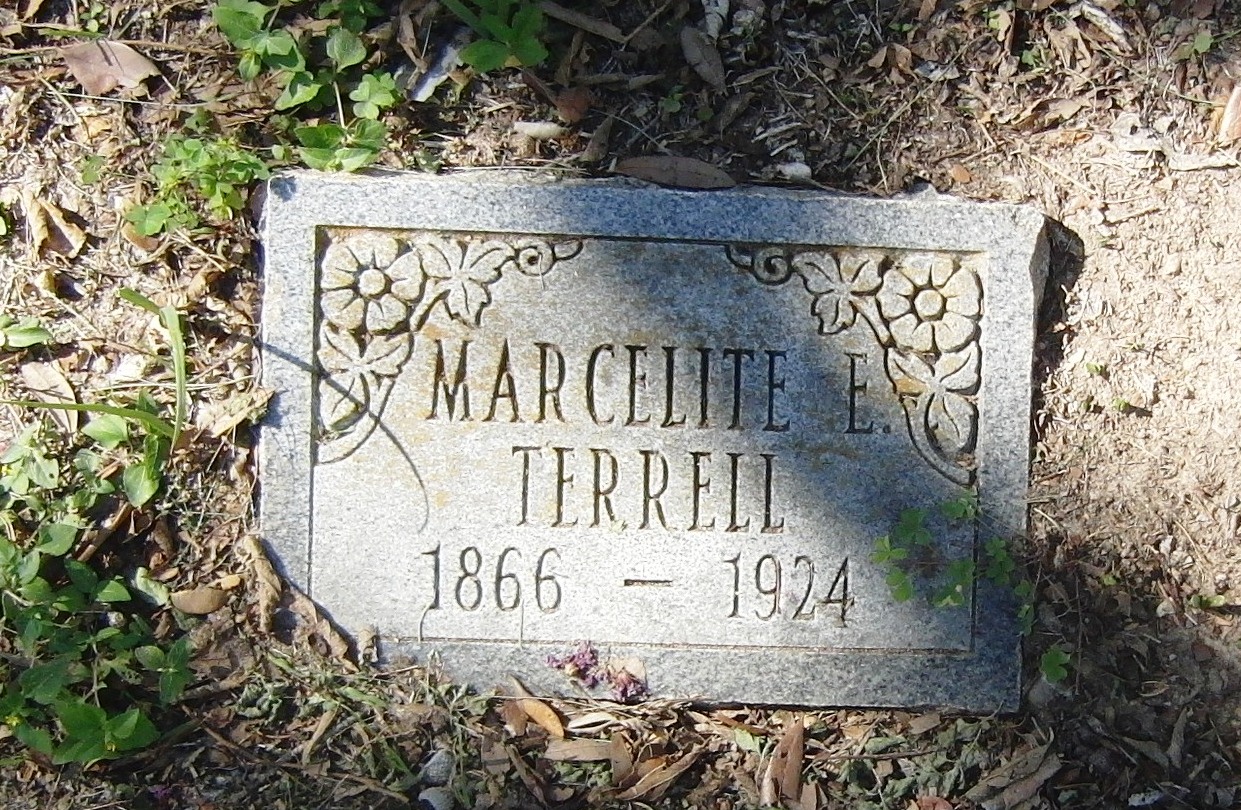 Terrell, Marcelite E. (1866-1924) – Educator – She was a native of Louisiana.  Her father, a slave by birth, became the first Black mayor in America in 1868 (Donaldson, Louisiana).  He later served in the Louisiana Legislature.  Following her marriage to Isaiah Terrell in 1883 the couple moved to Houston where she became a college professor.  (See Terrell, Isaiah.)
Waller, Lucy (1854-1916) – Housekeeper & Nurse – Born a slave in Virginia she moved to Texas in 1875 where she was a companion of Miss Emma Gardner.  When Gardner returned to Virginia in 1889, Waller was employed by Judge James L. Autry of Houston to take care of his two children.  She was known by the family and other Houstonians as Aunt Lucy.  Waller was also known for smoking her pipe.  When she died the Autry family wanted her interred in Glenwood Cemetery on Washington Avenue.  However, the Jim Crow laws prevented this.  Thus the Autrys bought her a plot in College Park.  What makes her final resting place unusual is that unlike most graves in College Park that face east, Waller's faces north toward the Autry's plot in Glenwood.
Yates, Annie (?-1897) – Housewife – She was the second wife of Rev. Jack Yates.  They were married in 1888 following the death of Yates' first wife, Harriet.  Annie bore him one son. (See Yates, Jack.)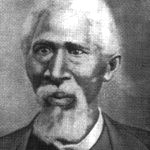 Yates, John Henry "Jack" (1828-1897) – Renaissance man – He was born a slave in Gloucester County, Virginia on July 11, 1828. Although it was a crime, his mother taught him to read and Yates would sneak out into the woods and read the Bible. He married Harriet Willis with whom he had 11 children.  In 1863 her master moved Harriet and the children to Texas. Yates joined them in Houston following Emancipation in June 1865.  A drayman by day he was a preacher at night and on Sundays. In 1866 Antioch Missionary Baptist Church was organized with Yates as its first pastor.  Under his management this church functioned as an infrastructure for former slaves, teaching them the basics of how to function as free men.  They were taught to read, how to get jobs, understand contracts, etc. In 1872 Yates led efforts to create Emancipation Park on Dowling Street as the first park for Black Houstonians. In 1885 he organized Houston Academy, a school for Black children. Yates Senior High School is named in his honor.
Yates, Rutherford (1878-1944) – Printer – This gentleman was the son of Reverend Jack Yates.  He attended Bishop College in Marshall, Texas where he earned a degree in printing in 1906.  He practiced his trade in Houston.  In 1922 Yates and his younger brother, Paul, opened Yates Printing and Lithographic Company, the first Black entrepreneurs to own and operate a printing company in Houston.  They published books, bibles, hymnals and newspapers. This civic minded man was responsible in getting the dirt streets of Freedman's Town paved with
bricks (some of which remain today.)  Yates also fought to have a streetcar line laid along what is today West Dallas, the main route to Freedman's Town.  In 1997 the Rutherford B. Yates Museum opened telling the history of this near downtown neighborhood.   (See Yates, Jack.)