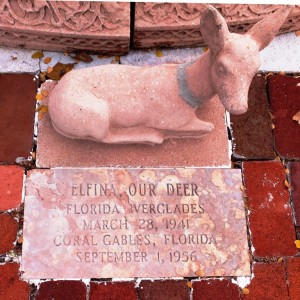 Key West City Cemetery
701 Passover Lane, Key West, FL
Established 1847
20 acres
Burials 80,000-100,000
website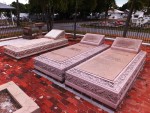 Otto Family Plot – This family grave site is one of the more unusual in the cemetery.  Interments here include a Prussian-born doctor, Joseph Otto (1826-1885) and Thomas Osgood Otto (1865-1917), a businessman.  What is out of the ordinary is the Otto family buried all of their pets in this plot including three Yorkshire Terriers, Little Boy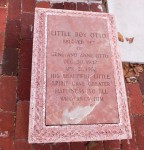 Otto (1943-1952), Little Derry Otto (1952-1962) and Sunny Otto (1952-1970).  However, the piece de resistance is Elfina (1941-1956), their pet deer (see photo above).
Otto, Robert Eugene "Gene" (1900-1974) – Owner of Haunted Doll – (See sidebar Robert the Haunted Doll.)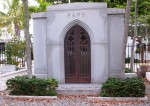 Papy, Bernie Clayton, Sr. (1902-1964) – Politician – He was a Florida state legislator who served 14 consecutive terms, totaling 26 years of service.  Papy was also a very successful real estate speculator.  During his investment career he had to contend with the Great Depression, World War II and the economic boom the island experienced in the 1950s.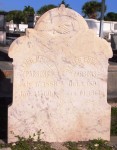 Parsons, Baxter McMillan (1886-1914) – Laborer – He was a Cayman Islander who migrated to Key West.  Parsons and his nephew were working on a construction job when they were killed in a dynamite explosion.  (See Parsons, James.)
Parsons, James Edmund (1895-1914) – Laborer – Born in the Cayman Islands he moved to Key West with his family.  Parsons died in a dynamite explosion along with his uncle.  (See Parsons, Baxter.)  They are buried side by side.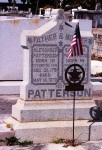 Patterson, Alexander (1797-1870) – Jack of All Trades – This New Englander moved to Key West and opened a general store. During the War of 1812 he served as a lieutenant.  In addition Patterson was mayor of the island, serving four terms (1845-1868), a high ranking Mason and an auctioneer of cargo salvaged from shipwrecks that often occurred on the reefs surrounding the island.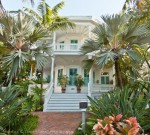 Peacon, Richard (1840-1914) – Grocer – He was born in the Bahamas.  Upon arriving in Key West, Peacon opened an upscale grocery store.  It was known to carry staples as well as a variety of exotic products.  Also available were pots, pans, crockery and other kitchen utensils.  Peacon was also one of the original directors of the Island National Bank in 1905. He owned one of the most famous homes in Key West. In 1885 Peacon built an eight sided house dubbed Octagon House.  It still stands.  In 1980 Designer Calvin Klein bought the place and kept it for seven years.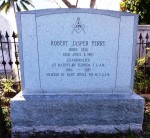 Perry, Robert Jasper (1838-1907) – Lodge Member – He was the Grandmaster of the Masons of Florida Free & Accepted from 1884 until 1885.  Perry was also a member of the Dade County Lodge No. 14.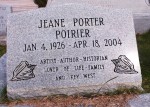 Poirier, Jeane Porter (1926-2004) – Author – This sixth generation Key Wester writer is remembered for her book, A Native's Collection of Legends, Stories, Memories.  Poirier called it a selection of vignettes that she called "Conch Smiles."  Her mother was Jessie Porter Newton. (See Newton.)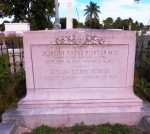 Porter, Joseph Yates (1847-1927) – Doctor – He studied medicine in Philadelphia.  Porter joined the U. S. Army and served as a doctor.  He was stationed at Fort Jefferson in the Dry Tortuga Islands off Key West.  The Fort is a massive yet unfinished coastal fortress built in the mid-1800s.  It is the largest masonry structure in the Americas, containing over 16 million bricks.  Later Dr. Porter was instrumental in discovering that mosquitos carried and transported Yellow Fever.  He was named Florida's first health officer.  Porter's home is
on the U.S. National Register of Historic Places.  Built in 1839 the structure is a combination of Bahamian, French and New England architecture.  Its main features are a mansard roof, gable dormers, ornamental porch posts and a hand forged wrought iron fence.  At age 80 Porter passed away in the same room in which he was born.
Priests of the Basilica of St. Mary Star of the Sea – This plot is owned by the nearby Basilica.  It is dedicated to wandering mariners.  There is only one tombstone in the plot.  Fourcade, J. M. – (?-1878) – Reverend Father – Little is known about this gentleman except he was a priest at St. Mary's Star of the Sea and is interred under the large cross in the center of the plot.  Fourcade died in a Yellow Fever epidemic that struck Key West in the late 1870s.
Recio, Carlos (1849-1910) – Grocer – A native of Cuba he came to Key West in 1872 and opened a small chain of grocery stores.  Later Recio built the largest wholesale/retail store on the island.  He served on the County Board of Commissioners.  Recio was a Mason and an Odd Fellow. He was a close friend of Cuban revolutionary Jose Marti.  During the War of Cuban Independence Recio aided Marti by smuggling food supplies to the revolutionaries in Cuba.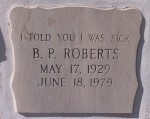 Roberts, B. Pearl (1929-1979) – Hypochondriac – Her claim to fame is her famous epitaph that states "I told you I was sick."  There is a rumor that Robert's plaque on the exterior of a small mausoleum was the tabletop upon which she kept all of her medicines.
Richard T. "Tuggy" Roberts (1818-1888) – Ship Captain – (See Bartlum, John.)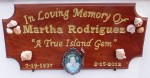 Rodriguez, Martha (1937-1912) – Popular Citizen – Her epitaph reads "A true island gem."
Romer, Thomas (1783-1891) – Ship Captain – He was born in Nassau.  During the War of 1812 Romer was a privateer in the U. S. Navy.  He lived to be 108 years old.  Romer's epitaph reads "A good citizen for 66 years."  Which begs the question "Was he a bad citizen for the other 42 years?"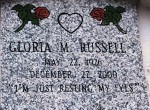 Russell, Gloria M. (1926-2000) – Good Sense of Humor – Here we have another great epitaph that reads "I'm just resting my eyes."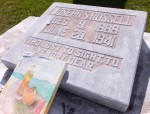 Russell, Joseph S. "Sloppy Joe" (1889-1941) – Famous Barkeeper – In addition to owning one of the most famous watering holes in America, Sloppy Joe's Bar, he was Ernest Hemmingway's friend and charter boat captain during the 1930s, fisherman and guide and a rum runner.  Russell's friends called him Josie.  He once took Hemmingway fishing for 115 straight days during which time the author landed an astonishing 54 marlins.  Hemmingway modeled the character Freddy, owner of Freddy's Bar and captain of the Queen Conch in his 1930s novel To Have and Have Not.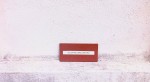 Sanchez, Ellen Welters (1902-2007) – Versatile Woman – Among other things she was a composer, teacher, musician, accompanist and godmother of 20 children.  Sanchez wrote the song "The Beautiful Isle of Key West."  Not a wealthy woman she does not yet have a grave marker, only a small printed card marks her final resting place. Sanchez died at 105 years of age.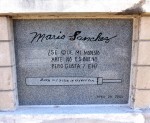 Sanchez, Mario (1908-2005) – Folk Artist – A native of Key West, he began carving and painting images of local fish on found pieces of wood in the early 1930s.  Later Sanchez added street scenes of island life and characters.  His studio was in the yard of his home under a mango tree that the islanders called "Mario's Studio Under the Trees."  In his lifetime this artist produced over 600 pieces.  In 1985 the Florida Secretary of State and the Florida Folklife Council gave Sanchez the Florida Folk Heritage Award.  When he passed away his many fans gave him a traditional Bahamian funeral with an African band that led the way for the hearse, followed by mourners to the cemetery.  On his tombstone is carved "Se que mi modesto arte no es bueno, pero gusta?  Eh?" which roughly translates to "I know my art is not great, but likable. Yes?"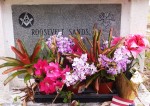 Sands, Roosevelt (1901-1997) – Civil Rights Activist – He was of Bahamian descent but born in Key West.  Roosevelt had an influence on many things on the island from civil rights to baseball.
Sawyer, Abraham Lincoln "General" (1862-1939) – Circus Performer – He was a 40-inch tall midget who traveled around the country performing with a number of circuses.  Sawyer's final wish was to be buried in a full sized coffin.  His friends made sure that dream was fulfilled.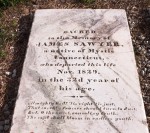 Sawyer, James (1797-1829) – Mariner – Born in Connecticut he was a ship captain who immigrated to Key West.  Sawyer's tombstone is among the oldest in the cemetery.  He was originally buried in the old cemetery that was destroyed in the 1846 hurricane.  Sawyer's marker was moved here.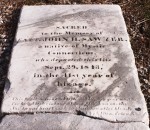 Sawyer, John H. (1802-1843) – Mariner – Like his brother, James, his old grave was moved from the destroyed cemetery.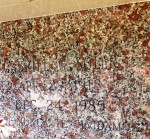 Soler, Gabriel G. (1918-1985) – Tradesman – He was a carpenter and enjoyed playing the guitar.  On his grave are two hand painted tiles, one is a portrait and the other is of his tools. Its inscription reads  "Nunca te Olvidamos" — "you'll never forget."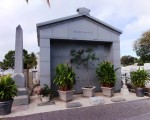 Spottswood, John Maloney (1920-1975) – Jack of All Trades – He was a lawman, politician, hotelier, entertainer and businessman.  He was a sheriff, Florida state senator, owned two hotels and starred in a movie.  In addition Spottswood founded the island's first radio station (1944) as well as one of the nation's first cable TV systems (1955).  He was a close friend of President Harry Truman who had a home in Key West.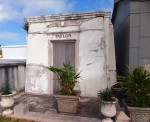 Taylor Family Vault – This monument is a good example of Egyptian Revival style.  Its décor is associated with eternity.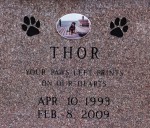 Thor (1998-2009) – Beloved Pet – Someone loved this dog a lot.  His epitaph is cute.  It reads "Your paws left prints on our hearts."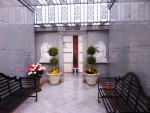 Toppino, Charley P. (1890-1958) – Builder – Born in Italy, he moved to New York and then to the Key West.  Toppino was a major force in constructing the Overseas Highway that connects the Florida Keys.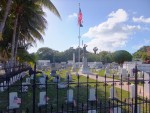 U. S. S. Maine Monument – This plot contains the remains of sailors and officers who died when the Maine, an American battleship, exploded in the Havana, Cuba harbor on the morning or February 15, 1898 igniting the Spanish-American War. It is estimated that 260 men died in the blast. Most were taken to various locations in America but approximately 20 bodies were not recovered for several weeks.  For reasons unknown these were sent by the U. S. Navy for burial in Key West.  An attachment of Marines provided an honor guard to accompany the caissons bearing the caskets.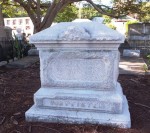 Von Pfister, William (1807-1885) – Entrepreneur – This New Yorker, along with his wife, moved to Key West.  Von Pfister was involved in several ventures including being a mariner and a real estate investor. However, he is best remembered as a grocer. Following his death the store remained in business until 1927.  Today the building is the home of the Green Parrot Bar, a popular spot of locals and tourists.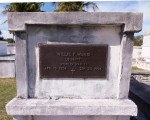 Ward, Willie F. (1924-1994) – Civil Rights Activist – He was president of the Key West NAACP and was active in community affairs.  Ward hosted a radio show and was known to sing.  He worked for 45 years at the Key West Citizen as a lithography and press foreman.  Ward served in the Navy during WW II.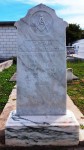 Watlington, Francis (1804-1887) – Mariner – He was a ship captain who arrived in Key West from New York in 1828.  Watlington captained numerous vessels including the Sand Key Lightship as well as his own schooner, Activa.  He also served as a coastal and ship pilot as well as port inspector.  Watlington was also a Florida Statehouse Representative.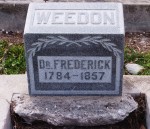 Weedon, Frederick (1784-1857) – Physician – Born in Maryland he lived in Alabama before settling in Florida.  Weedon was elected mayor of St Augustine in 1835.  He served in the Florida Militia during the Seminole War (1835-7.)  In 1838 Weedon was an assistant surgeon in the U. S. Navy when he helped escort Seminole chief Osceola to Fort Moultrie, SC for his imprisonment.  He practiced medicine in Key West and died at Fort Jefferson in the Dry Tortugas (See Porter, Joseph.)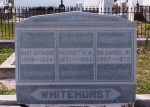 Whitehurst, Daniel Winchester (1808-1872) – Jack of All Trades – This Virginian spent some time in Africa before arriving in St. Augustine, FL where he became editor and publisher of the St. Augustine News (1838-40.)  Whitehurst was a lawyer, fought in the Seminole War (1835-7) and earned a medical degree at New York University (1843.)  He moved to Key West where he served as a U. S. Army physician until 1861.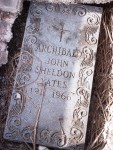 Yates, Archibald John Shelton (1911-1966) – Island Character – He has one of the strangest gravesites in this cemetery and maybe any cemetery.  Yates requested a nude marble statue of his wife be carved and placed over his grave.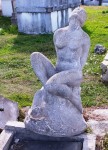 The statue is known as the "Bound Woman." She is sitting down on her lower legs, hands bound behind her back, looking upward with a grimace on her face.  The statue is resting right over where Yates face is located.  His wife, who outlived him, lies beside him for eternity.  For years visitors and islanders have been baffled by the meaning of this memorial. We visited this grave about 20 years ago and photographed it.  Since then the site has been desecrated.  However, the statue remains untouched.
We want to thank the Historic Florida Keys Foundation and the Friends of the Cemetery for their excellent Self-Guided Tour & Map for pointing out interesting people interred there.  It allowed us to do considerable more research to discover additional facts about these and other historic Key West citizens.