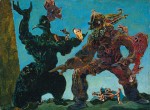 NEW Ernst, Max (1891-1976) – German painter, sculptor, graphic artist and poet – a pioneer of Dadaism (an early 20th century  European art movement that was anti-art, anti-war and anti-bourgeois) and Surrealism (a movement where artists created unnerving, illogical scenes, creating strange beings from everyday objects and developing techniques that allowed the unconscious to express itself), Ernest was one of the most bold, experimental artists of the 20th century. Prolific and highly collectable, Ernst is represented in major museums throughout the United States and Europe including a special exhibition at the Menil Collection in Houston.
Gachet, Paul (1828–1909) – Doctor – Dr. Gachet was a physician and friend to a number of French Impressionist painters including Van Gogh, Pissarro, Renoir, Manet and Cézanne. He knew Victor Hugo (author) and the French chemist Henri Nestle and prescribed Nestle's new powdered milk formula to some of his pediatric patients. In fact, Gachet was an amateur painter himself, signing his works "Paul van Ryssel." His medical advice to Vincent Van Gogh has come under some disparagement because he treated Van Gogh in the weeks just prior to his death. Others feel, however, that he did as much as any doctor could, given Van Gogh's continued binge drinking and smoking. Van Gogh's portrait of Dr. Gachet is just one of many works done by various artists of Gachet and his home. His friendship and support of so many painters resulted in one of the largest collections of Impressionist paintings in Europe in the early 20th century.
Lesseps, Ferdinand de (1805-1894) – Diplomat and Developer of the Suez Canal – A career diplomat from a long line of career diplomats, de Lesseps' major achievement was the development and construction of the Suez Canal. He was not an engineer but organized the necessary political and financial support and provided the technical background required for such a huge project. His early career postings to Tunisia and Egypt sparked an interest in the growing trade between the West and the East. He had read about Napoleon's abandoned plan for a canal to connect the Mediterranean to the Red Sea, thereby reducing the months-long shipping route around Africa. Construction began in 1859 and the Canal opened in 1869. A monument at Port Said celebrates de Lesseps' contribution. In 1879, he began work on a canal through Panama but after 8 years, minimal progress had been made and de Lesseps and his son were accused of mismanagement, heavily fined and sentenced to prison. The older de Lesseps did not go to prison but his son spent a year in jail.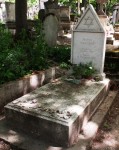 Marceau, Marcel (1923-2007) – Mime and Actor – Marcel Marceau was born Marcel Mangel to a Jewish family in Strasberg, France. In 1944 his father was captured by the Nazis and sent to Auschwitz where he died. He and his brother adopted the name Marceau during the Nazi occupation. They joined the French Resistance (the name given to the numerous cells of French men and women who fought against the Nazi occupation and the collaborationist Vichy government) and saved many children from the Nazi brutality. According to Marceau, he used mime to keep the children quiet while he helped them escape to neutral Switzerland.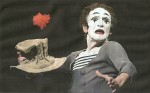 After the war, he enrolled in the School of Dramatic Art at the Sara Bernhardt Theatre (see Sara Bernhardt) and received almost instant acclaim in his early dramatic roles. In 1947, he invented Bip the Clown who wore a striped pullover shirt and a red-flowered silk top hat. His outfit symbolized life's fragility and Bip became Marceau's alter ego much as the Little Tramp was Charlie Chaplin's. Bip's adventures included everything from bird keeping to lion taming but perhaps his most famous performances are his "walking against the wind" and "the cage." In fact, American pop icon Michael Jackson (Marceau's friend for 20 years) was influenced by Marceau's walking against the wind performance in developing his Moonwalk routine. Marceau was awarded numerous honors, was an elected member of Fine Arts Academies around the world and held honorary doctorate degrees from several universities. He was awarded the Wallenberg Medal in 2001 for his courageous acts during World War II. Here are a series of YouTube videos showing his brilliance at mime.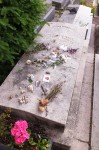 Modigliana, Amédéo (1884-1920) – Italian Painter and Sculptor – Famous for his portraits and sculptures in a modern, elongated style, Modigliana was not successful during his lifetime but his works are much admired and sought after today. One of his nudes sold at auction in 2010 for $68.9 million.
Born into a Jewish family whose maternal line was an intellectual, scholarly family and his paternal ancestors were successful entrepreneurs, Modigliana's birth saved the family from financial ruin. According to ancient law, authorities could not confiscate the bed of a new mother. The creditors arrived just as his mother went into labor and the family heaped their most valuable possessions on top of her bed.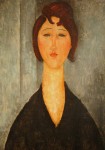 Modigliana began drawing and painting as a child but his health problems, including pleurisy, typhoid fever and tuberculosis, his lifestyle choices (smoking hashish, drinking absinthe, among others) and his belief that true creativity could only be achieved through defiance and disorder took their toll. He moved to Paris in 1906 but within a year had changed from a bourgeois trained artist into a voracious drug user and hopeless drunk. He produced hundreds of works but most are lost – either traded for food, drink, drugs and women, left behind in his frequent relocations or destroyed because he felt them inferior.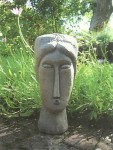 In 1909, after a time of recovery in Italy, he returned to Paris and took up sculpting. His works were exhibited in 1912 but he abandoned sculpting by 1914 because of difficulty in acquiring materials and his poor health. In 1917, he had his only solo exhibition of paintings, notoriously closed by police on opening day for its obscenity but allowed to reopen after certain paintings were removed from the storefront windows. In 1919, he met the love of his life, Jeanne Hébuterne who was pregnant with his second child when he finally succumbed to tubercular meningitis in 1920. She was so distraught; she flung herself out a 5th floor window the day after his death. A decade later, her family allowed her body to be buried with his in Père-Lachaise. His epitaph reads "Struck down by Death at the moment of glory." Hers reads "Devoted companion to the extreme sacrifice."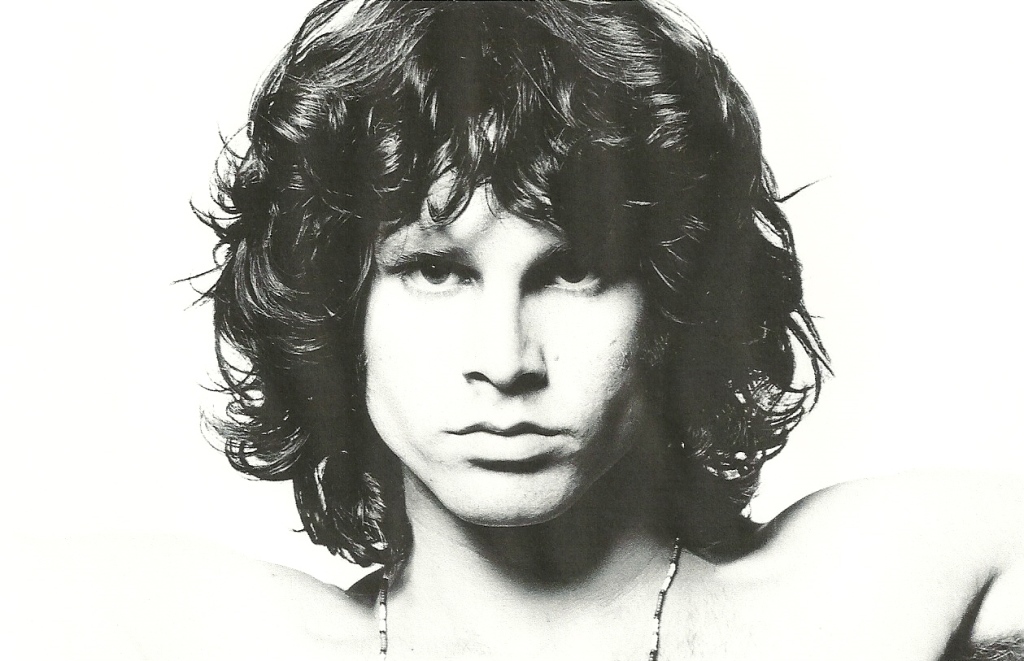 Morrison, Jim (1943-1971) – Poet, Songwriter and Singer – James Douglas "Jim" Morrison was an American songwriter and lead singer for The Doors. Ranked 47 on Rolling Stone's "100 Greatest Singers of All Times, Morrison was one of the 20th century's pop culture icons. He personified the "hippie counter culture rebellion."
Born to a future US Navy Rear Admiral, Morrison and his family moved quite often during his early years. An avid reader as a young person, particularly philosophy, poetry and some existential works so obscure that one English teacher had to verify with the Library of Congress that the books actually existed. His college career took him from Florida to California where he eventually graduated with a degree from the UCLA film school.
Living in Venice Beach, CA, he supposedly existed on "canned beans and LSD" while writing the lyrics to what would become early Doors songs. In 1965, he teamed up with fellow UCLA film student Ray Manzarek, drummer John Densmore and guitarist Robby Krieger to form the band. They took their name from Aldous Huxley's book The Doors of Perception, a reference to psychedelic drug use. Morrison and Krieger co-wrote most of the group's biggest early hits including "Light My Fire," "Love Me Two Times" and "Love Her Madly." In June 1966, the Doors opened for Van Morrison (no relation) at the Whiskey a Go Go club on Sunset Strip in Los Angeles. Van would influence Jim's emerging stage persona including his attitude of quiet menace and his spontaneous poetry recitations to the band's background beat. In 1967, the Doors signed with Electra Records and achieved national acclaim. "Light My Fire" spent three weeks at the number 1 spot on Billboard's Hot 100. They later appeared on the famous Ed Sullivan television show where censors requested they change the lyrics in "Light My Fire" to say "Girl we couldn't get much better" instead of "Girl we couldn't get much higher." They agreed, but on stage, performed the original version. Sullivan was so mad he refused to shake Morrison's hand. By 1968, they had produced 4 best-selling albums and were featured in a number of music videos. It was around this time that Jim's heavy drinking and drug use began to impact the band.
By 1969, the incredibly good-looking, sexy Morrison had gained weight, traded his black leather pants for jeans and was even convicted of on-stage indecency and profanity. The Doors produced several more important albums, the final one "LA Woman" before Morrison left for Paris to join his long-time companion Pamela Courson. There he died on July 3, 1971, at age 27. The official cause of death was "heart failure" but many questions surrounded his passing. Courson reportedly told friends that Jim died of a heroin overdose when he accidently snorted heroin, thinking it was cocaine. She also suggested that it was her fault: she knew he was in trouble but she was too stoned herself to get him the help he needed. There have been other wild claims over the years, including that his death was faked and, like Elvis, he's still alive. Whatever the cause of death, his reckless lifestyle led to his downfall.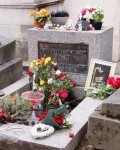 To this day, Morrison is considered the prototypical rock star: sexy, brooding, shocking, enigmatic. He has influenced countless rock bands, lead singers, film makers, even the cartoon The Simpsons. Our favorite Doors song is featured in Francis Ford Coppola's famous 1979 movie, Apocalypse Now: The End.
His grave is one of the most visited in Père Lachaise. In the early 1990s, his father had a bronze plaque placed on his grave that reads in Greek: ΚΑΤΑ ΤΟΝ ΔΑΙΜΟΝΑ ΕΑΥΤΟΥ. It means "true to himself" or "according to his own daemon" (guiding spirit).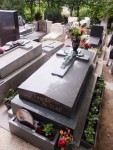 Piaf, Edith (1915-1963) – Singer – Born Édith Giovanna Gassion into a family of performers and musicians, Piaf (slang for "sparrow," a nickname she received 20 years later) was abandoned at birth by her mother and eventually sent to her paternal grandmother who ran a brothel. The prostitutes raised her until her father returned from World War I and she joined him as a street performer. She had a tumultuous life, suffering severe eye problems as a child, roaming the streets of France with her father and friends, having an affair which resulted in the birth of a daughter whom she abandoned and who died soon after. She was "discovered" in 1935 by a nightclub owner whose club was frequented by upper and middle class folks alike. He taught her stage presence, dressed her in her trademark black dress, changed her name to Piaf (gave her the nickname The Little Sparrow) and promoted her intensely which attracted many celebrities and important people. Even when Germany occupied Paris (1940-1944) her career blossomed. By 1947 she was considered France's most popular entertainer and began touring internationally. In America, she met some resistance as audiences thought she was "downcast" but a glowing review by a popular New York critic turned the tide and she eventually appeared eight times on the Ed Sullivan television show and twice at Carnegie Hall. Excerpts from her concert appearances at a famous hall in Paris were compiled into a CD that has never been out of print. The 1961 concert saved the venue from bankruptcy and debuted her famous song to the French Foreign Legion: "Non, je ne regrette rien"
Piaf died of liver cancer in 1963, her body being secretly returned to Paris so fans would think she died in her hometown. She was denied a funeral mass because of her lifestyle (many love affairs, several marriages, the use of morphine after a crushing accident) but thousands of mourners poured in the Paris streets and it's estimated that more than 100,000 were present at her grave. One friend remarked that it was the only time in Paris since the end of World War II that traffic came to a complete stop.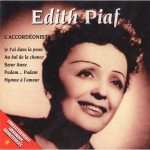 Piaf's influence can be seen in music and popular culture today. In 2007, a biographical movie, La Vie en Rose, earned the leading actress, Marion Cotillard, an Academy Award for Best Actress. Her music has been featured in countless films, plays and television shows, even in ad campaigns for Cadillac and a British optical company.
Pissarro, Camille (1830-1903) – Painter – Pissarro is considered the "dean of the Impressionist painters" but his importance to the Post-Impressionist movement is considerable too. Born in St. Thomas (now in the US Virgin Islands but then the Dutch West Indies), he showed an early interest in drawing and painting and a teacher encouraged him to "draw from nature." Following his education, his father insisted he work in the family business but he spent every free moment drawing and practicing. When he was 21, he and another Dutch artist moved to Venezuela where they painted landscapes, village scenes and filled sketchbooks with images from everyday life.
In 1855 (age 25), he moved to Paris and studied under a number of painters whose styles he admired. In 1859, one of his paintings was exhibited in the Paris Salon, the official academic organization that determined what "acceptable" art was. During this period, he was tutored by Camille Corot and the two men began to paint outdoors, a style called "plein air." Corot often completed his paintings in the studio, but Pissarro preferred to finalize his works on site. As a result, critics accused his art of being "vulgar" because he painted what he saw, not the romanticized side of it. It was at this time that Pissarro met Claude Monet, Armand Guillemin and Paul Cézanne. The four men shared a common resistance to the dictates of the Salon. All the men's paintings were rejected by the Salon but by 1868, art critic and writer Émile Zola stated, "Camille Pissarro is one of the three or four true painters of this day … I have rarely encountered a technique that is so sure." Another critic said, "He paints the smell of the earth."
In 1873, Pissarro and fifteen other ambitious, young impressionist artists formed a sort of cooperative to exhibit their paintings outside the Salon setting. Pissarro is the only one who exhibited at all eight of the group's showings (1874-1886). Because he was the oldest and because of his warm, counseling nature, he was considered the patriarch of the group. He also had a major impact on the Post-Impressionist painters: Georges Seurat, Paul Cézanne, Vincent van Gogh and Paul Gauguin.
During his lifetime, Pissarro sold few of his paintings but by the 21st century, his paintings were setting auction records. In 2014, Le Boulevard de Montmartre, Matinée de Printemps sold for £19.9M (nearly $31 million). Another aspect of his legacy is the family of painters and art world experts whom he fathered: three of his sons (out of seven children) were accomplished painters. His great-grandson was a Head Curator at the New York's Museum of Modern Art and an art professor. His only daughter produced sons and grandsons who were influential painters.