Serbin Cemetery: Graves of the Wends
FM 448 Lee County 5 Miles South of Giddings
Established 1850s
ca. 3 acres
Burials: Unknown
Texas Historical Marker
St. Paul's Lutheran Church
"Beloved, let us love one another: for love is of God;
and every one that loveth is born of God,
and knoweth God."
1 John 4:7 – Popular Wendish Epitaph
The Wends are Slavic people of an obscure origin who settled in central Europe following the collapse of the Roman Empire.  Today they are concentrated in eastern Germany.  Originally they had their own religion but became Lutheran Protestants following the Reformation.  In the mid-1800s, crop failures, droughts and war resulted in their emigrating from Germany to Australia and North America.
The first trickle of Wends arrived in Texas in 1849-50.  They settled in the Hill Country and were absorbed into the existing German colonists in that area.  In 1853 a small band left Germany bound for Texas.  They had a harrowing trip including a ship wreck off Cuba.  Fortunately no one was killed.  Finally they got to Galveston.  This group settled in New Ulm and Industry.
The most dramatic and influential migration of Wends were 600 souls who landed in Galveston in 1854.  These settlers were led by the charismatic Pastor Johann Kilian. They are the pioneers who settled the colony of Serbin.  The word Serbin means "Wendish Land" in German.
These settlers had the most important cultural influence of any group of Texas Wends.  Descendants of these people still live in Serbin today.  In 1871 the Wends erected St. Paul Lutheran Church.  It is an excellent example of Wendish architecture.  The most unusual feature is the pulpit that is located in the balcony.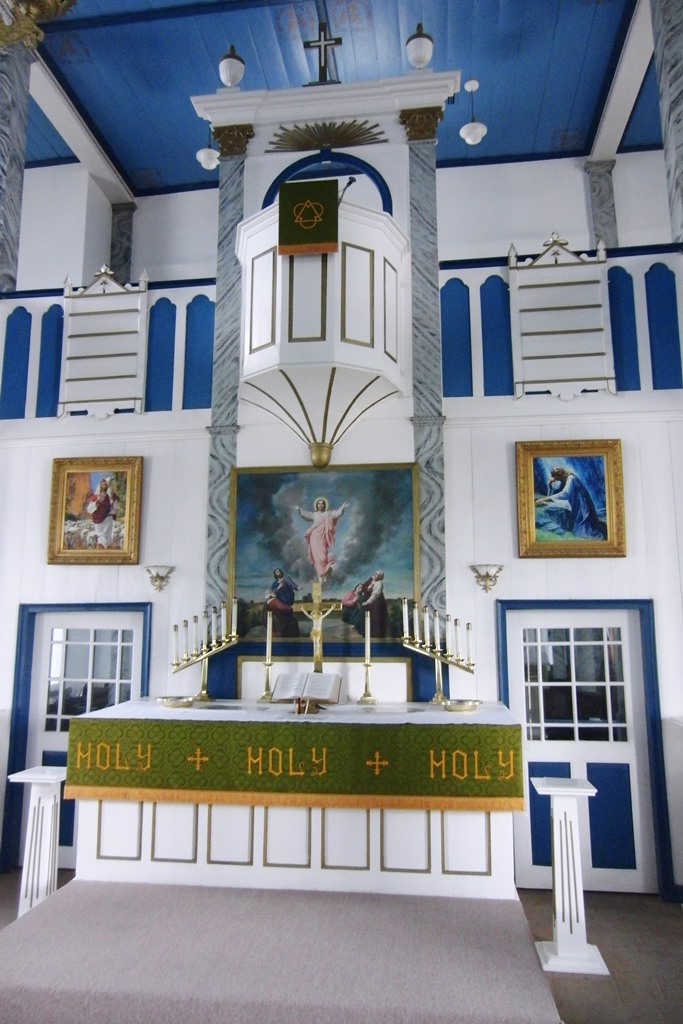 One of the reasons the 600 Wends came to Texas was to acquire a tract of land large enough that they could live together, thus preserving their culture.  Two lay leaders made a deal with a landowner where Serbin is today to purchase a 4,000 acre tract for $1 per acre. Of this 95 acres were set aside for a church, cemetery and school.  The remainder was bought by the settlers for their farms.
Kilian, Johann (1811-1884) – Wendish Pastor – He was born in Saxony, Germany to wealthy parents who could afford to give him a first class education.  Kilian went to theology school in Leipzig in 1831 and was ordained in 1834.  He chose to do missionary work that lead to him being called by a group of Wends planning to immigrate to Texas in 1854.  For the next 30 years Kilian served the Serbin community well.  He is remembered as the founding patriarch of Texas-Wendish Lutheranism.   His only problem was he was so highly educated that he found the Texas frontier an intellectual wasteland and missed discussions with professional colleagues and well-stocked libraries.
Kilian, Maria Groeschel (1823 – 1881) – Pioneer Woman – She was the wife of Pastor Johann Kilian.  Maria bore nine children, four of whom died young.  Two sons played important roles in the history of Serbin. Hermann was a pastor and Gerhardt (1852-1916) was organist and teacher at the Serbin School for 44 years.
Kilian, Hermann (1859-1920) – Wendish Pastor – Hermann followed his father, Johann, as pastor of St. Paul's Lutheran Church.  He served the congregation for 36 years.