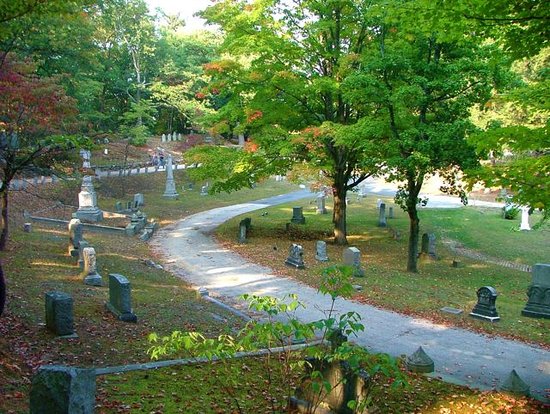 Sleepy Hollow Cemetery
Bedford St.
Concord, Mass.
Established 1855
90 Acres
Burials: @10,000
"The passive master lent his hand
to the vast soul which o'er him planned."
-Epitaph of Poet Ralph Waldo Emerson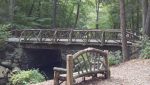 Sleepy Hollow Cemetery was designed by the well-known architectural firm Cleveland & Copeland of Boston.  Horace W. S. Cleveland and Robert M. Copeland formed a partnership in 1854 and were commissioned to design Sleepy Hollow the following year.  Both men were greatly influenced by poet Ralph Waldo Emerson's aesthetic principals of nature.  The cemetery was a result of the creation of a natural style garden with great emphasis on the geologic features of the landscape and the retention of the local flora.  Emerson commented that it was not only a place to honor the dead but also "…a garden of the living."  The famous poet also delivered the opening address when the burial ground was consecrated.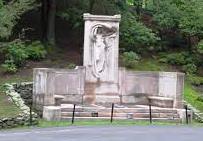 Upon entering the cemetery the first sight is of the "Mourning Victory" sculpture designed by artist Daniel Chester French (see below) in honor of his three brothers who died during the War Between the States (1861-5). French is interred behind the monument.  Not far away is the Authors Ridge area atop a glacial hill containing the graves of some of America's most famous writers and poets.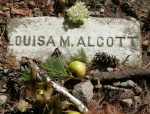 Alcott, Louisa May (1832-1888) – Author – She was born in Germantown, Pennsylvania.  Alcott was educated by her father, Bronson, and tutored by her famous neighbor, author Henry David Thoreau.  During the War Between the States she served as a nurse in the Union Army.  Alcott began writing melodramas in the 1840s under a pen name.  Her big break through came with the publication of Little Women (1868-9) and four sequels.  These books documented New England life in the 1800s with amazing accuracy.  They were instrumental in changing the focus of juvenile literature.   Alcott's untimely death was the result of mercury poisoning used in treating her for typhoid fever in childhood.  She is buried in Authors Ridge.
Arden, Elizabeth (at birth Florence Nightingale Graham) (1884-1966) – Queen of Cosmetics – She was born in Canada but moved to New York City to join her brother who worked for E. R. Squibb Pharmaceuticals Company where she learned skincare as a "treatment girl."  Arden went out on her own educating women about makeup, cosmetics, makeovers and coordinating eye, facial and lip products.  Her name change came as a result of adopting the name Elizabeth from a former business partner and Arden from the estate of good friend and millionaire race horse lover E. H. Harriman.  In 1912 Arden went international, opening salons around the world.  The Government of France awarded her the Legion d'Honneur in 1962 for her contribution to the cosmetics industry.  Her tombstone reads Elizabeth N. Graham.   
Bull, Ephraim Wales (1806-1895) – Farmer – This Bostonian was a goldsmith until he moved to Concord to make a career in horticulture in 1836.  Bull started a vineyard next to his home, Grapevine Cottage.  There he cultivated the now famous Concord grape, known for its ability to survive the harsh weather in Massachusetts.  Unfortunately, the venture was not financially successful so Bull turned to politics being elected to both the State House and Senate.
Bush, Anne Rainsford F. (1878-1962) – Steam Train Engineer – In addition to her occupation, Bush's claim to fame is that she was the first American woman to be issued an automobile drivers license.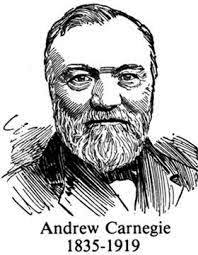 Carnegie, Andrew (1835-1919) – Industrialist – Born into a very poor family in Scotland, he immigrated with his family to America in 1848.  Carnegie started working as a telegraph operator.  He did well and soon began investing his savings in railroads, bridges and oil derricks.  Carnegie became wealthier by selling bonds of American companies to investors in Europe.  His stroke of genius was creating Carnegie Steel Company that he subsequently sold to J. P. Morgan for $480 million (worth about $6 billion in 2016.)  The new firm became U. S. Steel.  At this point he became one of America's most generous philanthropists.   Before his death in 1919 he donated $480 million for local libraries (2,509 on four continents), world peace, science and education.  Carnegie is best remembered for building Carnegie Hall in NYC, Carnegie Mellon University in Pittsburg and Carnegie Museums in that city.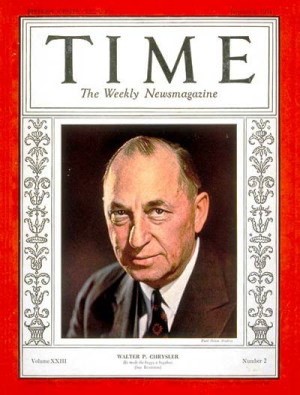 Chrysler, Walter Percy (1875-1940) – Entrepreneur – He was born in Kansas and as a young man, apprenticed in railroad workshops as a machinist and mechanic.  Apparently he was very good because in 1911 he was contacted by General Motors and offered a job as head of GM's Buick Motor Company.  General Motors founder, William C. Durant, personally hired him, offering an unheard salary of $10,000 a month ($170,000 today) and full control of the Buick Division.  In 1925 he created Chrysler Corporation.  That firm manufactured Chrysler, Plymouth, DeSoto and Dodge automobiles.  He financed the construction of the Chrysler Building in New York City that opened in 1930.  Chrysler was named Time Magazine's "Man of the Year" in 1928.  Retiring in 1936 he passed away from a cerebral hemorrhage in 1940.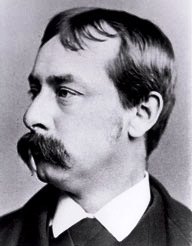 Church, Francis Pharcellus (1839-1906) –Newspaper Publisher & Editor – This New York native graduated from Columbia University School of Journalism.  Church joined his brother William at his newspaper, New York Sun, following a few years in the magazine business.  He will always be remembered for an editorial he published in 1897 in response to a letter from a young girl that contained the quote "Yes, Virginia there is a Santa Claus."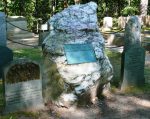 Emerson, Ralph Waldo (1803-1882) – Author & Poet – Born in Boston, he became a Unitarian preacher in 1829.  It did not take Emerson long to sour on organized religion and to move to Concord.  There he joined Henry David Thoreau as a chief proponent of Transcendentalism, a philosophy and literary movement against scientific rationalism.   Its principal tenet is that everything in our world is a microcosm of the universe, "an infinitude of the private man."  Emerson is remembered for his writings that are still read today, including Threnody, Nature and Essays. He is interred in Authors Ridge.  At his memorial service his friend Louisa May Alcott recited a sonnet.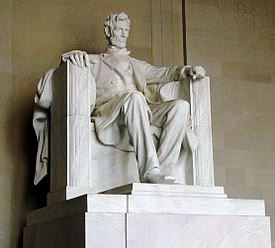 French, Daniel Chester (1850-1931) – Sculptor – Born in New Hampshire, he moved with his family to Concord in 1867.  There French befriended Ralph Waldo Emerson and Louisa May Alcott. He studied sculpture in America and Italy.  French became famous for his sculpture, Minute Man (1875), erected in Concord to honor the American Revolution.  Other well-known works include John Harvard (1884) and Alma Mater (1903.)  He is best remembered for the massive marble statue of Abraham Lincoln (1920) in the Lincoln Memorial in Washington, D.C.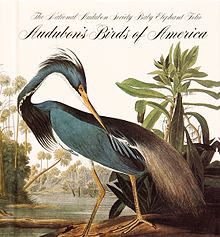 Havell, Robert Jr. (1793-1878) – Engraver – "The Birds of America" by John James Audubon, a painter and naturalist, is one of the greatest literary works in U. S. History.  Between the years of 1827 to 1838 Audubon published an eight-volume, elephant folio (yes, it's called elephant folio) of 425 life-size plates of our birds.  Havell was responsible for the printing and coloring of these prints. He was also a talented artist in his own right in the style of the Hudson River School of landscape painting.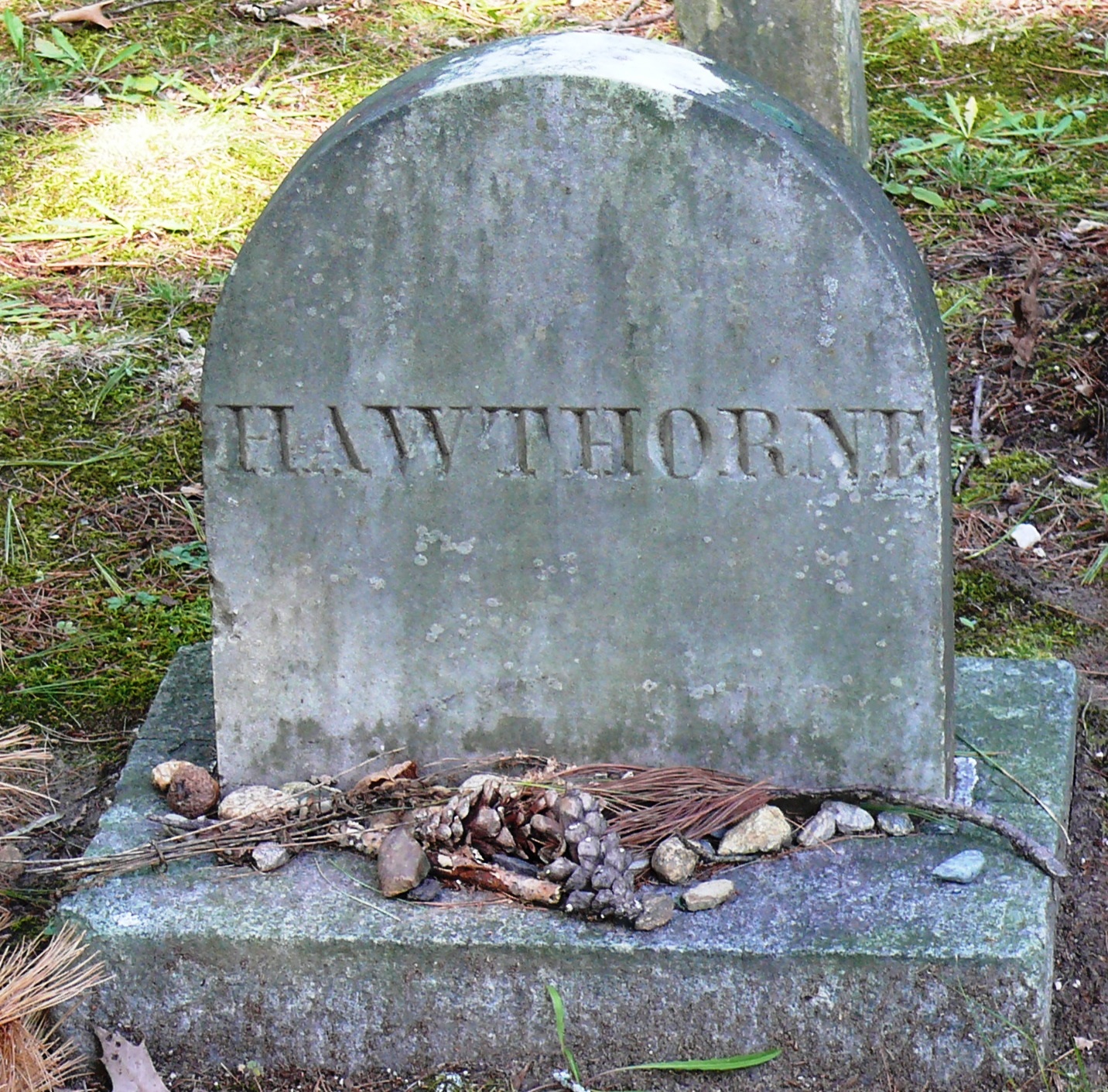 Hawthorne, Nathaniel (1804-1864) – Author – Born and raised in Salem, Massachusetts, a town still suffering from the guilt of the witch trials there in 1692-3, he moved to Concord in 1842. There Hawthorne was associated with other notable writers of the time including Alcott, Emerson and Thoreau.   He created a distinctive style of American literature that resulted in some of the nation's most famous books including The Scarlet Letter (1850), House of Seven Gables (1851) and Blithedale Romance (1852).  In 1853 his friend Franklin Pierce was elected President and named his old college friend, Hawthorne, Ambassador to England.  While there he wrote his last famous book, The Marble Faun.  Hawthorne returned to Concord where he died (possibly of cancer) in 1864.  His grave site is in Authors Ridge.
Hood, Raymond Mathewson (1881-1934) – Architect – He was born in Rhode Island and graduated from Brown University and Ecole des Beaux-Arts with degrees in architecture.  In 1922 he partnered with John M. Howells to design the Chicago Tribune Building for which he became known as one of America's finest architects.  Some of his more famous creations were the New York Daily Newspaper Building, Rockefeller Center and McGraw-Hill Building in New York City. It is believed that Ayn Rand based her fictional architect, Peter Keating, in her famous novel, The Fountainhead (1943), on Hood.  He is interred in an unmarked grave.
Irving, Washington (1783-1859) – Author – He is best remembered for the short stories in his book The Sketch Book of Geoffrey Crayon, Gent. The two most famous tales are Rip Van Winkle (1819) and The Legend of Sleepy Hollow (1820).  Irving moved to London in 1815 on family business and wrote this international best seller while in England.  He was also an excellent historian publishing a five-volume biography about George Washington (finished just months prior to his death) and one about Muhammad.  Irving also served as the American ambassador to Spain (1842-6).
Moore, Robert L. "Robin" (1925-2008) – Author – He was born in Boston but raised in Concord.  During WWII he was a nose gunner flying missions over Europe for which he won an Air Medal.  Following the war because of his connection with college buddy at Harvard, Robert Kennedy, Moore was given access to and permission to write about the U. S. Special Forces.  This resulted in his first blockbuster book, The Green Berets (1965) that birthed a motion picture of the same name starring John Wayne.  In 1969 Moore published The French Connection.  It also became a movie starring Gene Hackman that won an Oscar as Best Picture in 1971.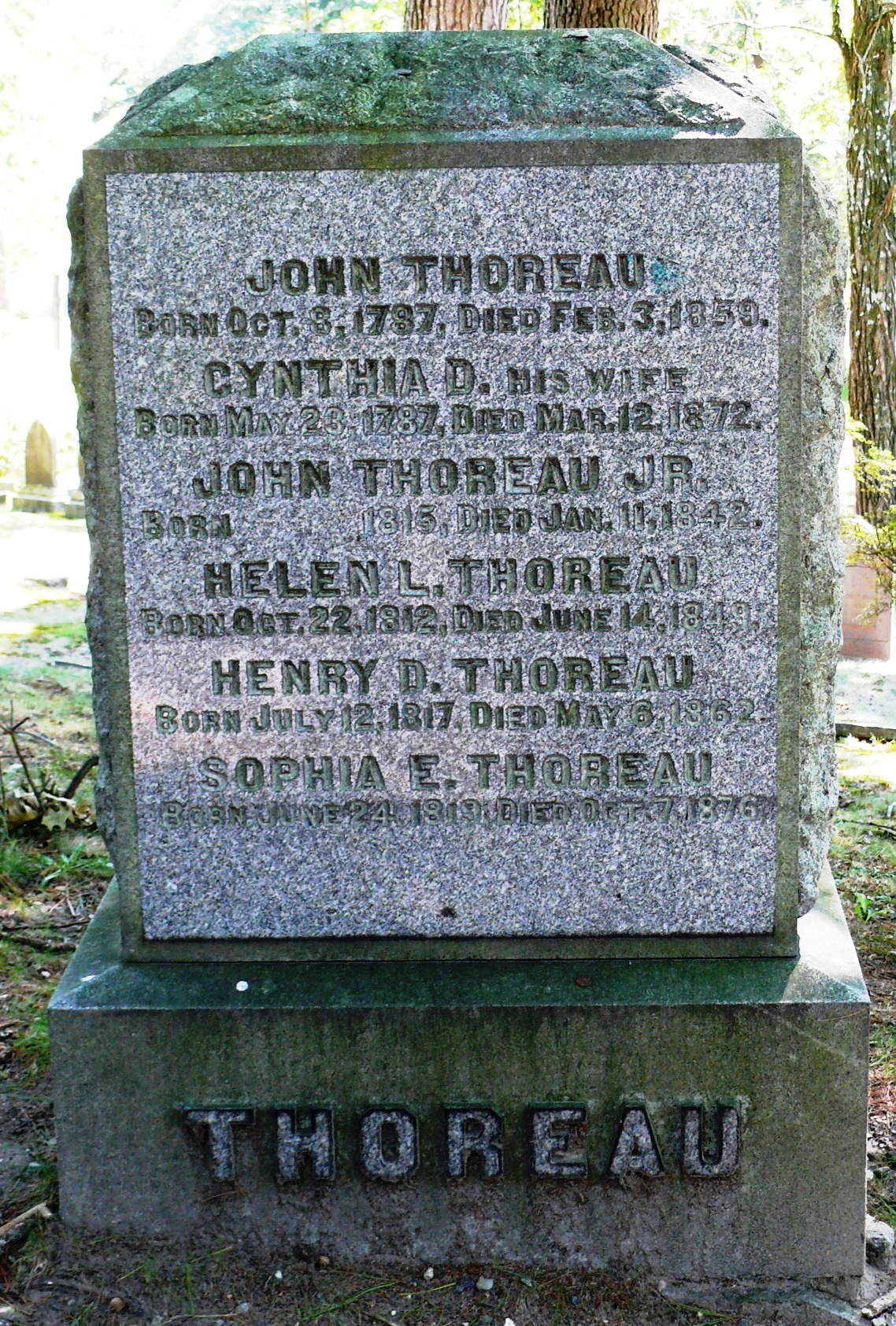 Thoreau, Henry David (1817-1862) – Author – In addition to his writing he is also remembered as a naturalist and Transcendentalist philosopher.  In 1845 he moved to a cabin on Walden Pond near Concord where he spent two years writing his most famous book, Walden, or Life in the Woods. Four years later Thoreau published his essay, Civil Disobedience that exalts the law of conscience over civil law and contains the famous quote "Under a government which imprisons any unjustly, the true place for a just man is also a prison."  Many years later such famous souls as Mahatma Gandhi and Martin Luther King developed their own concept of passive resistance to unjust laws based upon Thoreau's philosophy.  At his funeral mourner Ralph Waldo Emerson was heard to say "He had a beautiful soul." You may visit his grave in Authors Ridge.