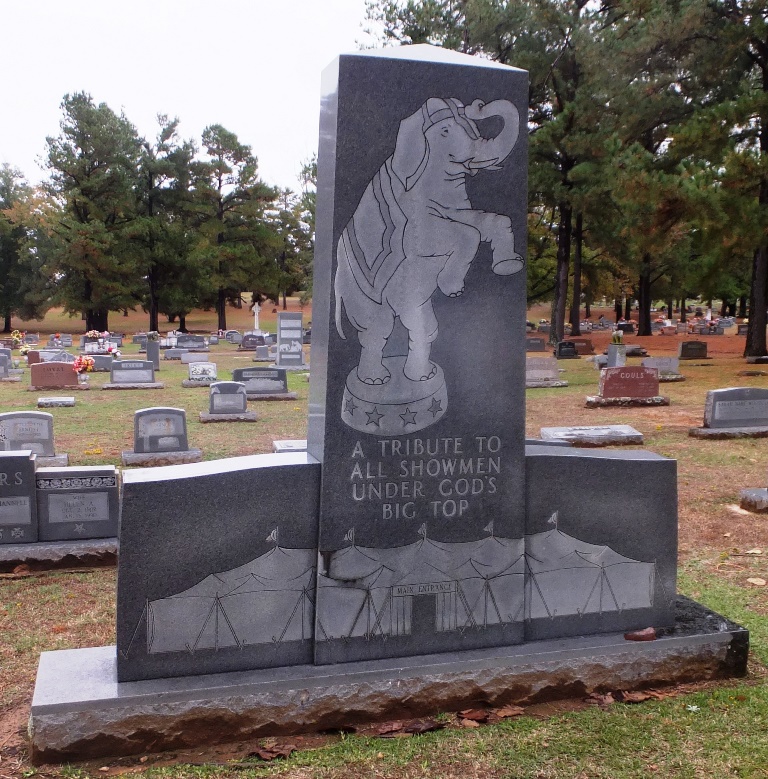 Showmen's Rest Section
(Mount Olivet Cemetery) 
800 E. Trice, Hugo, Oklahoma
Established @1930
@ 4+ acres
Burials: Unknown
"Isn't it rich?
Are we a Pair?
Me here at last on the ground, you in mid-air.
Send in the clowns."
A Little Night Music
-Stephen Sondheim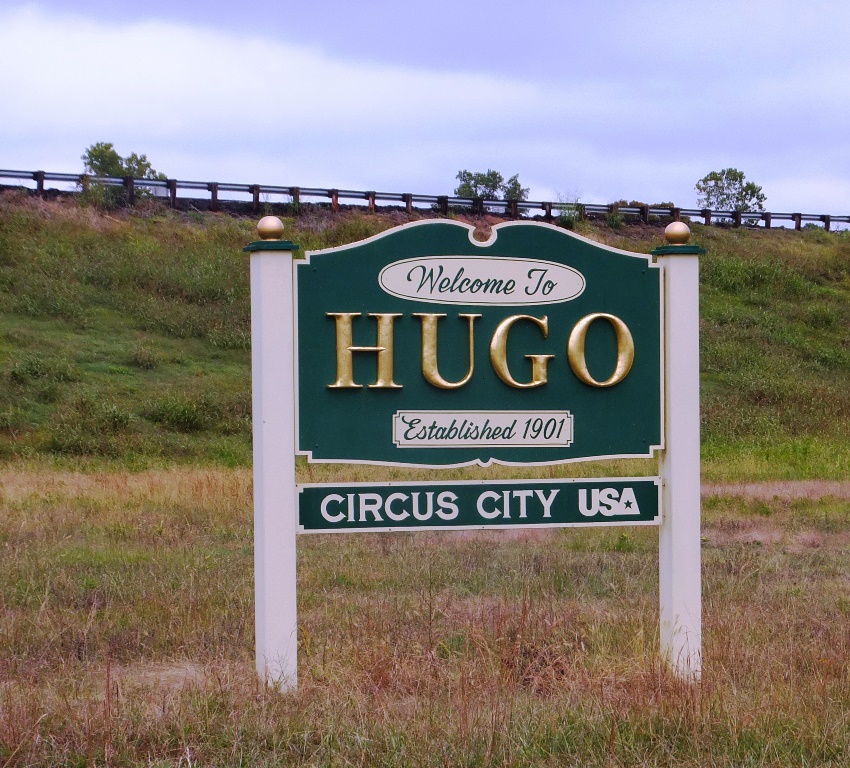 Hugo, Oklahoma was founded in 1901 and named for French novelist Victor Hugo.  In 1937 the Al G. Kelly Miller Brothers Circus began wintering here after a local big top fan, Vernon Pratt, went to Mena, Arkansas and convinced circus owner Obert Miller to accept his offer to house the Circus in Hugo during the non-traveling months. Since that time more than 22 circuses have wintered in this small Oklahoma community.  Often as many as five different troops at a time called Hugo their winter home.  It wasn't long before people were calling the town Circus City, USA.  Today three troops, Carson & Barnes, Kelly Miller and Culpepper & Merriweather, can be found there in the winter.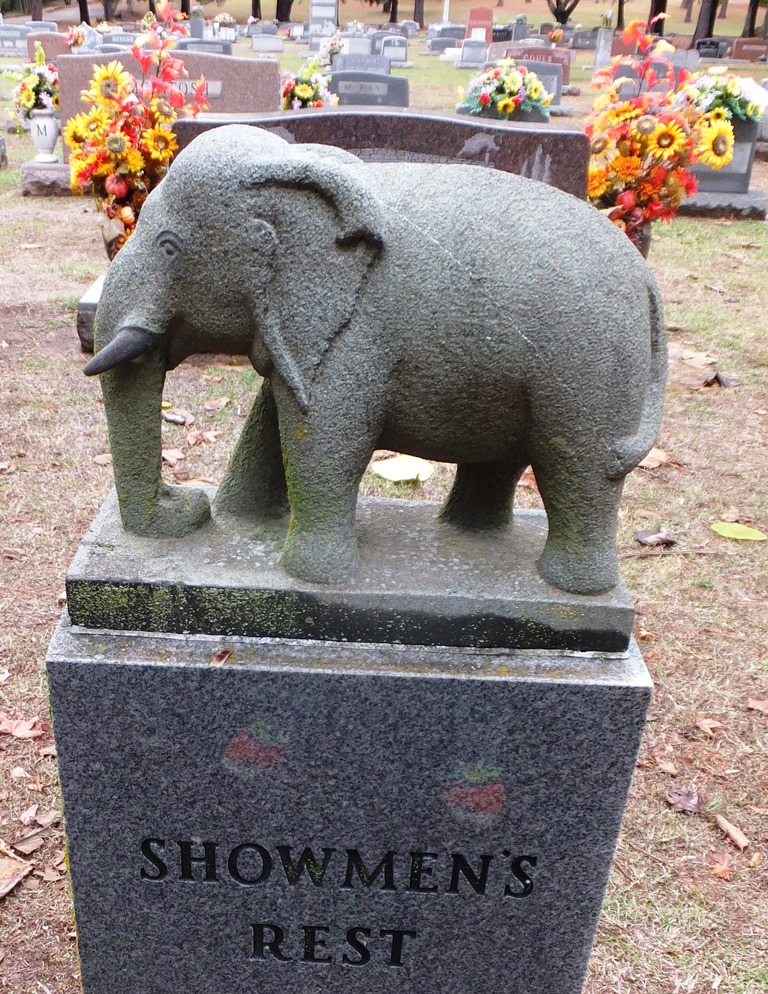 The animals and performers enjoyed the milder climate of southern Oklahoma from December until March when they began traveling from town to town, thrilling people of all ages with their fabulous "under the big top" shows.  Over the years a performer would go to the celestial big ring.  His earthly remains were interred in Mt. Olivet Cemetery where a small plot, Showmen's Rest, was laid out for them.  This rectangular area is marked off by tusked elephants atop granite columns.  In the middle of this beautiful tree-filled burial ground is a large monument featuring an elephant performing with an etching stating "A Tribute to All Showmen Under God's Big Top."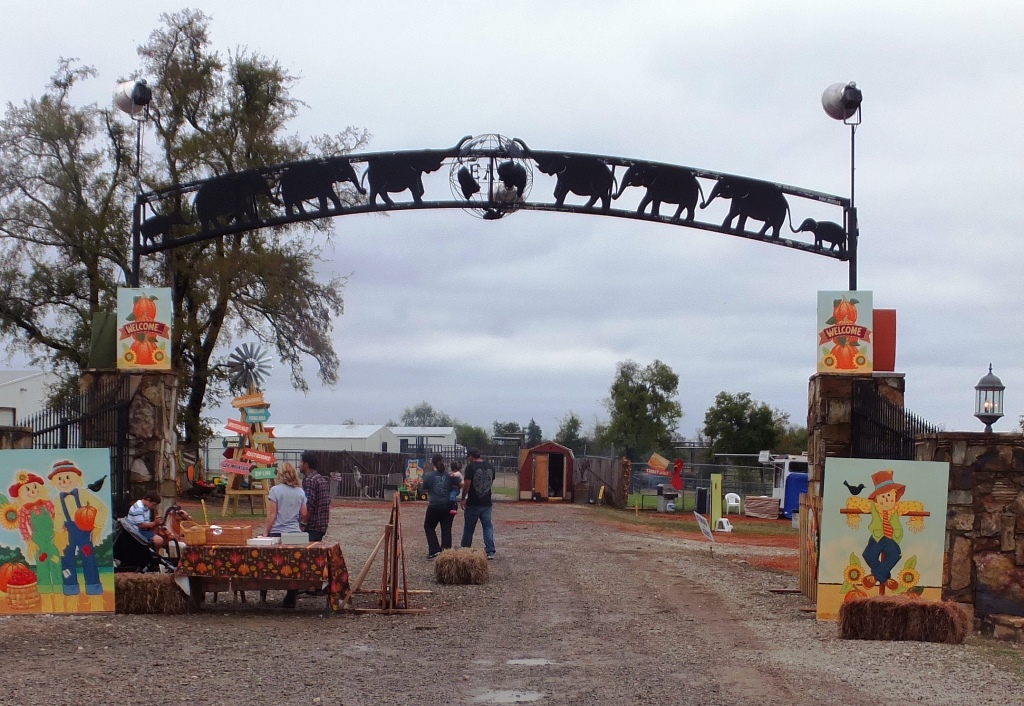 Nearby is the headquarters of the Endangered Ark Foundation, a non-profit that promotes preservation and conservation of elephants.  This organization owns the second largest herd of Asian elephants in America.   Often they can be seen from the highway that passes in front of EAF.  Tours are possible if you arrive on the right days (call for information 580-3170-8470.)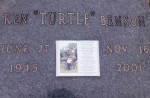 Benson, Ken "Turtle" (1945-2001) – Jack of All Circus Trades – His nickname was "Turtle" because they said he seldom moved very fast.  Benson mainly worked with elephants.  His grave marker has a photograph of him with a standing elephant and a showgirl on the beast's raised front foot.  In addition Benson had a whip and rope act, played drums and would announce if necessary.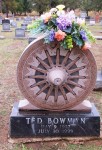 Bowman, Ted (1927-1999) – Circus Wagon Driver ? – His tombstone is a circus wagon wheel leading us to believe that he was involved in transportation of performers and animals.  Bowman's epitaph reads "Nothing left but empty popcorn sacks and wagon tracks – the circus is gone."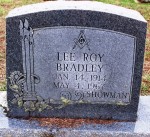 Bradley, Lee Roy (1914-1967) – Showman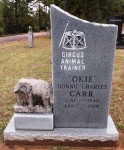 Carr, Donnie Charles "Okie" (1940-1999) – Circus Animal Trainer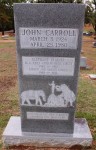 Carroll, John (1926-1980) – Elephant Trainer – He worked for the Al G. Kelly Miller Circus from 1948 until 1968 and the Carson & Barnes Circus from 1969 until 1980.  Apparently Carroll did well financially during his career as he established the John Carroll Showmen's Rest Trust Fund to endow the circus plot.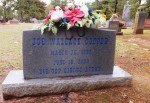 Cooper, Joe Wallace (1937-2000) – Big Top Circus Agent – During his career he worked for the Carson & Barnes, Kelly Miller, Culpepper & Merriweather and Allen Barnes circuses.  His tombstone reads "He gave the world a smile each day."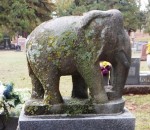 Elephant on a Granite Column – These small sculptures were used to identify the boundaries of Showmen's Rest.  While we did not count them we guess there were at least 10.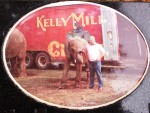 Feene, Terry (1950-2006) – Mud Show Elephant Man – On his grave marker is a photo of him standing beside a baby elephant and an enigmatic epitaph "Have a seal on me."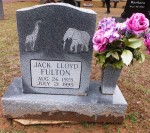 Fulton, Jack Lloyd (1925-1998) – Jack and his wife Barbara worked with elephants and horses, performing throughout the United States. She was an excellent costume designer and maker of elephant blankets (whatever those are!!!). We don't know why the giraffe is featured on his gravestone.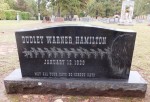 Hamilton, Dudley Warner (1929-?) – Employee – He worked for Kelly Miller and Carson Barnes Circuses.  Hamilton's epitaph reads "May All of Your Days be Circus Days."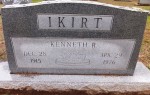 Ikirt, Kenneth R. (1915-1976) – Boss Elephant Man – He worked for Carson & Barnes Circus and was responsible for the largest elephant herd in America. It is said that his specialty was working with difficult elephants. He also toured with Kelly Morris, Ringling Brothers and John Pauling's Great London Circus.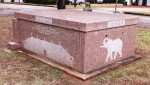 Jessen,? (?-?) – Employee – He worked for Carson & Barnes, Al G. Kelley Miller Brothers and Genoa Circuses. Jessen's tombstone features a great etching of a "big top."
Loter, Francis Padilla (1925-2003) – Snake Handler – She was an "all around circus performer and show person."  The photograph of Loter shows her with a large snake.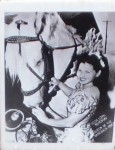 Loyal, Zefta (1916-1996) – Queen of the Bareback Riders – She was a member of the Loyal Repensky troupe, a famous family of bareback horse performers.  Loyal's tombstone features her photograph with one of her horses. Here's a link we found to the Loyal Repensky Bareback Riding Troup, circa 1930's and 1940's. We don't know if Zefta is featured in the video but she would have been in her prime at that time.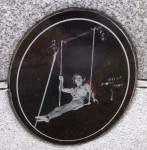 McFarland, Grace McIntosh ( 1915-?) – Acrobat – She was skilled at the flying trapeze.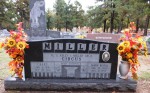 Miller, Obert (1886-1969) – Founder – He established the Kelly Miller Circus.  Miller's headstone shows an etching of a big top entrance and a ticket booth as well as a photo of his wife Mary.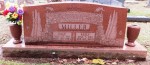 Miller, Dale R. (1911-1984) –Founder – He founded the Carson & Barnes Circus.  There were never anyone with those surnames.  Miller just thought they sounded good. At one time, the Miller family owned an interest in five different tent circuses. The Carson & Barnes Circus still exists and claims to be the "World's Biggest Big Top Show." His stone features a circus tent with three elephants performing in front of it.  The reverse of his marker features the entrance gates to his winter home in Hugo and the inscription "dun rovin."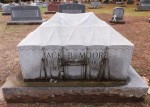 Moore, Jack B. (1919-1969) – He has a miniature stone carving of a big top tent as his gravestone.  He was the co-owner of Carson & Barnes (see Miller, Dale R. above). His first circus was named the Tex Carson Circus, renamed Carson & Barnes in 1957.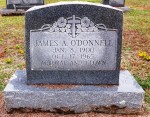 O'Donnell, James A. (1900-1965) – Acrobat –  In addition to being an acrobat he was also a clown.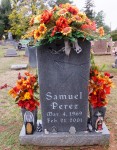 Perez, Samuel (1969-2001) – Acrobat – His tombstone shows him doing a flying trapeze trick. A member of the famous Perez flying act from Mexico City, Samuel performed a stunt know as the Wheel of Death — a stunt with a jumping rope atop a spinning wheel. His marker includes acrobatic equipment along with lovely flowers. His career was short lived due to illness.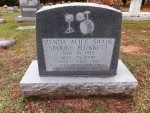 Plunkett, Snooks (1913-1990) – Musician – She came from a long line of circus people and was a drummer in the Plunkett Variety Show. Her tombstone features a set of drums.  She worked for Al G. Kelly Miller Brothers and Carson & Barnes Circuses. She married Kennedy Swain who was born in a railroad show car. Their son also performed in circuses.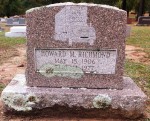 Richmond, Howard M. (1906-1977) –Driver – He worked in the circus transportation department.  Richmond's stone shows a large circus truck.
Rooks, Harry E. (1907-1976) – Jack of All Circus Trades – He was a circus performer, aerialist, horse trainer and had a wild west show.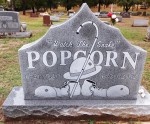 Sink, Thomas Edward "Popcorn" (1940-2012) – Clown – Featured on his headstone is a bowler hat, cane and big, big shoes.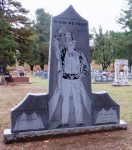 Strong, John August "Big John" (1920-1992) – Ringmaster – Standing over six feet tall, his marker features a life size etching of Strong in a waist coat and top hat.  His epitaph reads "A man with more friends than Santa Claus."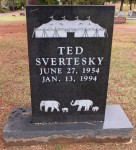 Svertesky, Ted (1954-1994) – Elephant Trainer – He died in a circus train accident.  Svertesky's grave marker shows a big top and mother and baby elephants. 
Walters, Herb (?-?) – Showman – His tombstone features an etching of a big top and the epitaph "A Showman to the last."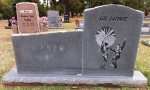 Weber, Herbert (1914-1991) – Tight Rope Walker – In his aerialist act he performed under the name "The Great Humberto."   In addition Weber and his wife, Maricela (1950-?) had a tight rope dance routine that they performed under the name "Los Latinos." You can see them performing on their gravestone.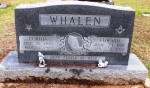 Whalen, Cordia (1900-1989) and Edward (1901-1978) – We don't know their role but their grave marker reads "Show people at rest." There are ceramic clowns on their tombstone. Maybe there were clowns?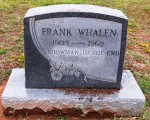 Whalen, Frank (1908-1969) – His stone says "Showman to the end."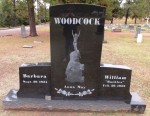 Woodcock, Barbara (1934-?) – Show Woman – She performed with her elephant, Anna May as shown on her grave marker.
Woodcock, Sarah "Babe" (1902-1988) – Circus Family – Her stone states "From the Orton family of early American circus pioneers."   Their first tour was in 1853.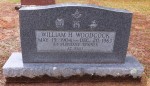 Woodcock, William H. (1904-1963) – A-1 Elephant Trainer – He must have been a great trainer to merit A-1.  Woodcock's tombstone reads "At rest."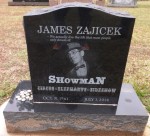 Zajicek, James (1961-2014) – Circus Jack of All Trades – His tombstone says he was a circus performer, worked with elephants and was in the sideshow.  We loved Zajicek's epitaph.  "We actually live the life that most people only dream of."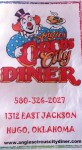 Before we depart from Hugo we would be remiss if we did not mention Angie's Circus City Diner (1312 E. Jackson St.).  Opened in 1998 the restaurant is a mini-circus museum filled with elephant and clown statues, circus posters, old circus photos and other memorabilia.   The food is fantastic – chicken fried steak, chicken fried chicken, homemade stew, catfish, giant salad bar and fantastic pies.