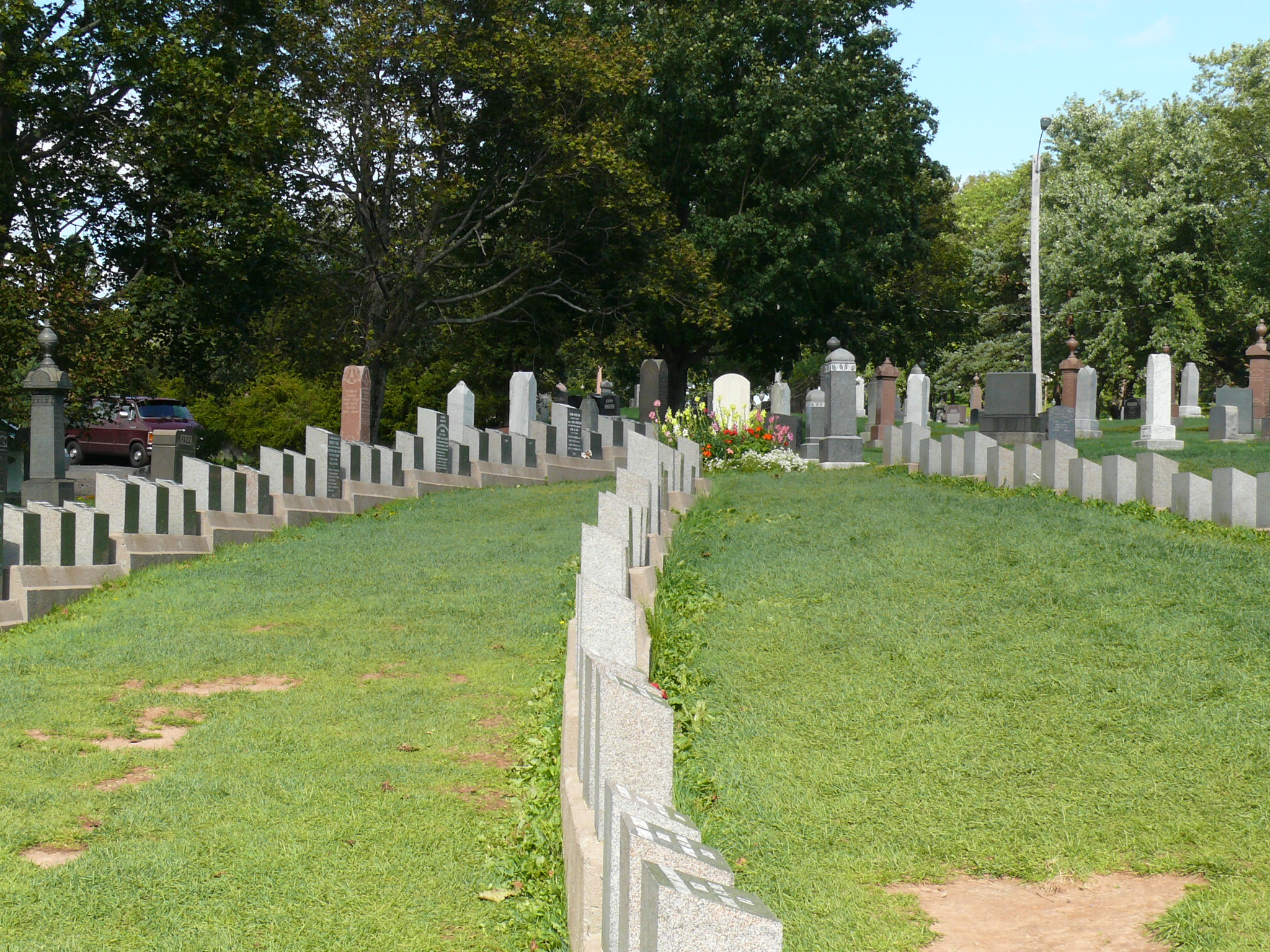 Fairview Lawn Cemetery
North End of Windsor St.,
Halifax, Nova Scotia Canada
Established 1893
Size: Unknown
Burials: Unknown
"Nearer, my God, to Thee, nearer to Thee!
E'en though it be a cross that raiseth me;
Still all my song shall be nearer, my God, to Thee"
-Christian Hymn by Sarah Flower Adams  (1841)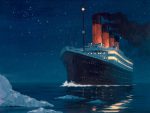 The sinking of the RMS Titanic is unquestionably the greatest maritime disaster saga ever.  She departed Southampton, England on her maiden voyage on April 10, 1912.  Declared unsinkable, at 11:40 PM on April 12 the Titanic struck a humongous iceberg.  Two hours and 20 minutes later she plunged two and one half miles to the bottom of the North Atlantic Ocean, taking 1,517 passengers to their deaths.  The quote above is the opening lines of the hymn sung by passengers just before the great Titanic plunged to her watery grave.
On April 17, White Star Lines, owner of the Titanic, dispatched four ships from Halifax, Nova Scotia, Canada to attempt reclaiming any bodies they could find.  The Mackay-Bennett with 100 coffins, body bags, a chaplain and undertaker and tons of ice was the first on the horrific scene.  Arriving on April 20 the ship spent five days performing this gruesome task recovering 306 corpses of which 116 had to be buried at sea.  The Mackay-Bennett returned to Halifax with 190 bodies.  Soon the Minia arrived, recovering 17 corpses during an eight day search (2 buried at sea.)  Next was the CGS Montmagny who was able to find four victims (1 buried at sea.)  And finally, the SS Algenine found only one more soul.
Of the 190 bodies recovered 121 were interred in Halifax Fairview Lawn Cemetery. The remaining corpses were shipped by train to various  other locations.  The majority are interred beneath simple granite tombstones (paid for by White Star Lines) with a few exceptions of those buried by their relatives.  Of the total graves about 1/3 are "unknown."  Halifax surveyor, E. W. Christie designed the cemetery plot.  Its slender curves remind some visitors of the curved bow of a ship.
In 1997 James Cameron released a fictional motion picture about the Titanic staring Leonardo DiCaprio and Kate Winslet that was a box office blockbuster.  The hero of the film, Jack Dawson, was played by DiCaprio.  Strangely enough, there is a marker in Fairview bearing the name "J. Dawson."  Rumor has it that Cameron named the character based upon this grave.  However, he had actually picked the name six months prior to discovering the J. Dawson monument.  The victim interred there is Joseph Dawson a 23-year old Irish coal trimmer (a sailor that evens out the coal piles that are fed to the giant boilers that powered steam ships.)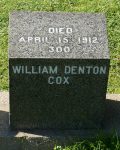 Cox, William Denton (?-1912) – Third Class Steward who bravely led steerage travelers to lifeboats – Third  class or steerage passengers were primarily immigrants looking for a better way of life. They represented a diverse collection of nationalities and ethnic groups. Interestingly, steerage class passengers had automatic flush toilets where 2nd and 1st class passengers did not. The reason given is that third class passengers might not be familiar with indoor plumbing and would not remember or understand the need to flush the toilets.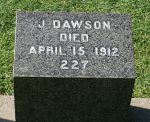 Dawson, Joseph (1889-1912) – Coal Trimmer – See above.
Deeble, Alfred Arnold (?-1912) – Saloon Steward — A saloon steward was a member of the food & beverage staff, what the White Star Line at the time called the Victualizing Department and earned a monthly salary of £3.6, about $300 today. 
Franklin, Alan Vincent (?-1912) – Saloon Steward
Freeman, Earnest Edward Samuel (?-1912) – Sailor – He saved many lives before going down with the ship. His tombstone was erected by disgraced White Star Line Managing Director J. Bruce Ismay who was accused of abandoning the Titanic and cowardice.
Gatti, Luigi  (?-1912) – Restaurant Manager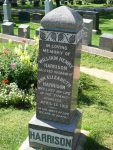 Harrison, William Henry (?-1912) – Husband of Ann Elizabeth Harrison
Heininen, Wendla Maria (?-1912) – Third Class Passenger
Henriksson, Jenny Louisa (?-1912) – Third Class Passenger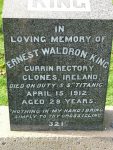 King, Earnest Waldron (1884-1912) – "Died on duty S. S. Titanic" – King was the rector or parish minister in the province of Ulster, Ireland.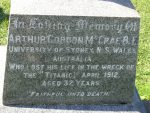 McCrae, Arthur Cordon (1880-1912) – Australian – McCrae's gravestone says he received his Bachelor of Engineering from the University of Sydney.
McGrady, James (?-1912) – Saloon Steward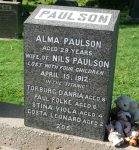 Paulson, Alma (1883-1912) – Third Class Passenger – Her husband (Nils) and four children- Torburg (8), Paul (6), Stina (4) & Costa (2) all went down with the ship.
Reynolds, Harold (1891-1912) – "Lost his life in the Titanic disaster" — Good Epitaph
Rice, John Reginald (1886-1912) – Purser's Clerk
Shea, John (1883-1912) – Saloon Steward – 29 year old Shea was from Southampton, England.             
Swane, George (?-1912) – Second Class Passenger – Mainly professors, authors, clergy and tourists, 2nd class passengers paid up to £80 per ticket, approximately $8000 today. That would have bought a first class ticket on most other ships of the time.
Unknown Child (?-1912) – This is one of the more unusual interments in Fairview. No one claimed the remains of this young boy so the sailors of the Mackay- Bennett paid for this stone.  In 2002 he was identified as Eino Viljami Panula, a Finn.  However, through additional forensic tests, this error was corrected and he is properly identified as a 19-month old English child, Sidney Leslie Goodwin, whose entire family perished in the disaster.
Waelens, Achille (?-1912) – Third Class Passenger
Wiklund, Jakobe Alfred (?-1912) – Third Class Passenger
Woodford, Frederick (?-1912) – Greaser (a member of the engineering crew).