"Death must be so beautiful…
to have no yesterday, and no tomorrow.
To forget time, to forgive life, to be at peace"
Oscar Wilde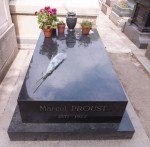 Proust, Marcel (1871-1922) — Novelist, critic and essayist — Proust is best remembered for his monumental work of fiction dealing with the enormous changes in France after 1870 (the Third Republic). This work, published in 7 volumes, running more than 3000 pages with some 2000 characters explores the decline of the French aristocracy and rise of the middle class. Considered one of the greatest writings of all time, it is entitled A la recherché du temps perdu, translated In Search of Lost Time.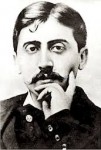 Despite his poor health (he was asthmatic), Proust excelled in literature, writing and publishing from an early age. His classmates afforded him access to some of Paris' finest salons where he gathered much of the material for his master work. His studies and early writing provided him the opportunity to refine his ideas and characters. He died before the last 3 volumes were published. His brother Robert proofed and edited those works. The writings were first translated into English between 1922 and 1931 under the title Remembrance of Things Past. That translation was later revised and the title changed to the more accurate In Search of Lost Time.
Rothschild, James Mayer de (1792-1868) – Banker — The Rothschild family was an extremely wealthy family descending from Mayer Amschel Rothschild of Germany. His youngest son James Mayer, (born Jakob Mayer) was sent to Paris in 1811 to expand the family banking business. He was so successful he became the most powerful banker in France, advising Kings, financing railroads, factories, shipping, mining, tea and wine. He purchased Chateau Lafite shortly before his death. It is one of France's most outstanding wineries and remains in the family today.  His fortune has never been disclosed but evidence suggests that his personal wealth may have been five times greater than Bill Gates in today's money. When Baron Rothschild died, it is reported than 4000 guests including Kings mourned in his chateau while another 6000 grieved in the courtyard. The streets of Paris were lined with thousands of citizens paying tribute to the banker.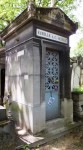 Seurat, Georges (1859-1891) – Painter – A Post-Impressionist painter, Seurat is best known for developing the painting technique known as pointillism – using small dots of distinct color to form an image. His most famous work, A Sunday Afternoon on the Island of La Grande Jatte, is one of the icons of late 19th century painting.
During his short life (he was only 31 years old when he died), his works were widely seen in Paris and his observations on light and color to create contrast influenced many painters. His cause of death is uncertain, possibly meningitis, pneumonia, angina or diphtheria. His son of only two weeks died shortly after of the same symptoms.  Today, his works can be seen in most exhibitions of Impressionist and Post-Impressionist paintings.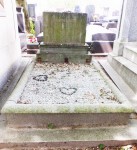 Stein, Gertrude (1874-1946) – American writer of novels, poetry and plays – born in Pittsburg and educated at Radcliffe (then a part of Harvard University) and Johns Hopkins,  Stein eventually relocated to Paris where she hosted Saturday salons that brought together writers and artists who would define modernism in the early 20th century. Such notables as Pablo Picasso, Ernest Hemingway, F. Scott Fitzgerald, Sinclair Lewis, Ezra Pound, Thornton Wilder, Gavin Williamson, Henri Matisse among many others would congregate to debate cultural trends and changes. Her partner, Alice Toklas (the subject of one of her most famous books) was hostess to the girlfriends and wives of the famous guests who met in a separate room.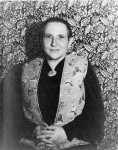 Her writing style was "highly idiosyncratic, playful, repetitive and humorous." Famous quotes include "A rose is a rose is a rose" interpreted to mean things are what they are, and "there is no there there." In 1933, Stein published a memoir of her years in Paris written in the voice of her life partner, The Autobiography of Alice B. Toklas. This bestseller catapulted Stein from a cult writer to mainstream celebrity. She returned in America in 1934 for a six-month tour of lectures and readings that received widespread acclaim. She was even invited for tea with the President's wife Eleanor Roosevelt and to discuss cinema with Charlie Chaplin. After her return to Paris, the Chicago Daily Tribune wrote, "No writer in years has been so widely discussed, so much caricatured, so passionately championed." Stein wrote one of the earliest "coming out" stories, Q.E.D. (published after her death in 1950 as Things as They Are). Another essay "Miss Furr and Miss Skeene" may be the first time the word "gay" referenced a same sex relationship and those who have them. Uninformed readers at the time may have missed the sexual content.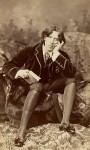 Wilde, Oscar (1854-1900) – Irish writer – Best known for his novel The Picture of Dorian Gray and his play The Importance of Being Ernest, Wilde is also remembered for his arrest and imprisonment for being gay. In 1993, the European Court of Human Rights forced Ireland to rescind its Victorian era law that was used to convict Wilde of sodomy and gross indecency and to sentence him to two years of hard labor. Wilde emerged from prison a broken man, went into exile in France and died just 3 years later. Prior to this tragedy, he enjoyed a hugely successful literary career, publishing widely, lecturing to critical acclaim across America and the United Kingdom, achieving popularity and fame. Wilde's literary style was referred to as "aestheticism" – the belief that artistic beauty and taste are fundamental standards, things like ethics and politics are secondary. Wilde believed that pleasure and beauty should presage utilitarian ethics. Wilde's life has been the subject of many biographies, monuments and studies. His tomb is visited by thousands of fans annually.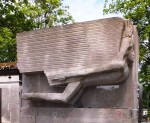 In 2011, the tomb was cleaned of the lipstick imprints left by admirers and a glass barrier installed to prevent further marks but you can see that fans still inscribe symbols like hearts on the glass.