With the dramatic increase in cremations in recent years (roughly 50% of burials), American cemetery operators are suffering financial issues.  The price of cremation is a fraction of the traditional burial service.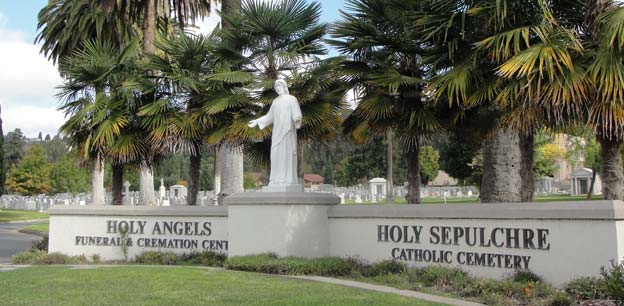 However Holy Sepulcher Cemetery in Hayward, California (located across San Francisco Bay near Oakland) found an unusual marketing idea to offer the dearly departed a unique setting in which to be interred – in a vineyard!   In 2006 Robert Seelig of Catholic  Management Services studied the costs of planting grass in burial grounds ($50,000 per acre plus a large water bill) to using water efficient drip systems for the grapevines ($17,000 an acre.)
Catholic priests from Spain began planting grapevines in the 1700s in California.  So there was a precedent for Mr. Seelig's brainstorm. The vines also have a long spiritual association with the church due to wines used in Catholic Mass.  By 2013 the grapevines had matured and an arrangement was made with the Rock Wall Wine Company to produce and bottle four wines from the Cemetery's 16-acre vineyard.  They named the wine Bishop's Vineyard.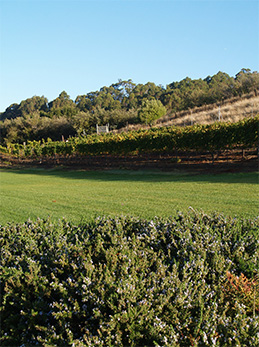 Holy Sepulcher hoped the wines would at least be drinkable enough to use in services.  Much to their surprise the Pinot Noir and Chardonnay wines were rated as "fantastic" by Jim Ryan, a California wine consultant.
Recently, the cemetery's Cabernet Sauvignon won a silver medal at the Monterey International Wine Competition and the Cabernet and Zinfandel won silver at the San Francisco Chronicle Wine Competition.
Annual production is approximately 7,200 bottles (or 600 cases.)  Much of the output is donated to other churches but it is available in the cemetery's gift shop.
So if you are looking for a beautiful and unusual place to spend eternity, contact the cemetery and purchase a plot among the Pinot or Chardonnay.  The cost is around $5,000.