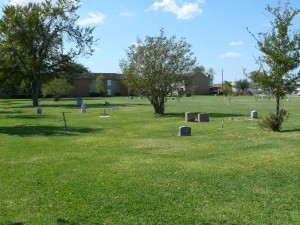 Alief Cemetery
Bellaire Blvd. at Dairy Ashford
Established 1900
4 Acres
Burials: about 100
Texas Historical Marker
link to news story
"Well done, thou good and faithful servant."
-Matthew 25:21
The first settlers arrived here in 1896 and began farming or ranching. Within four years the cemetery was deeded.  Shortly after the founding of the burial ground, the town was badly damaged by the Great Storm of 1900, the hurricane that eradicated Galveston and many people moved away.  Those that eventually returned solved the flooding problems and created the first Harris County Flood Control District.  A historical marker states almost half of the 100 graves are those of babies, a reminder of the dangers pioneer families faced from childbirth difficulties and infant diseases.  The cemetery is no longer in use and is maintained by the Alief Cemetery Historical Association.
Magee, Alief Ozelda – (1851-1899) – Post Mistress – Mrs. Magee and her husband John were among the early settlers in this agricultural area.  Surveyors named it Dairy in 1894.  When an application for a post office was made under that name the next year, it was rejected as possibly confusing with another Texas town.  As Mrs. Magee was the first post mistress, the citizens renamed their community Alief in her honor.  In the early years she operated the post office out of the front room of her home. Her epitaph reads "She always done what she could."
Cook, John D. – (1867-1954) – Farmer – From its inception in 1896 until the 1950's Alief was principally a farming and ranching community.  Little evidence remains of this pioneer heritage because of Houston's addiction to real estate development.  This gentleman was one of the larger cotton farmers in the area years ago.
Mexican, Babies – (Dates Unknown) – Innocents – During some construction work on neighboring Bellaire Boulevard in the 1990s the graves of six unknown Hispanic infants were uncovered.  This is a common occurrence in a city as development oriented as Houston.  Respectfully, the bodies were re-interred here.  That is not always the case.  Unfortunately no memorial stone was erected so the location of the ninos y ninas graves has been lost.