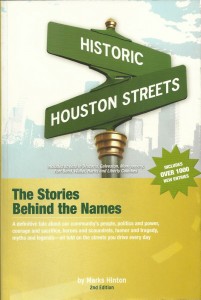 "Historic Houston Streets: The Stories Behind the Names"
Purchase Here!
Q — Z — recently updated (scroll to Tidwell Road)
Selection of streets: Q
Quade:  (See Koch.)
Selections of streets: R
Reagan: John Henninger – He was born in rural Tennessee in 1818. Like many of our ancestors Reagan's talents seem unlimited.  He was a lawyer, postmaster general and treasurer of the Confederate States of America, U. S. Representative, U. S. Senator (1887-91) where he earned the nickname "the Old Roman" and first chairman of the Texas Railroad Commission.  He died in Palestine, Texas in 1905 and is buried there in East Hill Cemetery. In addition to this Houston Heights area street, Reagan County and John H. Reagan Senior High School (1927 – William Ward Watkin, Architect) are also named in his honor.
Raoul Wallenberg: He was a Swedish diplomat during the middle of the 20th century.  Wallenberg is best remembered for his work in Hungary following World War II.  The Raoul Wallenberg Institute of Human Rights and Humanitarian Law at Lund University in Sweden was founded and named in his honor in 1984.  
Rebecca Burwell:  Located in Williamsburg Settlement, a west Houston neighborhood with many early American street names, she was the first great love of Thomas Jefferson.  It is believed he proposed to her in 1764 when Rebecca was 17 but she must have said no.  She later married Jacquelin Ambler with whom she had six children.
Reid: W. R. – When this gentleman developed Lindale Park in the 1930s it was outside of the city limits but did have all the city conveniences. It would eventually contain over 1,800 homes.
Retton:  Mary Lou – Developer Ranney McDonough named this street for a champion in the 1984 Olympic Games.  Retton was the first American to win a Gold Medal in the All-Around in women's gymnastics. In addition she won Silver in the Vault and the Team Competition.  With the addition of two Bronze – Uneven Bars and Floor Exercises – Retton tallied the highest medal count of any competitor in the Games.  As a result of that effortSports Illustrated named her "Sportswoman of the Year." Those of us who watched her will never forget her million dollar smile.
Reverse:  This Westview Terrace street connects Saxet (Texas in reverse) and Remlap (the reverse spelling of Palmer).  (See Remlap and Palmer.)
Rhode Island:  In the 1800s this short rail line went from Cumberland, Rhode Island to the Massachusetts state line.
Richey: Calvin – He was an early resident of Westfield. Richey was known for his agricultural skills and his farm raised everything from produce and cotton to cattle and chickens.
Roark:  Elijah Andrew – He came to Texas from Illinois in 1824 as one of Stephen F. Austin's Old Three Hundred colonists receiving a league of land in what was to become Fort Bend County.  He was a farmer and rancher.  Roark was killed by Indians while transporting produce to San Antonio on December 24, 1829.  His son, Leo Elijah Roark, survived the attack.  He later joined the Texas Army and fought at the Siege of Bexar, Grass Fight and Conception.  He may have served at the Battle of San Jacinto but is not listed on the official muster records.
Roberts Cemetery:  Abraham Roberts arrived in Texas in the late 1820s.  He was a member of Stephen F. Austin's Colony.  He called the area where he settled New Kentucky, an area that attracted many German immigrants over the years. This road leads to the Roberts Cemetery where many of these early settlers are buried.  A 1997 count lists 258 marked and 15 unmarked graves.   
Robin Lake:   (See Lorrie Lake.)
Roy: Eliza – John Reinermann was an active surveyor in this area near Memorial Park between 1857 and 1888.   He had been awarded a land grant here in 1847.  In 1881 and again in 1886 Roy purchased land in the area.  Since this street parallels Reinermann I suspect it was named for Roy.
Rueben White:  This early settler was born in Louisiana in 1795.  White was a U. S. Army captain and fought in the War of 1812. He and his family moved to Texas in 1824 as one of Stephen F. Austin's Old Three Hundred.  He received a league of land on the east bank of the San Jacinto River where this street is today.  The Atascosito Census of 1826 lists him as a farmer and stock raiser.
Selections of streets: S
St. John – This NASA area street lead to Christus St. John Hospital on the shores of Clear Lake. 3
Salt Grass Trail – This is the oldest of the trail rides that come into Houston just before the start of the Houston Livestock Show and Rodeo each February. Founded in 1953 by Pat Flaherty, Reese Lockett, Emil Marks and John Warnasch, the first ride had less than 100 participants versus thousands now. The 7-day, 70-mile ride goes from Brenham, Texas to downtown Houston where it forms the start of the Rodeo Parade.  (SeeMarks.)
Sandringham – This English village is home to the 19,500 acre royal estate of the same name.  Acquired in 1861 for the Prince of Wales it has been used mostly by the royal family and their guests for partridge hunting.
San Souci:  This means "carefree" in French.
Santa Fe:  This rail line was chartered in 1867 as the Atchison, Topeka & Santa Fe.  By the early 1890s, its 9,000 miles of track and connections extending from Chicago to Los Angeles ranked it as one of the world's longest railroads. In 1995 it merged with the Burlington Northern RR and is know today as the Burlington Northern Santa Fe Railroad. "On the Atchison, Topeka and the Santa Fe" became a popular song recorded by swing artist Johnny Mercer. In 1946 it won an Oscar for "best song in a movie" (The Harvey Girls).
Sasquatch:  In pseudo-scientific language this beast is known as a crypto-bipedal primate.  To the rest of us it is an unclassified two-legged mammal usually called Bigfoot or Yeti.  The first sightings of this mysterious ape-like creature came from American Indians in the northwest hundreds of years ago.  It is usually described as covered with hair, standing 6 to 9 feet in height and weighing 300 to 1,000 pounds. The Sasquatch seems to prefer remote areas and shuns human contact. This street is located near Montgomery County, a rural, less populated area.  There have been eight reported sightings in that county with the latest being on February 28, 2005. We do not know if alcohol was involved in any of these reports.
Sayers – This street lies northeast of downtown and recalls a family of early Houston settlers.
Schiel:  Numerous families from Germany arrived in the Houston area during the 1800s.  Among them were the Schiels.  Many of them are interred in St. John's Lutheran Cemetery, a burial ground established in 1878.  Another early resident, Henry Raatz, donated the land to St. John's Lutheran Church for this graveyard. Other Schiels are interred in the Fritsche Cemetery.  (See Lutheran Cemetery and Fritsche Cemetery.)
Settegast:  Empirical evidence leads me to believe this street is named for the Settegasts, an old line Houston family.  (Many family members are buried in the historic Glenwood Cemetery off Washington Avenue.) They were large land owners in this area.  It is likely the large (375-acre) east side rail road yard named Settegast Yard (opened by the Missouri Pacific Rail Road in 1950) is also named for them.  The family is still prominent in the city today and operates Settegast-Kopf Funeral Home.
Settlers Village:  This northwest Harris County street recalls the old town of Settlers Village that was once located along the banks of Dinner Creek. (SeeDinner Creek.)
Sharman:  (See Eichwurzel.)
Shangri La:  This mythical place name is from James Hilton's novel Lost Horizon.  Released in 1939 it was the first paperback novel ever published by Ian Ballantine, a pioneer in that field. It was also made into a successful motion picture by the great director Frank Capra.  Hidden the Kuen-Lun mountains, the Valley of Shangri La with its lamasery is a peaceful place.  It is a good read filled with adventure, mystery, religion and philosophy.
Shekel:  The developers of the Woodforest Addition must have had some interest in old coinage.  A shekel is an ancient Hebrew coin of gold or silver weighing approximately half an ounce.  That neighborhood also contains a street called Two Penny, an Americanized spelling of the English two pence," a very small coin of low value.
Shooting Center:  A short drive on this street into the Barker Reservoir Flood Control Pool leads to the North American Hunting Club's American Shooting Center.  This club is America's largest association of hunting enthusiasts.  Intersecting streets include Skeet and Trap as well as Pigeon.
Shorthorn:  This street is located near Jersey Village, a town with a long history of cattle production.  Shorthorns are one of the oldest recognized breeds of cattle in the world. They came from northeastern England near Northumberland and York. In 1783 they arrived in the U. S.  Shorthorns were prized for the quality of their milk and meat. And of course here in Texas this street intersects Longhorn Circle.
Skeet and Trap:  (See Shooting Center.)
Southgate:   E. H. Borden developed this neighborhood and named the boulevard that is its main street.  Because of its location just south of Rice University, it likely recalls the southern entrance to the campus.  Rice is known for it magnificent gates that front on Main Street.
Spindletop:  This Pearland area street recalls the greatest oil discovery in Texas history.  On January 10, 1901 on a salt dome south of Beaumont, Anthony F. Lucas hit the jackpot.  The drilling rig began to shake as six tons of drill pipe blew out of the hole.  That was followed by mud, natural gas and finally oil – lots and lots of oil – 100,000 barrels per day to be exact.  It took nine days to cap the blowout.  Beaumont's population soared from 10,000 to 50,000 as speculators, land men, drillers and gawkers poured into the city to seek their fortune.  Some of today's major energy companies were born during that boom including the Texas Company (now Chevron Texaco), Humble (now Exxon Mobil), Gulf (now Chevron Texaco), Magnolia (now Exxon Mobil) and Sun (now Sonoco).
Splashtown:  This short Spring area street leads to a water-oriented theme park of the same name.  It is owned by Six Flags, Inc., the largest regional theme park operator.  In Houston, the company once owned Six Flags Astroworld (demolished 2006).
Sportsplex:  League City opened this 30-acre athletic complex in March 1998.  It contains 10 baseball, 7 soccer, 2 football fields and 6 volleyball courts.  It is used by Little League, Youth Football, Girls Softball and Youth Soccer teams.  
Stadium:  Follow this street south from Braeswood and it will lead you to Reliant Park – home of several stadiums including Reliant and the "world's eighth wonder," the Astrodome.
Stewart:  Charles B. – This Montgomery, Texas pioneer was a true Renaissance man. Stewart was a physician, pharmacist, scientist and horticulturalist.   He was the first man to sign the Texas Declaration of Independence, fought in the Texas Revolution, acted as interpreter for General Sam Houston with the captured Santa Ana, was the first Texas Secretary of State and designed the Lone Star flag to mention just a few of his accomplishments. (See Montgomery.)
Selections of streets: T
Talcott: Patching – Nathanial Lynch owned a league of land where this street is today just south of the Sheldon Reservoir.  Talcott and his wife Clarrisa purchased some land that was part of this piece of property in the late 1800s.
Tam-o-Shanter:  This is a Scottish cap usually with a pompom on the top.  It is named for the hero of Robert Burn's 1790 poem of the same name.
Telge:  This family owned land in the area around Cypress Creek. They emigrated from Hanover, Germany in the late 1800s.  A number of family members are buried in the Knigge Cemetery off Huffmeister Road in northwestern Harris County.  Among these persons are Chester, Alma, Louis and Geborne Telge. (See Knigge Cemetery.)
NEW Tidwell Road: Former Texas Land Commissioner Jerry Patterson suggests this north Houston road (as well as a park located north of Tidwell Road at Homestead) may be named for one of his relatives. His grandfather told him about 30 years ago that the street was named for "Old Uncle Jerry Tidwell" who lived at the end of the road. Mr. Patterson recently learned that the Tidwells and Pattersons share a common ancestor named Rollins and common roots of Alabama. And there was a Jeremiah Tidwell from Blount County. In the late 1800s, there was a wholesale exodus from Blount County, Alabama, to Texas.
Two Penny:  (See Shekel.)
Selections of streets: U
none
Selections of streets: V
Viking:  Historically the Vikings were Scandinavian seafarers who plundered England and northern Europe between the 8th and 10th centuries. In the case of this street, John Foster Dulles High School in Fort Bend County chose these fierce marauders as the school's mascot.
Selections of streets: W
Warnasch: John – (See Salt Grass Trail.)
Selections of streets: X
X:  (See Luella.)
Selections of streets: Y
none
Selections of streets: Z
Zuber: Abe and Philip – In the 1950s these two brothers and two partners bought some land in Galena Park and began a development.  The Zubers named this street for themselves and the adjoining streets Leggett and Pughfor their associates.